2023 Life of Yes℠ Gift Guide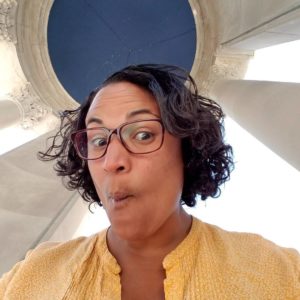 Every Fall I share what I love or aspire to love in case any of them sound delicious for yourself or people in your life this holiday season and beyond.
Thought that came to me as I was collating everything — as someone who loooooves to get and give care packages, which started back at age 8 at Camp Echo, a two week sleeapaway camp in Michigan, five'ish hours from my Chicagoland home, when Mom would lovingly and thoughtfully pull together random items she thought I'd like and cardboard box them to arrive right at the 1/2 way mark, so many of these items would make a wonderful housewarming or first real world home or college student or "No reason! Just thinking of you" care package. I'm salivating at the thought of being the recipient of a mish-mosh of all these gifts. Practical and superfluous. Cheap and pricey. Unsexy and sexy. Fun and boring. Oh pretty please, won't someone care package someone with some of these goodies?! Obvs, send me or tag me in a pic.
Anything you're squeeeee'ing? A product or business you want to spotlight? Drop it in the comments. And YES!, even if it's your thing. Especially if it's your thing. Self-promotion is welcome and encouraged.
Context, Disclaimers, & Reminders
Many of my recommendations aren't your traditional gift ideas.
I find efficiency, organization, comfort, ease, death preparation, and cleaning sexy; I'd much rather a Container Store gift card than diamonds.
I don't care about fashion, makeup, skincare, labels, "have to make reservations six months in advance" restaurants, jewelry (
my Overstock.com wedding ring cost $19
) or many other things seemingly everyone else cares about.
Gifts for others are the best! So are gifts for self! We often neglect self; you're a better parent, spouse, friend, coworker, sibling, boss+ when you take care of self.
I'm frugal AF but I have fancy taste when it comes to some things, mostly travel related (hotels, first class, airport lounges); my budget often doesn't allow for off the rack fancy so finding budget-friendly ways to indulge is also a love e.g. travel hacking.
Links may be referral links. If an Amazon link, as an Amazon Associate, I earn from qualifying purchases.
Speaking of Amazon, an encouragement to buy anything you can buy elsewhere elsewhere if it'll help a small business. Use my links as recommendation/research links and see if your local Mom & Pop has what I recommend. If you do buy on Amazon though, encouragement to go through small business affiliate links so at least you're kinda shopping small.
Amazon 2023 new'ness: you've probably heard how because of Dead Mom and Unwanted Reno, I've been trying to climb out of the unexpected financial stress hole through a variety of win-win ways. Welp, Amazon must've heard my siren cause they selected me to take part in their "get higher kickbacks for a certain time period" program.
October 1 – December 31st, any purchases in these categories, if purchased within 24 hours of accessing the Mac & Cheese Amazon Store and buying via my link,get me increased commission rates. Just go to the store and shop as your normally would, doing a search for what you're looking for in the the search bar —

Luxury Beauty
Kitchen
Apparel
Sports
Beauty
Home
Electronics
Shoes, Handbags & Accessories
Cell Phones & Accessories
Camera
Luggage
Jewelry
Toys
Tools
Buying someone a service — haircut, manicure, house cleaning — is deliciously win-win-win especially if you know the service provider (my Service Provider Referral List is here); you win, the gift recipient wins, and the service provider wins.
I don't have most Mac & Cheese items listed below but obvs, buy my stuff!
Love you dearly but boundariessssss — before you inbox or DM me about a recommendation, ask yourself if instead you can google it, check out the company's website, or reach out to the company's Customer Service. "My Dyson is acting weird, any ideas on how to fix it?" or "How do you use Bon Ami?" or "Do you know the dimensions of the plant stand?" are not questions to send me.
---
2023 Life of Yes℠ Gift Guide
Stores
All in the Chicagoland area unless noted. If you live elsewhere, they may have an online store so click away if piqued.
Paper & Pencil — "We are local, independent, and queer-owned. At Paper & Pencil you'll find stationery, writing tools, notebooks, journals, calendars, and planners, alongside bullet journaling, home office, and school supplies. Paper & Pencil is owned and operated by Andersonville residents and local business lovers Tyler McCall and Eric Campbell."
Black Luxe Candle Co — Candle making classes also available. "Black Luxe Candle Co. was unintentionally started with Brittany's love for self-care and paying that love forward as a handmade, candle gift to a friend – created right out of her home. One candle has evolved into a sophisticated brand with rich, luxurious fragrances that sets your desired moods and calms your senses." Article: "Black Luxe Candle Co.'s Booming Retail Store And Classroom Reopens In Wicker Park After Moving From Bucktown"
The Mexican Shop — This is where I bought most of my gifts middle school through high school. A gem of a spot. Worth the trip up from the big city! The Mexican Shop, 'this analog store that nowhere else exists,' still fresh and cool after 56 years (article written by fellow Evanston Township High School alum Claire Zulkey) No website, this is the best I can do.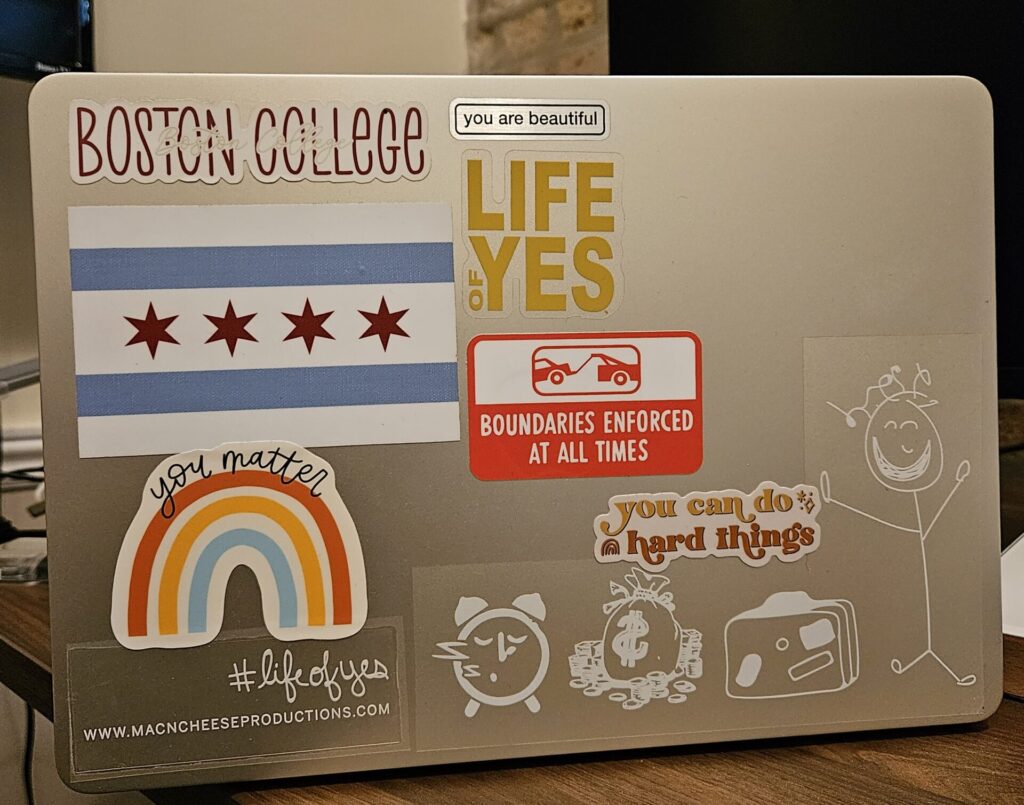 Paper Bunny Press — I bought some wonderfully delightful stickers (rainbow; boundaries; hard things). Stickers, gift bags, wrapping paper, notepads, greeting cards, art prints, oh my! "Surprisingly snarky stationery that speaks your mind."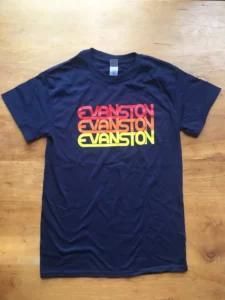 Evanston Made — "Evanston Made connects our artist members to their community and brings original work to art lovers & patrons."
Chapman Jewelry (California) — I bought my "in memory of my mom and inspiration to keep writing my book" wildflower necklace here. It was on Tara's page I learned that my birth month flower (October) and the flower I think of when I think of Mom and growing up (Cosmos) are the same. Squeeee. Of course, I had to order. You can even do a bouquet of customized flowers. And it's not just flowers. Names, finger prints, etc. When I'm sad or questioning or or or, I like to touch the necklace and remember, "It's ok. You're ok."
Experiences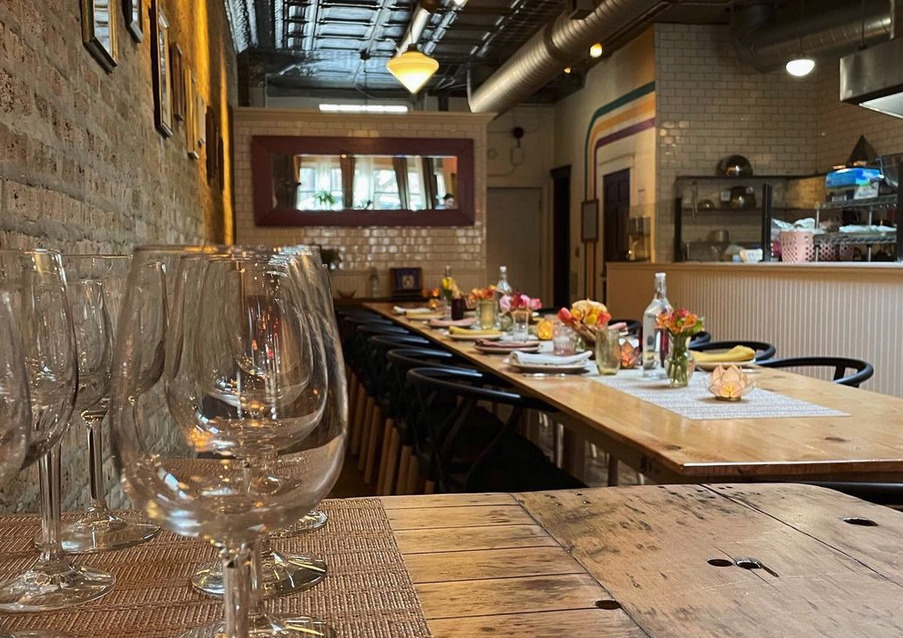 Dinner Party Series and Monthly Cookbook Club at Good Company — an adorable space and the friendliest host, on the north side of Chicago. Solo guests are highly encouraged and welcome, and ya know how I feel about that. Chef Stephanie also offers private space rental and weekly meal prep.
Give the best gift you can ever gift to loved ones — preparation for your death and theirs. You can find oodles of free information and resources online. Write your will. Have difficult conversations of who gets what. Clean out homes (even pre-death). Hire a lawyer to do an estate plan (Illinois, you can find my recommendation on my Service Provider List). If you want someone you like and trust to tell ya what to do, check out my Adulting Kit, specifically the "If I Die…" tool. The end of the year is a great time to get all this in order, starting 2024 with the biggest Adulting gold star possible!
Give yourself the gift of fine tooth combing all the insurance you have — car, home, life, etc. — and updating if applicable. Read more on this and how our decision saved us $10,000 this summer, in the Takeaways section.
Items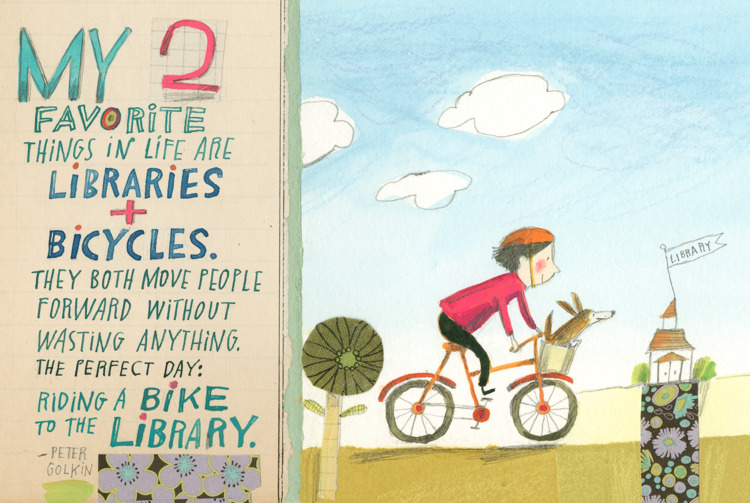 Libraries and Bicycles artwork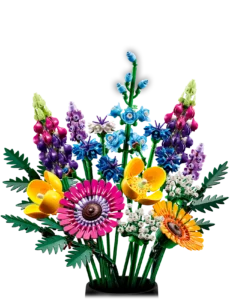 The LEGO® Botanical Collection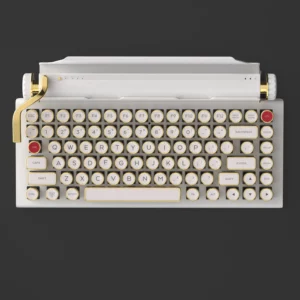 QWERKYWRITER — "The perfect marriage of form and function and the most desired typewriter keyboard in the world."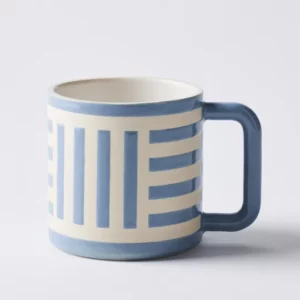 Mugs — "We asked our favorite pottery studios to create a one-of-a-kind mug that shows off their style. The happy result? This lineup of limited-edition ceramic vessels in a whole parade of shapes and colors. They're all made by hand, so needless to say, they're gonna go fast."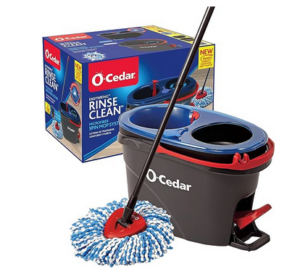 Mop — I had its predecessor on my 2021 list. I try not to be "the latest edition!!!" type o' gal. BUT. I always hated feeling like I was cleaning floors with dirty water and that's how most mop systems make me feel. Including the 2021 O-Cedar. Enter the latest version that keeps the dirty water separate from the clean water. Annoyance though: your older version mop heads don't fit the new version. I weighed the pros and cons and decided to leap anyway. So glad I did.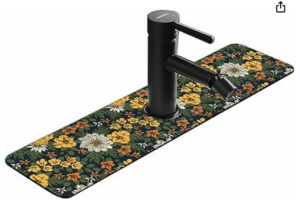 Sink Faucet Splash Guard — Pet peeve of mine was water dripping and pooling around the kitchen sink faucet. Enter this mat that has a hole cut out for the faucet and comes in tons of adorable designs. You can use it in bathrooms and laundry rooms too. Various sizes.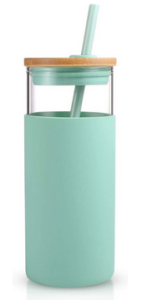 Glass Tumbler with Straw and Lid — for my late afternoon iced coffee needs. Comes in tons of pretty colors. I wish it were a teensey bigger but it's cute, easy to clean, and BPA free.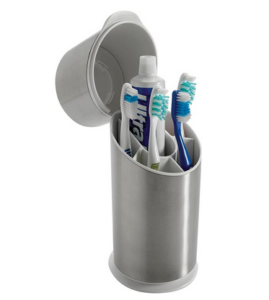 Toothbrush cover/container — I don't care which kind you get, but please please please cover your toothbrush. Google "toilet plume." While you may close the lid when flushing, others don't. Plus ick icks even if you take all the precautions. Let 2023 be the year you stop brushing your teeth with poop. Other options: this, this, and this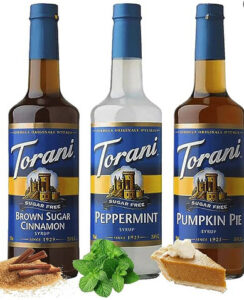 Holiday Syrup Flavors — speaking of iced coffee, one of my daily tiny joys is flavored coffee. I currently have five different flavors on my counter. This is a way to keep me excited about home-brewed coffee and to avoid outside coffee save for the occasional treat. White Chocolate Mocha, peppermint, and vanilla are my favorites. So many to choose from! I like the sugar free ones cause they're no calorie. Tip: if you're ok with sugar ones, Restaurant Depot is a great way to get them for cheaper. They sadly don't carry sugar free ones.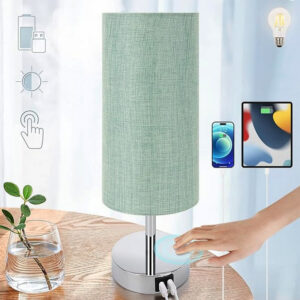 Tiny lamp — this one's nice but get any tiny lamp. If we're being truly sexy, you'll have multiple tiny lamps, all over your home. Kitchen. Bathroom. Bedroom. Bonus — USB Port! Touch Control! Dimmable! All traits Life of Yes℠ folk need and want in their lives. If you care about being TikTok trendy — OF COURSE YOU DO — using lamps instead of overheard lights is a meme / rabbit hole, e.g. this. I'm noticing a pattern this year: I'm really into a variety of cute options (sink guard, planters, this) and being able to choose one or a few I like.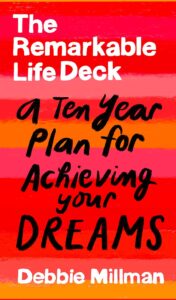 The Remarkable Life Deck: A Ten-Year Plan for Achieving Your Dreams — "From design legend Debbie Millman comes a deck that will empower and inspire you to achieve the life of your dreams."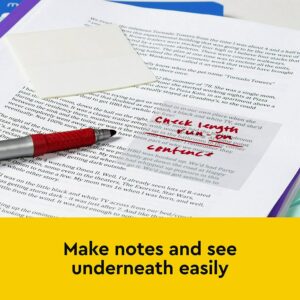 Transparent Post-It Notes — the nerd in me loooooves these! Watch this TikTok.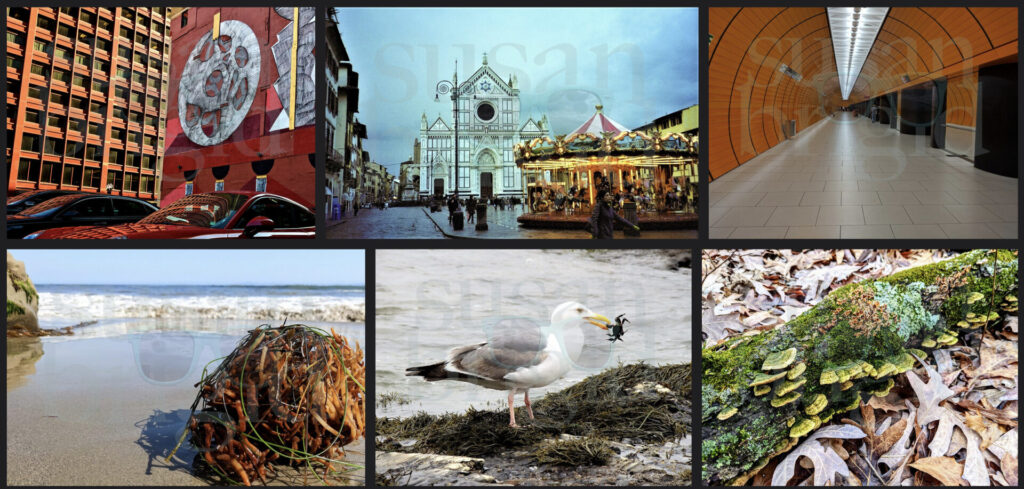 Photographs by Chicago snapper Susan Brigid Clark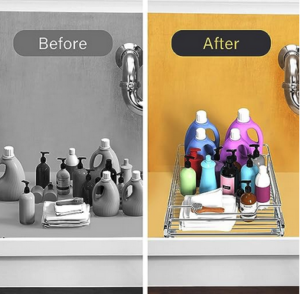 Slide Out Cabinet Organizer — I use this under my kitchen sink. Game changer. Used to be so annoying to reach the far back items. Relatively easy to install. Great solution anywhere you have hard to reach items in a cabinet.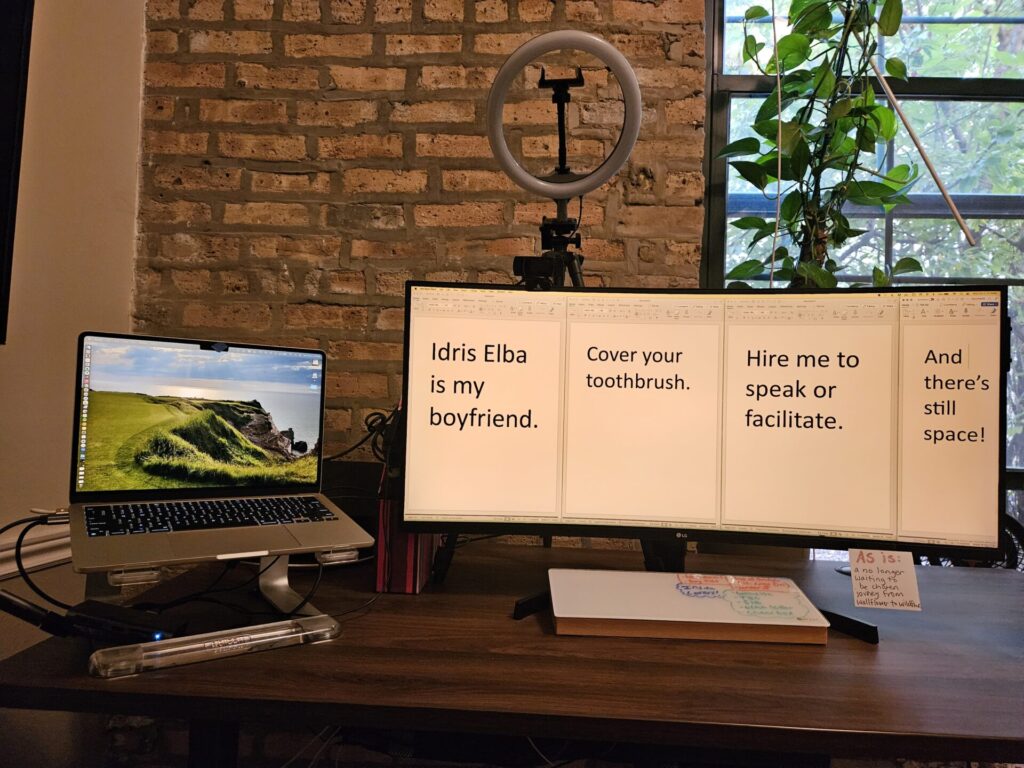 Curved UltraWide 35″ Monitor — I got jealous of Best Friend's screen real estate so a bit after he got this for himself, I ponied up. And it's amazingggggg. Usually I just work from the monitor but on days I'm feeling extra or when I have a Zoom going while I'm doing other stuff, I use my laptop screen as well. Gotta admit; I'm dumbly proud of myself for my artistry in "styling" this shot.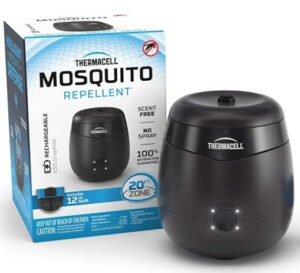 Mosquito Repellent Rechargeable Repeller — mosquitos loooooove me. It's the worst. I've used this for a few seasons now and it works. No smell, no noise, no buying batteries.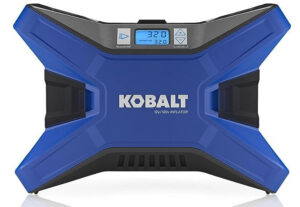 Portable Air Compressor Inflator — we love that we can keep this in the trunk, it doesn't take up much space, and not having to go to a gas station. Have used it both at home and on the road. We actually bought ours while in Chattanooga and got the low pressure warning. You can also use it on bikes, ATVs, air mattresses, and pool floaties.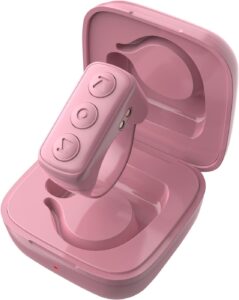 TikTok Remote Control, Kindle App Page Turner, Bluetooth Camera Video Recording Remote; TIK Tok Scrolling Ring — I can't believe I'm admitting I have this. But I do. And I love it. I've had it since January and use it usually at the gym, when I don't want to hold my phone or it's difficult to reach (e.g. when on cardio machines). I also use it when traveling and my phone/ipad is a bit of a reach away. My gym experience is definitely less than when I forget it. I know people who use e-readers in bed like not having to keep their finger on their reader and even being able to put the device further away than normal.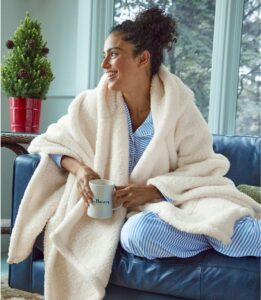 Cozy Sherpa Wearable Throw — "A super plush throw and cozy hooded wrap, all in one. Relax in cozy comfort in our wearable throw — perfect for home, camp and backyard."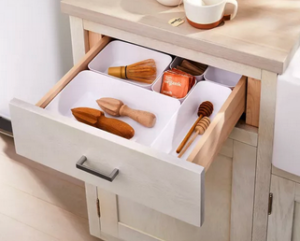 Containers — of any size and shape. They just make life so much easier and prettier. The clearance section at the Container Store is a fun place to browse. Target always has cheap and cute ones like these and these. Examples of how I use them:
In kitchen cabinets to hold tupper ware lids, pot lids, and anything that's in a hard to reach spot or that you use as a group (e.g. baking items, salad items). If you have stuff on high up shelves, put them in a container with a handle so they're easy to grab, even the items in the back.
In bathroom vanities to keep small items contained and easy to take in and out
Under the bathroom sink for dirty rags
Near the door for winter accessories (gloves, scarves, etc)
In the fridge to remind me "all these items are used together" (I do this for salads; feta, dressing, chopped produce, olives, etc)
In closets and cabinets to hold cleaning products, like with like AND to protect whatever the products are on from leaks (learned the hard way when Drano leaked onto our floors and ate through the wood)
To keep school/office supplies, cords, and jewelry organized
If you don't have an eye for organization or just want to outsource it, highly recommend For the Love of Tidy. Virtual and In Person services.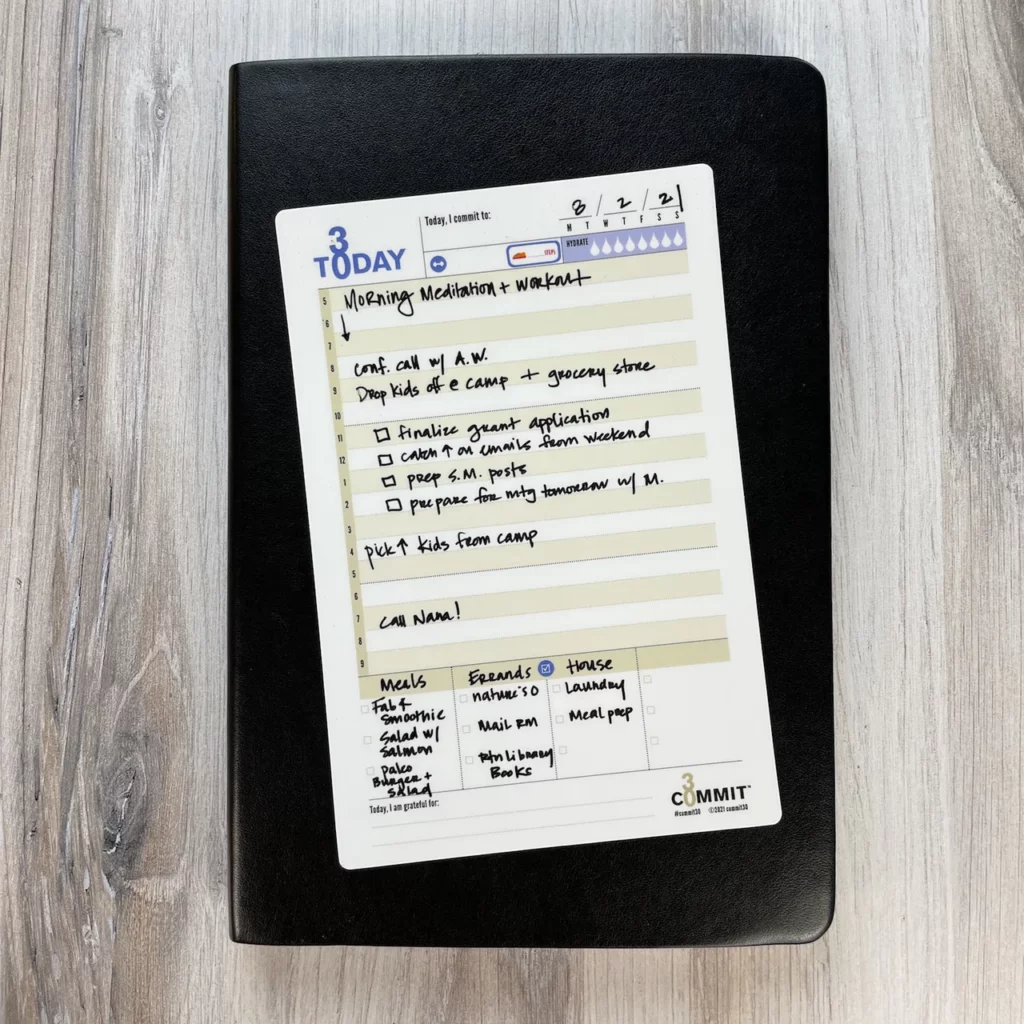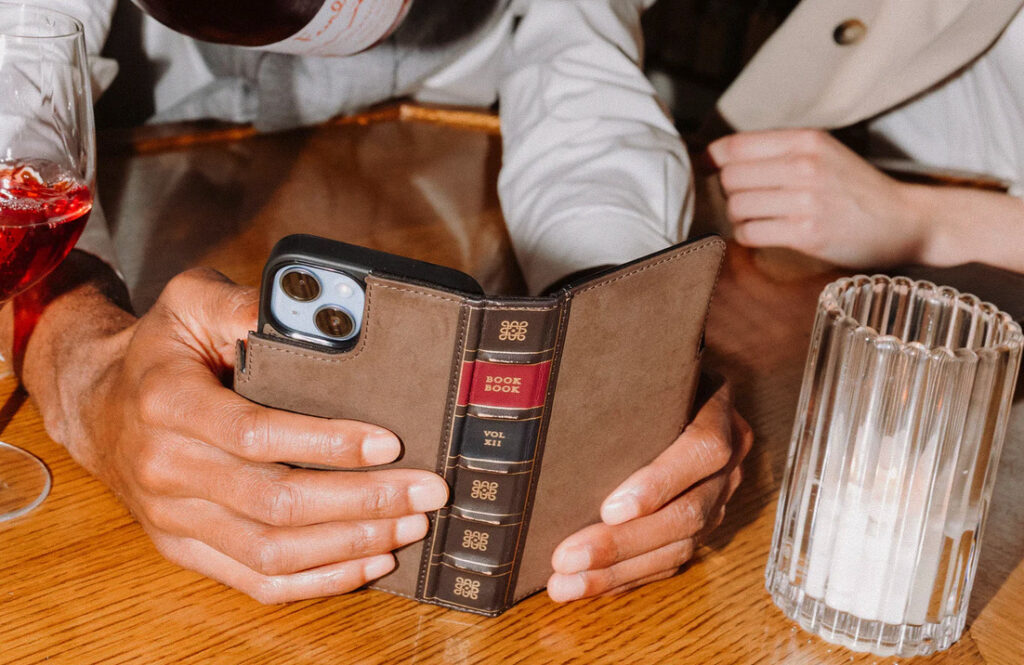 BookBook — Check out all their tech gadgets, so fun! "BookBook for iPhone streamlines your everyday carry by combining a wallet and iPhone case into a little luxurious leather book. There's room for your ID, bank cards, and cash. Your iPhone is securely and safely held in a MagSafe-compatible leather shell so you can easily separate your wallet and phone for charging, to use with your favorite MagSafe accessories or times when you only need your iPhone. It's like getting two cases in one. Read on for more of the story."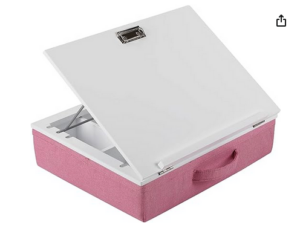 Lap Desk with Storage and Cushion — I use this every morning when I read (and scroll TikTok). I love that I can keep my book, sticky tabs, post-its, Kindle, and pencil in it. The ability to change the slant level is also a plus. I've sat with it on my lap for hours while I armchair or couch. Tip: I bought mine at Aldi for $30 or so; keep an eye out there. This is a cute one too.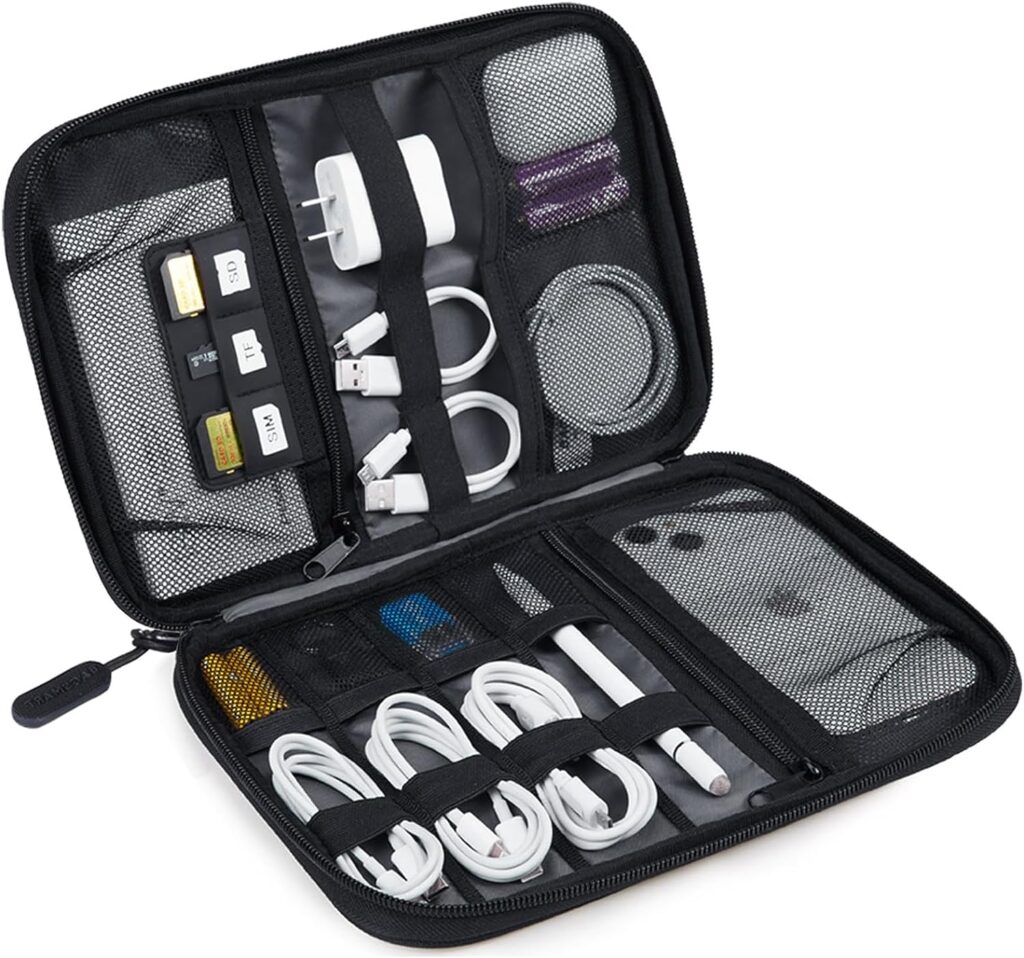 Electronics Organizer Travel Case — you've heard me talk about how even though I love not having stuff, I subscribe to the idea of multiple sets. I have four cleaning sets: 2 bathroom, 1 kitchen, and 1 general use. I have three tech sets: 1 travel bag, 1 coffeehouse bag, and 1 home. I have two toiletry sets: 1 home and 1 travel bag. This avoids the issue of "Oh shit, I forgot…" or "Ugh, I have to put this away…" In order to make the perfect sexy set, you have to have both the items that make up the set and the container for these items. Thus I have two of these cases, one for my travel bag and one for my coffeehouse bag.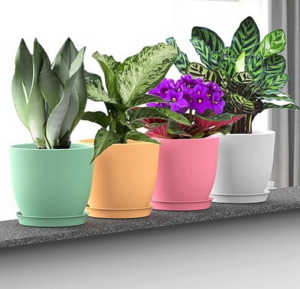 Plastic planters — such an easy, cheap way to beautify a space.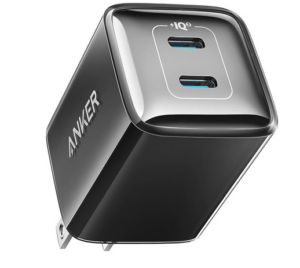 Durable Compact Fast Charger — we take these when traveling.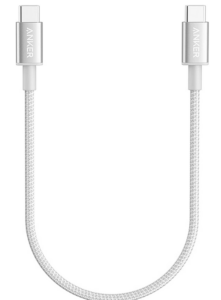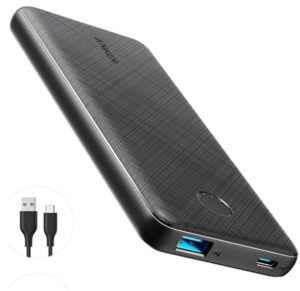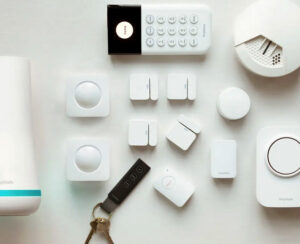 SimpliSafe Security System — you heard how this saved us multiple times this summer. One of those adulting things you're like, "Is this worth it?!" Yes, yes it is.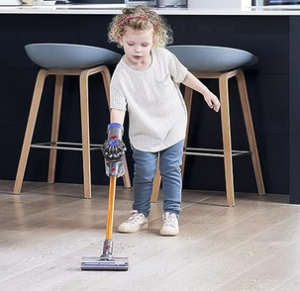 Dyson Cordless Vacuum Interactive Toy for Children — get them started early!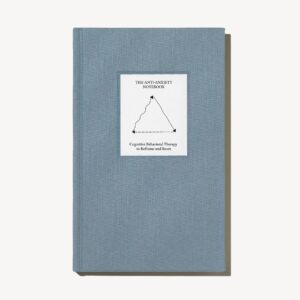 Therapy Notebooks — "Mental health tools for your everyday needs. Made by expert therapists and backed by research."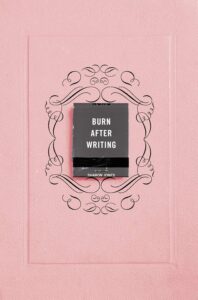 Burn After Writing — "Burn After Writing allows you to spend less time scrolling and more time self-reflecting. Through incisive questions and thought experiments, this journal helps you learn new things while letting others go. Imagine instead of publicly declaring your feelings for others, you privately declared your feelings for yourself?"
Books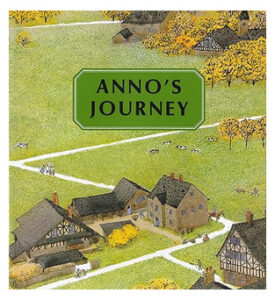 Anno's Journey: this was one of Mom's favorite books to "read" me as a kid as there are no words so she didn't have to repeat the same thing over and over. I love gifting this and light-word Peter Spier books like Noah's Ark and People to new parents. "A pictorial journey through the traditional countryside, farms, and towns of northern Europe takes readers past familiar storybook characters, visual jokes and puzzles, tricks of perspective, and other surprises."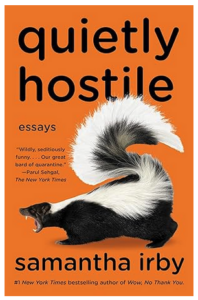 Quietly Hostile: by fellow ETHS alum Sam Irby! Who also performed at our house at an Idea Potluck! "Samantha Irby's career has taken her to new heights. She dodges calls from Hollywood and flop sweats on the red carpet at premieres (well, one premiere). But nothing is ever as it seems online, where she can crop out all the ugly parts. Irby got a lot of weird emails about Carrie Bradshaw, and not only is there diarrhea to avoid, but now—anaphylactic shock. She is turned away from restaurants for being inappropriately dressed and looks for the best ways to cope, i.e., reveling in the offerings of QVC and adopting a deranged pandemic dog. Quietly Hostile makes light as Irby takes us on another outrageously funny tour of all the gory details that make up the true portrait of a life behind the screenshotted depression memes. Relatable, poignant, and uproarious, once again, Irby is the tonic we all need to get by."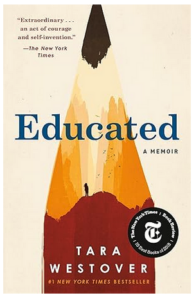 Educated: "Born to survivalists in the mountains of Idaho, Tara Westover was seventeen the first time she set foot in a classroom. Her family was so isolated from mainstream society that there was no one to ensure the children received an education, and no one to intervene when one of Tara's older brothers became violent. When another brother got himself into college, Tara decided to try a new kind of life. Her quest for knowledge transformed her, taking her over oceans and across continents, to Harvard and to Cambridge University. Only then would she wonder if she'd traveled too far, if there was still a way home."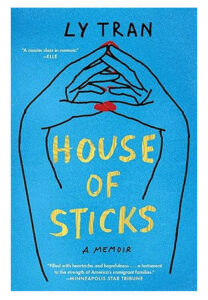 House of Sticks: "An "unsentimental yet deeply moving examination of filial bond, displacement, war trauma, and poverty" (NPR), House of Sticks is a timely and powerful portrait of one girl's coming-of-age and struggle to find her voice amid clashing cultural expectations."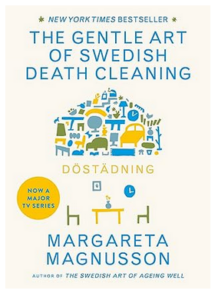 The Gentle Art of Swedish Death Cleaning: How to Free Yourself and Your Family from a Lifetime of Clutter — "A charming, practical, and unsentimental approach to putting a home in order while reflecting on the tiny joys that make up a long life."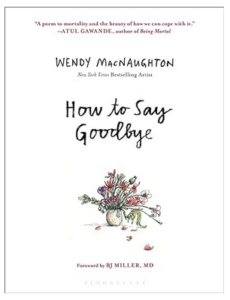 How To Say Goodbye — "Wisdom from hospice caregivers: how to be, when to help, what to say―with full-color drawings throughout"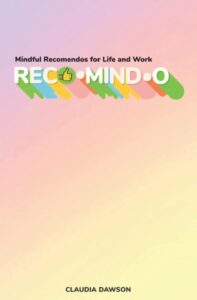 Reco•mind•o: Mindful Recomendos for Life and Work — "A short, useful collection of mindful tips for the inner and outer aspects of life."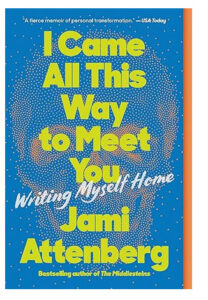 I Came All This Way to Meet You: Writing Myself Home — "In this brilliant, fierce, and funny memoir of transformation, Jami Attenberg—described as a "master of modern fiction" (Entertainment Weekly) and the "poet laureate of difficult families" (Kirkus Reviews)—reveals the defining moments that pushed her to create a life, and voice, she could claim for herself. What does it take to devote oneself to art? What does it mean to own one's ideas? What does the world look like for a woman moving solo through it?"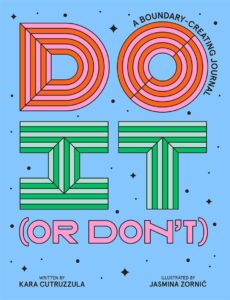 Do It (or Don't): A Boundary-Creating Journal (Start Before You're Ready) — "A guided journal for setting boundaries, perfect for anyone who has felt pulled in different directions, at a crossroads, or overwhelmed by options."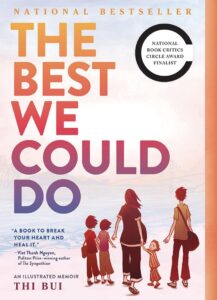 The Best We Could Do: An Illustrated Memoir — "In what Pulitzer Prize–winning novelist Viet Thanh Nguyen calls "a book to break your heart and heal it," The Best We Could Do brings to life Thi Bui's journey of understanding, and provides inspiration to all of those who search for a better future while longing for a simpler past."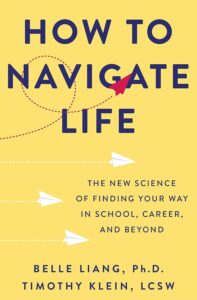 How to Navigate Life: The New Science of Finding Your Way in School, Career, and Beyond — Fellow BC Eagles, by a BC professor. "An essential guide to tackling what students, families, and educators can do now to cut through stress and performance pressure, and find a path to purpose."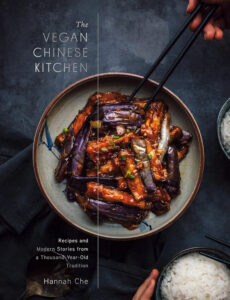 The Vegan Chinese Kitchen: Recipes and Modern Stories from a Thousand-Year-Old Tradition: A Cookbook — "A friend who's been a vegetarian her whole life says that if you don't know where to start with plant-based cooking, look to the cuisines that've been doing it for thousands of years. Plants are so inherent to Chinese cooking that in Mandarin, "cài" means "dishes" but also "vegetables," and The Vegan Chinese Kitchen by Hannah Che does an incredible job of celebrating classic and contemporary Chinese vegan cooking. The recipes are very much meant to be cooked from, transforming humble ingredients with simple techniques for elegant results. Each time I read the book I see another exciting idea that propels me to the kitchen, like treating enoki mushrooms like noodles, stir-frying fava beans with pickled mustard greens, using tofu skin instead of scrambled eggs in a classic tomato-egg stir-fry, marinating broccoli stems for a crunchy condiment, and on and on and on!" – Ali Slagle, recipe developer, food stylist, editor, and author of I Dream Of Dinner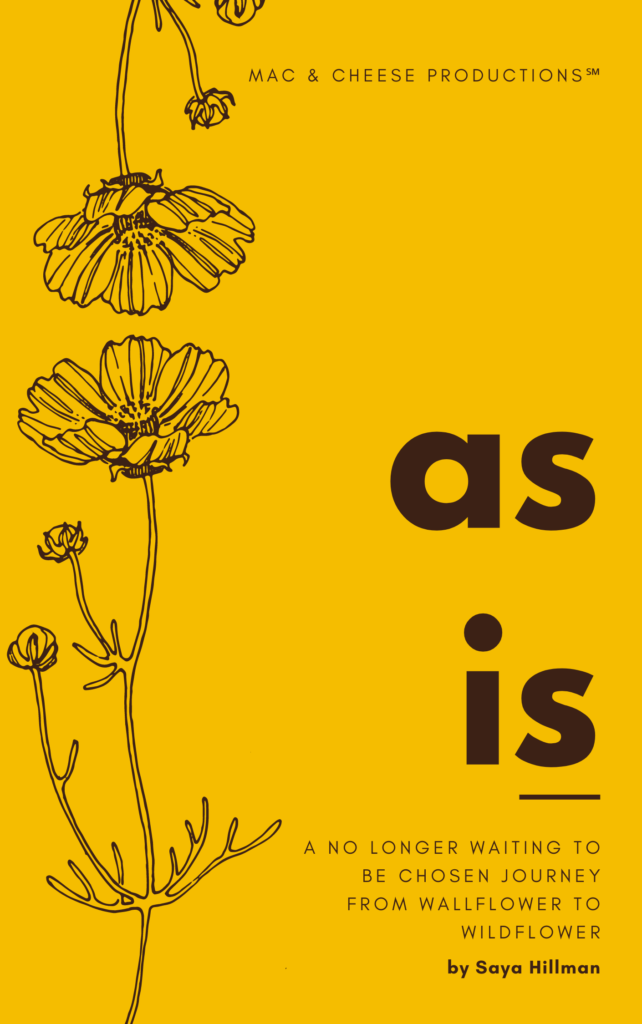 As Is: a no longer waiting to be chosen journey from wallflower to wildflower— He he he. This doesn't exist. But I can't wait to include my book on this list. Crossing fingers for 2024's. I WILL FOREVER HOLD THE FIRST BUYER IN MY HEART. "How a sad, silent abnormal girl grew up to be a blissful, vocal abnormal woman as Saya learned to embrace her literal and figurative stretch marks. Her everyday'ness, transparency, and shrugs make for a witty and inspiring reflection that'll have you murmuring 'Me too!' throughout even though you couldn't be more different. Bonus: Saya stitches in life acumen gleaned from her accidental and successful entrepreneurship that began when she heard the words, 'I need you to pack your stuff and go.'"
If you have gift suggestions of your own, drop 'em in the comments! Even if, especially if, YOU'RE the gift. Self-promotion is not a bad thing. Look at the size of my book cover! And it's not even real. If you're not your biggest fan, who will be? Looking at you women and POCs.