Head Cheese-It Saya likes lists
Saya's Type A. She's organized. She likes bullet points. She likes to cross things off. She has (strong, sometimes inane) opinions. She finds lists really helpful in brainstorming and reflecting. She likes easy to find, access, and share information. Especially of the win-win-win variety. Lists here are of the "This is so helpful!" variety and of the "What am I supposed to do with this knowledge?" variety. Take what serves you, leave what doesn't.
Links may be referral links. You may get goodness, M&C may get goodness, both may get goodness. Goodness being a credit, discount, compensation, a high-five. As an Amazon Associate, M&C earns from qualifying purchases. If M&C refers someone or something, know that the referral is rooted in genuine reverence for his/her/its quality and usefulness.
Because Mac & Cheese is headquartered in Chicago, many of the lists are Chicago-heavy. But many of the people, organizations, activities work virtually, so if something piques your interest, don't let location deter you from exploring further! If a business listed has closed, shoot Saya a note (so hard to keep up with openings and closings!).
Lists Below
Service Provider Recommendations
Life of Yes℠ Resources
Material Item Recommendations
Spotlight: Home Office
Life of Yes℠ Gift Guides
Coffeehouse Recommendations
Chicago: activities, lodging, eats+
More & Less Of
Things I wish I could get paid to do
Home criteria
Boyfriend criteria
Simple ways to comfort yourself
Your (used to be my) excuses
Your pet peeves
My pet peeves
Where I've traveled internationally
For tables, to pop out any listing, tap it/"expand space" arrow. To make tables easier to view on non-mobile, click "View larger version" at bottom.
Mac & Cheese Service Provider Recommendations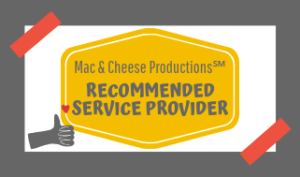 Look for this badge to know you'll get quality work by quality people
Due to the amount of asks and Saya attempting some amount of selectivity, no, you can't be added to the list (even though what you offer is fabulous). She adds people at her discretion. If you'd like exposure to the Cheese-It network, head here.
Alphabetical by category.
Life of Yes℠ Resources
See tabs for categories; on mobile, click the upper left three lines in the menu bar.
Material Item Recommendations
Cleaning, home office, kitchen, tech, writing+…
Spotlight: Home Office
Every time I share my workspace, someone asks about something they see, so here's everything I deem crucial to living my best work from home life. I've been wfh since 2004 but, in the most duh!!! statement ever, 2020 has brought with it a bunch of change even for us no-pants veterans. Change in how we communicate. How we prioritize. How we live day to day. And thusly I've transformed my physical space to match my pivots.
The theme to the (expensive, "Should I, shouldn't I") transformation is of course Life of Yes℠ —
How can I make the space where I spend the majority of my time as enjoyable, restorative, and energy-giving as possible?
What are my pain points? How can I lessen or remove them?
Are there ways to save money here so I can spend money there? Or is there something that's just worth it and that I should buy without over-analyzing or having to balance out?
Where can I implement my "use the good china" policy? Are there things I've been saving for a special occasion? For guests? Today and every day is a special occasion. I should treat myself as I treat my guests.
Note that if you remove the desk, or if you find a less expensive alternative, this transformation can be done for a relative small amount of money. Don't let my price tag stop you from the office set up of your dreams. As I always say, steal and tweak! Take my foundation and use it to customize best for your situation.
Links to and descriptions of specific items below the images.
Standing desk
I'm not usually one to succumb to Black Friday deals but I was guilty twice this year —
cookie dough
😂 and a standing desk (the deal is actually good till 12/31). My old desk had a very confined leg area not comfy for my 6′ frame and the standing desk converter I had left little surface area for me to use. I was also looking for an all in one that checked both the minimalist and adorable checkboxes. After a couple of hours of research, I went with Uplift. I liked the look and the range of customization. I need the stand option to be easy otherwise I'll sit all day and this had that. The reviews and its inclusion on various "Best" lists gave me peace of mind that the chunk of money would be money well spent. I knew Uplift were my people with their copious cable management options and incentive to be able to choose 4! free accessories from a wide-ranging menu.
My customization for the $599 Uplift V2 —
Desktop Style: Walnut Laminate (I wanted solid wood but $670 extra as opposed to $0 extra quickly evaporated that dream; I love the clean look of the white* and questioned if I made the wrong choice but the "wood" fits better with our home and I like the dark. They have a whiteboard option if you're into the idea of being able to write on your desk; that was a bit too much for me. *Peep her drawers! I love all of them so hard. I also need to upgrade my file cabinet and hers is prettyyyyy; one day. It's also from Uplift) +$0
Desktop Size: 60×30 (the 3rd biggest in five size options) +$110.00
Frame Type: metallic Industrial Style +$0
Grommets: Black non-powered (these are the holes in the back of the desk that you run your cables through; considered getting at least one powered one but decided I had enough nearby power sources) +$0
Keypad: Basic Keypad (no memory settings) +$0
Freebie Accessory 1 of 4: Standing Desk Mat with Heel Grab (I stood for a day without and for a day with, huge difference! Won over cynic. The heel grab is so you don't have to bend over to move the mat) +$0
Freebie Accessory 2 of 4: Bamboo Desk Organizer Set +$0
Freebie Accessory 3 of 4: Black Modesty Panel with Wire Management (a large mesh pouch that holds surge protectors and cords) +$0
Freebie Accessory 4 of 4: What?!? Did I not choose a 4th one?! My order only says three. Grrrrr. Well, I would've chosen a motion-x board or the tablet stand.
Magnetic Cable Channel (magnets to the desk frame and conceals cables routed up the desk leg) +$19.00
Keyboard Tray: Black Big Ultra-Thin Keyboard Tray with Quick-Adjust Mechanism (I knew I didn't want to put the keyboard on my desk as that'd defeat the purpose getting more space; included track spacer allows me to push the tray entirely under the desk) +$150.40
With the $50 discount, $51.78 in sales tax, and $0 shipping, the grand total was $828.40. Or as I like to think of it to help me be ok with the amount, three cleaning gigs I yes'ed that I normally would've passed on.
You know I used this opportunity for a delicious deep clean of an area that hadn't been cleaned in a few years. Once I removed the old desk and before the new one arrived, I joyfully Dysoned and Swiffered. So sparkly fresh! I love the idea of starting a new chapter with a clean, blank slate.
The desk came in three shipments, a week after order was placed, over the course of a day. It was like Christmas over and over and over. The instructional video they sent had them assembling the desk in seven minutes. Uh, yeah. Not so much for me. It took me hours to assemble. It wasn't hard, just a lot of steps and I wanted to make sure I got 'em right. Plus I had a lot of accessories to install that the video didn't cover, not to mention my cleaning breaks. They offer an assembly service. If you have the cash, do it.
Cords are the bane of my existence. When I become a millionaire, I will absolutely pay someone for cord management — installing them, hiding them, simply thinking about them. I used the office refresh as an opportunity to get rid of, clean, and untangle. Have you ever run a dampened rag over a dirty cord? Nothing more satisfying.
I was worried about what I was going to do with all the stuff that was in the three drawers of my old desk, seeing that the standing desk has no drawers, even going so far as Shopping Cart'ing various solutions on Amazon, Target, Bed, Bath, & Beyond, and the Container Store. But after some reorganization, including relegating low touch materials to another room, I was able to fit everything I need in a drawer set I already had, which I placed immediately behind me so it doesn't encroach on my leg space but I can still easily grab what I need.
Laptop I last had a desktop in 2012. I know that because that was the year I got engaged and in lieu of a ring-ring, this happened: How I ended up with 3 engagement rings and an engagement Mac Book Air. The main reason I liked having desktop was screen size. As I entrepreneured more and more and traveled more and more, I realized I liked the option of easily packing up my office and heading off to a coffeehouse or Belize. And that I could still get the screensize without having desktop. I've been Team Laptop + Monitor ever since. While I'm not Team Apple with most things — I'm Android, I don't care about having an iWhatever or Apple made earbuds — I'm 100% Team Apple when it comes to a computer. PCs feel 1980s to me. Foreign to me. They're soooo pricey. This is one area I spend the money without "Should I, shouldn't I" back and forth. If I need to cut back elsewhere to make a purchase, done. Or I'll just find a special someone who'll get down on one knee with a Mac Book Air in hand instead of a ring.
Wireless printer/copier
I was shocked to learn how many people don't have printers or copiers at home. I love the convenience and not having to run to FedEx. It's quiet, simple to use, fast, and the toner lasts a long time. Being able to print to it no matter the device or it being plugged in to said device is delicious. It brings me joy that it's on the other side of the room and I didn't have to take up desk space with it.
Scanner
They no longer make the version we have; this is the updated edition.
Ring light with extendable tripod stand & phone holder
In the "Never thought I'd buy" category but it makes all the difference! I look so much better virtually. It has three moods and different intensity for each mood. After seeing how much I liked mine, Best Friend got one too. Of all things I'd buy for the Zoom home office, this comes in at number one as far as how often it gets used and the difference it makes.
Webcam
My laptop camera is fine quality wise, I don' t need anything fancy in this area. The main reason I got this is because of my set-up — if I use my laptop camera, I have to look to the side instead of straight ahead. Because I can perch this on the monitor in front of me, I can look directly at the camera. Bonus: I look better too.
Monitor
The one I have is so old I can't find a link to it, but it's similar to this one. Same brand, same size. I don't care much about display quality. I just wanted the option to have two screens and a larger screen than my laptop. We usually buy monitors whenever they're on deep discount which is how this one landed here. Two screens is a game changer, highly recommend.
Microphone
I was using the mic on my laptop before I got this one and though it was clear, my voice was not as robust as it could be/as others due to distance. Not about to drop tons of money on a mic but on board with the fact that an external mic can really increase audio quality, even a lesser priced one, I bit the bullet with this middle of the road one. Not the cheapest, not the priciest. Very happy with it and the "Tech Guys" at various recent speaking gigs of mine have complimented me on my audio. My one knock is that it has a blue light that stays on and it's really bright. Luckily I don't sleep in my office otherwise we'd have an issue. Best Friend says he feels like he's at a rave.
Laptop stand
I've had this for a few years and love it. Dual purpose for me — raise my laptop so its eye level when I'm at my desk and to keep my laptop's underside without blockage. You don't want your laptop fan to overheat or have to grind it out. Unlike other ones, it comes a part which makes traveling with it easier.
3-Port USB hub with ethernet converter
I have two of these connected to my laptop as without them, I wouldn't be able to connect all my devices. And most importantly, it allows me to hard wire in so I don't have to use WiFi when Zooming.
Ethernet cable
Speaking of hard wiring, one of the first things we did when quarantine started was invest in this ridiculously long cable so that both of us could bypass WiFi. My office is miles from the router though. Running the cord down the hallway to my office from where the router is is our band-aid version; it doesn't look nice. But who's coming over these days? We're going to wait and see how this all shakes out and if we want a more permanent solution. For now, this works perfectly. TIP: bring it with you when traveling if you'll be doing virtual work. I taught storytelling while in Chattanooga and while I could've used the hotel WiFi, we all know how that can be spotty. As you don't know what the setup will be, having a long cord gives you peace of mind that whatever it is, you can make it work.
iPad stand
I bought this two years ago for the rare time a Lighthouse Squad member couldn't be with us physically and needed to Zoom in. Now I use it often for my offerings where I want multiple angles, e.g. my Sparkle & Shine series where we clean together, separately. I love the versatility and mobility. And if I wanted to bring it on the road, it's light and foldable.
Wireless keyboard and mouse
Just like Oprah. Loves. Bread. Again, I. Hate. Cords. Looking at them. Dealing with them. Again, the first thing I'll do when I'm rich is hire a Cord Wrangler to concoct stupid expensive ways to hide all the miscreants. For now, I find work arounds. Like lessening the amount of cords. I've been wireless moused for years but just became a wireless keyboarder and OMG. Whyyyyyy did I wait so long. It's heaven.
Cord holder
Pet peeve is cords falling from where you want them! This is stuck to the inside of my keyboard cubby hole and it holds my phone cord. I love that I can stuck the cord away when not in use and that it's easily retrieved when needed.
Desk chair
Disclaimer: I got this chair as part of my swag bag for being a speaker at a conference (I know, right?!?). It. Is. Pricey. I don't know if I'd shell out the dough. That said, if you have said dough… Shell. (It's fun to browse the Herman Miller site; if you want the
Amazon link
)
Turned my door into a whiteboard with
sticky poster paper
. Meetings. Self brainstorm sessions. Doodling. Screenbreak. Good for so many things.
One of my sanity savers is my
Chaos Box
. This is where I throw all my paper that I need to deal with but don't want to deal with in the moment. Receipts, manuals, check stubs, invoices, cards. Mostly stuff I'll eventually digitize or file. I empty it every one to two months. Hell on the inside but pretty on the outside and that's what matters.
I also have an
Art Box
. Another take a break from the computer outlet for me is doodling and I like to change where I doodle so I wanted an easy to transport container. TIP: The Container Store clearance section often has chaos and art box options at deep discounts cause of a tiny scratch or missing XYZ. Due to weight of contents, I like these boxes to be hard not soft.
Home Office Joy Additions
The top of my drawers is in my Zoom background so obvs, it needs to be cute. I also prefer to not use overhead light. Enter lamp I had stuck away in a corner. I love bringing items I already had but didn't use back to life! Overhead lighting can be so conference room'y and hospital'y. Highly recommend lamping yourself. TIP: Ikea has a great selection and those prices yo…
I was a plant mama pre-quarantine but have morphed into a Plant Mama. My favorite way to start each day is to turn on music or the news while the coffee is brewing and tend to my plants. Trimming. Watering. Dusting. Spritzing. Whispering. (Yes, dusting plants is a thing! TIP: Find out how to care for plants and get some delivered to your Chicagoland doorstep here) My biggest plant a-ha moment with the office? I had a plant on my windowsill before; I added five more and it feels so much more naturesque and serene in here, making me realize how barely noticeable the one plant was. I also made what I had deemed as floor plants due to their large size sill plants and they're perfect in their new spot. Mismatched pots, sizes, and types makes for a wild, soothing jungle.
Another "use the good china everyday" choice was to stop saving candles for guests. Now my home continuously smells like pine and the flickering flame is a great screenbreak and brainbreak. Whenever I see sales on tree-adjacent scents, I gobble them up. TIP: Bed, Bath, & Beyond and Kohl's often have 40-50% off sales.
While I'm all things digital for my schedule, to do list, planner life, I do like me a cute, tiny analog desktop calendar. And art goes a long way for inspiration. Bonus: the creator of both Matthew is a small business friend so I feel doubly good when I support him. (TIP: First timers, go here for $5 off your order)
A home office is not complete without beverage support. In this case, cute coasters and cute mugs. I'm horrible at drinking water so this is a must; I fill it at the start of the day and if I'm good, throughout the day. For whatever reason, a glass of water does not inspire me to drink but a bottle does. Bonus: it's good for hikes and walks and travel.
The electronic that I use the most personally and professionally besides my laptop is our Sonos system. I always have audio on — podcast, NPR, music, nature sounds, holiday music — and I love it following me from room to room (when I'm a millionaire, my custom-built home will be wired, but till then…). We have one in the bedroom, both bathrooms, office, yard, dining room, and living room. I can control everything via my phone, including volume and muting in certain rooms. You can use it as an alarm or as a bedtime lullaby via the timer feature. The sound quality is top notch. Though the units are pricey, the option to build your system as your budget allows makes a robust system doable. We started with the big one, a gift for our wedding and over the years have added the smaller ones.
Life of Yes℠ Gift Guides
Coffeehouse Recommendations
For non-Chicago coffeehouses, head here.
More Lists
Chicago: activities, lodging, eats+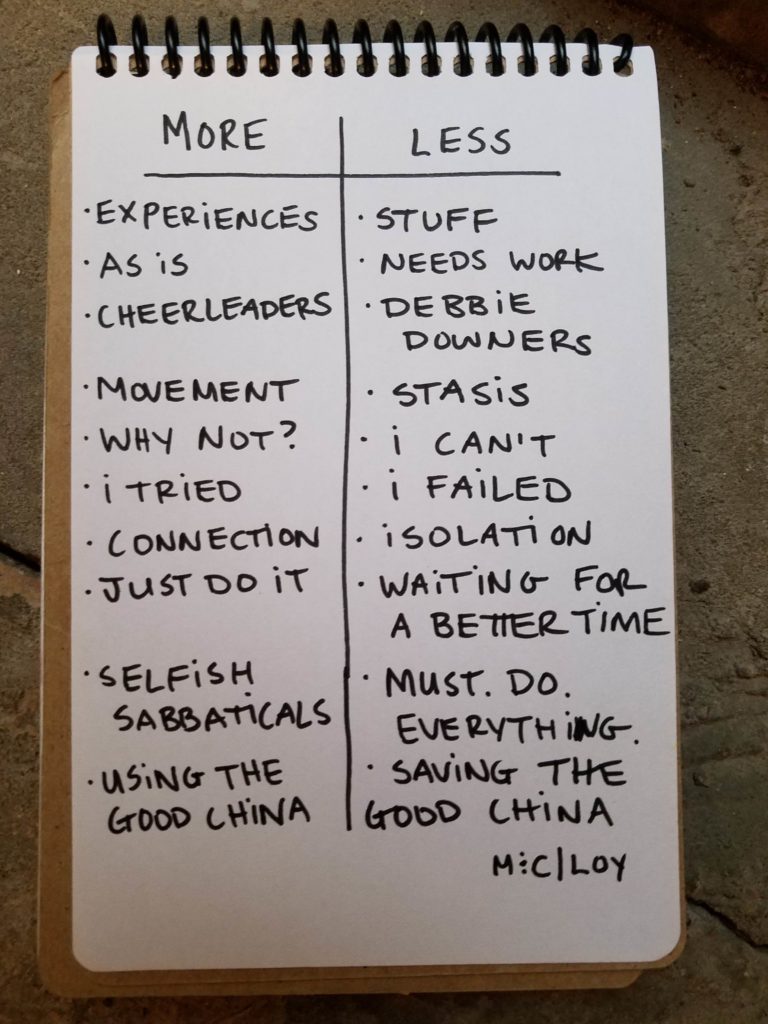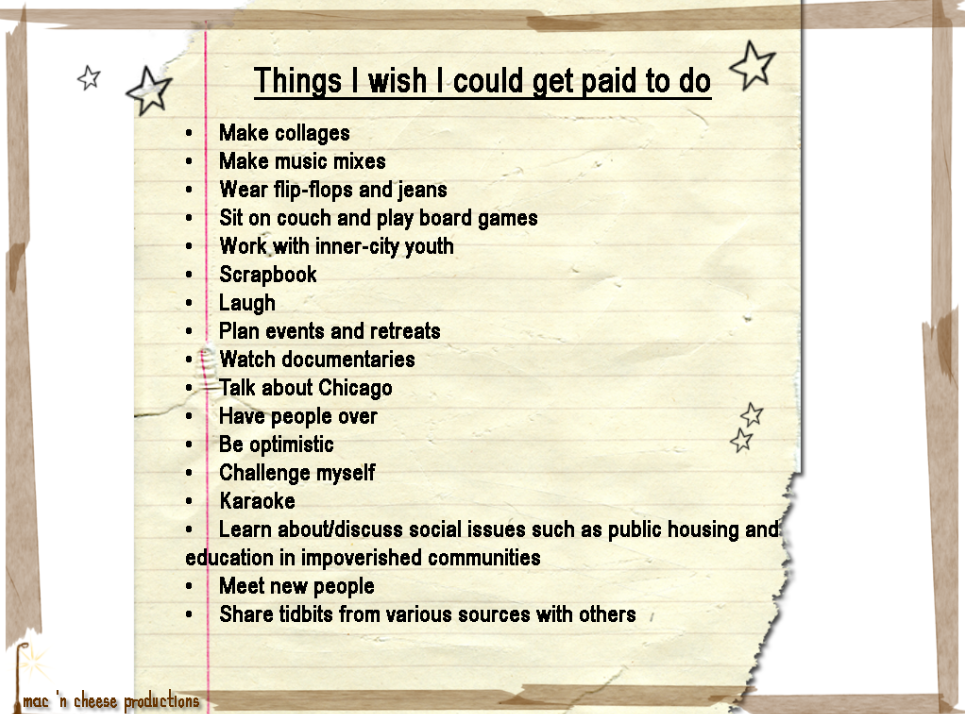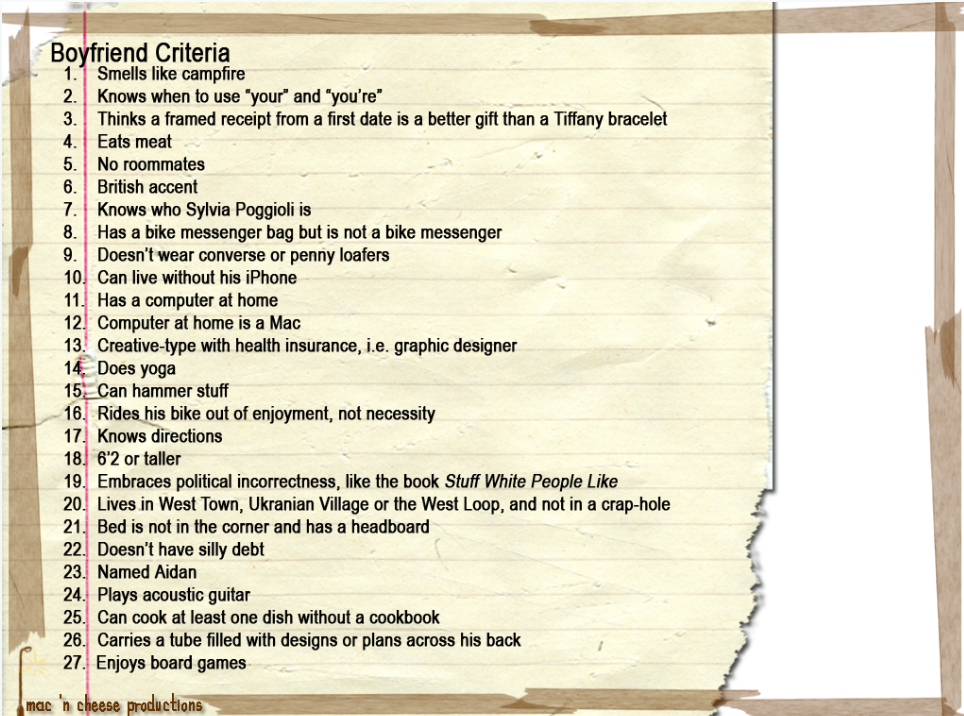 Simple ways to comfort yourself
How I find light in darkness
listen to the holiday music Pandora station, even in April
drink hot chocolate – with marshmallows on especially dark days, and peppermint stir sticks on the darkest of days
drink mulled cider – so easy to make with mulling spices
buy yourself a hugeass, "just for you" mug with a puppy or a snarky saying on it
volunteer – read a book to a kid in a shelter fleeing domestic violence or take a dog rescued from abuse for a walk
perform random acts of kindness – make it official and become a Raktivist
send a handwritten thank-you note – bonus if you buy your stationary from a local, lil' guy
indulge in personal grooming – manicure, pedicure, haircut, massage, waxing
at night, as you start to feel yourself gravitate to vegging in front of a Law & Order: SVU rerun, clean instead – you'll go to bed with a sense of productiveness and accomplishment (not to mention a few more calories burned) and wake up to an inviting, blank slate space ready for your dreams to be transformed into reality
get a damp cloth and clean your cords (extension, power, USB, etc) – the dirtier the better (you know, those ones behind your desk and the couch); hold one end and run the cloth the length of the cord and back again. THERE IS NO BETTER SENSATION.
sweep and mop under the bed
use a Magic Eraser on scuff marks throughout your home
change your sheets and make your bed – I am not usually a proponent of bed-making; exception to the rule – people are coming over and/or you're in a dark place
wake up to anything but the news
find apps to make _______ easier
go paperless and digitize everything
find the thing that has been on your To Do List for far too long, you know the thing that you keep moving to tomorrow, next week, next Fall, and then either do it or take it off the list and let it go
buy yourself flowers
file all the things on your desktop in commonsensical folders on your hard drive and/or on the cloud that are easy to find and access and have a desktop with nothing on it
Inbox Zero – find tools to make that easier
replace your nasty sink strainers
run your stove knobs and grates through the dishwasher
deep clean the dishwasher
build a fire and stare silently into the flames – in your fireplace, your fire-pit, at a campsite
yoga
ingest sunshine – take a walk, lay in the grass, eat outside
clean your ceiling fan
engulf your home in twinkly white lights
clean or exercise while you electric toothbrush your teeth – my multitasking soul loves to tidy up rooms or do heel lifts while brushing
clean the personal hygiene items in your shower, e.g. your bottles of shampoo and conditioner
eat ice cream from an ice cream shop (as opposed to the grocery store)
surround yourself with positive people
not to get all Silence of the Lambs'y, but lotion up! – especially after the harshness of winter, lather your feet with lotion or vaseline and put your slickness into thick socks and sleep with 'em on
wash your purses, bags, and luggage
use the "good stuff" that you usually save for guests — wine glasses, china, fancy hand soap, candles, etc.; milk from a wine glass, yes please!
Swiffer dust your home and office
wipe down your phone and door knobs
compress gas your keyboard
laugh – my preferred method is through taking, seeing, and/or facilitating improv
buy fancy cheese instead of generic-brand cheese
lavender everything – yoga wipes, tea, room spritz, cleanser (Chicago, you can take an Essential Oils workshop with the lovely Dana Frost!)
help someone find a job, a client, housing, a new friend, a date
put a Hate Has No Home Here sign in your window or on your lawn
dump a spoonful of sour cream or bacon bits or both on whatever you're eating
How others find light in darkness
always be learning; take a class – Dabble, Khan Academy, Old Town School of Folk Music, Chicago Glass Collective, General Assembly
steam room or sauna – King Spa kinda scares me so I've never been there but I know many who love it; I do love how it's financially accessible to us wee folk
engage in physical activity – dance, run a marathon, Crossfit, bike ride
find a cuddle party – these also scare me but a group that has Cuddlemonials can't be bad, right?
join or start a #resist Meetup
crockpot a meal
get dirty in a community garden
lose yourself in a book
lose yourself in adult coloring books
join or start a movement, like Rise, the Women's March on Washington, and the Illinois March on Springfield
join or start a group that exists to offer literal and figurative outstretched hands to those in need, like the Home Sweet Home Chicago Refugee One Crew
have a Job Description that makes people amen and remember what's important in life —
"We believe in promoting diverse voices. We read blind because we value the words and ideas above all else. We believe that books can transform the way people think, can teach compassion and end biases—so if you're only reading books by dead white men, then we aren't the place for you. We want to make people less afraid of Muslims. We want to create a safe space for LGBT+. We want diverse books, own voices, and a fair shot for underprivileged writers. If you voted for the dangerous, hateful man who is our current president, then we aren't the right place for you. If you didn't vote at all, then we aren't the right place for you. If you don't believe climate change is real, then we aren't the right place for you. If you don't care about history, the human experience, the heart behind every breath—then we aren't the right place for you."
Your (used to be my) Excuses
"It's not the right time."
"I'm waiting for a better time."
"When I have more time."
"I'm saving money."
"I don't have money."
"When I lose ten pounds."
"Once I get that promotion."
"I'm waiting for a sign."
"When I move."
"Next month."
"Next year."
"January 1."
"After I get certified."
"Once I get it perfect."
"When it feels right."
"I don't know what to say."
"I don't have anything new to say."
"I'm a private person."
"I'm an introvert."
"I've been hurt."
"I don't want to appear braggy."
"I haven't done anything share-worthy."
"I like so many different things."
"I'm not an expert."
"I don't want to be a downer."
"I'll offend someone."
"I'm different."
Your Pet Peeves
I collected pet peeves for a film I was making. A sampling.
People who clap when airplanes land
People who use tiny Neiman Marcus bags to carry their lunch to work
People who say "that's a mute point"
The Dave Matthews Band
When people set alarms and then go out of town
New fathers who talk of their wives as if they're farm animals. "Her left breast doesn't produce as much milk as the right breast."
People who wear outerwear – coats, hats – indoors
Nicholas Sparks' books
People who put clothing on animals
Stock tip emails
Waiting for service people to make house calls (cable, phone, etc.)
Men adjusting themselves in public
People who groom themselves in public, particularly cutting nails in close quarters like an el car or bus
Cleaning out the sink trap
Losing one glove instead of two
People who honk going through alleys
People who don't honk going through alleys
My Pet Peeves
Refrigerated peanut butter
People who say "It's in God's hands."
Open-ended text messages like "How was your day?"
Dogs that look like rats
People who hate the Dave Matthews Band because so many people like them
Guys who have seven acoustic guitars but don't play guitar
Black jelly beans
When I can hear people: 1) chewing 2) swallowing 3) breathing
When someone refers to their condo, instead of their home – "Want to come over to my condo on Friday?"
Spending money on feminine hygiene products
Sticky syrup bottles
Not being able to find your favorite bra in stores anymore
Emails with the urgent flag
People over 25 who have their bed in the corner or don't have a headboard
The expression "Where you at?"
LOLs and text spelling, e.g. "Where r u?"
People who boo at karaoke
People who wait to take out their Ventra AT the turnstile
Socks that slide down in my boots/shoes
Squishy fruit
Food that goes bad right after you bring it home
People who don't know how to use Reply All
People who choose ringtones in coffeehouses
No matter how slow/fast you open a yogurt/pudding, it always squirts on your clothes
When you eat something and then later that day you notice mold in it
Socks with sandals
People who don't wave when you let them pull in front of them
Men who catcall, stare, comment on your physical appearance
When you've been talking forever on the phone and realize the person was disconnected and have to restate your deep thoughts
When people tell you the age of their child in days or months if the child is over a year
Where I've traveled internationally
If you're heading to any of these places (or US destinations), I may have written about our trip on the blog.
Jamaica
Rwanda
England
Mexico (Mexico City; San Miguel de Allende; Puerto Vallarta; Cancun; Tulum)

Amsterdam

Belgium

France

Norway

Sweden

Argentina
Chile
Canada
Ireland
Belize
Bahamas
Italy
Japan
Portugal