Other Mac & Cheese stores — Garage Sale; Mac & Cheese Store; Amazon Store
Everything here has been lovingly refinished by Type A, clean-freak, amateur DIYer Saya — items may have signs of age and wear and most definitely have imperfections. Ya know, vintage'y, one of a kind, with character.
Pick up is in Chicago's Wicker Park, near Damen and Division. To purchase an item, send an email to Saya and let her know which you're interested in. Prices firm. If something has been sold, it'll be marked as such. Venmo, Paypal, or Quick Pay/Zelle; you can pay after you see it in person and make sure you do indeed looooove it. All sales final. No refunds or exchanges.
What's with the names? Due to the involved blood, sweat, tears, curses, and love, these become Saya's babies and babies need names.
Click on photos to zoom in.
Some Before & Afters of Saya's Not for Sale collection —
---
Chest — "Sandy"


Fill her with kid toys, pet toys, blankets, clothes, shoes?!?!
$50
30″W x 15″H x 17.5″D
Wood
Feet are felted for easy moving and floor protection
Stain: Minwax – semi-transparent, Honey 272

Sealant: Varathane – polyurethane, crystal clear matte
---
Mirrors — "Bobby"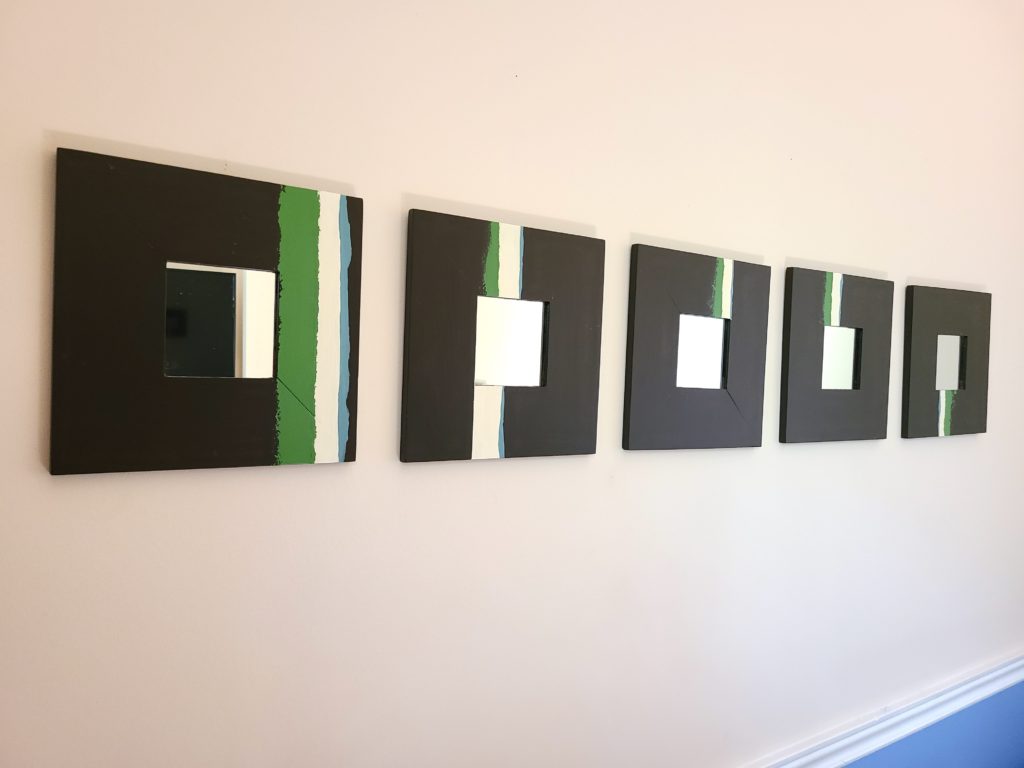 $20 (set of 5)
Each square is 10″H x 10″W
Wood
Stain color: Kona
Sealant: Matte
---
SOLD Curio Cabinet — "Lydia"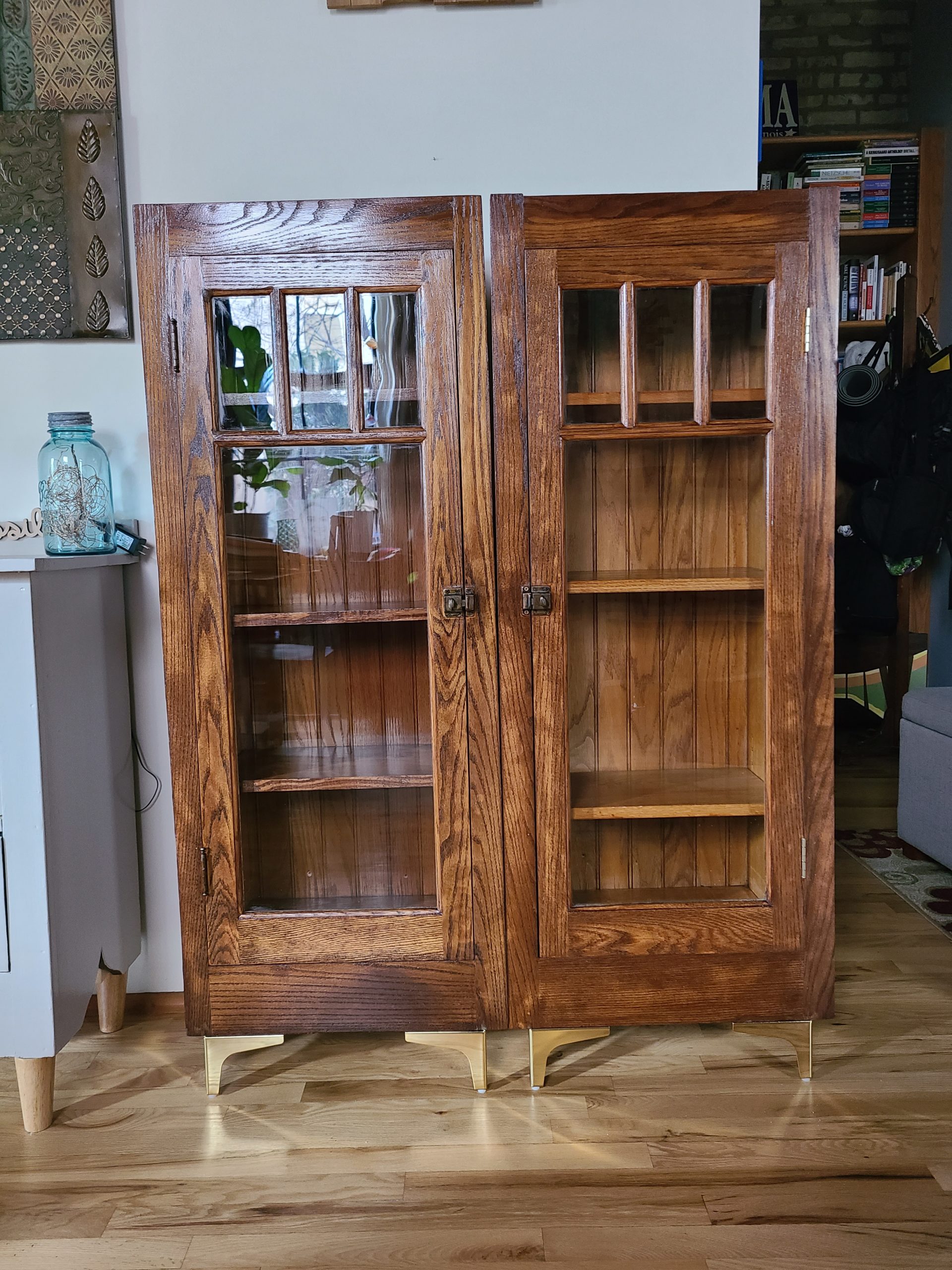 Willing to sell together or separately.
$325 for both / $180 for one
56H x 21W x 10.5D
Shelves: 16.5W x 9D
Two unconnected cabinets ideal for display or storage (art, collectibles, books, games, office supplies…)
Since the sides are finished, the cabinets can be kept together or used apart
The back is not finished
The six shelves are adjustable with four height options (pics purposefully show mismatched heights)
The top is also finished and flat, allowing it to also be used as a shelf
Feet are new, made of iron and rubber padded to prevent scratches
Imperfections of note though they all relatively blend in (see pics) —

One of the doors has new hinges and are a different style than the other door
There are a few wood filler spots and are visibly different than the original wood
One cabinet has new shelves and are a different color than the other three shelves
There are scratches on some of the glass panes, along the edges

Stain: Minwax – premium oil, semi-transparent, English Chestnut 233

Sealant: Minwax – water-based, polycrylic, semigloss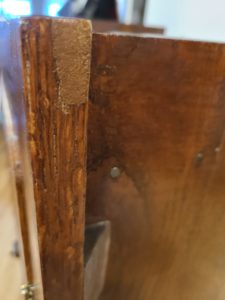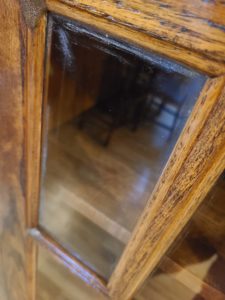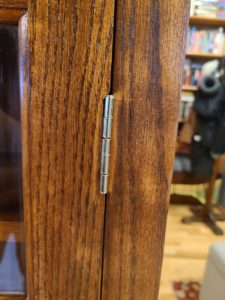 ---
SOLD Step Stool — "Taylor"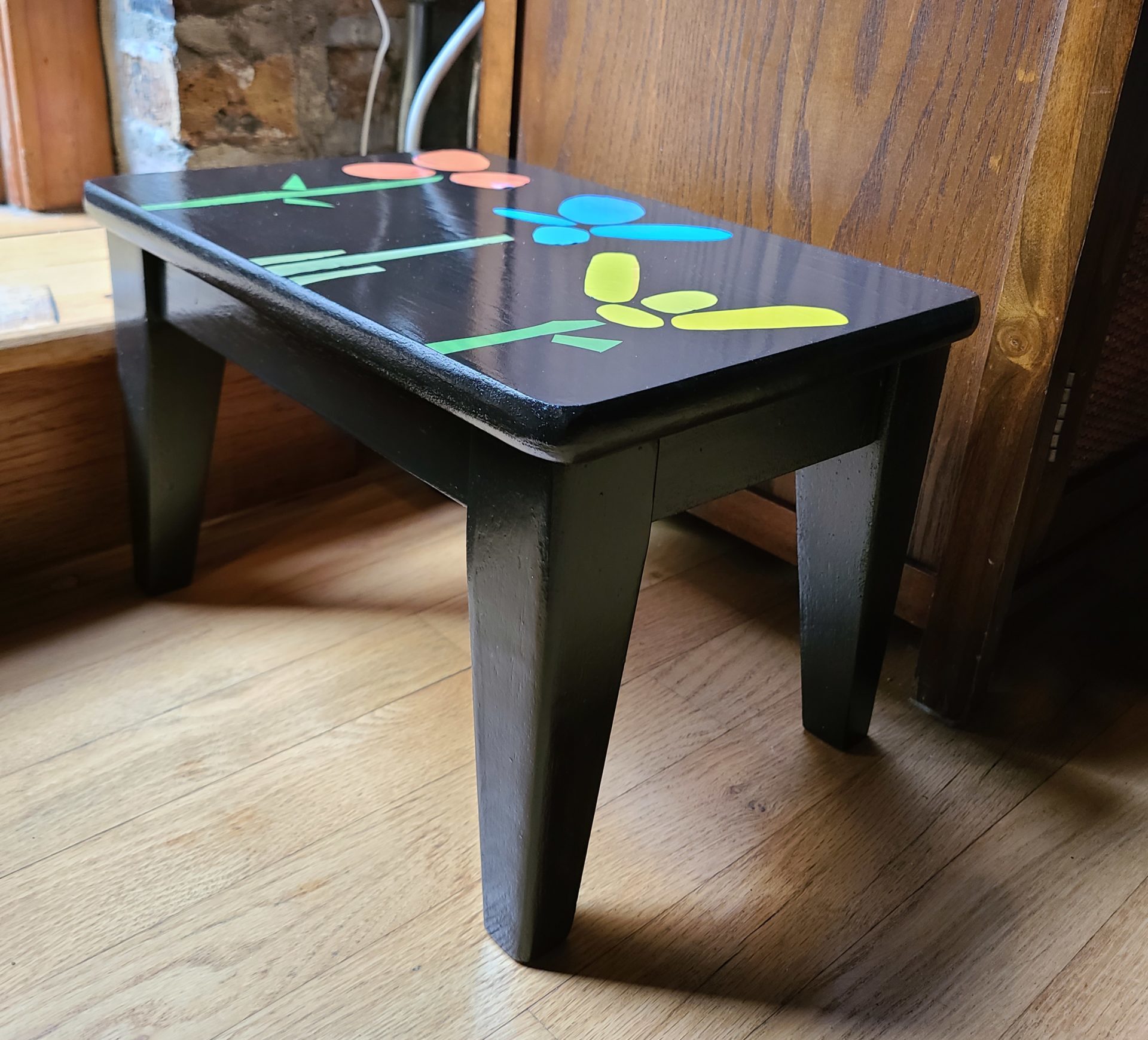 I was using as a plant stand pre-refinishing (see example pic). Though sealed, I would be hesitant to use it as an actual step stool or anything that'd cause friction on top to minimize decoupage damage.
$22

9″H x 14″W x 9.5″D

Design is decoupaged and sealed paper

Stain: Varathane, Kona (it's a deep brown, not black as it can appear in photos)

Sealant: Minwax, clear semi-gloss
---
SOLD Side Table — "Agnes"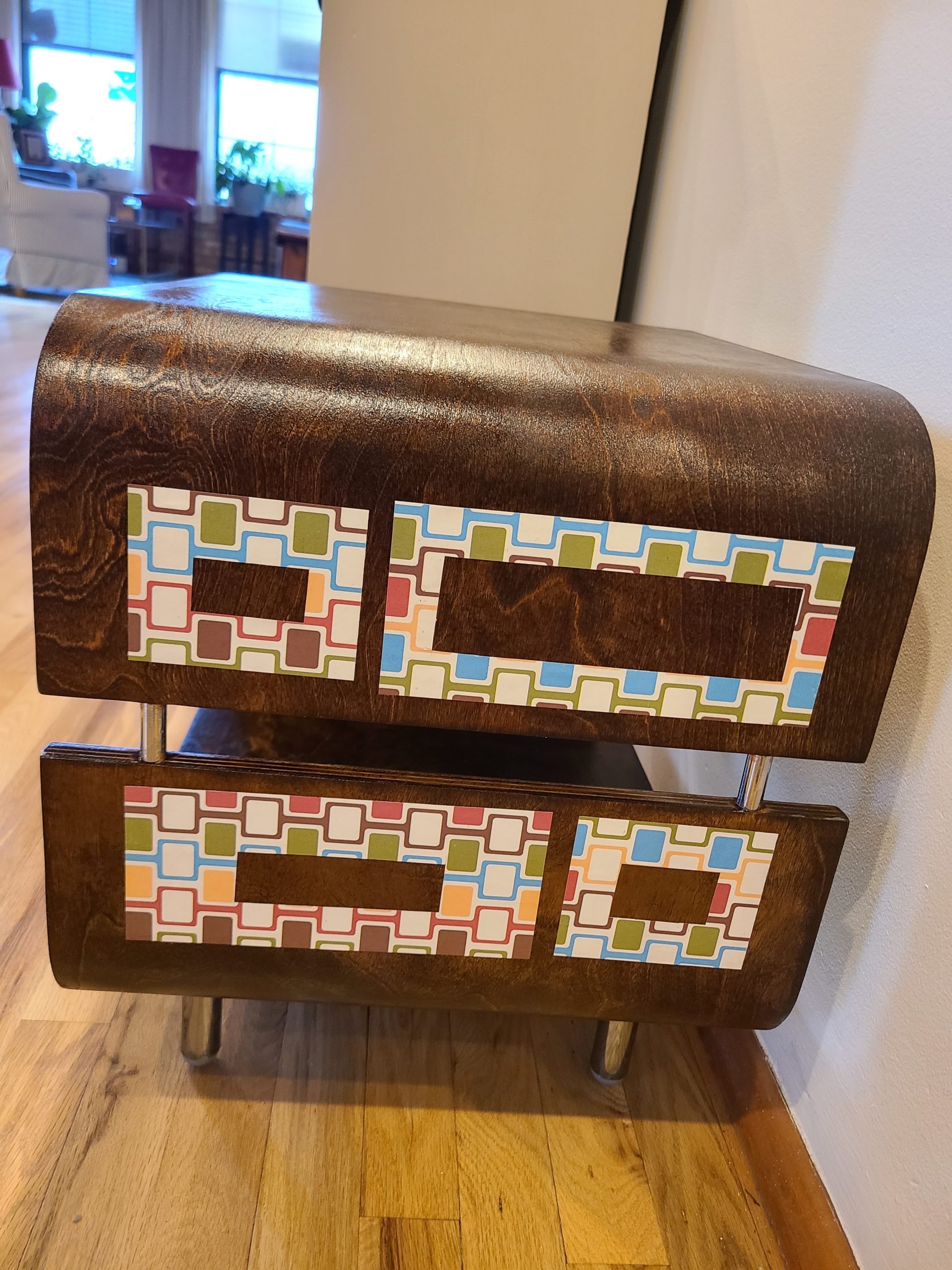 $32

18.5″H x 20″W x 15.5″D

13.5″H interior

Design is decoupaged and sealed paper

Stain: Minwax, Honey 272, semi-transparent

Sealant: Varathane, clear matte
---
SOLD Shelfcase — "Bella"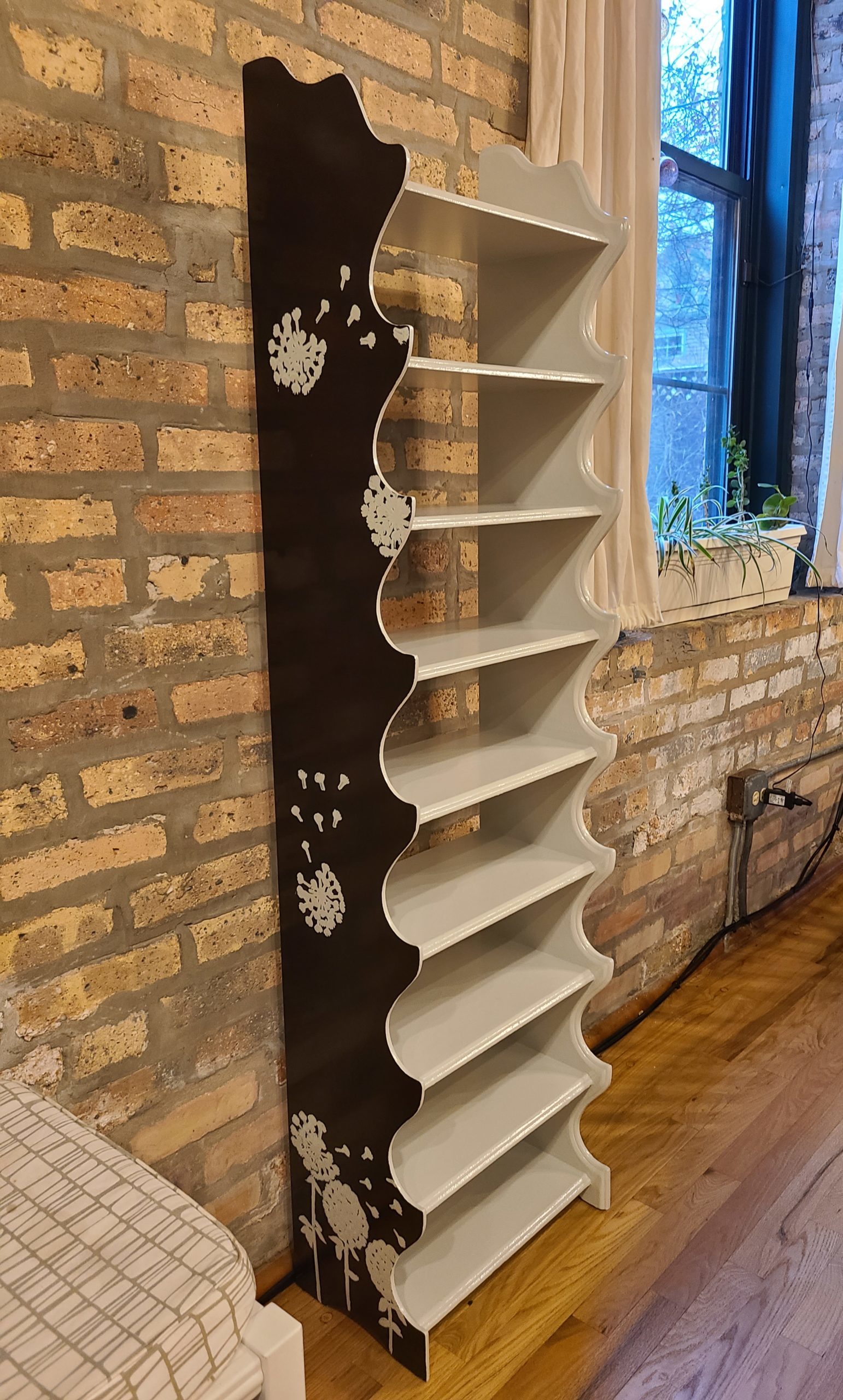 $150

61″H x 16″W x 9″D

Shelf height 6″

Wood

Paint colors

Primary – Sherwin Williams, Repose Gray, semi-gloss

Secondary – Valspar, unknown pre-mixed color, without a label. Similar to Valspar, Wedding Mint.

Stain color: Varathane, Kona (it's a deep brown, not black as it can appear in photos)

Sealant: Minwax, semi-gloss
Bottom is felted for easy moving.
---
SOLD Dresser — "Lucia"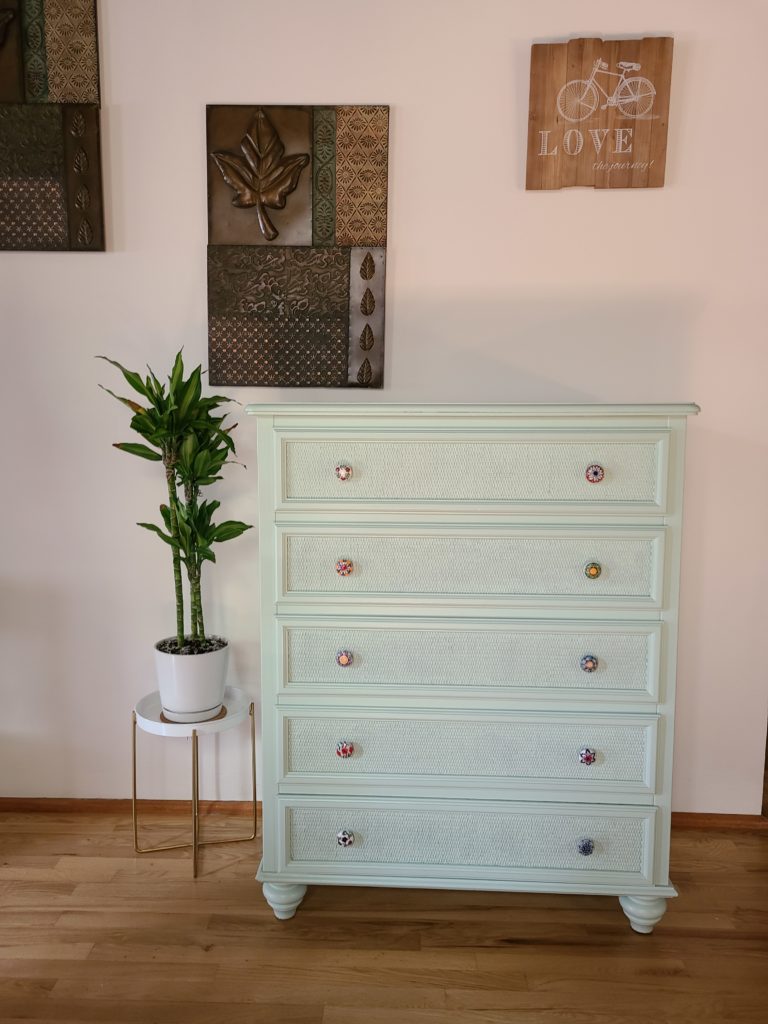 $325
49″H x 39″W x 19.5″D
Wood
Paint color: Valspar, semigloss, "Wedding Mint"
Sealant: Matte
Updated with new knobs and drawer liners. Feet are felted for easy moving.