In Memory: Debbie Hillman
"During the years that I've lived on this Earth, I hope that you have found me to be a decent relation, friend, colleague, as well as a cutting-edge activist. In short, I hope that I've provided some value to the world or, perhaps, to you personally." — Debbie Hillman
—————————————–
Announcement of Debbie's Death
Saya share's a story about her mom
Humble Strength: video of Debbie's work
Taking The Weird Path with Saya Hillman: podcast in honor of Debbie
Obituaries and Remembrances
In lieu of flowers: Debbie's causes and the Debbie Tree
Memorial
Memorial slideshow
Memorial video
Memorial playlist & Debbie's words
Saya's written eulogy
Announcement of Debbie's Death
Written 03/26/23, three days after Debbie passed, by her daughter, Saya
Is/was. You don't think about is and was. Until they constrict your heart because you use is when you should've used was…
My mom's birthday is tomorrow. Was tomorrow.
My mom passed away.
I feel sad and alone. Though of course I am surrounded by Best Friend, family, family in law, friends, her friends, all of whom are afghan'ing me with warmth and comfort and "Whatever you need…"
When a sibling-less and father-less child loses her mother, it feels "It's just me."
It was time. It's never time.
It's better she's not here. It's heartbreaking she's not here.
I should've done more. I did what I could.
She fought for equality, women, indigenous people, democracy, the little fish, the environment, and access for all.
An activist.
A connector.
A philosopher.
An odd duck.
A loner.
A biker.
A planter.
A grower.
An Evanstonian.
A community member.
An organizer.
A learner.
A writer.
A DIYer.
A self-taught'er.
A deep thinker.
A deep feeler.
With a deep heart.
I'm heartbroken that the running list I have of things to bring up next time I see her will forever remain unchecked.
So in its place, another list —
In honor of Debbie, please glare disapprovingly at the following:
high heels
bras
condo developments
office jobs
big banks
iceberg lettuce salads
leaf blowers
and please:
read books
get your hands dirty
bike or walk by the lake
take public transit
take side streets instead of the highway and stare out the window
grow plants
eat local
support small business
clip articles
share handouts
wear flow'y pants
vote
end the work day at 3pm
let the sun beam on your face
choose sugar over Splenda
never feel you have too many folders or containers
carry multiple purses
send handwritten cards
write letters to the manager when service is good
visit the never visited gym teacher on parent/teacher conference night
if you can't afford to send your child to the school of your choice (Montessori), barter for tuition (school garden and newsletter services)
splurge on pens, sleeper cars, Whole Foods, and bagel sandwiches
follow her on twitter (without expectation of new tweets)
visit and share her website
sit in coffeehouses with a mug of real coffee (no decaf), barista banter, and reflective thoughts
fight the man
tell people they matter, they're heard, and they've impacted you
redefine "success" so that the definition fits what you value
if there are eight paths and none feel right, choose the ninth, without worry about what if, what others will think, or if it's the right choice
and make your loved ones feel encouraged and supported whatever they choose and whomever they are
Saya shares a story about her mom
Saya discusses her relationship with her unique mother, and how it helped to shape her into whom she is today

Video on Debbie's work
Podcast in honor of Debbie
Heterodorx: Taking The Weird Path with Saya Hillman
Obituaries and Remembrances
Evanston RoundTable obituary (if you would like to leave a public comment, this is a good space for that)
Alliance for Just Money remembrance
In lieu of flowers: Debbie's causes and the Debbie Tree
Donations can be made to Chicago Women in Trades, the YWCA Evanston/North Shore Domestic Violence Shelter (select Mary Lou's Place), Greenpeace, or the Nature Conservancy. Or to…
The Debbie Tree
Donations have been collected and the tree planted. Thank you, official Debbie Tree Planters! You made a rough patch much smoother for Saya.

Debbie's wish was to be left out for vultures as is done in Nepal, India and by some Native American tribes. The City of Evanston did not give the go ahead for vultures. Her Plan B wish was for a tree to be planted in her memory.
The species chosen was Oak, a nod to the street upon which Debbie raised Saya and because of its traits — as shared by the City, "(Oaks) are really good ecosystem contributors and are more rare, despite being native. Finding a spot where we can put one of these in is always positive because it's contributing something to the ecosystem that isn't widely available." Native but rare. That's Debbie.
The tree is in Evanston's Lunt Park, bounded by Judson, Church, and Sheridan Road; the red marker below is the exact location (42°02'48.9″N 87°40'30.2″W), in the south west corner of the park.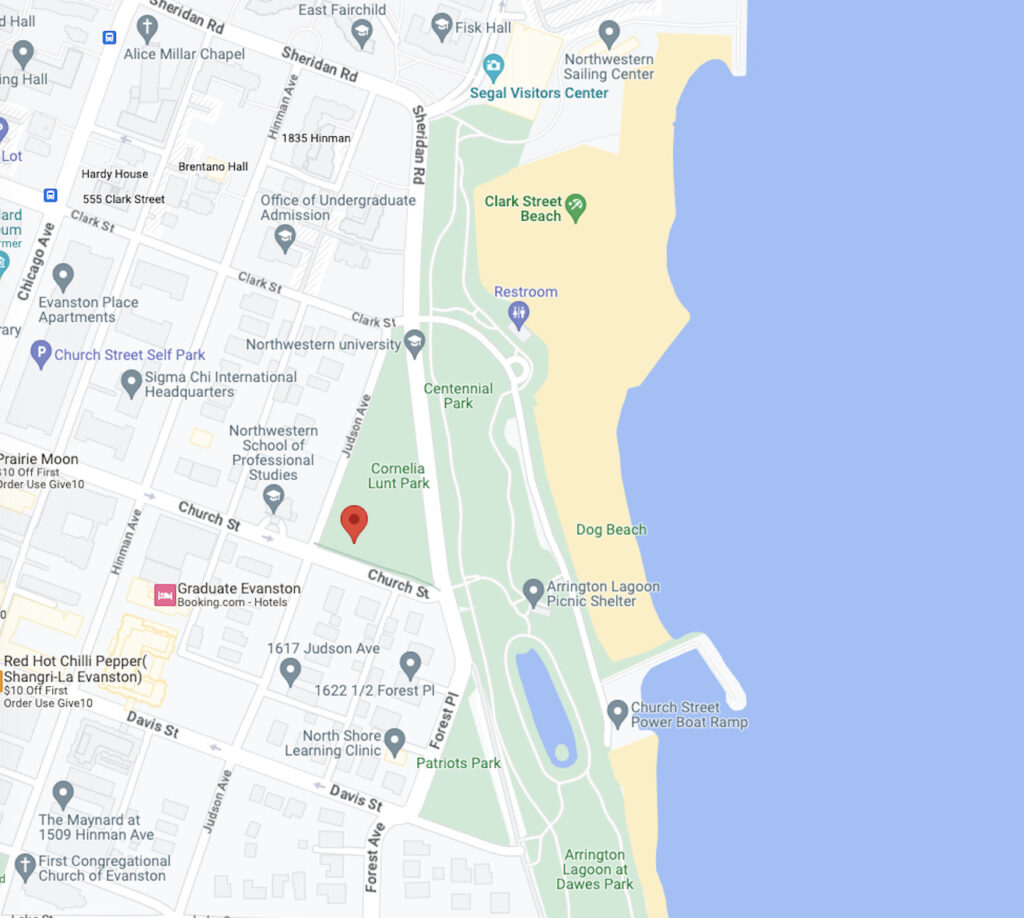 "Cornelia Lunt (1843-1934) was the daughter of Orrington Lunt, one of the founders of Northwestern University. She was known as the city's "first lady" after she arrived in Evanston in 1871. Lunt was the founder of the Fort Dearborn Chapter of the Daughters of the American Revolution and the Chicago branch of the Colonial Dames of America."
A plaque with Debbie's name accompanies the tree.
She'll love the view of Lake Michigan, being across the street from the bike path and Northwestern which were a big part of Saya and Debbie's lives, and being in the neighborhood where she built her community and where everyone knew her name; or at least her bike & buggy persona.
Please grab a cup of strong coffee with a bit more sugar than it needs and a Bennison's doughnut or a Bagel Art egg + avocado sandwich, and give Debbie a visit to catch her up on the latest Evanston and issues' goings on. Superfluous gossip also welcome. If you do visit, Saya would LOVE a photo of you and the tree! You can email the photo to her or reach out via her contact form to get her email. The potential collage of Debbie Visitors is already warming Saya's heart and misting her eyes.
Debbie Tree Planters
Kay Branz
Catherine Buntin
Sue Carlson
Lucille Eckrich and the Alliance for Just Money
Dana Frost
Evan Girard
Ellen Gull
Shaily Hakimian
Merove Heifetz
Laurie Hillman
Kristyn Ivey
Wanda Leopold
Mark Marcus
Meg McKeen
Ed and Ellen McManus
Jane Mueller
Lori and Sean Scanlon
Andrea Shevchuk
Elyse Umlauf
Caryn Weiner
Brad and Carol White
Thomas Wilda
Claire Zawa
Carol Zsolnay
The Memorial
Debbie's celebration of life was held June 17th, 2023 at Chiaravalle Montessori in Evanston, Illinois, where Saya attended pre-school through fifth grade.
Playlist & Debbie's Words
Saya shared the quote "Everything we say at funerals should be said at birthday parties instead. We leave so much love unspoken" (Madhu) and the speaker-facilitator-consultant-coach-camp counselor in her requires her follow up question: "Are you living for your resume or for your eulogy?" If your answer is the former, an encouragement to reflect and revise.

The memorial concluded with Saya reading the thank you note Debbie penned after her surprise 50th birthday party —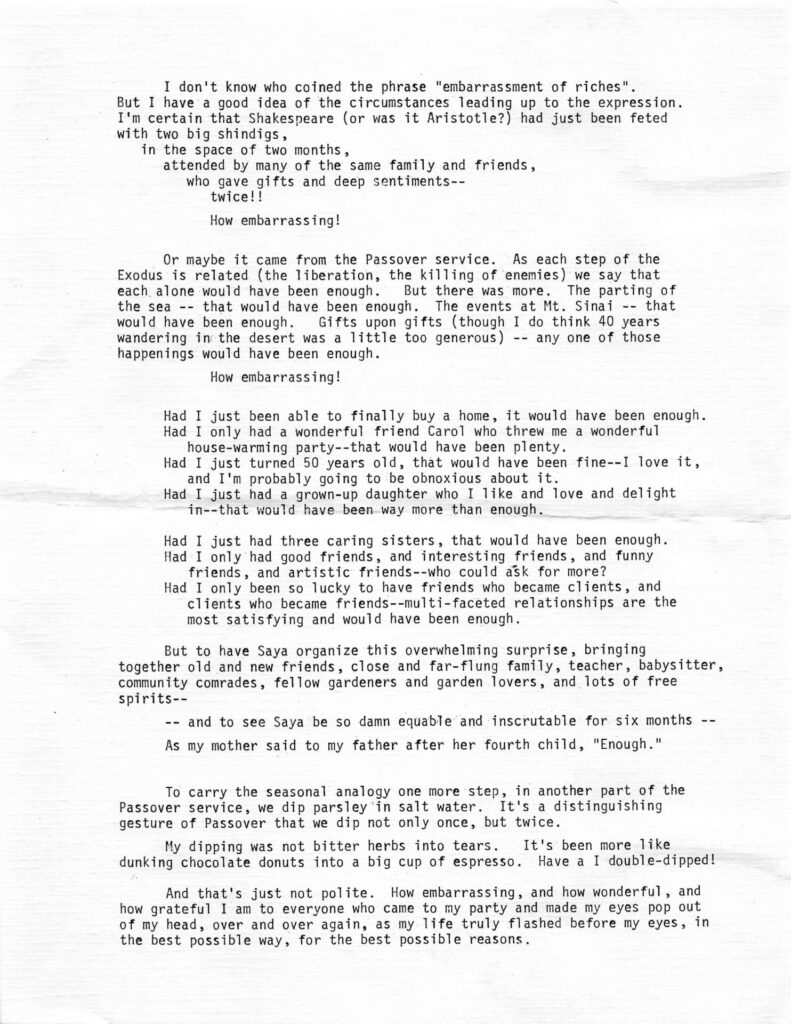 Saya's Written Eulogy
I chose my Costco armchair and The Real Housewives over my mom's trembling voice asking me to visit. A blemish now stitched to my heart. A forever fact.
No matter how many people tell me she knew I loved her. No matter how many times I tell myself she knew I loved her. To not beat myself up. That it's ok.
No matter the poetic aftermath, like what I wrote her sisters: "I'm sad. Relieved. Sad. Relieved. Didn't do enough. Did what I could. Wish we had more time. Glad her time is over. Sad. Relieved. Can't believe I won't see her again."
Her phone call was Monday. Mom died Thursday.
I could've seen her Monday. Tuesday. Wednesday. I chose not to.
The reasons were there —
I was on a walk with my husband.
It was rush hour.
Highway construction made the 25-minute drive 45 minutes.
I had just returned from out of town. Laundry. Grocery shopping. The vacation to life-life transition still transitioning.
She'd been reactionary in the past and after mere hours, apologetic and change of tune'y. "I'm doing better now. You don't need to come." The mom who cried wolf.
I didn't want to set a precedent that I'd drop everything whenever she reached out. Or a nurse reached out. Or a social worker. Or a business manager. Or a landlord. Or a friend. Or a listserv member. Or a doctor. Or a different doctor. Or a different different doctor. Or the automated "A staff member or patient has tested positive for COVID" voicemails. Or the police. Or the hospital.
I've eternally hated the phone. Hate became hate-dread. Very few people have my number. Now, without my blessing, too many people had my number. "She fell." "She had a blood transfusion." "I need you." "I need you to…" "She's late with rent." "Please call back when you can. It's nothing serious." "She wants you to…" "Please call ASAP."
I had dropped everything five months previous when after five years of no contact, rooted in tense disagreement about communication, finances, and familial expectations, she had reached out with "I'm dying. Can you help?" I went. My husband, my three aunts, and I sat with her in her darkened coach house bedroom, in shifts, for a week, making sure someone was there. She didn't die. That was good. But also exhausting.
I drove Chicago to Evanston, Evanston to Chicago. And back. And back. And back.
I learned she had a stroke a few years before, hadn't eaten or been outside in a month, could barely stand, utility bills were unopened and unpaid, and she had a court date for an eviction. We went over her will, last wishes, password locations, PIN numbers. We called utility companies, paid past dues, investigated cremation services, bought ginger ale, toilet paper, and adult diapers, made lawyer appointments, sent a "Debbie's dying" email to family, transcribed an instructions note for whomever found her. We met with hospice. I juggled self-employment; I moved around clients and wrote apologetic emails. I held her surprisingly soft hand. I cleaned her house. I cleaned out her house. I stuffed and unstuffed the car. I donated tools, clothes, and books. I gave away her treasured bike and buggy. I took her computer to wipe and sell. I went through file cabinets and banker boxes of paper. I filled three tubs with my childhood artwork and writings, and with her journals, letters, financial statements, and legal documents. I created a "Mom obituary" note. I created a "Mom death" spreadsheet — expenses; contacts; to dos. I celebrated the worst birthday I've had in my forty-four years. I cried in front of her. I cried alone.
She uncharacteristically oozed appreciation for our presence. Her barbed wire retracted. Glimmers of what our relationships had been beaconed. I became hopeful. But upon talking next steps, the balance shifted. She refused professional care and re-entered narcissism-mode. We couldn't give her more. We said goodbye-goodbye. Turned out, it was just goodbye.
Much of what Mom said on the phone that Monday exasperated me, as was pattern over the previous fifteen'ish years —
"The doctors and healthcare system are playing us… It's just about money to them." [anger anger anger; social issue soapbox; years ago wrongs]
As my husband and I stopped mid-walk outside a three-flat a few blocks from our exposed-brick, monstera-filled, no kids condo, my heels hanging off the curb, my tone vacillated between fed up, conflicted, empathetic, and searching for the right thing.
"I don't know how I can help," I said into my phone. "I don't know what you want…"
"I don't know, Saya. To feel loved?"
The simple act of sitting in a worn cushioned chair, arm's length from her, just a drive up the Edens, was the help.
Simple, yet not.
The reasons to not go were there.
But that's the thing — there aren't any reasons.
When there's pain. When there's fear.
When you're fatherless. When they're lobsterless. When you're an only child. When someone's alone.
When it's family. When it's your mom.
You go.
Unconditional love.
Blood is thicker than water.
She gave you life.
You've been given a second chance.
You'll regret…
I was feeling the weight of the four phone calls from doctors I had gotten on vacation.
Months of all hours of the day texts, emails, and calls.
Years of a splintering relationship, followed by years of no relationship.
Those no years being fine, better even. Freeing.
That she never rode in our new CRV, heard about our trips to Japan, Chattanooga, and Nova Scotia, saw SIX or my plant babies, or knew about her sister's wedding or my husband's bike accident.
Not hearing "Hi Kiddo, it's me" voicemails or her "I bumped into…" and "This business closed…." updates.
Her possibly becoming unhoused.
Boundary-setting around topics, money, and lifestyle.
Child-parent role reversal.
Friends losing parents who would give anything for more time.
While I often have clients, events, foster puppies, travel, Monday, I had nothing.
Wednesday, the day of the care plan meeting with her doctor, social worker, and therapist at her "people with no money" skilled nursing inpatient facility, or as I had forcibly learned, her SNIF, to which I was invited, I had nothing.
Monday, I chose not to visit.
"I feel better just having talked to you, having vented. You don't have to come." As my husband and I approached our front door, her voice sounded as if she still wanted me to come. "I'm sorry if I didn't show you love in your life."
"I've always felt loved, Mom."
"That's good. I love you…" she said, through tears.
I hung up. And chose to sit in my Costco armchair, remote in hand.
Wednesday, I dialed into the care plan meeting. I mostly listened.
"The nurse practitioner suggested a scan to see what the ovary mass is. There's too much weight being put on my mom dying of ovarian cancer. I don't want more tests." [on and on] "Western medicine doesn't have access to all the facts. [Racism. Patriarchy. Other societal ills.] (This facility) doesn't have the information needed to help me."
"How can we support you, Debbie? What do you want?"
"I want acknowledgment that the system is broken." [on and on] "The hospital nurse lied about me not being able to move. So there's no trust there. Another example…" [on and on]
"But Debbie, remember how good you felt after the last transfusion?" [on and on] "If your hemoglobin levels drop dangerously low again, what do you want us to do?"
"Do you have any questions, Saya?" Mom asked after twenty minutes of her and her team navigating each other.
"No."
"Do you have any thoughts on what was talked about?"
"That if it was me, that I would choose to follow the medical experts advice. But that this isn't new, that this is what you've said my entire life. That's it's your choice, your life."
"Ok. Thank you for that." [on and on] "I need more time. I'm not sure."
Her combative tone clawed my insides. But at least it was epitome strong spirit, strong willed Debbie. It meant she was on the mend and there was a future.
Exasperated and drained, again. We'd wait till Friday to see her test results. They thanked me for calling. I said "Bye." I didn't know it was bye-bye.
I am tiny soothed by our last togetherness, six weeks previous. I had brought Mom a bag of this and that; some adulting necessities, mostly sweet mementos from the past that I thought she'd enjoy perusing. A few rants on monetary reform, roommate and facility issues, and her (long dead) parents not loving her, but mostly chatter about re-connections with friends, inquiries about my husband and my business, and positive interactions with the nurses, her therapist, and her physical therapist. After a couple of hours, she wheeled with me to the lobby and said, "Thanks for coming, kiddo. Give me a hug." She rose from her chair and squeezed. I squeezed back.
I didn't know that would be our last touch.
Now I'm forever untethered. I have my life back. Because my mom lost hers. Is this what I wanted?
I have sadness mixed with guilt. Unsaids. Unfinisheds. I should've's…
"I'm sorry, Mama" whispers to no one escape when I'm driving, treadmilling, grocery shopping.
Penning my experiences and attempting to make others feel human, less sad, and that they're not alone is how I process. I wrote in a social media post "Do everything you can to avoid…" I deleted it. Because that was hypocritical advice I didn't follow myself.
"Before you regret…"
"Before it's too late…."
We say those things. But I've learned sometimes when given eight paths, it's the ninth you should walk. Mom showed me that.
She was a single white parent, raising a black-white child. The Northwestern University temp job where her water broke ended up being her last 9 to 5. She personified my Life of Yes℠ creed thirty-five years before Life of Yes℠ was a trademark, a hashtag, a way of being, and my professional livelihood. She laid out her skills and circumstances, and figured a way to make money off of both whilst also giving her what she desired most, autonomy and being home with me in my formative years. This led to pre-computer age typing PhD dissertations for Northwestern students on her clickety-clack typewriter, crafting dried flower arrangements in garage-sale frames with wildflowers she picked from the Greenbay Trail, woodworking as a carpentry apprentice, and teaching herself species names, weeds versus plants, sun and water requirements to eventually become whom she was most of my existence, a word of mouth gardener.
She gave birth to ten-months in the womb me at home, in the bathtub, alone, on purpose. She didn't name me for a year, wanting to get to know me. She made my clothes. She built our furniture. Without a license or a car, she biked us everywhere, pulling me in the buggy that flipped between child-carrier and plant-carrier. She hid mini chocolate eggs around the apartment for me to find Easter morning and inevitably would forget where numbers 17 and 25 were, which we'd find months later. Unable to partake in a block-party block-party due to our apartment dweller status, she invited my friends over for a block party, where she spread out legos, tinker toys, lincoln logs, and every other could be construed as a block item on our floors and encouraged us to create, build, smash, repeat. She introduced me to the musical wordsmithery of Gilbert & Sullivan, provided overflowing shoe-boxes of second-hand art materials, engaged in epic matches of Stratego and Connect Four, read me Pippi and Anno, and took me to the library so I could play Oregon Trail and Carmen San Diego.
Though money was habitually tight, she made after school classes, camp, and schooling happen. She bartered for my Montessori education. She politely badgered Stephen in Financial Aid to ensure I could attend Boston College. Abhorring the concept of interest, she paid off my student loans. She co-signed my first apartment. Upon hearing I had been fired, she was immediately understanding, unruffled, and unwavering in her belief in me, and now I'm nineteen years of blissful, "you do what?!" self-employment in, where quality of life — waking up slowly; weekday daytime errands; no calls, no meetings, no commute, no boss — is my compass.
Debbie taught me to connect others, connect with others, be on time, take public transit, read maps, wear flow'y clothes, get dirt under my fingernails, stay away from debt, learn to ride a bike without the crutch of training wheels, glare at leaf blowers, and ask to speak to the manager not only to complain but also to compliment.
It's because of her that I prefer side streets over the highway, my grammar and spelling are (chef's kiss), I applied for (and received) a scholarship I knew I'd never win (that paid 75% of senior year Boston College tuition), I took a risk on a pricey dream home that opened copious doors to goodness including meeting my husband, we had an almost 100% bartered wedding, and I have a drawer of empty "just in case" containers that are just too perfect to throw away.
It's because of her that I do, I don't worry about doing.
I take a step even if I don't know where I'm going.
I believe in, value, and love myself. Like, a lot.
She had a one outfit wardrobe years before Steve Jobs and Tim Ferris "discovered" capsule outfits.
She was a community activist before Barack made community activist a noble role.
She humiliatingly brought her own canvas bags to the grocery store. Who brings their own bags to the grocery store?!
She declined a Jewel Preferred Shopper Card because she didn't want the government knowing her shopping-habits. Who's worried about privacy issues?!
When all I wanted to do was see RENT for the umpteenth time, she frustratingly got NYC spring break tickets to see some weird off-Broadway show no one had ever heard of in some basement "hesitate to even call it a theater" theater where three men used a mix of technology and drums and Twinkies to convey social messages. The men were dressed in black, their bodies painted blue. I mean, Blue Man Group? What even is that?
…
So you could say Debbie was a pioneer.
Composting. Female armpit and leg hair. Natural birth, midwives, and doulas. Impossible to spread, oil on top organic peanut butter in lieu of Skippy. Tom's of Maine instead of Aquafresh. Thrift store shopping. Plant-filled windowsills and shelves. A typewriter. Coworking. Co-living. Yoga. Farmer's Markets. Freedom prioritized over corner offices, benefits, and security. Coffeehouses as a third place. A say yes and figure it out as you go mentality.
A woman in pants, a woman in trades, and a woman with pockets.
She fought for equality, women, indigenous people, democracy, the little fish, the environment, and access for all.
It's now a forever fact that I didn't go to my mom when she asked for me. I exist in a brain versus heart teary-eyed state of giving my past, current, and future self permission.
Permission to —
Not set everything aside.
Not just let it go.
Not answer the phone.
Not drop everything.
Not worry about what others will think.
Not jump at the second chance. Or third chance.
Permission to —
Love conditionally.
Draw sand lines.
Be angry, curt, petty.
Choose wrong.
Choose Real Housewives.
Choose "human" and "self" over "family" and "daughter."
Truly believe she knew I loved her and that it's ok.