I need money.
Not in an "I'm going to lose my home," "I have to shut down my business," or a GoFundMe way. Not in an emergency way. Not in a hand out way.
But in an oodles of unexpected, expensive expenses way.
In a "self-employed owner who doesn't get regular pay checks and when she can't work, the money mostly stops" way. In an "I want to right my very off course ship and get back to my Life of Yes℠" way. The Life of Yes℠ I worked so hard to build.
In a hopeful win-win way.
The whys are below. The sad, maddening, disgusting whys. As are the "learn from our experience" takeaways. But before the whys and the lessons…
My "How you can help" Ask
Too often, we're ashamed or fearful of asking for help. We don't do it. We bury it.
People will think I'm weak! Unsuccessful! Bad at what I do! Bad at life! Pathetic! Deserving!
I'm not any of those things. In fact, quite the full of myself opposite. Even (self-proclaimed) queens need an outstretched hand at times.

A specifics-filled, "How you can help" blueprint, in order of helpfulness —
Most helpful! Hire us to speak or facilitate: ideal clients are workplaces looking to grow a positive culture and groups in need of inspiring keynotes (universities, conferences, trade associations, etc.). Staff retreat? Yes! Annual meeting? Yes! Residential life training? Yes! Freshmen orientation? Yes! Affinity group gatherings? Yes! Industry event? Yes! Client appreciation event? Yes! Professional development? Yes! Off-site? Yes! Team building? Yes!
Refer us for a speaking or facilitation gig and to applicable decision makers (companies who value win-win culture and employee retention, well-being, and fulfillment; Event/Meeting planner, HR, Chief People Officer, Employee Well-being Program Manager…)
Buy my products: Adulting Kit, Speaker in a Box, cleaning e-book, gift card
Tell your publisher pal about my book and that I'm someone to take a chance on (editing, book advance, publishing, etc.)
Hire us for 1 on 1 consulting (you may be surprised at some of the reasons people work with us)
If you're one of my newsletter eaters and/or get yumminess from my social shares or being in the Life of Yes℠ community, buy a one off coffee or join the monthly and yearly official coffee pourers (after five years of monthly cheerleading — No shade! No ill will! Nothing but understanding and gratefulness! — two monthly supporters had to recently stop supporting; would love to at least fill their $30 and $40 voids…)
Buy Cheese-It Exposure: promote your ______ to the Cheese-It network via my newsletter, social, and private communities
Enter the sparkle & shine raffle to win a $9 cleaning of your home [ended 9/26/23]
Buy anything (items in my store or not) on Amazon within 24 hours of accessing it via the Mac & Cheese Amazon Store
Buy my products: Life of Yes℠ Diaries video, I Can't: TikTok for Business video
Buy my products: Life of Yes℠ swag
Share Mac & Cheese along with a personal note about what we do and why we're awesome (in your newsletter, on social, to specific people…). I'm 100% word of mouth and have been since Day 1, twenty years ago.
Tell us a positive that comes out of reading our saga. The number of people who told me they finally got a will, created a death plan, hosted a death party, had difficult death conversations after reading about Best Friend's accident was the brightest of bright spots in that horribleness (which, ha ha ha, is still going on, a year and a half later; medical bills, insurance, court, law suits…)
Say nice things to us
Send good thoughts our way
I've been doing all the things I can think of to help myself —
expanding the cleaning crew in number and radius
hosting a yard sale
individual reach out "hire me/refer me" emails
refresh of my most important webpage
taking on more consulting and cleaning clients than normal
figuring out ways to sell products of mine before they're ready
getting creative in tweaking what I already offer to encourage monetization and Right now! purchases
increasing prices…
And they've been successful! … Just not enough.
If we've ever brought goodness to your life — friends; community; your spouse; your kids; the creation of and/or expansion of your business; unforgettable experiences; increased laughter, confidence, and joy; (wave of hand)… — in a way that fits you and feels win-win'y, can you yes my ask?
The Whys of "I need money"
First, Mom died.
With an eviction notice, gardening books, and bike buggy to her name. No car. No real estate. No jewelry. No investments. Just paper clips, copies of Edible Chicago, and fabrics from India.
I'm an only child. Thus, her death costs fell to me. On me. Pre-creation of the Adulting Kit, I had zero inkling how expensive and time consuming death is. Even with the research and creation, the swiftness at how expenses add up and time is eaten was mind-boggling. I thought I knew. I thought I was prepared. I didn't and wasn't. Personal belongings to gather from the nursing home. Passwords to find. Accounts to close. Memorial to plan. Niceities to respond to. Or not. Death certificates — the multiple copies. Cremation — the ordering, the waiting, the "Mom's ready, hun" phone call and subsequent picking up of Mom in a dingy faraway strip mall, and the light yet heavy "so this is how much a human weighs in ashes" gray box you fiercely yet gingerly cradle on your lap as you stare out the blurry window, tears silent streaming. Website to continue to pay for cause it was her everything, into which she poured everything and because you want people to be able to benefit from her time, knowledge, and passion even though she's in a light but heavy gray box on your bookshelf. Cause that would make her happy. That would be important to her.
To have to jigsaw phone calls, appointments, and To Do's amongst sadness is hard. Aunts and Best Friend helped with many tasks. Friends and Best Friend's family offered to help with tasks. Strangers and long ago connections and besties sent flowers, Grubhub, and sweet memories. I wasn't alone. I'm not alone. But I was alone. I am alone.
I don't know if you've ever played the game "How much is your loved one worth?" as you eye the word count of their obituary. As you pen a thoughtful, unbounded remembrance including a photo, only to have to delete the photo and word by word by word by word by word until your remembrance is more of a "They died" notice and you have to hack the death system by including a link to a parameter-free space where you can say what you want to say about your dead mom. Not a fun game.
Nor is it pleasant to be mad at your dead mom or envious of friends and family because of lack of or possession of estate planning and generational wealth and end of life wishes and directives. Due to documents Mom left behind, I've been privy to details I wasn't privy to before as far as other deceased family and what they left, to whom. Oof. Repeated "That would've been nice…" sentiments. Thank youuuu! to so many of y'all who helped with the Debbie Tree (planting to come this Fall). I cannot convey how much of a relief it was to be able to move forward with Mom's ask without hand-wringing and bank account eyeing, or a "Do I need to nope her wish?" cloud overhead. Thank you.
I hate thinking about it for many reasons, one of which is there's absolutely nothing to be done and I'm not someone who past-dwells but boy do I think about the house she waited most of her life to buy and eventually had to sell at a price way below what she should've sold it for. Desperation does that. Located in one of the most desirable neighborhoods in idyllic Evanston. Walkable to the lake, public transit, and downtown. Excellent schools. Coffeehouses. Trader Joe's. Would've been life-changing for us had the house been my inheritance.
Of course, Mom did leave an inheritance. I love my life. I love myself. Much of that love has roots in the priceless independence, entrepreneurship, confidence, and embracing of the ninth path Debbie modeled. I am wholly grateful. Especially as I see how many 20, 30, 40, 60 year olds struggle to love themselves and their lives. How much hand holding they need. How they cling to the dock instead of sailing out to sea. I'm in the water, boat or not, life jacket or not, direction or not. Mom taught me to get wet. That you'll never regret getting wet.
But, in this moment, priceless is useless. At least when it comes to the mortgage and utilities and payroll and software subscriptions and home construction of the un-fun variety and and and…
The second why I need money: the Summer of Unwanted Reno.
I'll spare you the disgusting details (if you want to see the details, Peeping Toms rejoice in the photos at the end of post). Let's just say bailing someone else's cascading feces from every bathroom orifice, in every bathroom, into your alley at 1AM is… THE WORST.
In June, we endured a hellish eight hours where due to a freak blockage, sewage continually poured into and from our bathrooms, spilling into our bedroom and hallway. We called in emergency plumbing, called in a second emergency plumbing when the first emergency plumbing said "If I do anything, sewage will flood your entire home," threw away tons of personal belongings, and started the mitigation and reconstruction process. While devastated, exhausted, and life is unfair'ed, we were appreciative we had been home, the overflow had been stopped, the rest of our home spared, and that we'd rebuild with support from insurance.
We adulted forward knowing we had our much loved carrier in our corner —
"USAA is there for members when we are most needed…"
"Being there when it matters most…"
"Protecting your valuables…"
"$2.5 billion paid to members in the wake of disasters…"
"Rest easy with coverage from USAA…"
How could we not feel protected and confident?
Turns out, ha ha ha, asterisk.
The Hilarious Why I Need Money Journey
Mom died in October! Devastation! Reconnection! Action! Goodbyes! But then didn't die! Starting fresh! Reconnection! Upswing! But then actually did die in March! Grief! Regret! Should'ves! Expenses! I'm motherless! To go along with fatherless! And siblingless!
Sewagegate happened 20 hours before our final Life of Yes℠ Sleepaway Camp! Best Friend and I donned "Everything's fine" masks. Besides not allowing campers into our home for the first time in eleven years due to "plumbing issues" and the Wendy's pit stop before getting on the highway, everything externally was normal. I don't think they had any clue that while we loved on them, guided them, enjoyed being with them, our minds were still in Wicker Park; that Camp had almost been cancelled. Exhausted from the intense, ON! three days, instead of our usual fall happily into the folds of our couch with takeout, memories, and a soul-filling sense of "We did that," upon return home, we continued to clean up the mess, mourn the loss, and deal with the implications. We never got to properly celebrate nor say goodbye to one of our most darling darlings. Just like with the March 21st, 2020 final Fear Experiment℠ that pandemic-happened September 18th, 2021. Both stolen experiences I'll never get back.
Completely unrelated to Sewagegate, six days later, our ceiling began to leak! Due to the upstairs neighbor! All over our wood floors!
Three days later, Mom's memorial! While time and mental expenses were high, luckily memorial expenses were minimal. Well, not luckily; because of frugal and resourceful me and because of kind-souls. Aunt Laurie for financing the intimate post-service Pita Inn lunch. Chiaravalle Montessori for donating the venue. Bagel Art for donating gift cards. Lori and Lilly for photographing. Katy, Lori, and Liz for being my day of helpers — setting up displays, lighting candles, stacking chairs, packing up the car, getting me a glass of wine. Frugal and resourceful me for using what I had to create memory boards, decor, a slideshow, a playlist, a eulogy. No flowers. No program. No refreshments. No favors. People weren't coming for zinnias, cheese cubes, or engraved keychains. They were coming to celebrate Mom, be in community, and show their support. Check, check, and check. I applied my Do It Naked strategy I've used for years for my business and on brand, it played out perfectly. I paid for a guestbook, videography, and thank you cards and gifts. I indirectly paid for my time, as the hours of prep took me away from work-work. Costs still added up but nowhere near what it could've been which was and is most appreciated, considering everything previous and yet to come.
Instead of a friend doing a simple favor for which she'd be paid well, a friend transformed into lifesaver for which we can never repay her! Before we knew the severity and timeline of Sewagegate, I asked Kristyn to be our Plant Mama while we were on our two week West Coast trip. It involved walking four blocks, one time, to bring in the mail and hydrate my fiddles and monsteras. An easy way to get some steps, some sun, and some cash. I even left her surprise Take me! cleaning supplies I knew she'd enjoy. Well, days before we left town, I had to send her an SOS text, asking her to let in the mitigation crew. Just this Friday! In and out! Too many to count texts and five visits later, some of which she had stay for hours while they worked, she completed her simple favor. Hopefully the use of our wifi, serene yard, and car, and the little something something to nearby Bloom restaurant made her feel extra appreciated. Communicating with and waiting for you own service providers is a circle of hell; someone else's?! No ma'am. I kept waiting for "Kristyn has blocked you" to pop up in email, text, and social. But she's still talking to me. Home Manager is not one of her services but if and when she ever offers it, jump. The peace of mind she provided us during one of the worst spans of our relationship was everything. In the meantime, you can hire her to help you organize your home and reap free goodness via her social accounts, podcast, and newsletter (free but like, buy her a coffee).
Asterisk! Instead of being engulfed in the protective arms of insurance, we were thrown a ladle to scoop up a flood! Of feces! Shame on uncharacteristic us that we didn't read the fine print change to our policy that water backup isn't fully covered; that we didn't fully comprehend "$10,000 cap" when pertaining to liquid damage. Ha ha ha ha at being in a situation where $10,000 is not a lot of money to be given. At least we decided at some point to pay extra for "Water backup or sump pump overflow." If we hadn't? That $10,000 would've been $0. How lucky! What the F is the point of being a good person and doing all the adulting things you're supposed to do only to get screwed over by companies making billions of dollars for something that's zero fault of yours?!
What the F is the point of insurance if it doesn't cover your needs? If there's an asterisk? It's incredibly challenging to see the usual Life of Yes℠ good you see and to have perspective in such scenarios. We even asked if we could pay more for better coverage and USAA said nope. Ha ha ha. The worst part? I say "How lucky!" tongue in cheek. But we truly were lucky. I sadly know way more about sewage and insurance than is good for a person, including this heart-wrenching story, What one homeowner learned from 15,000 gallons of raw sewage, and its moral. Spoiler: homeowners returned from five weeks away dealing with a dying parent to find their just purchased residence under four feet of human waste that had been sitting in daytime temps exceeding 100 degrees. The insurance coverage for a disaster found in the courts to be the fault of the city of Oregon City? $10,000. For the same reason that number was our cap. And the owner had the same sinking surprise we had, also thinking he was adequately covered. Did I mention he's a general contractor and that's the only reason he knew to purchase the separate endorsement — again, an addition to your policy — that at least gave him something rather than nothing. How lucky. What a screwed up society and system we have. Another fun game? Google how much the execs of your insurance company make. "USAA CEO, other top executives rake in millions… USAA CEO Wayne Peacock earned at least $1.9 million in 2021. Around $3.5 million to Daniel Sean McNamara; about $1.4 million to Randy Termeer; $1.2 million to Neeraj Singh and nearly $1.2 million to Brandon Carter." Cool, cool, cool. At least they're not all white men?

An insurance tiny ray of light! Our USAA representative clued us into the fact that we could get a wee reprieve from the dust and fan noise by staying in a hotel (five fans were running non-stop for two weeks to dry out our floors and walls — think jet engine). That "Loss of Use" was a separate line item, external from the $10,000. Ohhhhh! That sounds so nice and needed! We spent three nights in a downtown hotel that we otherwise would not had treated ourselves to had the rep not told us about Loss of Use. Imagine our surprise when Roy said he was mistaken and that those nights weren't covered! Ha ha ha ha. (He "did us a favor" and made a special exception since it was his fault; how lucky.) So our second stint at a hotel due to the floors we couldn't walk on and thus couldn't access our bathrooms + the headache inducing stench? Out of pocket! Ha ha ha ha ha.

Instead of being the Summer of Do Good, puppies who would've found respite and love on our green and white checked blanketed couch instead (hopefully) found respite and love elsewhere! No foster puppy photos were added to the wall of cuteness. We thought at least No. 19 would've pooped and peed on our floors (the only feces on floor we can get behind), chomped ice cubes and carrots, made us neighborhood celebrities on walks, and unconditionally nuzzled our necks. Bonus hilarity: the green and white checkered blanket that has been the official foster photo backdrop since we started mom'ing and dad'ing was used as sewage blockage so is now a part of a garbage landfill somewhere in Muncie, Indiana (where I imagine Chicago's ick is laid to rest).
Instead of being the Summer of Health, we slid backwards health-wise! As people who eternally struggle with making healthy choices, routine and stress-free existences are a must. Any whiff of unexpectedness or strain, "I deserve this Whopper / box of donuts / six-pack." "It's ok and understandable if I don't workout; I don't have drywall." While there were a smattering of days we truly had to eat out because of kitchen inaccessability, staying in hotels, noise, or fumes, we absolutely ate out more than necessary. The portions! The sodium! The burgers! (Yes, obviously we could've ordered salads; talk to me when you're on the other side of sewage and drained bank accounts and let me know if you choose pizza or lettuce.) Additional health blerg, lack of the bathroom where my teeth routine lies, including my waterpik that's saved my refuse to floss soul, has resulted in the worst tartar build-up I've had in years underneath my permanent retainer. I can only imagine what Dr. Dentist is going to say to me next week.
Instead of being the Summer of Slow (yay!), it was the Summer of Slow (fuck!)! June through August is my on purpose hushed time. I choose meandering walks in the sun, lazy morning reading, and sanding and staining found furniture in my yard over Zooms, email, and coffees. Over income. And I love income. This began with my 2020
Selfish Sabbatical
. I became hooked. Usually slowness is idyllicness. Except when life lifes and in a blink, your fun money and savings and everything you built are decimated and you need to put financial replenishment on quadruple speed.
Instead of being the Summer of Done'ness,
my book
is
still
undone! After uncharacteristically struggling for years to complete a very much wanted thing, I had made real progress of late. An outline! Well written, fleshed out nuggets! A weaving together of slices to create a whole! A title! A cover! For the first time ever, the f'in tunnel and the f'in light glimmer! In normal times, a "just for fun" project gets easily pushed aside for money-now projects. In shit times, well… besides the fact that MONEY NOW has never been more real, needless to say the wind in my sails vanished as did the mental capacity to manifest my author dreams.
Instead of getting a horrible estimate from the reconstruction company, we got a HORRIBLE estimate from the reconstruction company! I don't know if you've ever received a bill for $38,000, knowing that only $10,000 is covered? Ha ha ha. It's thrilling. Their What now? recommendation was that all of our floors be replaced so that we could be sure everything matched, which included a complete pack out, aka moving all of our stuff to a storage facility including our appliances. After we died of heart attacks upon opening the $38,000 PDF only to be semi-revived when I discovered why the number was so astronomical, we laughed and laughed and laughed, and have never not cared about matchy-matchy faster. Oh how funny it is to be grateful for a $14,000 estimate! Which doesn't include the mitigation, plumber, personal belongings, hotels, eating out, mental anguish….
On too many days to count, we had to pee, poop, and shower at the gym! If you've never had to walk three blocks during the work day, while you're attempting to find ways to make money, to go take a piss, let me share — it's un-fun and incredibly annoying and disruptive.
I got a $1600 bill for an approved thyroid ultrasound* because it was "unapproved"! I won't have to pay it but the added WTF and time spent on more WTF'ness was most unwelcome. You know what it's like to have to fight bills, the vortex that is the medical billing department. *I'm fine; part of my precautionary life for years.
Two weeks after Sewagegate, Chicago got eight inches of rain in twelve hours, which led to more backup and damage! And now with kitchen issues! While we were in the midst of installing preventative backflow systems!
Sewagegate occurred early June! It's now early September and while close, reno still isn't done!
Hahahahahahaha.
Takeaways
Document everything (and make it easy to find and update)
While the sting was and still is strong, it could've been stingier. Photos, video, dates, what happened, environmental data, unusualness, actions taken, vendors used, history, receipts, expenses, coverage, questions asked and answered — our updated real time "Sewage Disaster" spreadsheet and Notion workspace saved us oodles of money, hours, and brain space.
Obviously you know how I feel about planning for your own death. Spell it out. Tell people where to find the spellings. And hopefully the cash to carry out your wishes.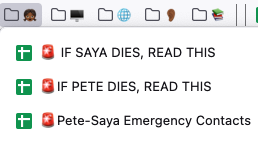 "The If-I-Die section of the Adulting Kit alone is worth the price. There is an 18 tab spreadsheet for the logistics and last wishes someone needs to know upon your passing and I was blown away by all the things I'd never thought of before. Completing that spreadsheet is an act of love and I am so glad I purchased that resource!"
"Now I knew that Saya Hillman was a thorough ass fairy godmother, but this truly takes the cake! Her adulting kit just gave me the structure and strength to sit plan for the inevitable, my passing. I've had many recent losses and don't want to put my family through the stress I went through to close out important affairs. This kit helps in so many critical areas of life! For all the "grown" stuff you need to do, but don't know where to begin or how to do it or whom to contact, she lays it out in a simplified, ORGANIZED, and fun manner! And all the while, she's giving you confidence and high fives! Her Doodles sections give me life and let me know that I'm on the right path in this adulting journey. It's a tool for a lifetime."
A death plan is one of the greatest gifts you can give loved ones. Don't be a head in the sand dick.
Back up regularly
God damn it, we've been taught this since third grade.
I penned one of my most well-written musings. Two full days of prioritizing writing amongst weeks of no writing. I was putting the chef's kiss finishing touches on it when our reconstruction project manager called me over to see reno progress. When I returned to the document, instead of pages, three garbled sentences blinked back at me.
I don't usually pen in Evernote. For whatever reason, this day I did.
I already pay for the platform. I heart-sinking upgraded to an even more expensive plan with promises of access to version history and comprehensive support. The version it offered me was the one from eight hours previous. The support it offered me were a couple of e-responses asking me to do this and that and after I did this and that, to no avail, ghosted. It's been two weeks without a response. Twitter reachouts resulted in the very helpful link to their Help page and very helpful encouragement to reach out to the support team I had already reached out to. Evernote — cancelled. Literally.
I sat in my pity for a few minutes when I finally gave up on ever getting my words back, kicking myself for not being the usual Backup Queen I am. I'm a 44 year old English major and have never lost anything digitally. Never in school, never at work. I have backups of backups. I save every .05 seconds. But my mind was foggy and though I don't think it was my fault, who knows. And at this point, who cares.
Gotta let this one go.
Have loved ones die but then not / Deal with stuff now

Well, ideally, maybe you can just digest the lesson here and not have to learn the lesson the way I did.
Because I thought Mom was at the end of her life five months before she actually passed, so much of what you normally have to deal with upon death was dealt with then instead of in the immediacy of losing her. And now on the other side, I can say I'm grateful she died twice. It was an immense relief that discussions had been had, soft hands stroked, closure attained, home cleaned out, and belongings sifted through and sent in numerous directions. In the Fall, I spent a Friday night, full Saturday, and Sunday morning going through everything. And she lived in a tiny coach house! Without much stuff (relative to most)! One of the most emotionally draining experiences I've ever experienced. I did it alone. By choice. I wanted to be with my memories, my sadness, my regret, my anger, my heartache, my mom without small talk or chatter or group decisions.
I can't fathom that weekend in the aftermath of her actual death.
You don't need to wait to deal with stuff, emotional stuff and literal stuff, until death. Give yourself the gift of dealing with stuff now. Their stuff. Your stuff.
When planning a memorial, gift space to yourself
It was mostly schedule related why I held Mom's memorial three months after she died. It turned out to be the ideal amount of time.
To reach out to everyone I wanted to reach out to. To deal with the cards and emails and texts and DMs, emotionally and literally. To curate the nonpareil playlist blend of Peter, Paul, and Mary, Burl Ives, and Judy Collins, one for mingling and one for the slideshow. To cull photos and insert fade ins and fade outs. To visit the venue and test AV. To ask speakers. To handle RSVPs for the service, for lunch, for speaking. To create a run of show. To pick an outfit. To find a location for the Debbie Tree. To gluestick mementos to poster board. To pack shopping bags and stuff the car. To wind up and to wind down. To send thank you's. To be grateful it went how it went and grateful it's over. To realize how much space it took up.
When planning a memorial, plan it how you need and want to plan it and listen to your you'ness

Just like a wedding, people will have opinions and wants. Perhaps opinions and wants that clash with what you want. If it's your mom, you get to have the memorial you want to have. Per my choosing — I'm a lone wolf who prefers figuring stuff out on my own at my own cadence — I planned the memorial solo. And it was exactly, no, more than what I expected or envisioned. It was perfect. In as much as your mom's memorial can be perfect.
Due to "that's not how it's done" pressures, I almost bought flowers. I almost had this helping hand and that helping hand, along with another helping hand and one more helping hand. I almost didn't share my eulogy. Or at least not the version I wanted to share. I chose no flowers. I chose no prep help. Morning of, I chose the eulogy I wanted to share. Thank god. I would've deeply regretted had I chosen otherwise.
"This was one of the most lovely, most celebratory and most sad memorial services I have attended. I feel like I learned yet one more life lesson from Debbie today."
"Thank you for sharing and making available all the elements from the amazing memorial service for your mother. I've been listening to the playlist today. … really absorbing the selection you curated. It was an authentic occasion and tribute to a pioneering original – Debbie. She would have fully approved, but most of all, I know she would be nodding in pride over the amazing daughter she birthed, raised and influenced."
"Still thinking about the touching celebration of life I attended for my friend's mom this weekend. She honored all of her mom – her beautiful, complicated, inspiring, imperfect and loving human self. 'The petals and the thorns' (as she said). It was THE most beautiful and truthful honoring of a whole person."
"It was such a meaningful, honest, and moving gathering, Saya. Thank you for being you and for gathering us together. Your own testimony and eulogy were so real, raw, genuine, loving and kind to yourself, to Debbie, and to her sisters and larger family, and healing. I think Debbie was smiling upon the gathering."
"What a beautiful and honest celebration of your mom. You should be very proud of the service you put together, as well as the wide array of friends and acquaintances it attracted. Your mom was a one of a kind – that can't be said in the same way about many others."
"Yesterday was so incredible. Your love, your care, your openness, your speaking, your welcoming spirit, your amazingness as a daughter, your artistry, your awareness of thanking people and giving shout-outs to help others on a day that that's not required… All of it makes me feel so fortunate to have known your mom and to know you."
If you have water issues / if you live ground level, get water sensors
While Best Friend and I now have PTSD every time we hear the telltale chime, ultimately the chime of our six water sensors saved us from more damage and expense. We have one behind each toilet, one in the laundry, one in the kitchen, and two in our hallway. When water is detected, the alarm goes off, we both get emails and texts, and if we don't turn the alarm off within a certain amount of time, the alarm company calls Best Friend and if they can't reach him, me. We're, sadly, all best friends now.
The camera and the door and window alarms are the cherries on this adulting sundae; in our situation, it's the sensors that make the monthly fee worth it. Both in application and in peace of mind.
Our system is through Simplisafe and this is the sensor we have. Looks like Amazon has oodles. If you want the whole system, our referral link gets you 40% off and a free camera (and us some cash!). We've been customers for five? years now and are happy with their products and customer service. Can control everything on our phones. They're uber on the ball and responsive. We loved that we could install it ourselves and that if we move, it's easy to un-install, plus we didn't have to enter into a longterm contract. We like to use the camera to watch our foster nuggets. Bonus: you can often get a lower insurance policy if you have an alarm system. Make sure you check!
We've never had dishwasher issues but I read that dishwasher leaks are one of the most common culprits of floor destruction and a sensor under your unit is a wise move.
It's not unusual to have to get extra water coverage (backup AND flood) and/or to have sucky water coverage
From USAA: "As a general rule of thumb, only water damage that's "sudden and accidental" will be covered by your homeowners policy. This could include damage caused by burst pipes or accidental leaks, as well as by a fire, storm or roof leak. That said, not all water damage is covered by homeowners or renters insurance. Damage that has occurred over time or was caused by intentional acts will typically not be covered, including damage caused by:
Lack of maintenance or negligence that causes mold, mildew, moisture or wetness.

A backed up sewer or drain

(ha ha ha ha ha ha)
Earth movement, such as an earthquake, mudslide or landslide.
Leaks from a swimming pool or other structure.
Seepage or foundation leaks.
Sump pump failure.
Loss of Use: If a covered event (ha ha ha ha ha) leaves your home unlivable, this helps pay for temporary housing and increased expenses. It includes costs for things like hotel stays or apartment rent, food, laundry, moving and pet boarding."
Summary: our water damage and our loss of use aren't covered.
We were hoping to learn that it's just USAA that blows when it comes to water coverage and that we could threaten to leave and/or actually leave because of finding other insurance companies with betterness. Turns out, water coverage universally blows.
Related, did you know that flood damage generally is not covered by homeowners insurance? I didn't. You usually have to get a separate flood policy. Did you know there's a National Flood Insurance Program (NFIP) and that that's where you get your policy? I didn't. "The NFIP is a public-private partnership between the federal government, the property and casualty insurance industry, states, local officials, lending institutions, and property owners. The NFIP is administered by FEMA, while insurance policies are sold and serviced by a network of more than 50 insurance companies and the NFIP Direct."
Flood insurance isn't just for coastal areas. According to USAA, in the past five years, floods have affected all 50 states, floods are the most common natural disaster in the U.S and one inch of water can cause $25,000 worth of damage. "From 2016 to 2020, losses from water and frozen pipes were the fourth costliest type of loss, behind fire, liability and wind. The average claim cost $11,650. Water claims were the second most frequent cause of loss to homes, behind wind and hail."
Of note — flood insurance is different than the special water backup coverage we got. See next section.
Know what insurance endorsements are, what's offered, and buy if applicable
The special addition we have that thank god resulted in us getting $10,000 instead of $0 was an endorsement. "Water backup" to be specific.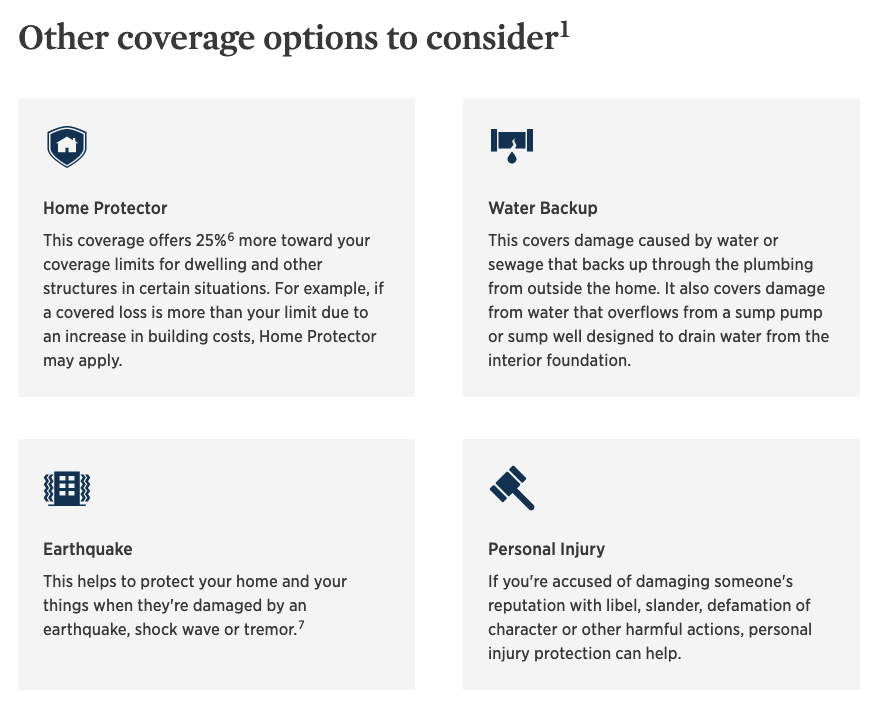 Here's a good explanation on insurance endorsements and examples of why you'd want them. And an applicable podcast Optimizing Your Insurance Policies (Auto, Home/Renters, Umbrella, Life, Disability, Pet, and Travel) and article by that podcast host Insurance Hacks Part 1 (Home/Auto/Liability/Pet).
Fine tooth comb your insurance coverage initially and every update
While Best Friend and I are pretty adulty adults, we'll admit — when policy updates came our way, perhaps our comb could've been finer. You bet for damn sure, from here on out, microscope!
Be nice to your vendors/service providers
We are nice folks just in general and in principle but especially with those who have to deal with unpleasant people. Servers, baristas, home repair personnel (especially if they don't speak English and/or their skin is, uh, with tone and/or especially if there are unexpected delays or issues; we were in both camps)…
From our go with the flow'ness — ugh, pun not intended — to our greeting smiles, our genuine thank you's, our moving our car so parking would be easy, our unasked for prep work to make tasks easier, running the AC on hot days when we normally would choose cheaper open windows, writing reviews, referring service, paying straight away and without reminder, offering glasses of water, not acting annoyed when they interrupt you for this and that, wanting one thing but deferring to professionals and getting another thing, asking for changes and expressing unhappiness in a human being way, making sure complaints were coupled with compliments…
"Is there stuff under the sink?" our plumber asked in a tone filled with knowing dread. Surprised him when I said, "Nope! Took everything out." The way I want my clients to treat me — to prep ahead of time by putting stuff away, clearing surfaces, doing homework, not cancelling last minute, etc. — that's how I treat vendors. Which is why I spent twenty minutes clearing out under the kitchen sink and removing items from both bathrooms before the plumber came. Three times.
"I don't usually do multi unit buildings/HOA buildings because of the politics but y'all are so easy to work with…" Our plumber said the same for offering emergency services. That he's selective and doesn't do them any more but that for us, it was a yes.
Our mitigation project manager and our reconstruction project manager (PM) also made comments about how pleasant we are to work with, that so many customers were not. And they both went above and beyond for us in various instances.
I seriously got a wee lump in throat when our reno PM sent us his last message. I mean, we've been together for three months! "You guys were awesome! By far some of my favorite customers." Byeeeeee Louis! I hope to never ever ever see or hear from you again. But said with all the love in as much as one can have love for a stranger-man who's moved into your home, told you lots of terrible news, and taken all your money.
Let service providers know insurance ain't your friend
Related, if applicable, let everyone and anyone know insurance didn't pay out what was expected. Our vendors were both surprised and not surprised by our lack of coverage, saying that while past payouts tended to be massive that the trend these days is insurance companies wanting nothing to do with water damage.
In seconds upon hearing about our situation, the mitigation PM gave us a discount and put on his troubleshooting, "let's see how we can make this the most bearable for you" hat. Our reconstruction PM did the same. They're used to customers getting ridiculous payouts and often using insurance reno to do more than they need to and to really live it up. The mitigation PM even sadly apologized that we weren't going to be those people.
We saved dollarssssssss due to niceness and friendly conversation.
They also expressed empathy. That may not seem HUGE. But after the months we've had, HUGE.
Be economical and green but also value your time and buy stuff

Call me disgusting, but my first instinct when faced with feces-laden blankets, towels, rags, rugs, shower caddies, drain covers, plungers, toilet brushes, garbage cans, mops, buckets, clothes, robe, and flip-flops was to clean them. To keep them. To reuse them.
I'm an amazing cleaner. I have all the tools. I have the work-ethic. But as I began to tackle an item, sweatily geared up in gloves and mask, I thought: "This is ridiculous. No matter how thorough of a clean I give this, I won't think it's clean enough. And there are sooooo many other things I need to be doing." I tossed an item. And another. And another. Freeing. Worth it. Ok.
Minutes instead of hours. No physical reminders of what I never want to be reminded of.
Bonus: some of the replacements were total babe upgrades! Not in price, you know I was frugal, just in quality or look or feel. E.g. I didn't think our master bath rug lacked. But oh my!, in comparison is our replacement rug and robe royalty-like, deliciously yummy on the body and on the eyes. From IKEA! Aka inexpensive!
Consider ceasing a bulk life
We love Costco. But Costco makes you live in bulk. Instead of the one paper towel roll needed, you come home with twenty rolls. Costco is fabulous for many reasons but for people who can't pass up sales and cheaper prices, it can lead to having way more than necessary and spending way more than necessary.
With the forced reorganization of our home, we had to make a lot of decisions and changes. One of the alterations was the realization that we didn't have the space anymore to store bulk. And even the space we did have, we didn't want to store bulk. It's been a few weeks since we agreed to not be bulk buyers anymore and it's been refreshing.
Stop holding onto items you don't use
Related, we also discovered heaps of items we forgot we had, items that haven't been used in years, and items that simply didn't serve us any longer. Clothes, kitchenware, picture frames, vases, books, jewelry, containers…
Do you know how hard it was for me to give away my containers?!? That I was saving for that unknown time I will inevitably need a container and be so glad I was so forward thinking to keep it on hand? Very hard.
But once we shook hands that we'd use this "opportunity" to better our lives where possible, including doing a household audit, and began to put aside items for the yard sale, the action became easier and easier, and gasp!, enjoyable. Really truly.
And then to see others get so excited by our skillets and notebooks, and to get money for much of it, and to be ok with the freeness of much of it, win win.
That Mom's jewelry box and Best Friend's knife and my paints are actually being loved on today instead of sulking in a darkened closet brings me such squeeeeee.
But also hold onto stuff and buy more than you need
We kept leftover tile and grout from our previous guest bath renovation, thank goodness! Not only did this allow us to save money in that we just paid for labor not for supplies, but it guaranteed we'd be able to match the remaining tile.
Learned this the hard way with our other bath, where only two tiles were damaged but because it was so old, we were unable to find any replacements. The one that came closest? Couldn't just buy two tiles, we had to buy in a palette. Of ugliness. Ha ha ha. Which is why we decided to replace it all, in a style we actually liked. And were sure to buy a bit more than needed. The cost difference between replacing two tiles and all of them was small enough to make this an easy choice.
We couldn't afford to do the entire bathroom. Maybe one day we'll rip out the rest. But in a fun home reno way.
Be cognizant of the plume

You've heard me talk about toilet plume —
"A recently published global review found that flushing the toilet can spread contaminated aerosol particles as far as 1.5 meters away,2 and studies show that these germs can linger in the air for up to 6 hours. The difference in the amount of bacteria spread when flushing with the lid up versus down? Nearly 12-fold, according to a 2011 study from the Journal of Hospital Infection. Take a look in your bathroom at what you have sitting within 1.5 meters of your toilet: You might have your beauty products, your hand soap, your towels, or even your toothbrush (shudder) within that zone. Now imagine these items being covered in microscopic fecal matter and just try not to gag." — Better Homes & Gardens
And it's not just removable items. It's your vanity, tub, storage hub, toilet paper holder… Fun game: go see what's within the ick radius of your toilet. You'll be surprised how many surfaces you should be cleaning that you don't.
Sewage leaking into and from your bathrooms really has you revisit how you keep your home clean.
Oodles more examples but for starters: Don't keep anything on the back of your toilet. Especially anything you put in your mouth (I've seen mouthwash and toothbrushes there ‍) or on your face (Kleenex). Speaking of toothbrushes, keep them covered! Whether you store it in something like this or this or it has a cover like this or you store them in your vanity. And keep them as far from the toilet as possible.
Design your Life of Yes℠ Radius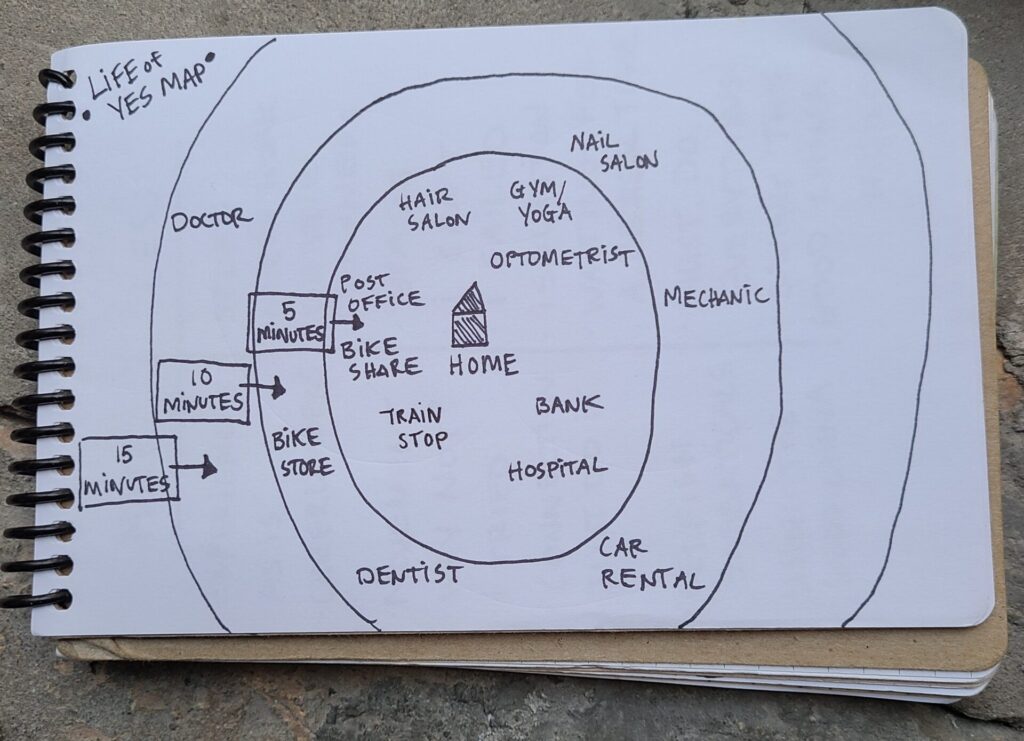 You've heard me suggest this before. Double underline now.
Make access to as many of your people, your needs, your routines, your habits, your desires as easy as possible.
If you struggle to do something you really want to do, e.g. go to the gym or yoga, you're much more likely to go if it's nearby. If you hate doing something you need to do, e.g. going to the dentist, you're much more likely to have positive experience and much less likely to dread it, if it's a five minute walk or bike ride instead of three buses or a traffic-filled thirty minute drive.
The first hotel we stayed in was downtown, a short fifteen minute bike ride. The second hotel was three blocks away. What a quality of life contrast! The ability to run home to get something, let in contractors, use the car was everything.
Take dust seriously
Oh how I wish I had asked for more protective precautions and been extra from the start.
While both the mitigation and reconstruction personnel mentioned dust, they didn't emphasize how much and how horrible. It gets everywhere, travels further than you think it will, and takes forever to clean.
We live in a mostly open-concept space which makes taping off sections difficult. But it could've been done more and better.
Even closed off areas that you thought were safe, like inside your kitchen cabinets. Attacked.
Looking back, I would've draped tarps and sheets over furniture and shelves. Throwing a bunch of bedding into the wash way better than wiping down books and vases and frames and glassware and cleaning tools and ducts and fans and plants and and and.
Test your home as if you were a guest
We never shower in our guest bathroom and usually don't do much in there save for toilet'ness. So eye-opening to use it to bathe and brush and comb and mousse and shave!
Changes made to the guest bath —
added a hook to the back of the door; realized there wasn't enough space to hang towels and robes, especially if you have more than one guest
swapped out and moved the storage unit; realized there wasn't any surface space for people to put all the stuff that goes with "getting ready"
added in more nice to have, easy access to items; realized that items I took for granted were missing and annoying to have to run to get (shampoo, soap, cleaning tools, kleenex, etc.)
left a rug on the floor instead of hiding it away; realized that the rug-less guest bath we prefer (less to clean, less visual noise) does not mesh well with daily deep use
considering getting a larger rug or another rug; realized that the tiny rug is fine for when you step out of the shower but that then you're stuck there or you're dripping over the rest of the floor if you move to the sink
Stop flushing "flushable" wipes (and other plumbing hot takes)

Especially if you have sensitive plumbing, but really for everyone for environmental reasons, stop flushing wipes! Even "flushable" ones! They're not flushable.
I see packs of flushable wipes in so many of your bathrooms and I'm capital S skeptical that they're going in the trash and not the toilet. Hope you prove me wrong. Feel free to tag me in a pic of you, wipe, and trash.
It's so bad the Museum of London displayed a fatberg — a mass of oil and grease congealed with wet wipes and other sanitary products — weighing the equivalent of eleven double-decker busses. "Thames Water advises that only the "three Ps" – poo, pee and toilet paper – should ever be flushed down the toilet."
You know the usual clog culprits: hair, grease, food waste…
But there are culprits we don't think of when it comes to clog causes. Many fall into the "but I've always been told it's ok to flush them" category —
hygiene products such as "flushable" wipes, baby wipes, diapers, cotton swabs, floss, towelettes, and feminine products (including tampons)
dirt: I'm guilty of washing dirt off clothes, shoes, luggage, etc. in our sinks. No more! Yard hose it is. Same reasoning for washing your pet out there and not in the tub or sink.
toilet paper (in excess). When we were on Caye Caulker in Belize, a tiny, no car island, we had to toss our toilet paper into the trash. Didn't enjoy that experience and made me appreciate "normal" plumbing.
food waste: in general, we know, bad. Number one baddie? Fruit peels and rinds. Close second? Starchy and fibrous foods, like potatoes, celery, corn, corn husks, onion skins, asparagus, and artichokes.
tree roots: they seek moisture and are naturally drawn to water in pipes. Once inside, they quickly grow larger, stopping water flow and resulting in pipe damage. A sign of tree root invasion is a gurgling sound in the pipe system. Do some googling on how to prevent and detect issues, if you think you may have reason.
soap scum: Animal fat derivatives are a component of most commercially manufactured bar soaps which mixes with the minerals in water and forms soap scum. If your soap is leaving behind visible scum, consider switching to liquid soap or a bar made without animal fats. Also, why am I rubbing myself with animal fat?!
cat litter: why is this listed?! Who does this??? Turns out, it's a thing.
toys: don't have kids. Simple. They're morons. (Says the previous kid who flushed a monster carrot down the toilet to much expense and damage)
Just the simple action of having a trash can right next to the toilet can lessen issues. People are lazy. Come down to their level. Same line of thinking for having a container in the kitchen that you can pour grease into, let congeal, and then toss. You're lazy. Come down to your level.
Don't be afraid of finger-wagging, don't flush ______ signage. Bonus: make it funny.
All of above if you live in a multiple dwelling home? QUADRUPLE UNDERLINED. Stop being a (literally) shitty neighbor.
Red pen estimates and bills
Even good people make mistakes. Even good people charge you for charges they shouldn't. We saved thousands of dollars because I am a red-pen fiend who loves to line by line and who isn't afraid to ask for clarification and to push back.
We were given bills that just had the final cost. I asked for a breakdown, a line by line itemization of costs, and guess what? Mistake, mistake, mistake. E.g. being charged for the replacement of four doors when only three were replaced. E.g. being charged for the purchase of tile that was never purchased.
Use the zone mentality

If you dislike cleaning or live with someone who dislikes cleaning (cough), clean in zones.
Best Friend was much more on board when I stopped asking him to "clean," which can be overwhelming and seemingly never ending, and asked him to clean a specific zone.
"Can you dust the ducts?"
"Can you wipe down the outside of the kitchen cabinets?"
"Can you put away the laundry?"
"Can you vacuum the rugs?"
All asks I asked, all asks that were completed. Some with annoyance and sass. Some with resignation. A tiny amount with "Sure!"
Zones also encourage self-initiated asks for more. Best Friend would finish a zone and say, "Ok, one more." "Give me two more." "I've got another in me." Sometimes he'd even not be doing zone work at all and come up to me on his own asking for a zone! What the what?!? The sexiest he's ever been.
The zone mentality is a good practice to practice with anything you dislike or find to be too much.
Keep corrosive items away from items you don't want damaged
In the reorganization, I discovered an exploded, slow dripping for who knows how long bottle of drano. Guess what doesn't mix well with metal shelves and wood floors?
The bottle was on a wire shelf, so with openings, right above the floor.
It, and its siblings (bleach, mold and mildew cleaner, etc.), now live in a plastic tray.
Borrowing someone's car: etiquette
If you borrow someone's car, the adult thing to do is to fill her 'up (or at least replace the gas you used) before returning it.
How do you know Plant Mama turned Lifesaver Kristyn's a keeper?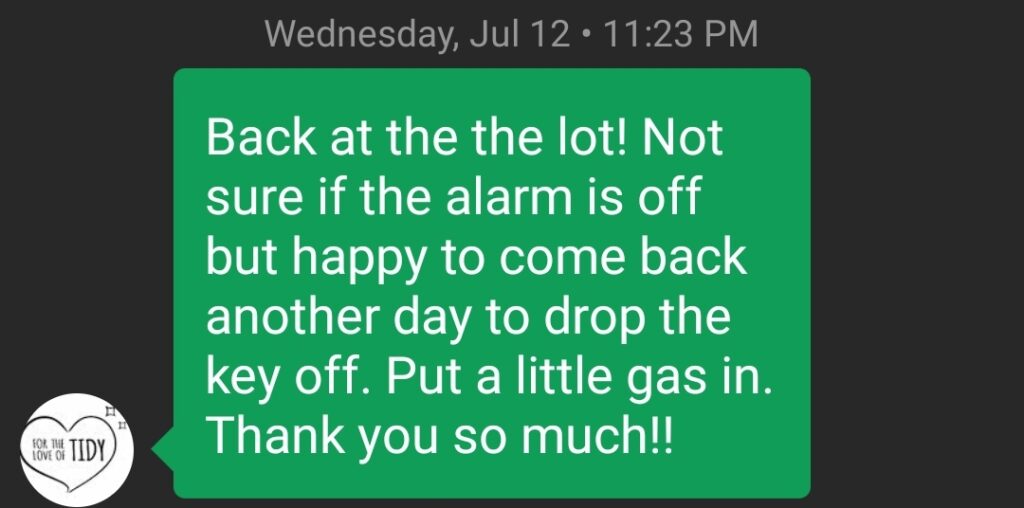 Be cognizant of your words
Speaking of Kristyn, we obviously felt the worst with all she had to do for us. I am appreciative to Kristyn for alllllll the things. One of biggest things? How she stripped my "I'm a horrible human being" feelings with the way she responded.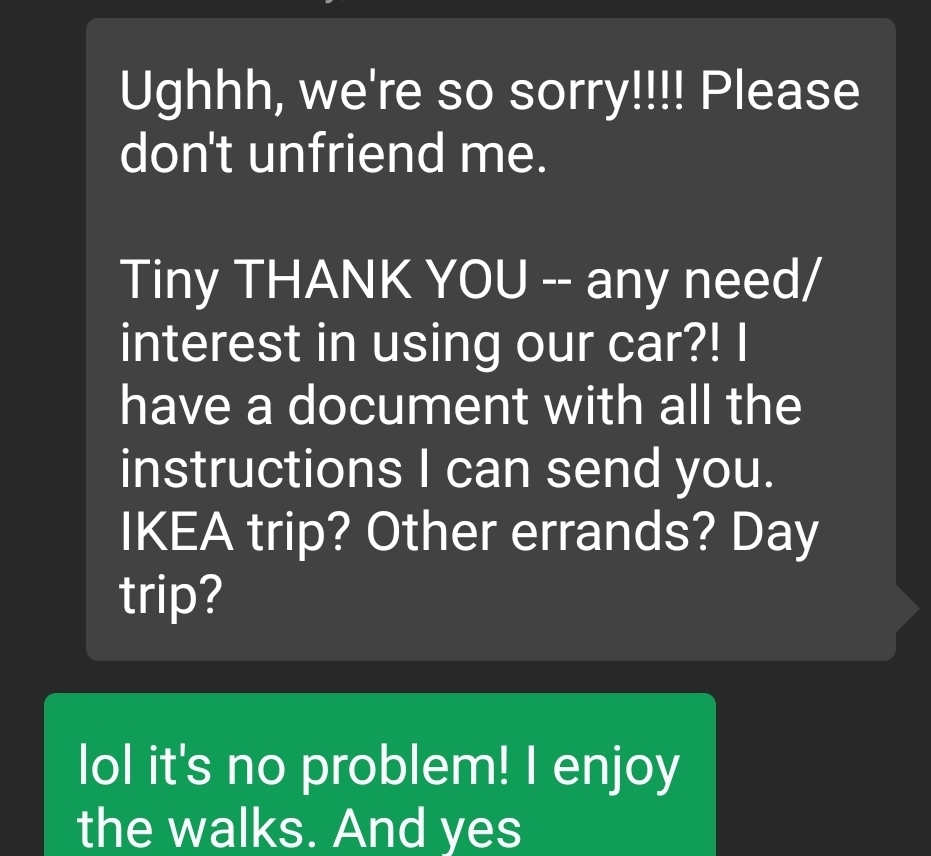 I recently wrote about this topic of words and their impact, and it turned out to be one of my most commented on and shared noodlings. Nerve hit.
While I think I was already pretty good at this cognizance, this dead mom-unwanted reno journey has impacted how I communicate in just the past few weeks. E.g. a client having to reschedule last minute instead of being met with "Ok" was met with "No worries! Life happens."
Find you a quality lobster
Best Friend and I have a lovely, strong marriage. Just celebrated our ten year wedding anniversary September 1st. Together since 2010. We haven't had many tests. Big or small.
This summer was a test. The money. The unknown. The disruption. The plans that were never touched. The having to do things neither of us wanted to do. The navigation of who does what.
We snipped at each other. We walked away from each other. We silent treatmented each other.
But we also weathered it and are weathering it. Together.
In 2010, seven months after we started dating, we went on our first trip, to Amsterdam, Paris, and Bruges. Two weeks of non-stop togetherness. Mostly wonderful. But I'm an only child who had lived on her own for eight years, worked for herself for six years, and revered alone time for thirty-two years. Not to mention, when traveling, especially in places you don't speak the language and that are vastly different than the usual, there's lack of sleep, lack of routine, lack of comforts, and having to adult in ways you aren't used to. So we had our blips of miscommunication and frustration even amongst the bicycles, windmills, and street frites. But it was those blips that prompted my "I think we should live together" upon return home. And eight months later, a Uhaul was rented.
Hoping that these blips result in whatever the Uhaul version of our current relationship is.
They certainly cemented for me that we chose lobsters well.
Life of Yes℠ what you can / Find your glimmers

I've talked about tiny joys for years. The little, simple ways we or others can make ourselves feel good. For me, that's a clean kitchen and office when I wake up. My coffee station. Scarves. Blank notebooks. The smell of campfire. Cheers about my writing. Someone making a change because of me, from a cleaning product to the to do system they use, to starting a business to adding a zero to their price.
Well thanks to TikTok, I was made aware a few months ago that we now call tiny joys glimmers —
"A glimmer is the exact opposite of a trigger—it is some kind of cue, either internal or external that brings one back to a sense of joy or safety. This can be anything from catching a view of the skyline of your favorite city to seeing a picture of your pet. In our overstimulated worlds, glimmers can be the answer to regulating our overwhelmed nervous systems." — Glimmer: How to Trigger Feelings of Joy and Safety
It was coined in 2018 but a 2022 viral Tok made it everyday lexicon.
If there was ever a time I needed glimmers and the practice of finding the good or life of yes'ing life, it's last October till now.
After five years of no relationship, though it wasn't for the reason I would've liked, I'm glad Mom and I were able to be mom and daughter again. That we shared memories and laughs. That we said previously unsaids. That I held her hand.
The tearing apart of and subsequent disgusting'ness of our home has left our home the cleanest it's ever been.
While unwanted, much of the reno has improved our lives, both surface level and in actual use. It's prettier. Better organized. Better prepared to prevent and deal with future ick.
I've always been curious about the Ruby Room, an airbnb in the neighborhood. Since we had to stay somewhere, why not stay somewhere you've always wanted to check out?
And our other hotel we chose because it's an IHG hotel. At least we got some points out of it. Points that we use all the time to stay in fancy places for zero dollars.
I could go on and on with examples of transforming ick into good related to Mom and Sewagegate. It's one of my coping mechanisms and something I'm really good at. Which is another tiny joy — fucked up situations helping to mold me into Fall 2023 Saya, someone I like very much. Far cry from the majority of my growing up when I wanted to be anyone but Saya. (You've heard my "If Only My Name Was Alexis" story…)
Take those Unapologetic Selfish Sabbaticals
One of the hardest aspects to both Mom and Sewagegate was that my previously quiet, disruption-free, unthethered, Saya-centric life was suddenly filled with constant disruptions and noise, and the requirement of other people involvement.
As mentioned, my first Selfish Sabbatical was the summer of 2020. While much of my life is set up like a never ending sabbatical, or at least a do what I want when I want existence, there are still times when I need to turn up the volume on me'ness. This is one of those times.
As people return from vacation and summer-brians, and enter back to school mode and reconnection mode, they're reaching out.
I need to not get coffees. To not catch up. To not have to be places. To not have to play the game of "Ok, yes to this person…" "But no to this person…" It just needs to be an all inclusive no. For now.
Blank days are my favorite days and as I peeked at my Fall calendar recently, sadness and (more) stress creeped in. All the things I wasn't able to get to this spring and summer. All the newness I now have to do. All the other people's stuff I have to attend to. It felt like September and October are already spoken for and over. I need their complete attention.
So the Selfish Sabbatical sign is back up. Save for can't pass up income opportunities, nothing new will be added. What's already there will be kept. Come November 1st, hopefully all this will be long in the rear-view mirror. If the reno is still going on and I'm still in need of cash, helpmejesus…
Conclusion
If you can be born into generational wealth that trickles to you, make that happen.
Pass on goodness to your kids. Like, qualities to ensure they're full functioning, confident, kind hearted, self-actualizing adults. But also like, money.
Gift forward thinking to yourself and to others.
You do you. Honor your you'ness.
Read the fine print.
Fuck insurance companies.
Keep going. The end of the tunnel, the other side of the lake, the next chapter… it'll be better. And you'll get there.
Make the ask.
---