Life Lesson: never check email when in Mexico
Note: there is foul language in this post. Perhaps don't read it to the kids as their bedtime story. I'm not a big swearer but this warranted Big Swears. I apologize in advance for any offending.
When two thirty-seven year olds say they have "news," it's usually one of five things:
one of us has a new job
we're engaged
we're pregnant
we're moving
we're getting a dog
We have news.
The timeline
2004
I get fired.
I birth Mac & Cheese Productions℠ and begin working out of my home. My first client, my first paycheck, my first testimonial, my first taste of no-pants work days occur in my Damen and Addison'esque apartment.
Self-employment forever has my heart.
Roscoe Village forever has my heart.
2008
I see my friends doing the thing you're supposed to do at age 30. Buying condos. Thus, I should buy a condo. Though I love my place, my neighborhood, being a renter. That's what you do. You invite people not to your "place" anymore, you invite them to your "condo."
I can afford a Roscoe Village alley cardboard box. I look outside of my preferred four-block radius. Trying to be open and all that junk.
I look at a few condos. The ones I like and can afford — that's always the rub, right? That combo? — are a bit further than I'd like. I decide to take a leap but a smaller leap than a leap.
I decide to rent in an area that has units with the space and the amenities I want, to dip my toe in the new-neighborhood water, see if I like the vibe, and have an easy out if so desired.
I discover the hidden adorable gem that is Ravenswood Manor, with its gorgeous houses, winding river, street-level train*, and Mom & Pop shops. *Do not be seduced by the "street-level train"; it quickly wears out its welcome as the dinging of the gates regularly pierces your ears and you perfect the timing of always getting caught behind downed-gates.
I discover an apartment just outside of Ravenswood Manor but close enough that people will travel through the adorableness to get to me and maybe associate me with the country in the city. Its built-ins and dedicated office help me overlook the too far West'ness, difficult parking (both in finding spots and in the street narrowness which results in everyone parking half on and half off the curb and still having their mirrors sideswiped), and salmon walls.
I discover within weeks, via surprising heart tugs every time I go through the Damen and Roscoe intersection, I am utterly homesick.
If being in the area I adore means I have to be a 30 something non-adult and rent, slap some diapers on me.
Later in 2008
I find a Roscoe Village placeholder.
I just need to get back to the quiet, the pretty, the walkability, even if it means low ceilings, too many units, and liking nothing about the space save for the address and even that isn't exactly to my ridiculously specific and picky liking.
But.
Trader Joe's! Easy parking! My gym! My yoga teacher! People that go to bed at 10pm! I'm back!
2009
I Craigslist stumble upon a space that not only fits all my crazy criteria but exceeds what I could've ever envisioned, a few blocks from Placeholder. I love it. I want it.
I tell the agent "No thanks."
It's almost double what I'm paying for Placeholder. Though five years into self-employment, with no debt, and tons of new Cheese-Its and press and opportunities falling into my lap, I'm still unsure if I'll make it*. The thought of not knowing where my next paycheck is coming from and when it's coming + doubling my rent makes my stomach convulse.
*Now twelve years into self-employment, I've realized the Uncertainty Cloud never leaves the entrepreneur's headspace. Even with a TEDx talk, features in the NYT, Forbes, and just yesterday, SELF magazine, and an Evernote filled with the most beautiful testimonials and a mail-slot that's continually stuffed with Thank You cards and gifts, I still wonder, "When will the world discover that I'm just figuring it out as I go along and have no idea what I'm doing? When will I have to 9 to 5 again? Will this dream end today?" Hello, Imposter Syndrome.
I head to Charlevoix, Michigan for a week getaway with Mom the next day, saddened that I found the one yet it's not to be. But Mom's continual calm and pragmatic demeanor and her unwavering support turns what was a closed-door situation into a let's poke around situation.
"What's the worst that could happen? You can't afford it and in a year you move."
I mull.
"I also think it'll allow for new opportunities that you're not even thinking about…"
I mull more.
I email the agent while in Michigan and in a flowery "I'm a human being who does good things like teach digital media to low-income children and runs a Saturday morning volunteer program" note that also highlights my track record of being a great tenant along with references to previous landlords, ask if the owner would be willing to go down in rent a smidge.
If I agree to get on a "normal" lease timeframe — signing for a year and a half instead of for a year, that'd bring me to a traditional May 1st move-out date instead of August 1st — I hear the lovely response of "Ok."
And thus all thoughts of condos and owning and keeping up with the Jonses disappear, and I move into the Toy Factory (what it used to be) and pinch myself about my if not Forever Home, my Really Long Long Time Home.
It's perfect.
February 2016
Fast forward seven magical Toy Factory years.
I'm in Mexico on what I'm hoping is my annual Party of One trip — 2015 was a Cancun excursion; 2016, I'm in Tulum — a spontaneous solo-escape from the Chicago cold to live a lifestyle I don't live, never leaving the hotel and all-inclusive'ness, where I eat guacamole in bed and watch HGTV and take a nap in between moving my office beachside to poolside.
No better pick-me-up than 80 degree sun in February.
Except travel-hacked 80 degree sun in February.
Adding sweetness on top of sweetness, I was able to finagle first-class seats and seven days at a high-rated all-inclusive resort for a total of $639.59, including all taxes and tips and ground transport in Chicago and Mexico (including the 90 minute ride from Cancun to Tulum). That's another post for another day (and maybe a class? Y'all keep asking Best Friend and I to teach a travel course — how we travel so light, so cheap, so fun. Convince us to offer a class by indicating interest here!). The point is that self-indulgence and living like royalty is ridiculously lovely when you're doing it for (relative) cheap.
Tulum is not a vacation; I work as usual. Except I leave my towels on the floor, get my exercise in the sand, and drink four types of juice at breakfast. I have never loved technology more than I do than when I travel, when I can continue Mac & Cheese'ness uninterrupted and reenergized.
And then technology bites me in the ass.
Halfway through my seven days, I do my once a day email check (I decided to be frugal and stick with the daily free hour of lobby-internet instead of purchasing unlimited room wifi).
April 30, 2016 Lease Expiration stares at me in the inbox.
I know what all those characters mean. I know that when put together they make words. I know what those words mean. But I don't understand. I read it. I read it again. I read it again. I click.
Hi Saya,
Unfortunately NAME and NAME will not be offering a renewal this time around. I wanted to give you plenty of notice which is why I am reaching out this far in advance.
I can out you in touch with an agent if you would like assistance with your search, just let me know.
Thank you,
Firstly, WHAT?!?
Secondly, FUCK!!
Thirdly, plenty of time?! Two months?!?
Fourthly, WHAT?! FUCK!!
Fifthly, hell no Property Manager, I don't want your assistance, you motherfucker.* You motherfuckin' motherfucker.
*She's a relatively nice person and is not a motherfucker, though I question her life choice of becoming a Property Manager which seems THE WORST field one can enter where your days are rent hikes, roommate squabbles, overflowing toilets, and (sometimes undeservedly) being called a motherfucker.
Sixthly, (tears).
Seventhly, (call Best Friend).
The Next Few Days
We attempt to find out WHY?!
While the Toy Factory is shangri-la in many aspects, it did have a few sore spots.
Some were overlookable, for instance:
the tiny kitchen sink
the bathroom sink that would become covered in water after three people used it
the crumbling exposed brick walls
no guest bedroom
since we were the back unit, they'd forget to mow our grass and shovel our snow
the layer of dirt that covered all of our kitchenware since there were no cabinets and everything was out in the open
the mean neighbors at the front of the building
A few were not:
the non-working yet crazy expensive HVAC

paying $300-$400 a month in the winter for "heat" while we sat in hats and gloves and scarves shivering in our living room sucked

the leaks

for over five years, I dealt with roof leaks and by leaks, I mean waterfalls
I'd complain, weeks or months would go by
they'd eventually send out "a guy" who'd plaster or tuckpoint or tarp or tar
the next time it rained, it'd leak again, in the same places and oh look, new leaks!
upwards of eleven guys came out over the years
video I took and shared with the owners that finally made them take me seriously
the next guy they sent out fixed the leaks
until the next time it rained
After seeing the water damage to the roof, walls, and floor — I can't even fathom the amount of rot that exists — the owners decided they needed to do a major overhaul. Replace the roof? Tear down part of the building? The entire building? Whatever needs to happen, they needed a vacant space.
And thus, April 30, 2016 Lease Expiration in my Tulum inbox.
After we're done with the initial sadness and shock, we move to our natural course of action —
Create spreadsheets
Reach out to our network
What's our housing criteria?
What can we afford?
Do we rent?
Do we buy?
Do we rent and buy?
Do we sell everything and move to Bali?
Best Friend and I have been talking change for a few years. We're at that age where everyone around us are leaping leaps. Marriage. Babies. Houses. Career switches. Back to school. Moves. I wrote a blog post on the mass exodus of friends from Chicago (42 in a year!) a bit ago that garnered me a WBEZ interview, a Tribune article, and one of my most read blogs posts. It got us thinking. Asheville? Denver? Savannah? But is it Chicago that's the issue? Or is it same ol same ol, that if we switch up something in our daily lives, we'll be reinvigorated and will re-embrace this lovely city?
Specifically housing, we've been discussing various scenarios for awhile now. Airbnb property. Landlords. Investment property. Cheese-It commune.
Last Fall I thought the making of a Life of Yes℠ story was beginning when I went on a random walk and made a list minute decision to go by that first Roscoe Village apartment where I birthed Mac & Cheese in 2004. A For Sale sign?! What the what? A four-unit building that I loved and that held so many wonderful memories for me in a great location just blocks from our current place? And the same owner from whom I rented? Here we go! I'd work my magic and he'd sell it to us for much less than the list price and oh my what a story that'd be!
We went for a showing and he was so surprised to see me. We hugged. We chit-chatted. I relived those first Mac & Cheese years, showing Best Friend this and that. He and Julie were pleasantly surprised with the units. We left with a Maybe in our step.
The owner lowered the price by $4000. About $300,000 short of what I was hoping. Best Friend and I tabled the housing talk and I focused on the business.
I'm at a point with Mac & Cheese where some things have gotten stale. Some things have been on the To Do List for too long. Priorities and interests have changed. I've been making a few changes here and there — the retirement of my e-publication Smatterings, the soon to be retirement of one of my most popular offerings Fear Experiment℠, more time spent writing my book, more time spent on offerings that, to steal from the KonMari trend, "spark joy" in me (stay tuned!).
Maybe this unexpected and unwanted life change will shine light on and speed up our leap. Whatever it turns out to be.
As I'm in Mexico and Best Friend is in Chicago, we are so grateful we know exactly whom to turn to. Friends Sara and Julie are realtors and though we haven't used them yet professionally, a gazillion of our friends have bought and sold with them and been over the moon happy, and we always knew if we jumped into the housing game, they'd be are go-tos.
They do exactly what we need them to do, which is be sad, be comforting, be pragmatic, be actionable. We agree to talk more in depth once I return from Tulum.
I recall all the goodness that's happened at the Toy Factory —
strangers laughing, sharing, crying, and supporting one another
nervous improv, a capella, dance, stepping, and storytelling
me discovering my voice, my superpowers
the couples who met and are dating, married, with child
the friendships made, clients procured, jobs gotten
meeting Best Friend
Mac & Cheese growing and growing and growing beyond what I ever imagined
Best Friend meeting my family and being the first boy I "brought home"
meeting Best Friend's mom and cooking (sad) dinner for her
our rehearsal dinner
This non-drinker gets a daiquiri and cries poolside.
March – May 2016
We share our thoughts with Sara and Julie and immediately our inboxes are flooded with MLS listings. They start pounding the pavement for us.
We start pounding the pavement for ourselves, scouring Redfin, Zillow, and the like. We fill spreadsheets with links and financial formulas, and Evernote with questions and thoughts.
The end of April Kansas City trip we planned and booked months ago is now an annoyance and frustration.
The beginning of May Ireland trip we planned and booked months ago couldn't be at a worse time.
Should we cancel? Postpone? Lose our amazing Airbnb loft paid for with referral credit? Pony up rebooking fees? Undo all the hard work and time we've put into travel agenting?
Let's keep plugging along and hope it'll work out. Life of Yes℠, right?
After weeks of open houses and showings, aha! Here it is. The Life of Yes℠ story that'll make all this heartache and stress worth it.
Sara sends us info on a not-on-the-market-yet property that fits almost all our criteria, and is, gasp, even better than the Toy Factory in some regards. She can get us into see it because she's a doll and has a good relationship with the seller's agent. We love the space. We charm the agent. We know there are a few other interested parties but that's ok. It's us! The people who had an almost 100% bartered wedding. I get free Herman Miller chairs, airline tickets, and conference passes. I'll put that Boston College English degree to use and pen that ever important Letter to the Owner, demonstrating our passion, skills, and charisma, and we'll stand out and they'll want nothing more than to have us move into their home to love it as they have. The address is 1776, which is a musical and I love musicals! I tell the owners as much. Sara and Julie love the letter, Best Friend loves the letter, we're able to quickly work with loan-guy and pull together all the necessary documents.
We put in an offer.
We have to wait a week while it goes on the market and they're fair to other interested parties. Dumb fairness and morals.
We go to the Open House, talk what furniture will go where, and chat with the agent, careful to not be too eager or time-monopolizers but show our high-level of interest and commitment. I walk the neighborhood and envision the best routes to the train, coffee, and pie. I practice saying the address aloud. We talk how Best Friend's commute times will alter.
Finally, decision day. We're feeling good. Their agent has been very friendly and upfront with Sara. We know where we stand.
At the last hour, we lose out to a cash offer. Who the fuck has that amount of cash lying around?!
"Do you want to be the backup offer?"
No motherfucker, I want to be the offer. (sigh) "Yes, we'd like to be the backup offer."
(tears)
Back to square one. With much less time left. A month till we have to move.
We re-start. We favorite listings. We re-evaluate. We ask for (more) help. Hamster in wheel, hamster in wheel.
Are we going to have to move somewhere just to move somewhere and continue our search from there? The idea of moving more than once, of paying for storage, of a solution that isn't really a solution sounds absolutely horrendous. Sara and Julie offer their couch (do you see why they're the best?!). It's not looking good.
We ask for a one-month lease extension. We're granted one but it's made clear that there will be no more extensions. May 31st is d-day.
We find another great space. We put in an offer. Someone outbids us.
We go to an Open House and get there ten minutes after it starts only to find it's over as someone made an offer.
Property after property go online only to become "contingent" within days, hours even.
One day, we're renting a shit-hole apartment.
Another day, we're buying a brand-new single-family home.
One day, we're in a fixer-upper above a pierogi store; the next, we're owners of a jewelry store and accompanying apartments.
One day, we're in Andersenville; the next, we're in the West Loop.
Ireland looms. Move-out looms. Nothing fits.
April 16th
A Wicker Park converted piano factory catches my eye online. I email Sara and Julie.
April 17th
Julie and I see the Piano-Factory. The seller's agent lives in Evanston. I'm from Evanston. We talk E-Town. I drop a timely joke about lemons, he laughs and has me repeat it for the other person viewing the unit.
That evening, I tell Best Friend I think we found a winner and show him pics.
April 18th
The seller doesn't want to move forward until Best Friend sees the unit. Best Friend races up from Hyde Park during lunch to do a walk-through.
We put in an offer by the 3pm deadline along with a Letter to the Owner.
4:51pm we see in our inbox: And the winner is…
We beat out two other offers and we're now parents of a Wicker Park baby.
Almost. May 25th is closing and everyone says nothing is final until closing. I don't even really know what closing is but I simultaneously dread it and desire it.
The agent says he loved my letter. I'm glad but leery. We've been here before.
April 21st
Inspection.
April 22nd – 24th
Kansas City trip.
Between BBQ, coffeehouses, and breweries, we're emailing and chatting with lawyers, loan officers, and agents.
End of April
We book movers and start the change of address process, though after two failed offers, we're nervous something will fall through, and thus drag our feet a bit.
We'd love to start packing but have three more events for which we need the space to not be a shit-show.
May 5th – 15th
Ireland trip.
Between fish and chips, driving on the left side of the road, and green cliffs, we're signing documents, asking and answering questions, and booking this and canceling that.
May 17th – 20th
The last of the Toy Factory events: Idea Potluck, Personal Finance, and Handpicked Supper Club.
Every time someone exclaims how much they love the space, which they do, often, my heart hurts.
When the last guest leaves Supper Club, my eyes well up.
May 21st – 25th
We're both sick.
We pack from sun up to sun down.
We snap at one another. We're tired.
He doesn't understand why I insist on individually wrapping each glass.
I don't understand how he doesn't know to fill empty space with clothes and rags, to both pack those items and to minimize movement, and how he tapes shut half-full boxes.
In an effort to go paperless, I scan a gazillion documents, including —
a letter to the one who broke my heart
cards from the like a sister best friend whom was no longer in my life
a letter from my grandma who died of ovarian cancer my sophomore year of college; a response to my goodbye letter to her
We do our final walkthrough and then head to closing at a downtown skyscraper.
A mailbox key that doesn't work and neither party wanting to cover a locksmith's cost stall proceedings. An hour'ish later than it should've gone, we really are parents.
No time to celebrate. Best Friend rushes off to work, I rush off to pack.
May 26th
Movers. Three guys, six hours, one truck, two trips.
First night in our new home, on a mattress on the floor.
May 27th
Locksmith fixes the broken mailbox.
Clean the Toy Factory.
Sell off remaining items to random strangers on the internet; as they stream in and out, each one exclaims what a cool place it is. Motherfuckers.
Mailman rings the doorbell and says, "You weren't going to leave without saying goodbye, were you?! I saw your Change of Address package."
I tear up.
May 28th – 31st
Unpack. Unpack. Unpack.
Drop off keys at the Toy Factory, close the door for the final time, peel off Mac & Cheese from the mailslot. Leave the You Are Beautiful sticker above the doorbell.
Unpack.
Today
Bittersweet. No better word to describe where I am right now.
We've slept in Wicker Park for six nights.
We're surrounded by tiny mustaches, skinny jeans, and huge floppy hats. People definitely don't go to bed by 10pm. The restaurant Beyonce chose after her Saturday show? Two blocks away.
I am sad that we didn't get to enjoy the First Time Homeowners process and take our time. I'm sad it wasn't our choice to leave the Toy Factory.
I never want to hear the following again —
contingent
pending
open house
lock box
seller
buyer
listing sheet
hot property
on the market
appraisal
escalation clause
closing
MLS, Redfin, Zillow
best and final
There are many wonderful aspects. The street always smells like BBQ, thanks to Smoke Daddy. A parking spot. More storage space than we know what to do with. A guest bedroom and a gorgeous kitchen. Stan's Donuts is a five-minute walk.
The attitude I choose is "It'll work out" and "I'm grateful for…" Of course, I vacillate between these and tears and "Motherfucker!" but more and more, I'm landing in a positive place.
We had options, resources, support. That's a lot more than others who face similar housing challenges have. Perspective. It's hard to have when you're devastated and wrapped up in your own'ness. But it helps to remember how much for which you have to be grateful.
It also helps to say Motherfucker.
I remember what resulted the last time the worst thing ever happened. I got fired and it turned out to be the best thing ever.
I hope in days, weeks, months, years, I can say, I got evicted and had my heartbroken in the process, and it turned out to be the best thing ever.
Hugs?
While reliving all the goodness that happened on Ravenswood has been and is painful, it's also been heartwarming and soul-filling.
We'd love to hear any memories you have of the Toy Factory. People you met, experiences you experienced, feelings you felt… Every such share is like a hug. And we're in need of some hugs over here.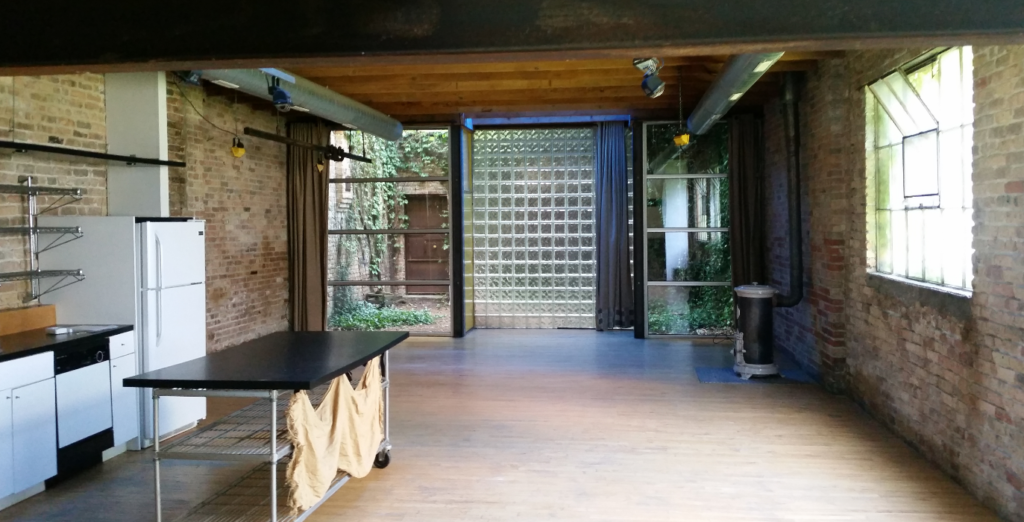 My last look at the Toy Factory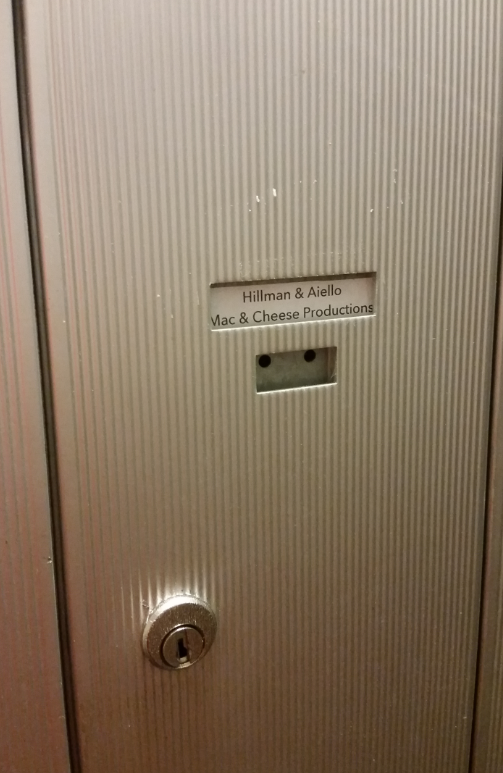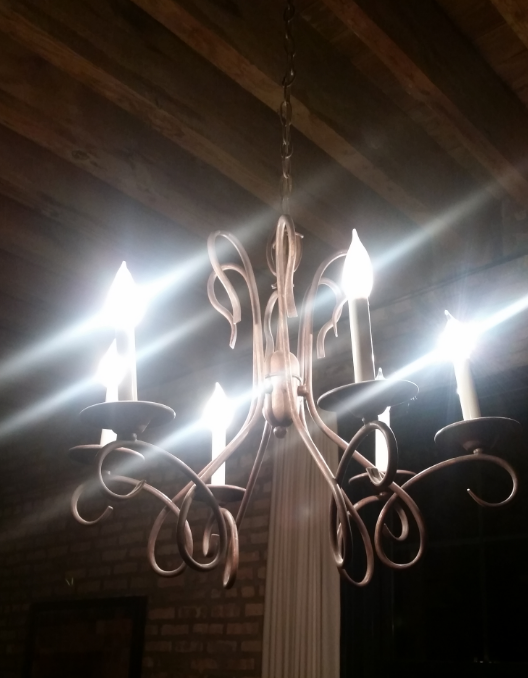 The Piano Factory: our first Petaya mailbox and a chandelier I'm crushing on.
More pics to come as we get a chance to enjoy and breathe and see where the light shines…
Comments like, "Oh no! That was the best place, you'll never find anything like it" are NOT helpful. I've gotten a few and they make me want to punch you in the face. Questions about the status of the old place cause you want to live there are also not helpful. We don't know what they're doing with it (they don't know what they're doing with it, save for the major repairs and wanting it vacant for the foreseeable future). Such comments and questions are tiny daggers piercing our hearts. Don't pierce us, bro.
You should use Sara and Julie for your housing needs. They made an uber-stressful experience much much much less stressful than it could've been, and we felt so taken care of. Thank you, ladies!