How many inspirational quotes do I need in this post to feel I'm not making a huge mistake?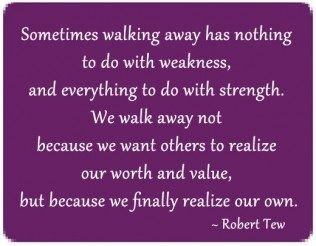 A few weeks ago, over a surprisingly quick span of hours, I had a thought which turned into a revelation which turned into an action.
I realized that when I stopped doing my Cheese-It Breaks — daily social media shares of positive quotes — which I had been doing for three'ish years, no one cared and nothing happened.
Which led me down the path of musing, "What else do I do that eats up time, is no longer rewarding, takes me away from things I'd rather be doing?"
Which led to me sending a note to my e-list that I was retiring Smatterings, my twice-monthly collection of random link goodness I had been curating and sending for eight'ish years.
Which led to an immediate sense of "Ahhhhhh…" and "Why didn't I do this sooner?"
And here we are, friends, a few weeks later.
Those tiny monster voices I mentioned that sometimes stir deep in your soul whispering walk-away melodies have increased in volume. You know the mischievous loot-playing sprite who prances beckoningly on a distant grassy knoll throughout Shakepeare and Narnia? I passed him while I rode the No. 50 bus the other day, beckoning through his shivers on the corner of Damen and Roscoe. He found me.
.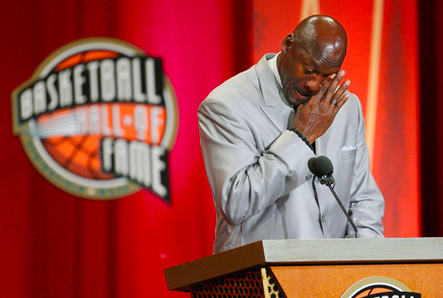 .
Michael Jordan announcing his retirement from basketball for the second, and last, time January 13, 1999
The next Fear Experiment℠ (FE), FE11 Fall 2016, will be the last Fear Experiment℠.
For a bit? For awhile? For forever?
I don't know.
We are approaching the time of year when I re-up with the Park West and schedule future shows, from which I schedule everything else — rehearsals, instructors, applications, cash flow, my life in four month chunks. The venue and I's partnership is a two-times a year agreement which means a long-term engagement. In the past, the "FE SHOW" on the calendar to work towards, the certainty, the stability, those were comforting, motivating, building blocks. But the thought of signing a contract (and forking over money) now for November 2017 is a thought that made the tiny monster voices screech, "Holddddd up, girl!"
As did the immediate lightness I felt when I let go of Smatterings.
Is FE weighing me down?
Am I blocking myself from unrealized greatness? I mean, I'm pretty great. But I think I've got more greatness in me.
The project-managment tool I use to puppetmaster FE tells me that for each FE round, there are 284 tasks for which I'm responsible. That's not including the tasks I do on auto-pilot and neglect to put on a list nor the tasks' sub-tasks. The thought of next September only being FE11ness and lacking the usual overlap with the following FE that'd start in January but that has months of pre-work is an appealing thought. A scary thought. But an appealing thought. If I remove 284+ tasks from my everyday, what goodness will fill that space?
I love FE.
I can't believe that the out of thin air idea I concocted in 2009 has turned into —
Beautiful public displays of courage, vulnerability, and support.
Standing ovations.
Friendships going on four, five, six years.
Roommates.
Travelmates.
Jobs.
Clients.
Romance.
Over 300 participants and 5700 audience members.
A source of income for me and my instructors.
Sold-out theaters.
Courage to move to a new country, quit a job, perform stand-up, start a business, jump out of a plane…
Much like how I wanted to walk away from teaching before I hated children, I want to talk away from FE before I hate adult-recitals, people challenging themselves, and rooms of strangers laughing, crying, and cheering together.
I love FE.
I want to keep it that way.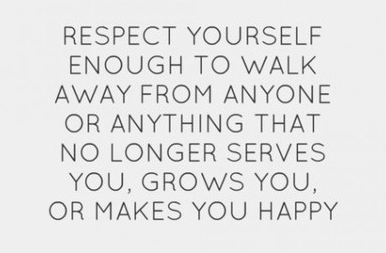 You have questions, perhaps…
"What will you do instead?"
Lay in a field with puppies, donuts, and someone with a British accent while an acoustic guitarist strums the Avett Brothers in a nearby gazebo?!
..
Guys, I don't know!
I'm hoping more travel, for work and play. Giving Harvard's commencement address would be a hoot.
Nothing lights my fire more than collaborating with Best Friend. More Camp, more Idea Potluck? We unleashed a beast with our 'Nice, Single Guy' twist on the latter earlier this week, who knows where that'll take us. A cross-country "Singles Events That Aren't Singles Events" tour? What about new'ness we haven't yet offered? The Saya & Pete Professional Development Show is guaranteed to be a hit in workplaces world-wide — I open the inspiration floodgates with my Life of Yes℠ keynote, Best Friend gets people to let go of judgement of themselves and of others, learn the true meaning of teamwork, and belly-laugh like they used to as kids through improv, then we bring it all home with introspective music, amen-inducing GIFs, and nostalgia gluesticks. Google, I'm looking at you and your sparkly new Chicago office.
What about new'ness I haven't yet offered? Guys, wanna come to a Life of Yes℠ Conference? A class on networking for introverts? On how to be the person at the party people run to instead of run from? On how to ride a bike for adults who don't know how to ride a bike or on how to swim for adults who don't know how to swim? Everyone's been begging me for webinars; I've got the headset, shall we virtually productivity-workshop it up? What about the Brene and Saya Tour where she teaches and I curate events around her teachings, and then she and I debrief in a nearby coffeehouse, tilting our heads back in girlfriend-laughter and talking excitedly with our hands? Wanna live in my Life of Yes℠ Apartment Complex where you have neighbors who'll water your plants when you're out of town and who'll say "Yes!" immediately when you ask, "Wanna bike to this naked African-drum circle in Pilsen Tuesday night at 7:37pm?"; wanna live in a community where every resident subscribes to Life of Yes℠ living? No smoking, no jazz, no sitting on the sidelines wistfully.
As I let go of FE, this would be an amazing opportunity for a publisher to reach out and offer an unproven first-timer a book deal. You win in discovering someone that went to a preschool named Cornflakes, survived a TJ Maxx dressing-room attendant asking her mother to have her middle-school daughter leave the area because she smelled, and who is an ideal blend of professional and creative; I win in having deadlines cause that seems to be the only thing that makes me write, no matter my copious amount of research and personal material and my efficiently organized Scrivener folder-system set up.
With barely a pinky-finger lifted, I already have a book-launch party venue (America's best bookstore and non-profit?!) and a squad of Cheese-Its ready to pre-order, though no one knows anything about what I'm penning —

Stacy's brother worked for the Obama campaign so really, her endorsement =
"The President of the United States endorses Saya Hillman as a wonderful writer and undoubtedly a New-York Times Bestseller; someone you should take a chance on."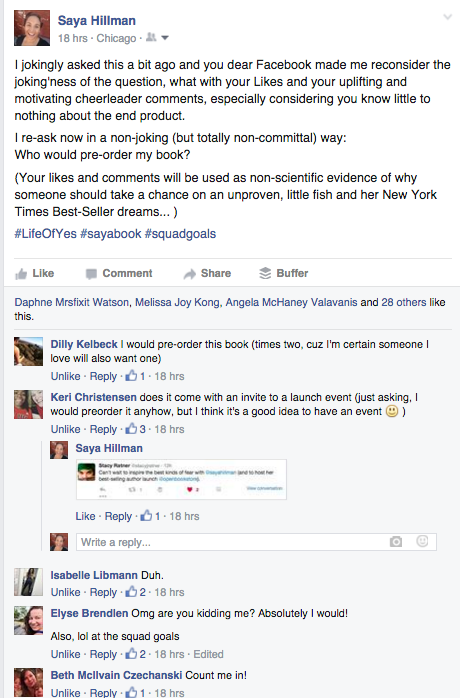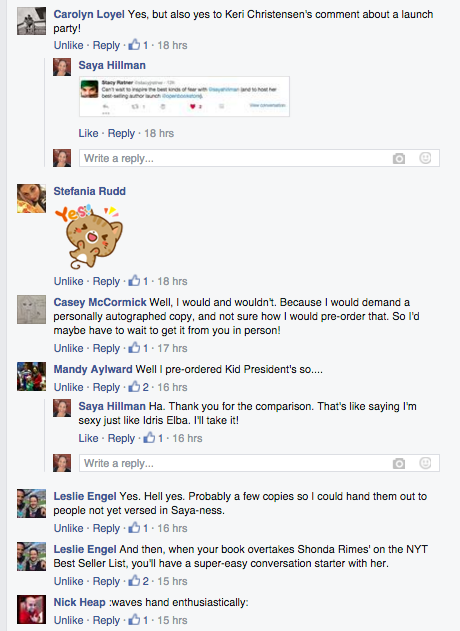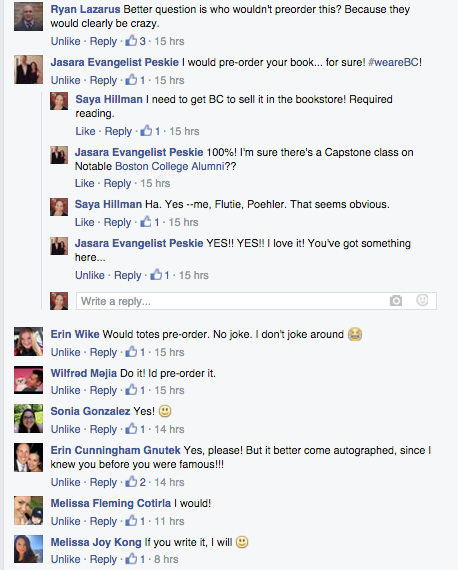 "Will FE be back?"
I may pull a Michael Jordan and retire FE only to un-retire FE.
The best thing about the lifestyle I've chiseled for myself is the autonomy — in this case, the autonomy to say one thing and start down one path and then to unapologetically say something completely different and travel in the opposite direction.
"Are you scared?"
YES.
What if this is a huge mistake?
I say I may bring FE back — what if no one's interested then?
I'm in no financial position to end one of my main revenue streams without having another main stream lined up.
Who has a pot of gold and decides to walk away from the shiny coins towards the promise of absolutely nothing?
"Are you excited?"
YES.
See above potential greatness.
..
Michael Jordan's comments at his (final) retirement press conference sum up everything nicely. Replace "basketball" with "Fear Experiment" and it's like he wrote his words with my situation in mind —
"Right now I don't have the mental challenges that I have had in the past to proceed as a basketball player.
Sure I am pretty sure that a lot of people will say, 'Well there is a lot of different challenges that could evolve.' For me, to start something and then in the middle of the season lose interest and then lose motivation, it's unfair to the people that I am working with and working for and to the fans. So, I elevated that opportunity by saying that this is a perfect time for me to walk away from the game and I am at peace with that.
It was difficult because you are giving up something that you truly, truly love. My love for the game is very strong, and it's hard to give up that love."
Press: Is there any chance that you will change your mind about this decision?
Jordan: No. I never say never, but 99.9 percent I am very secure with my decision.
Press: What kind of emotions do you have as you make this announcement?
Jordan: It's tough. I am doing a good job trying to hold back the emotions because it's like taking away something that I have truly loved… It's just sad that I am leaving the game, but it's happy because my life is starting to go into a whole other stage. Basketball for me was the first stage. It got me to this point in my life and I knew it had to end. My life takes on a different stage now and it's a different challenge now and I welcome that and I knew it was coming.
Press: What's next?
Jordan: The next step is, there is a lot of different components… For the most part, I am just going to enjoy life and do some of the things that I've never done before.

Right?!
---
If you're interested in being a part of the FE Goodbye Maybe Not Goodbye Tour —
"How will FE11 be the same?" The show venue, the general structure of rehearsals, the size of the groups, it being an experience like no other. Other stuff.
"How will FE11 be different?" Subscribing to the "going out in a blaze of glory" philosophy, instead of the two or three art-forms of past shows, FE11 will have four art-forms: a capella, improv, dance, and storytelling. Other stuff.
"How do I participate in FE11?" Attend the virtual Info Session and apply. Highly recommend that you attend the FE10 show in March, especially if you haven't been to a show before or haven't been to a show with the art-form you're interested in. Save the date — November 19, 2016 — and come to the show if you're not IN the show. Ellen DeGeneres will be emcee'ing.*
*A lie. Unless… Ellen?