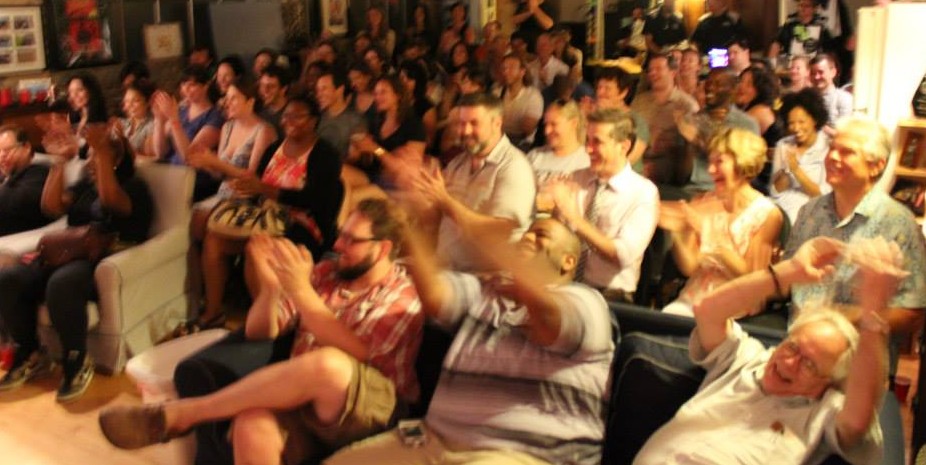 "One of the most refreshing and intelligent evenings in Chicago. It's unexpected, unvarnished and hilarious."
"I had more than a blast. It was honor to meet so many great Chicagoans, it makes me proud to be a part of this city. Thanks for bringing me along for the ride."
[UPDATE: Idea Potluck ran from 2011- 2018 and was retired after Number 51]
Idea Potluck is a potluck of ideas rather than food. It brings together several of Chicago's best and brightest, funniest and handsomest, wittiest and engaging-est for an evening of rapid fire musings on whatever they choose to muse upon. Each pre-selected Dish does whatever he/she wants, for six-minutes. You as an audience member sit back and absorb, perhaps laugh and cry, definitely meet other awesome people.
Past Potlucks
Potluck 51.0, Tuesday, 2/13/18
photos
'
Nice, Single Lady' Edition (LGBTQ)

Mac & Cheese is partnering with Center on Halsted for this event in an effort to support programming for our shared communities. Center on Halsted is the Midwest's most comprehensive community center dedicated to advancing community and securing the health and well-being of the Lesbian, Gay, Bisexual, Transgender and Queer (LGBTQ) people of Chicagoland. A portion of ticket proceeds will go to the Center.
Alex
Emily
Analisha
Conway
Starza
Deb
Anita
Jera
Jocelyn
Potluck 50.0, Tuesday, 10/24/17
photos

Ines Bellina, Writer, Translator, and Performer
David Rabie, CEO and co-founder of Tovala | Twitter: @daviderabie
Sami Ari, Digital Strategist & Nomad | Instagram: @SamiAri
Michelle Goeppner, Life Change Champion
Marya Spont-Lemus, Writer, Interdisciplinary Artist, and Educator | Twitter: @maryaspontlemus
Hillary Johnson, Photographer | Twitter: @hillaryjphotos & Instagram: @hillaryjohnsonphotography
Mary Kesinger, Marketing Analyst (Accenture) and Fitness Trainer (ENRGi Fitness) | Twitter & Instagram: @itsmaryk @itsmaryk
Emily Lonigro Boylan | Twitter & Instagram: @limeredstudio @emilylimered
Potluck 49.0, Tuesday, 9/19/17
photos
Seth Austen Larson, Technology Troubleshooter
Frank Shapiro
Kendra Chaplin, Founder, Chicago Woman magazine | Twitter & Instagram: @chiwomanmag @kendrachaplin
Jenn Bane, Cards Against Humanity | Twitter: @JennDangerous
Joanne Worden
Kelsey Taylor

Jason Bell, Sales Guy, Photographer, Global Adventurer, Foodie, Speaker | Instagram: @jasonbell82

Boots McCann, Ph.D., Purveyor of Inspirational Clapbacks
Potluck 48.0, Tuesday, 8/22/17
photos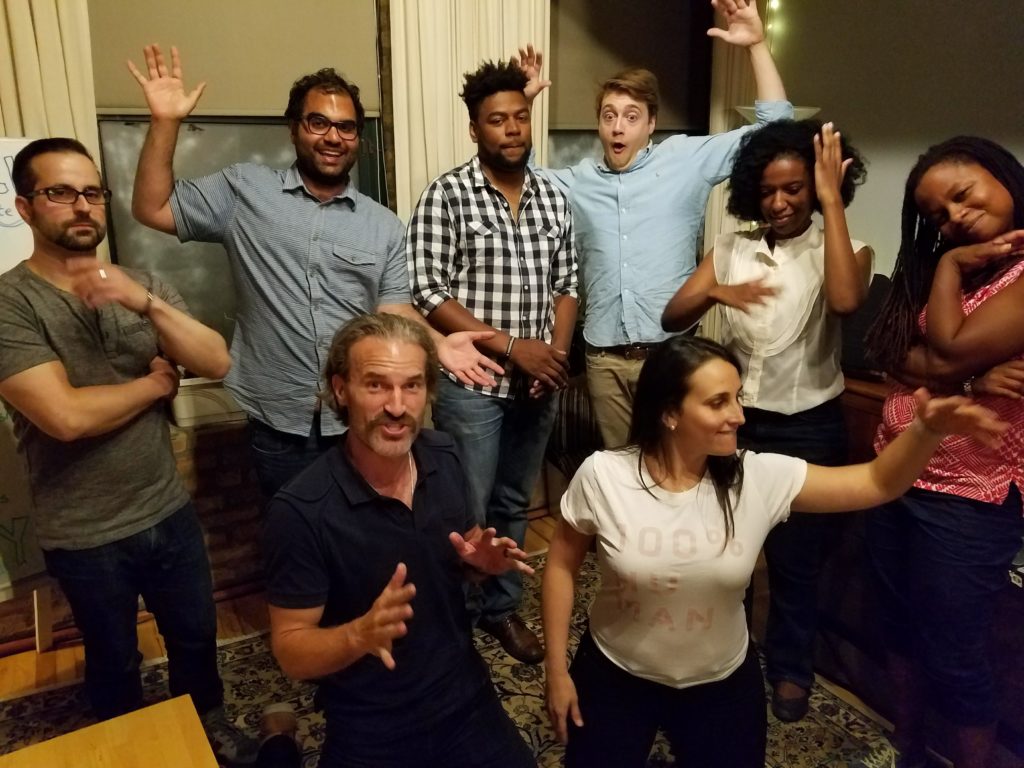 Potluck 47.0, Tuesday, 7/18/17 photos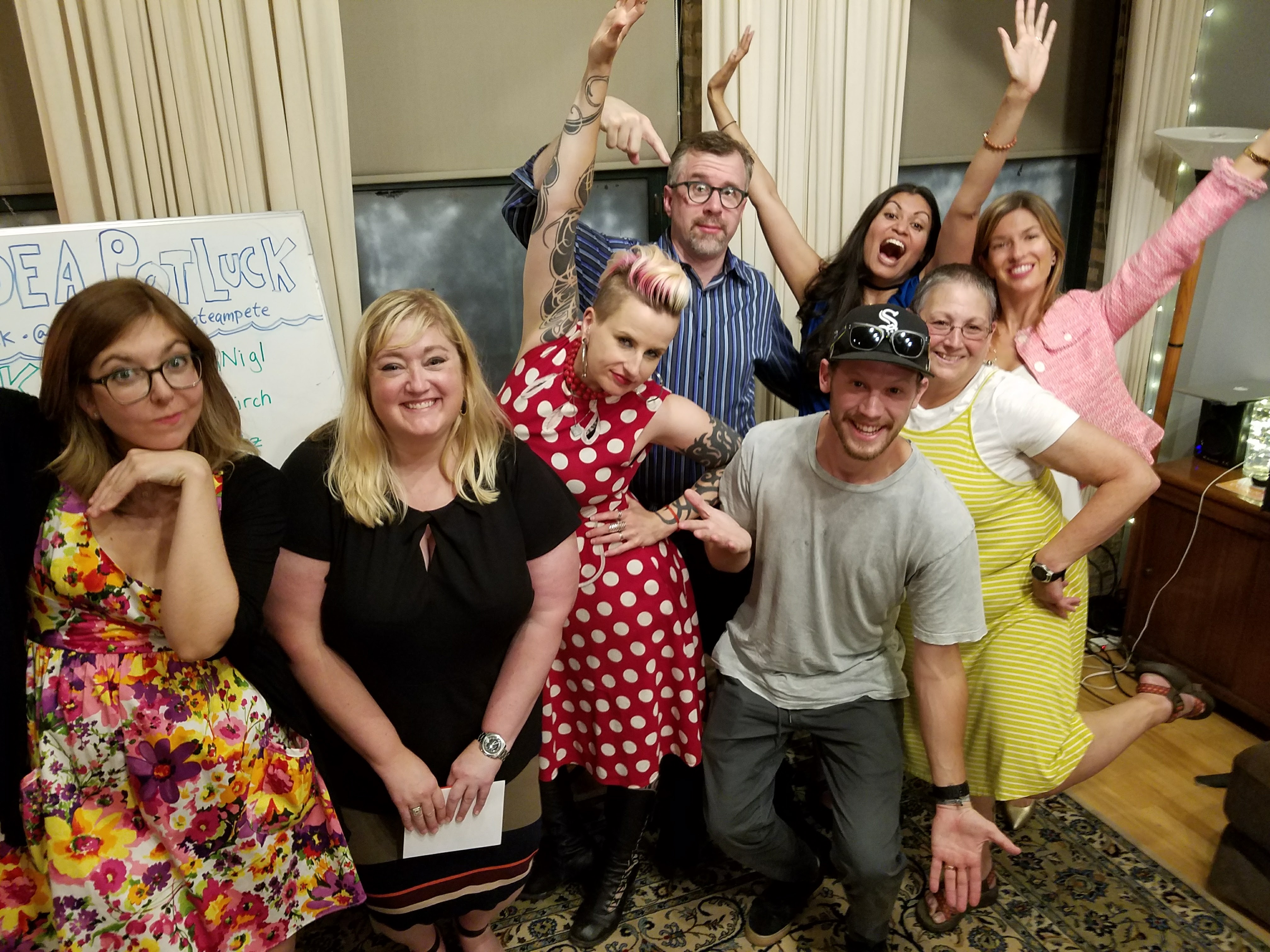 Nikki Nigl (rhymes with eagle) – EmpowHERment Coach & CreateHER of ABOUT WOMEN |

@IAmNikkiNigl

Lisa Zimmer, Beer Culture and Community Manager, MillerCoors | Twitter: @Zimmerino @MillerCoors
Morlie Patel
Laurie Hillman
Val Groth, Executive Life Coach, Speaker, Author of The Power of the Possible: The Dire State of Inner City Education and One Woman's Revolution to Fix It, Founder of Ryan Banks Academy | @valeriegroth
Brian Fitzpatrick, founder of Google's Chicago engineering office circa 2005, current Founder and CTO of Tock | @therealfitz
Stephanie Anderson
Jared, Artist/Creator behind Chicago Birch/ChirCh | @chicagobirch
Potluck 46.0, Tuesday, 6/20/17 photos 'Nice, Single Guy' Edition (Straight)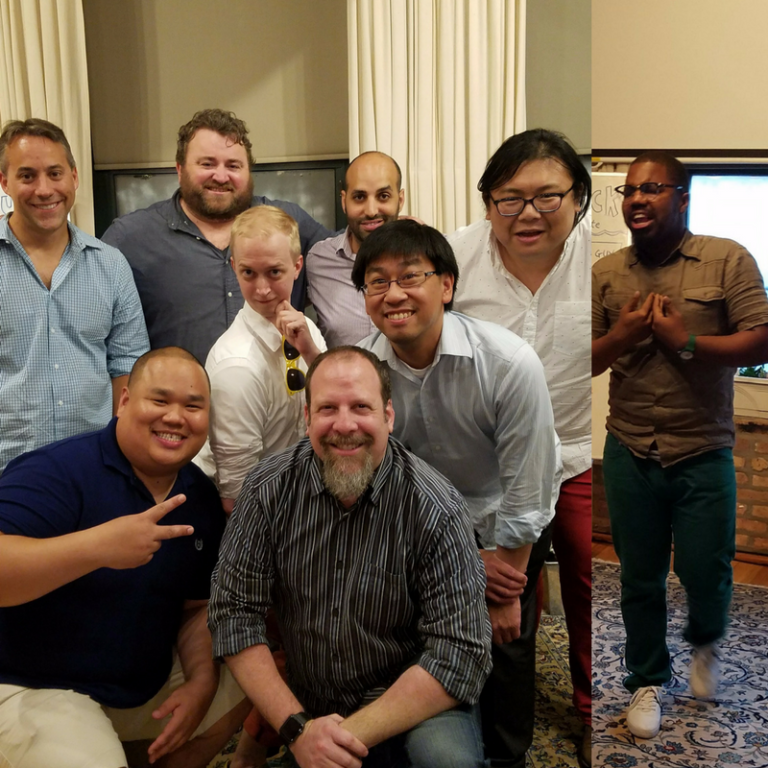 Matt
Arnold
Eric
Brian
Fadi
Ying
Jeremy
Duo
Brett
Potluck 45.0, Tuesday, 5/16/17 photos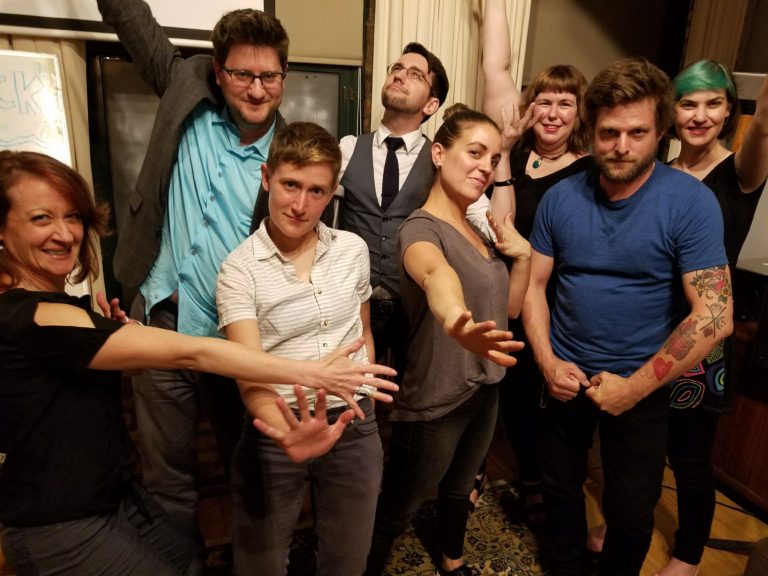 Steve Gadlin – Serial Silly Projects Guy and Host of Steve Gadlin's Star Makers | Twitter: @CatDrawingGuy
Stephen Kummer
Sue Koch – Owner, Soaring Solutions | Twitter: @sue_kochInstagram: @suekoch
Jenn Dieas – Founder of Glowout Salons | Instagram: @jennthegoldengirl
Stacy Ratner – Social Entrepreneur for Literacy, Open Books / Chicago Literacy Alliance | @stacyjratner
Danny Black
Kandy Christensen​ – Meandering Design T: Meander_Design I: @meanderingdesign
Shannon Noll | Twitter:

@snapplegate87
Potluck 44.0, Tuesday, 4/18/17 photos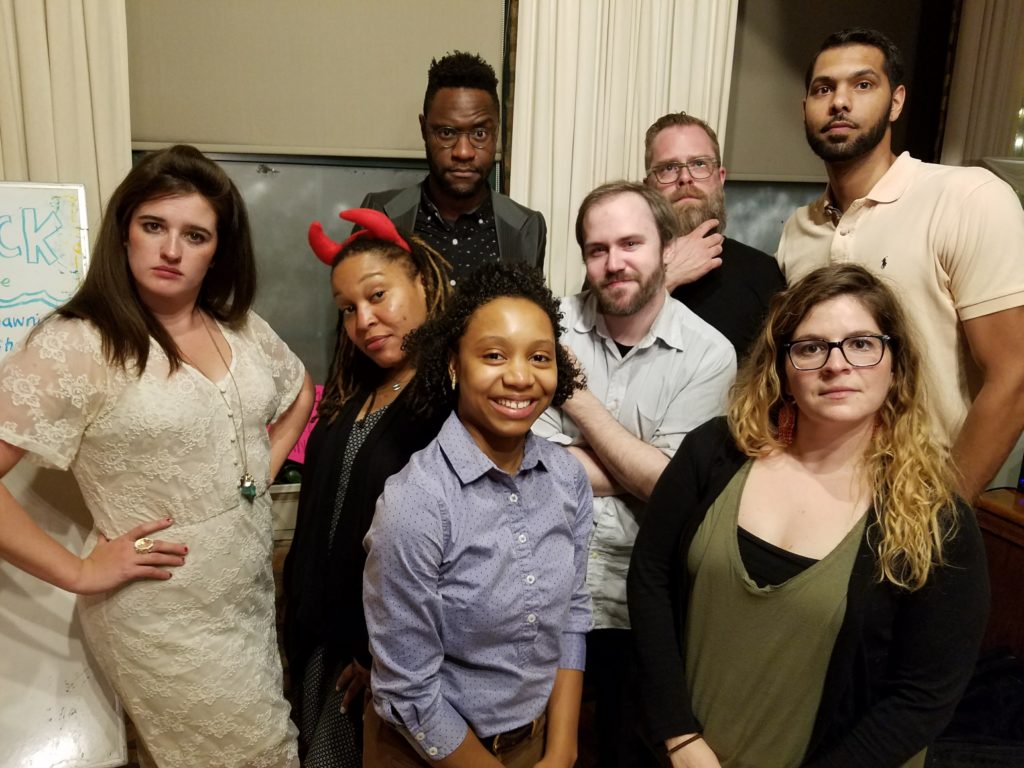 Jo Feldman – Performer, actor, and head writer of Cards Against Humanity | @hellojofeldman
Karen Hawkins – Founder & Rebelle in Chief of Rebellious Magazine for Women | @RebelliousMag
Jerry Nwosuocha – Jack of all trades | @nyc_mouse
Shawn Smith – Shawnimals and Resketch | Twitter: @shawnimal Instagram: @shawnimals
Bobby Evers – V

olunteer writer/producer/dj with CHIRP radio | @ohbusiness

Susan Glynn
Colin Davis

Miranda McClendon – Curious Human | Instagram:

@frooojojojo
Potluck 43.0, Tuesday, 3/21/17 photos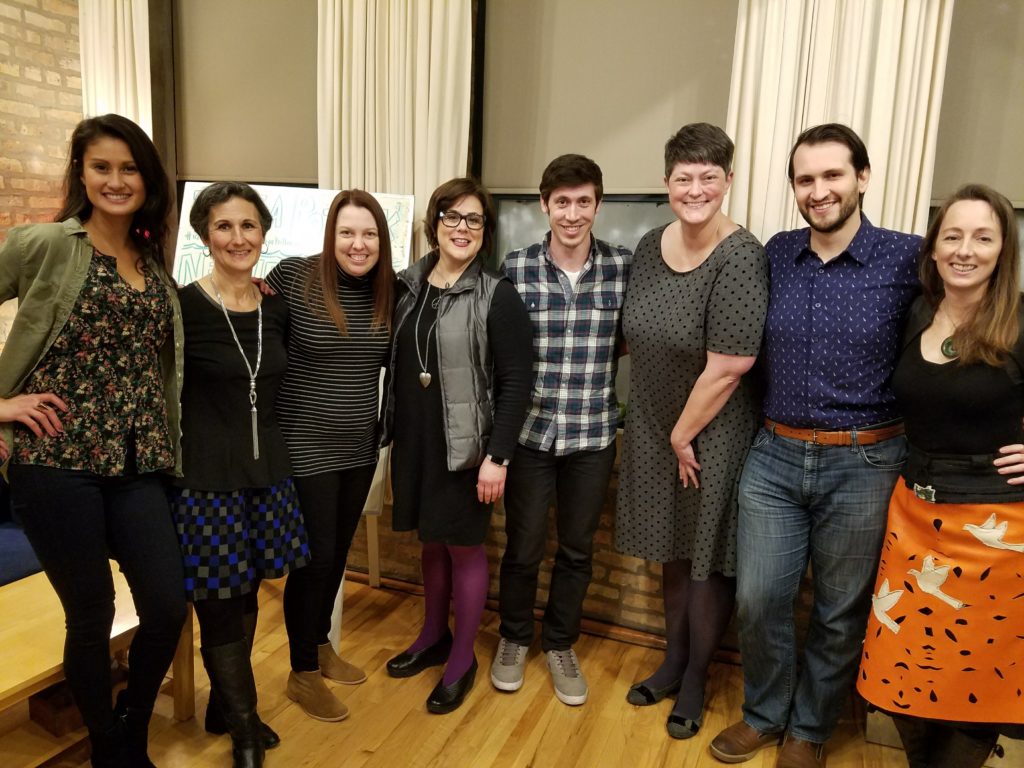 Potluck 42.0, Tuesday, 2/21/17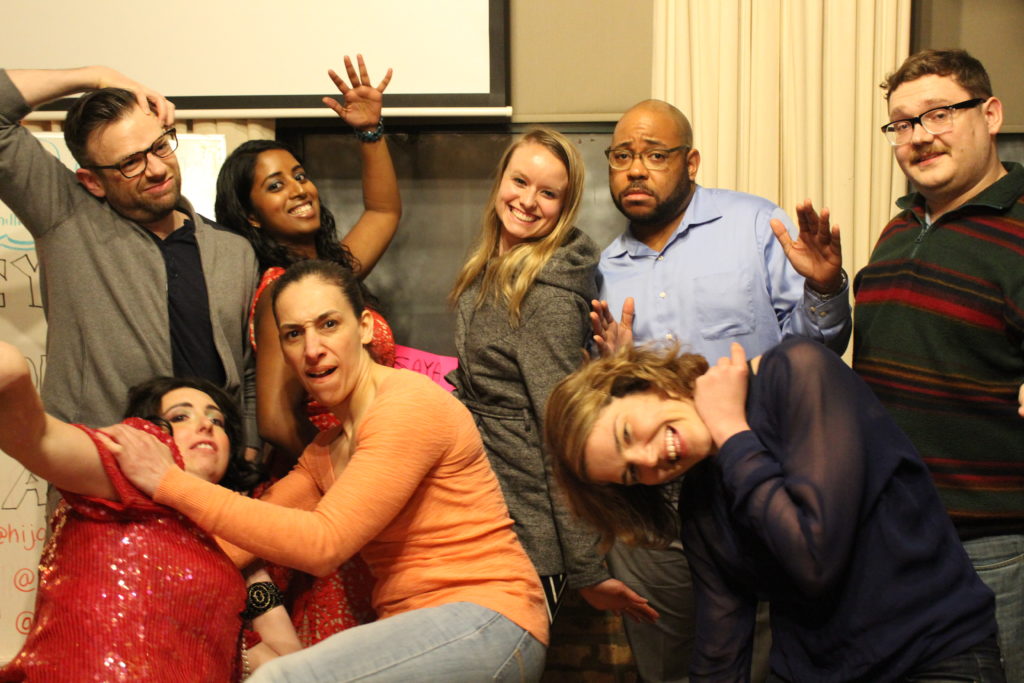 Soli Santos, Stand-Up Comic and Storyteller
Joseph Martin, CEO/Designer at Pikaia Digital | T/I:

@hiJoeMartin

Kate Englund, Program Director, Safe Families for Children | T:

@KateEnglund

Tracy Samantha Schmidt,

Host, Socially Authentic | I: @

TracySamanthaSchmidt

Carma Nibarger, Chicago Comedian | T:

@carmanibarger

Brandon Brooks, HR Guru and Mostly Likeable Guy
Parvathi "Parv" Santhosh-Kumar, Director of Network Learning, StriveTogether
Jeff Murdoch, Writer and Member of Comedy Duo Seriously Unprepared | T:

@jsmurd
Potluck 41.0, Tuesday, 1/22/17 — photos 'Nice, Single Guy' Edition (Straight)

Sean – Twitter: @espeekayyo
Tom
Will
Joey
Benjamin -Twitter: @benjaminritter, Instagram: @ritterbenj
Barry
Daniel – Twitter and Instagram: @musicinthehall
Reuven
Kevin – Twitter and Instagram: @kdaspeaker
Potluck 40.0, Tuesday, 10/18/16 — photos

Scott Winterroth, Co-Founder, Content Academy | Twitter:

@swinterroth @contentacademy

Angie Garbot, Owner, Angela Garbot Photography |

Instagram: @angelagarbot @angelagarbotphotography Twitter: @PhotosByGarbot

Toni Husbands, Financial Coach, Debt Free Divas | Twitter:

@debtfreedivas

Jeana Anderson Cohen,

Founder of a SweatLife.com and the host of #Sweatworking events across Chicago | Instagram and Twitter: @asweatlife

Eileen Boyes, Former Teacher and Recovering Pessimist | Twitter:

@eileen91582

Rachel Pokay, Humorist |

@OkayPokay

Hobert Thompson

Claire Lew, CEO of Know Your Company | Twitter: @cjlew23
Potluck 39.0, Tuesday, 9/20/16 — photos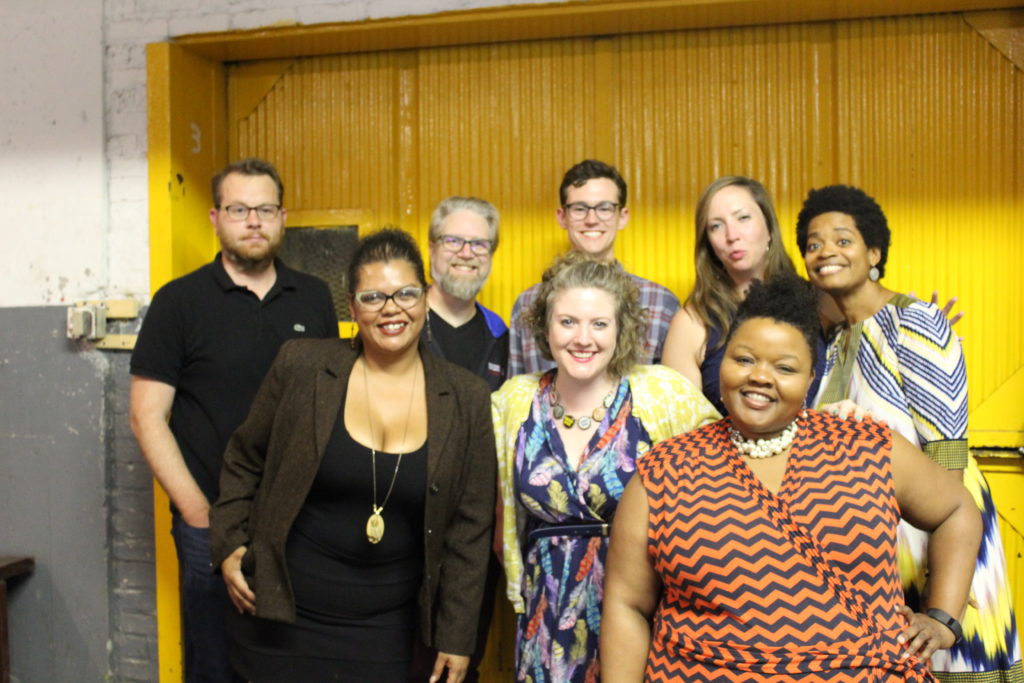 Adrienne Brust, Owner & Principal Creative of studioLIFTED
Steve Delahoyde, Filmmaker & Owner of Delahoyde Projects |

@thehoyde

Emily Drake, CEO, Flank 5 Academy + Career Therapist |

@emkdee & @flank5academy

Lucas O'Neil, Writer/Comedian |

@loneilz

Alison Monette, C

oordinator of a Brain Surgery Program in the 'Burbs

Chandrea Brown, Explorer | Data Enthusiast | Information Broker

Fuzzy Gerdes, Producer and Performer |

@fuzzy

Lily Be, Creator of The Stoop | Storyteller | Educator at Second City |

@queenlilybe
Potluck 38.0, Tuesday, 8/16/16 — photos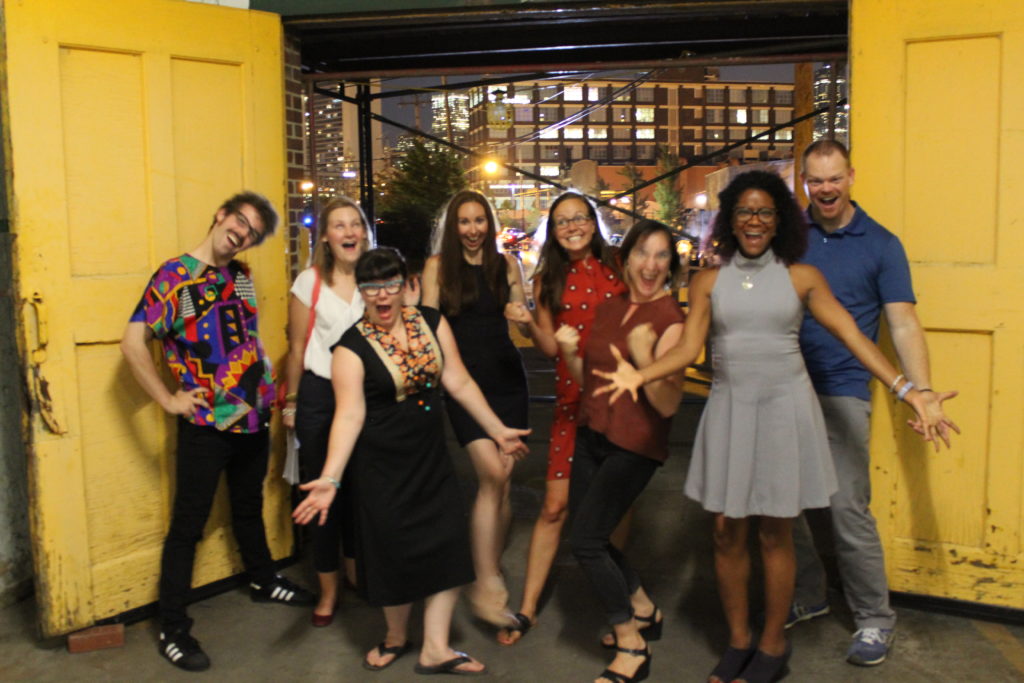 Potluck 37.0, Tuesday, 7/19/16 – photos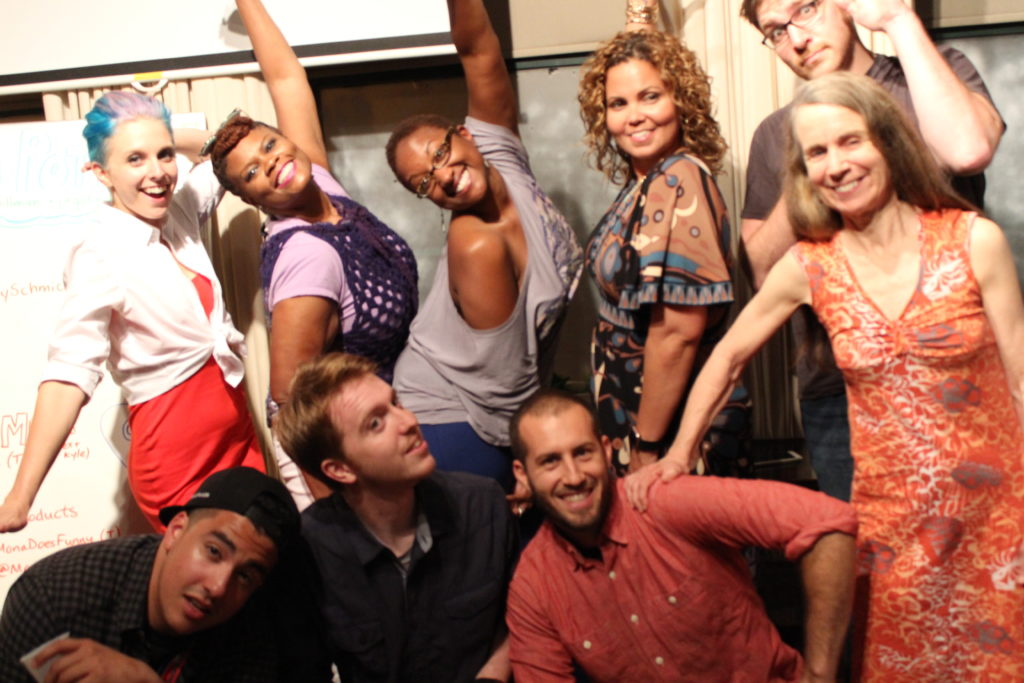 Mona Aburmishan, International Comedian; producer of The Comedy Bowl | @monadoesfunny
DeLonda from the House of Dowling, First Born, First of Her Name, Princess of Purple
Make It Up Media | @makeitupmedia
Nick Puglisi, product designer, co-owner of Potluck Products |

@potluckproducts

Dani Davis, Connnector
Mary Schmich, Chicago Tribune Columnist | @maryschmich

Steve Nelson, Writer and Performer

Caitlin Neal, Sexuality Strategist
Potluck 36.0, Tuesday, 6/28/16 – photos
Saleem Hue Penny, Introvert + Daydreamer, Future Owner of Crayonsonthebackporch | @huedotart
Claire Zulkey, writer at Zulkey.com, author of An Off Year, producer of Funny Ha-Ha | @zulkey
Tocarra Mallard, Comedian + Arts Adminstrator |@TocarraElise
Christina Marshall-Valdez, Founder, CEO, Visionary of Elu | @YourEluGirl, @YourElu_Boss
Jason Silver, Dating and Love Coach, We Just Match |@jason_silver
Sonia Gonzalez, Educator | @ripus7
Nancy Graham, Technical Project Manager, Cat Herder |

@nancygraham001

Shuling Yong, Documentary Filmmaker and Founder of Media For Social Change |

@yongshuling
Potluck 35.0, Tuesday, 5/17/16 – photos

Nicky Margolis

Julia Smith, Nonprofit Communications Manager | @juliacsmith

Bryan Biello, Foreman of Festivity

Merrit Landsteiner,

Stand-Up Comedian

Lauren O'Connell, Territory Manager at Spindrift, VO Actor, Reki Healer, Vedic Astrologer |

@OConnell_Lauren

Katie Linehan

Megan Shaw, Regular Gal Around Town

Susannah Mae Schoeny, Preschooler — "My job is to stay in bed."
Mike Robinson, Professional Speaker & President of In The Paint Basketball
Potluck 34.0, Tuesday, 4/19/16 – photos

Potluck 33.0, Tuesday, 3/15/16 – photos
Jessica L. Williams, Founder, TechBizGurl.com | @

techbizgurl

James Meredith, "Celebrated Actor" currently playing Othello in "Othello" at the Shakespeare Theater | @javimere
Daniel Morrow, Digital Media Producer at JAMA and Founder/Producer of Music in the Hall |

@musicinthehall

Natalie Shmulik, Food Business Consultant, The Hatchery | @

TheHatcheryChi

Victoria Elena Nones, Executive Director, Women In Comedy |

@vfiercerising

Stephanie Walker | @stephwalker1

Blake Burkhart, Comedian |

@blakeburkhart

Eunice Jarrett

Lynn Else
Potluck 32.0, Tuesday, 2/16/16 – 'Nice, Single Guy' Edition (Gay, Bi, Trans) – photos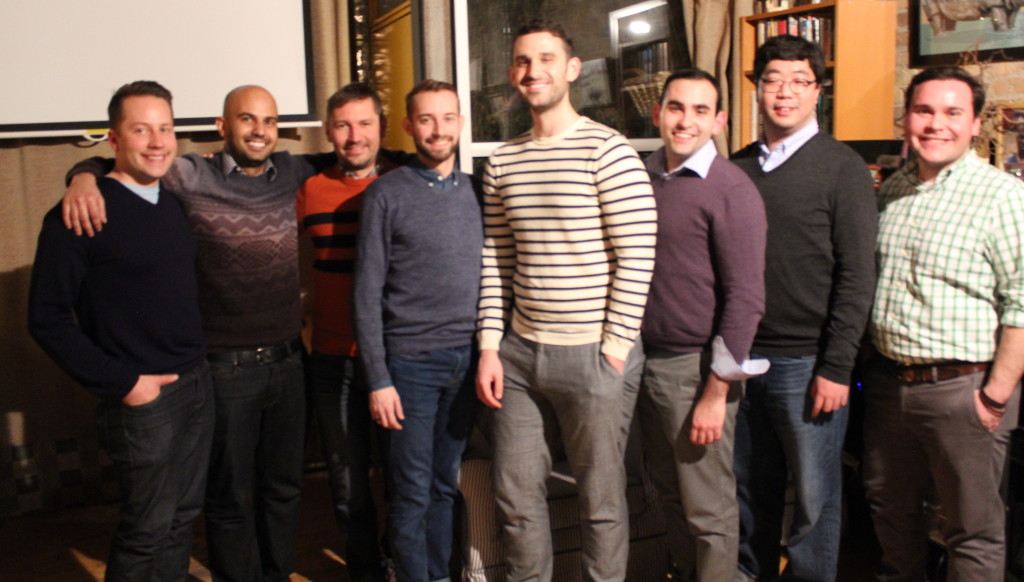 Josh Goldman |

@hithereitsjosh

Marq Hwang
Sami Ari |

@SamiAri

Jim Conti
Patrick Boyd
Ben Turbow
Christopher Holly
Graham Aden
Potluck 31.0, Tuesday, 2/2/16 – 'Nice, Single Guy' Edition (Straight)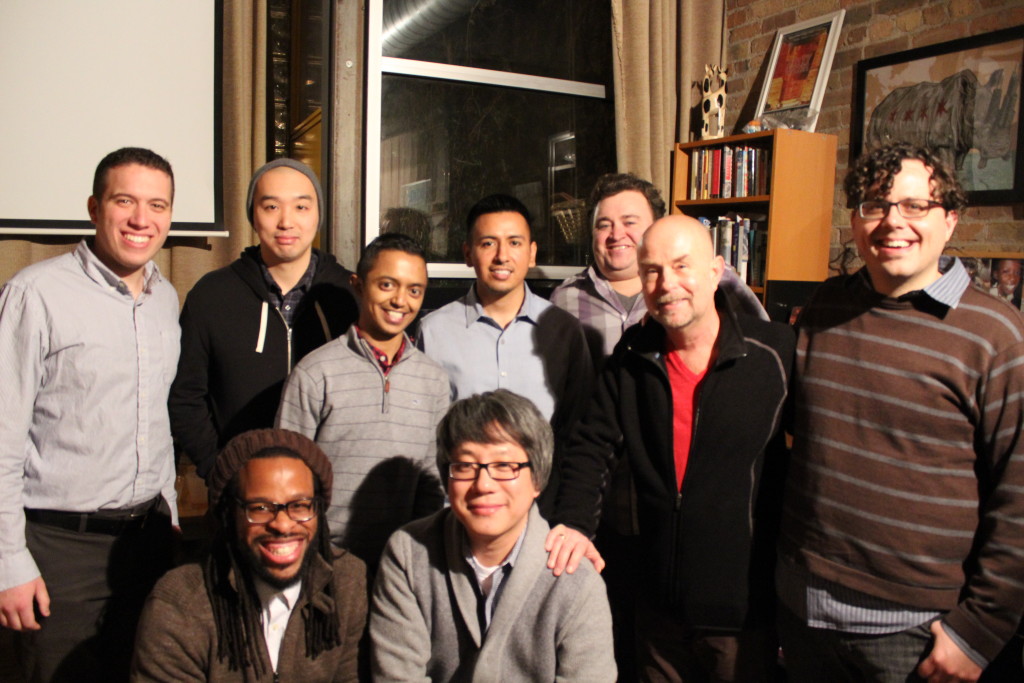 Chuck Otto | @chuckotto
Theodore Hahn, Middlebrow Bon Vivant | @the83k
J.T. Snipes, Graduate Student, Indiana University | @jsnipes3
Joey Berk
Kevin D'Souza, Project Manager, Sarcastic, Sports Enthusiast | @kevdsouz
Wilfred Mejia
Ray Hui, Comedy Writer and Performer | @meofsunshine
Brett Myers, Program Director Next Door Chicago | @brettmyers0
Randy Hackler, Man of Mystery
Potluck 30.0, Tuesday, 1/19/16 – 'Nice, Single Guy' Edition (Straight)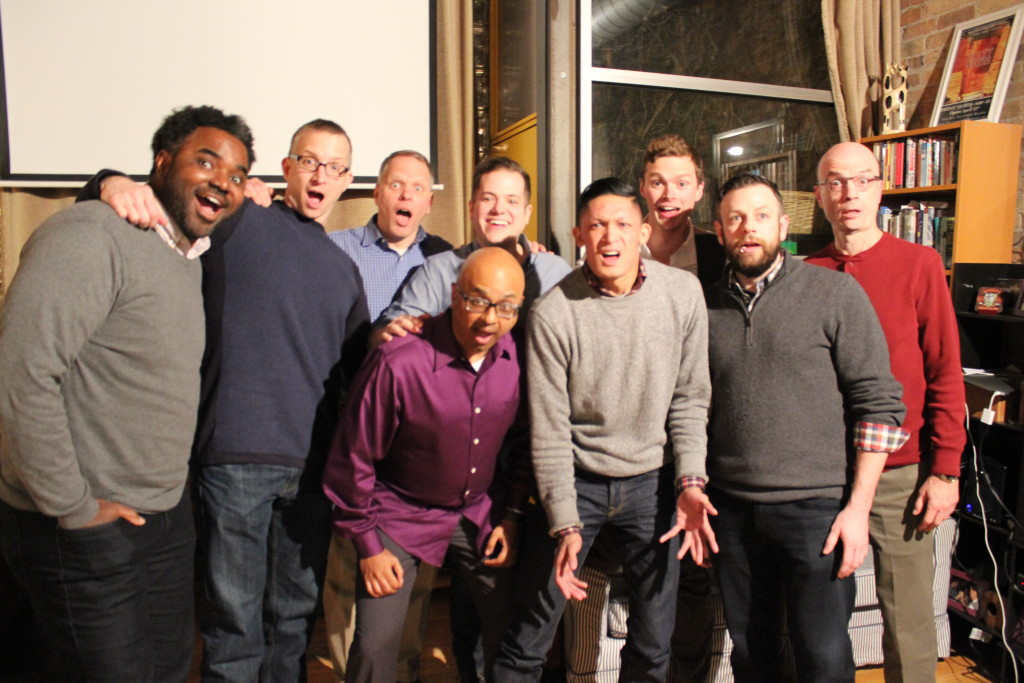 Potluck 29.0, Tuesday, 10/20/15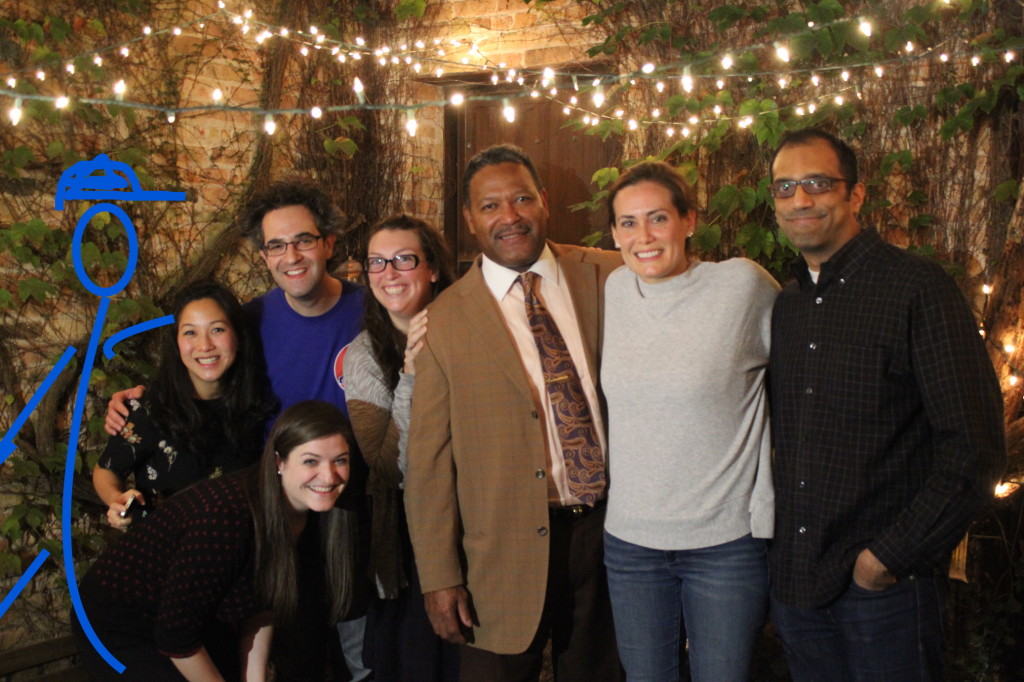 Potluck 28.0, Tuesday, 9/22/15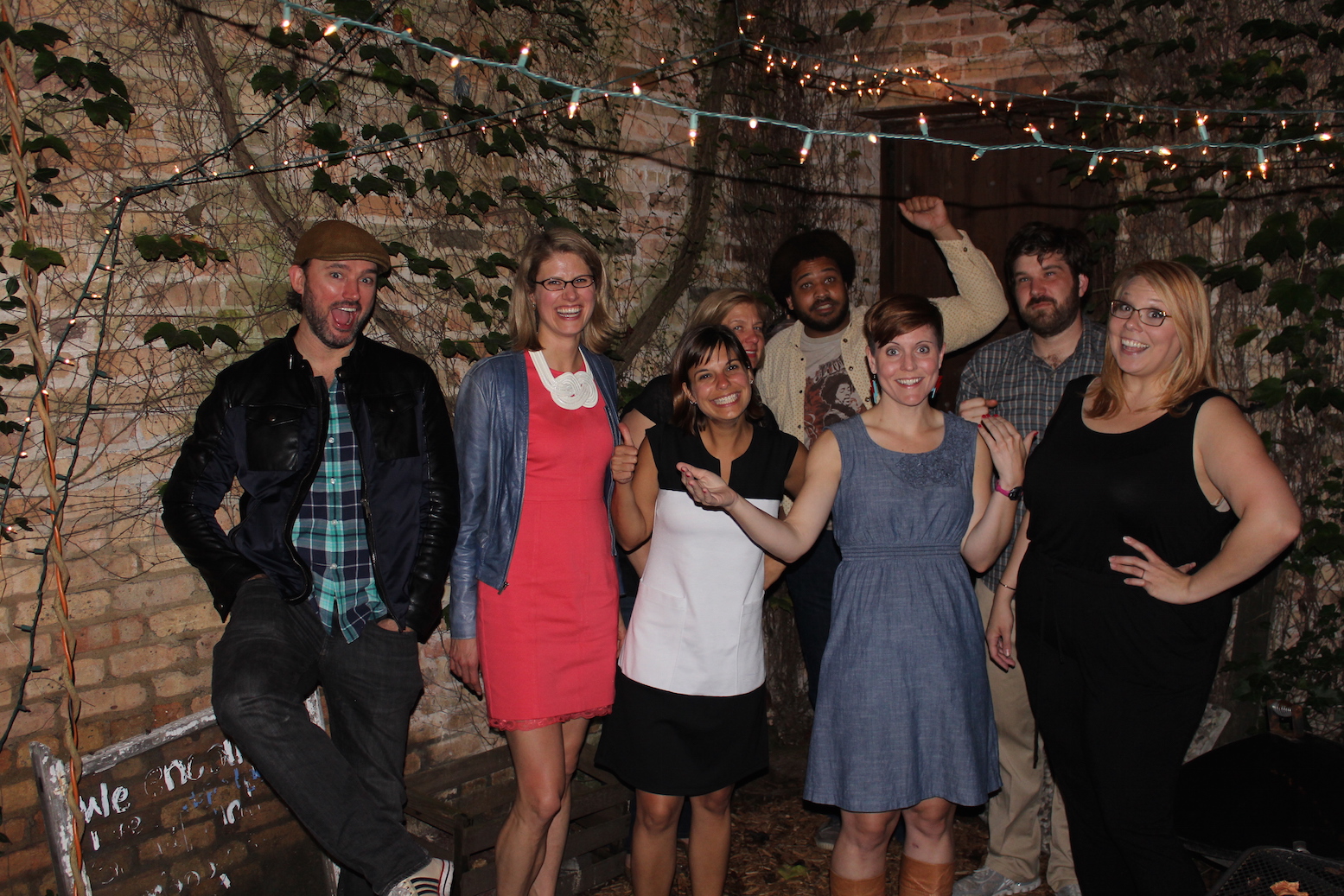 Potluck 27.0, Tuesday, 8/18/15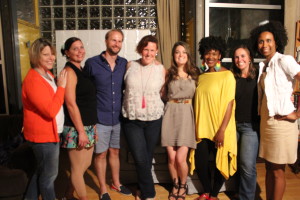 Potluck 26.0, Tuesday, 7/14/15
Potluck 25.0, Tuesday, 6/16/15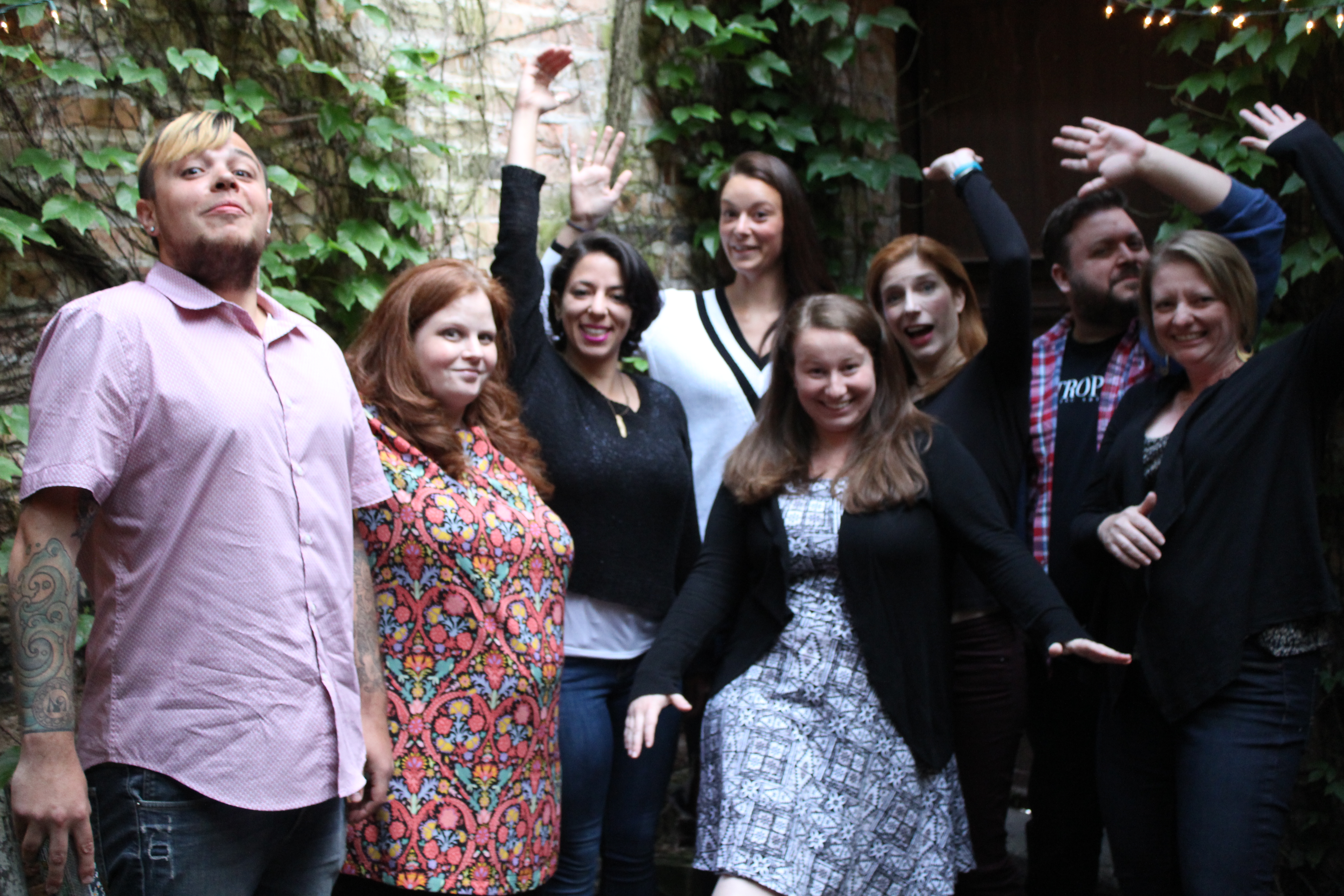 Potluck 24.0, Tuesday, 5/19/15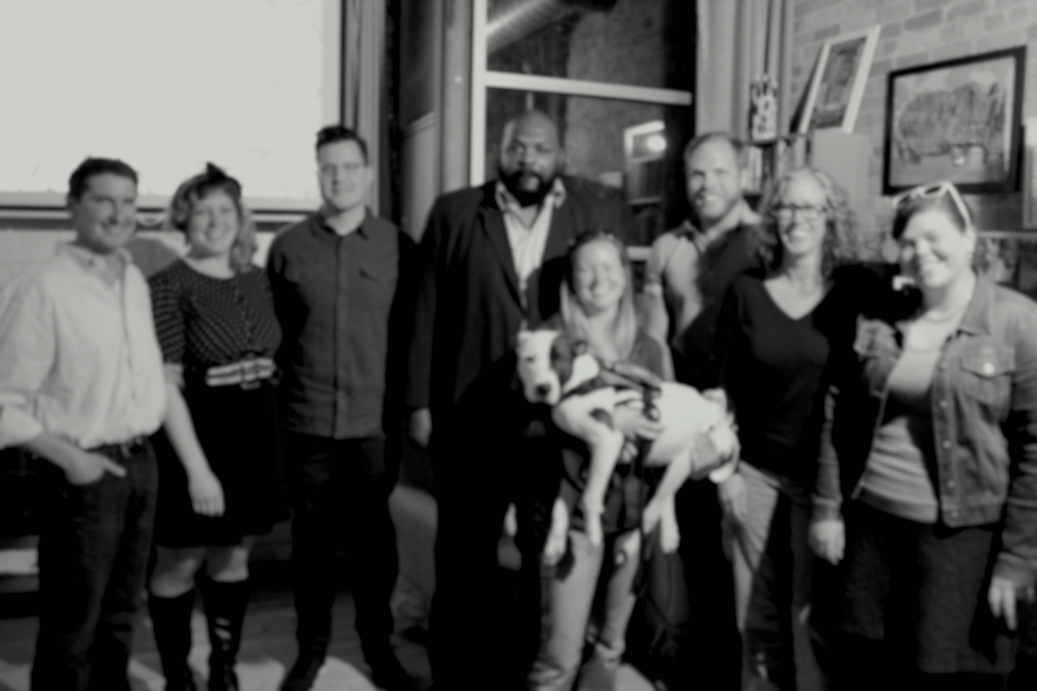 Potluck 23.0, Tuesday, 4/21/15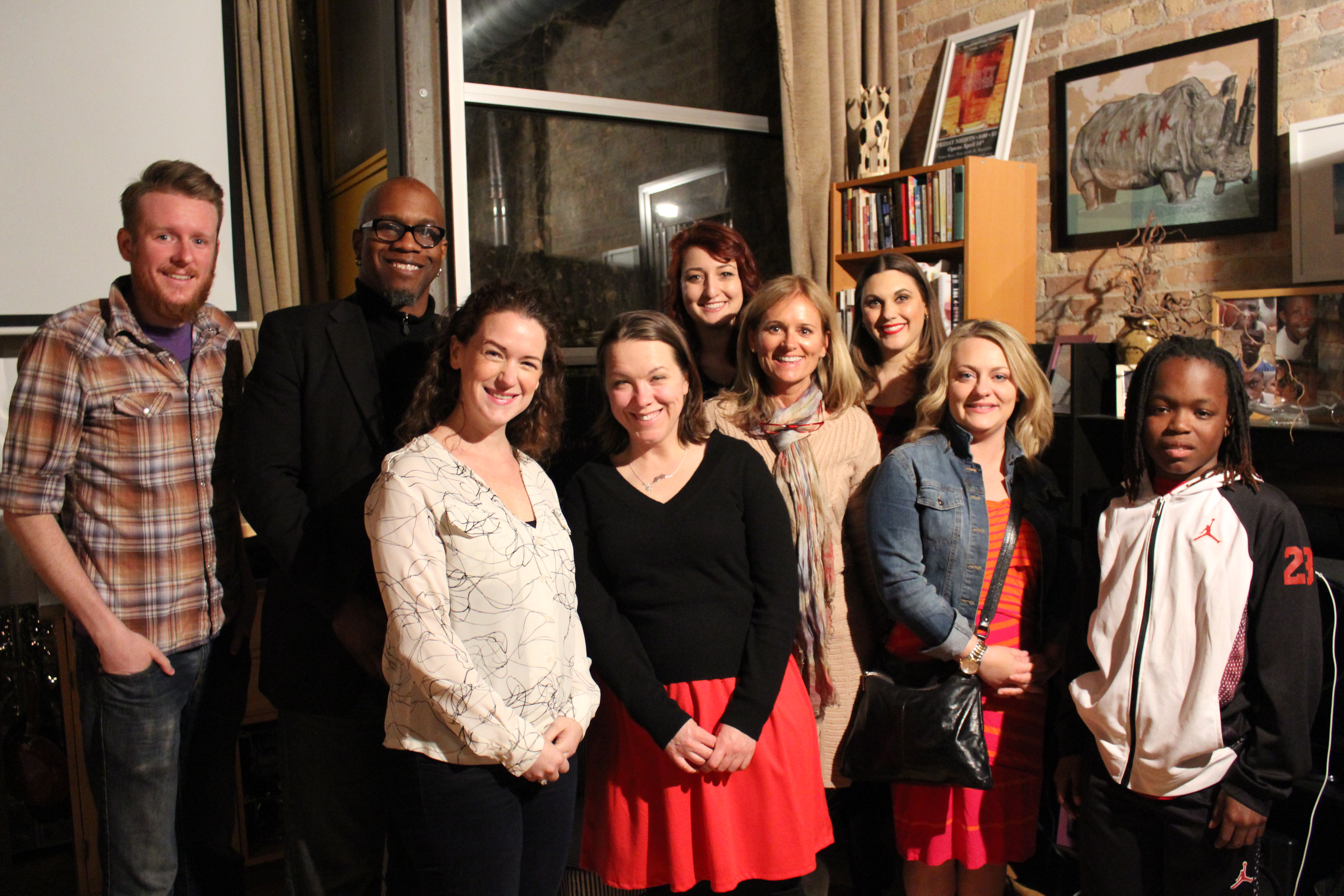 Potluck 22.0, Tuesday, 3/17/15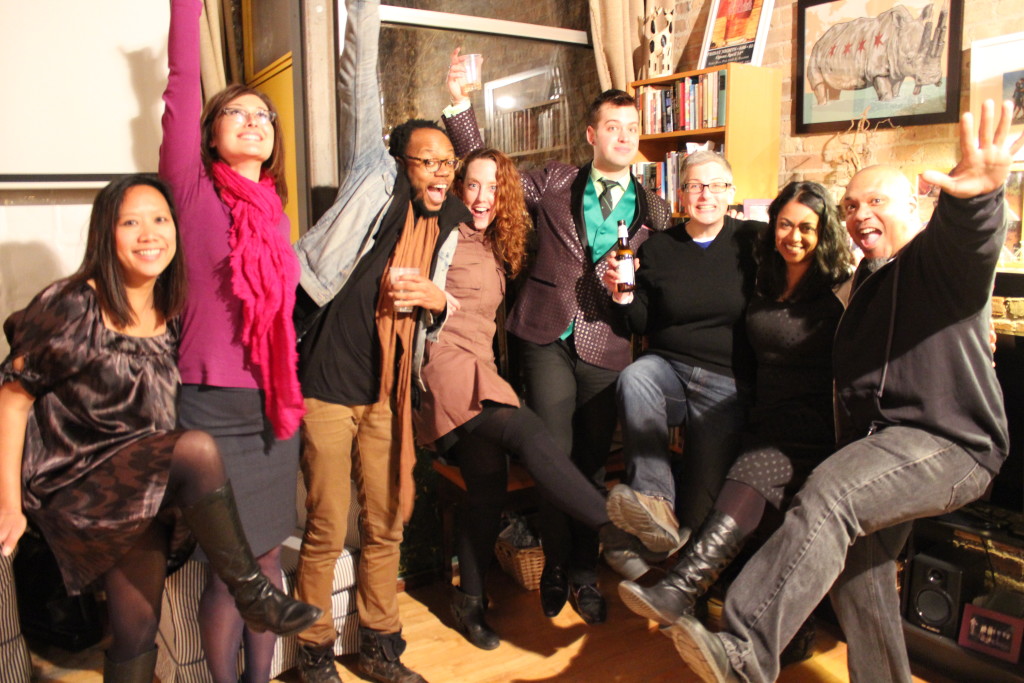 Potluck 21.0, Tuesday, 2/17/15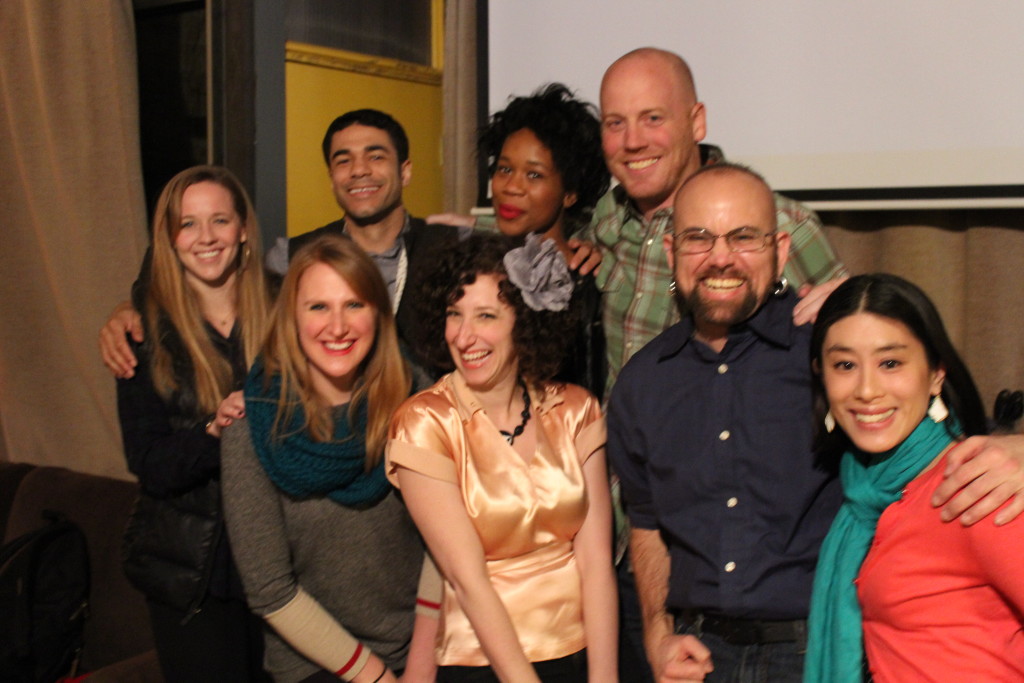 Potluck 20.0, Tuesday, 1/20/15 — All-Star Edition!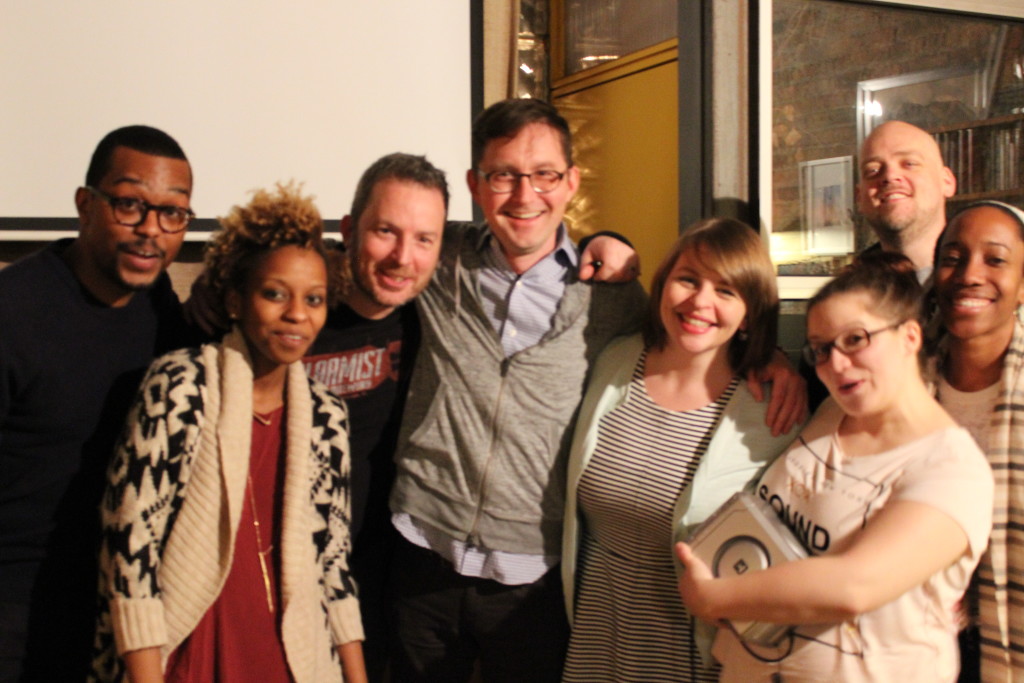 Past Dishes came back to get another six minutes of fame…
Potluck! 19.0, Tuesday, 10/21/14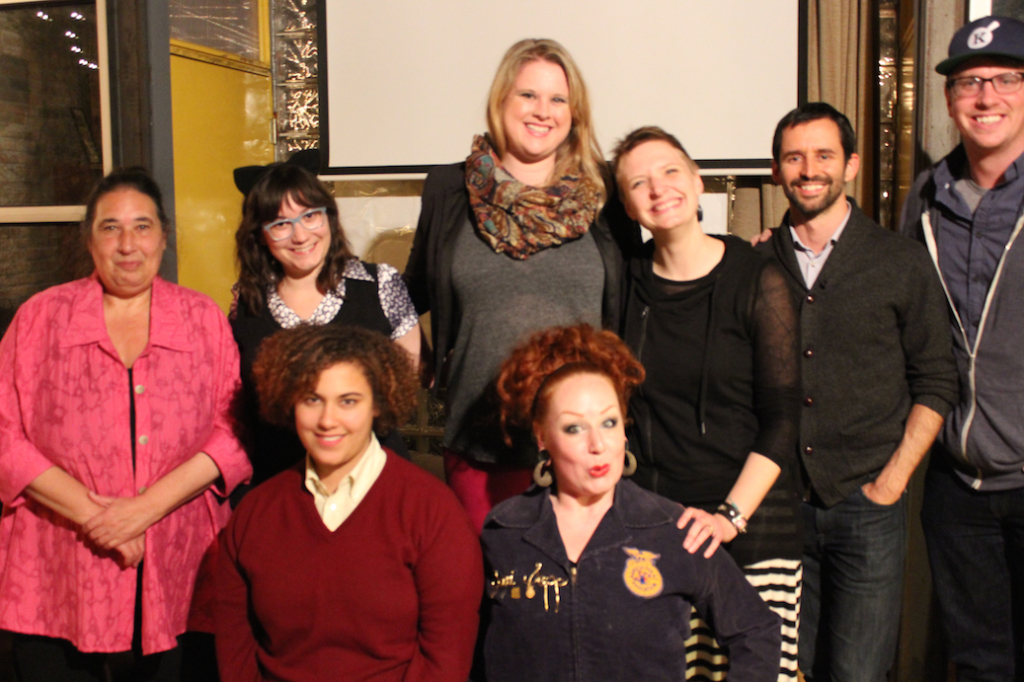 Potluck! 18.0, Tuesday, 9/23/14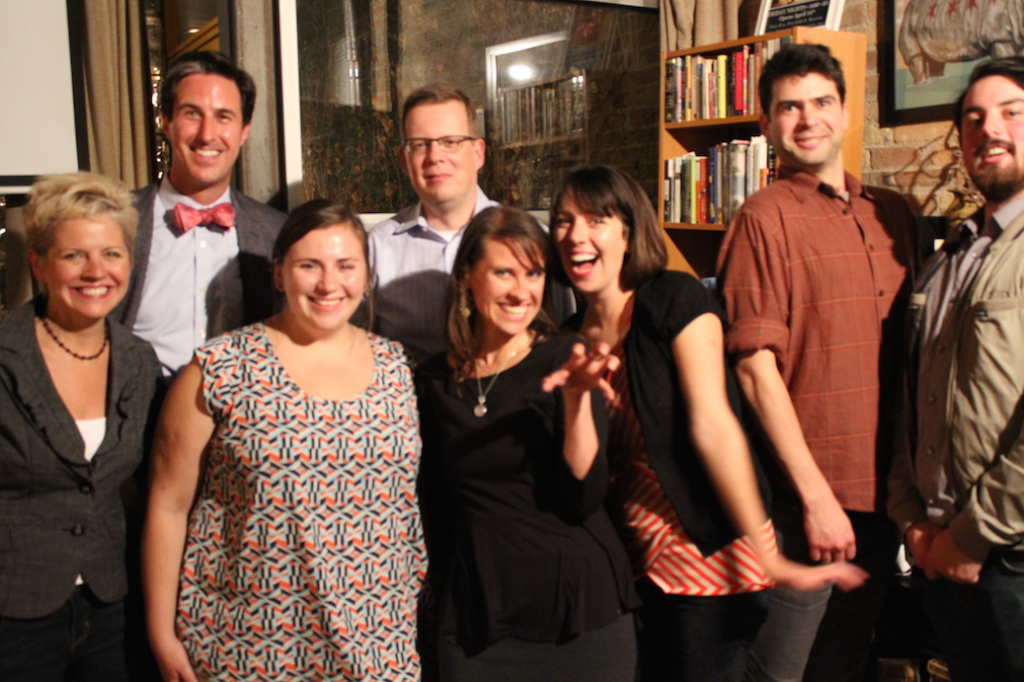 Potluck! 17.0, Tuesday, 8/19/14

Photography by Charity Theiss, Beyond the Ordinary Photography | @Beyond_OrdPhoto
Potluck! 16.0, Tuesday, 7/15/14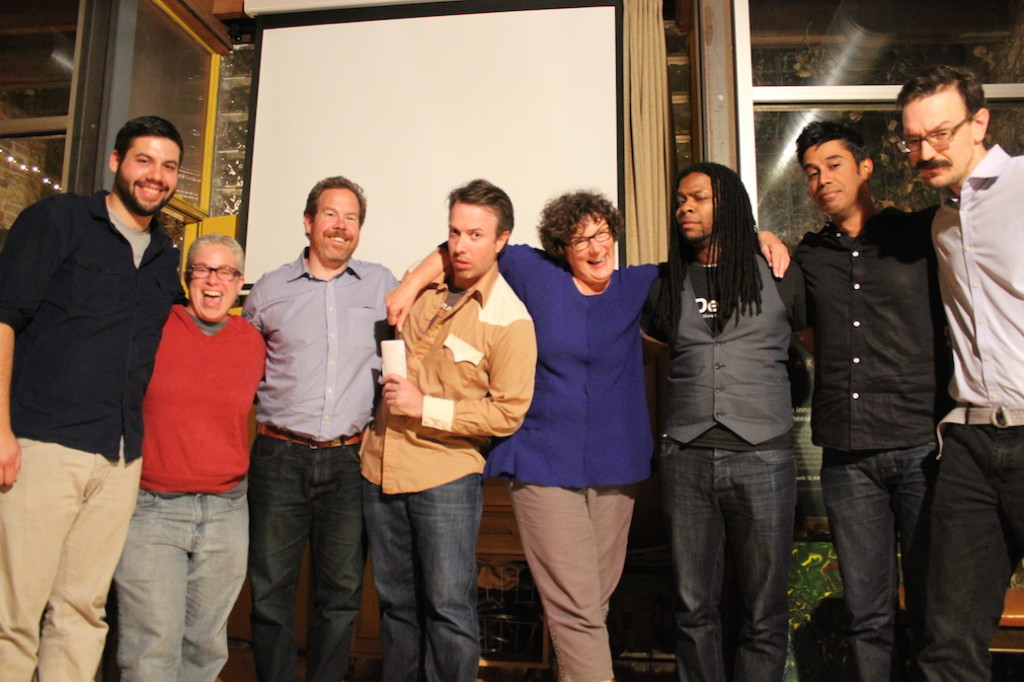 Potluck! 15.0, Tuesday, 6/17/14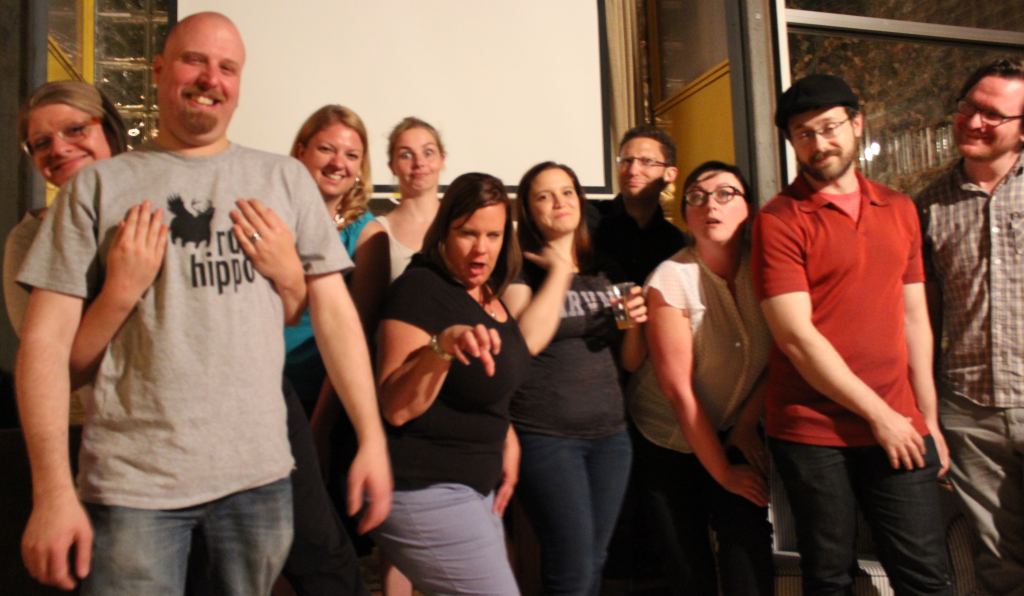 Brit Belsheim, Friend of Kitties
Katie Aune, Travel Blogger and Alumni Relations/Development Professional | @katieaune
Adam Burke, Comedian | @atpburke
Lauren McLaughlin, Licensed Acupuncturist and Laughter Yoga Leader | @JoyfulBalance13
Sean Kelley, Content Marketer, Writer, Improvisor | @seanofkelley
Nick Disabato, Designer & writer | @nickd
Sarah Watts, Stay at Home Humorist and Blogger | @wifeytini
Karl and Marilee Rutherford, Brewers and Whatnot at Rude Hippo Brewing | @RudeHippoBrew
Leanne Rayman, Massage Therapist, Cat Enthusiast, Imaginative Spirit | @leezyray
Potluck! 14.0, Wednesday, 5/21/14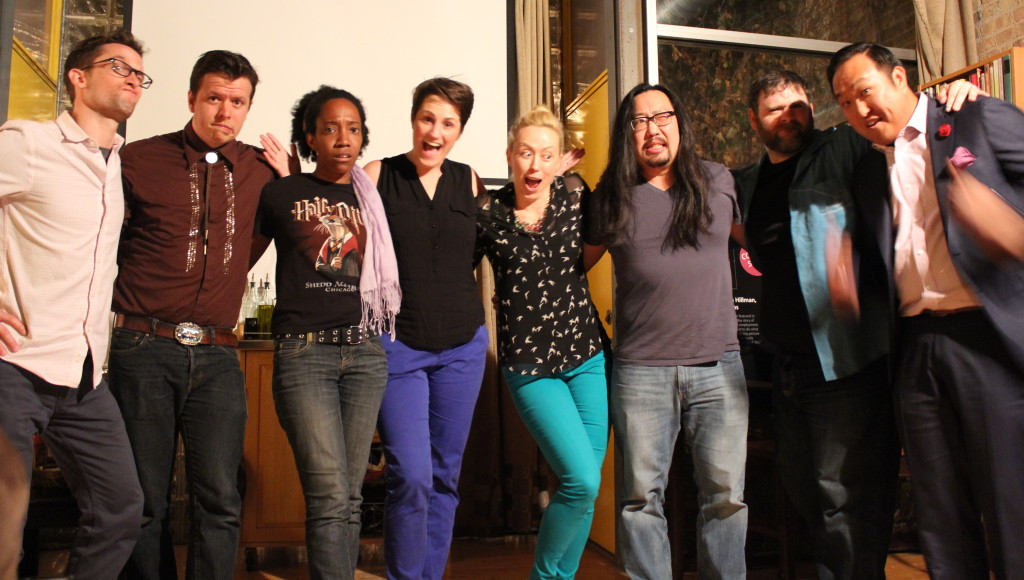 Potluck! 13.0, Tuesday, 4/22/14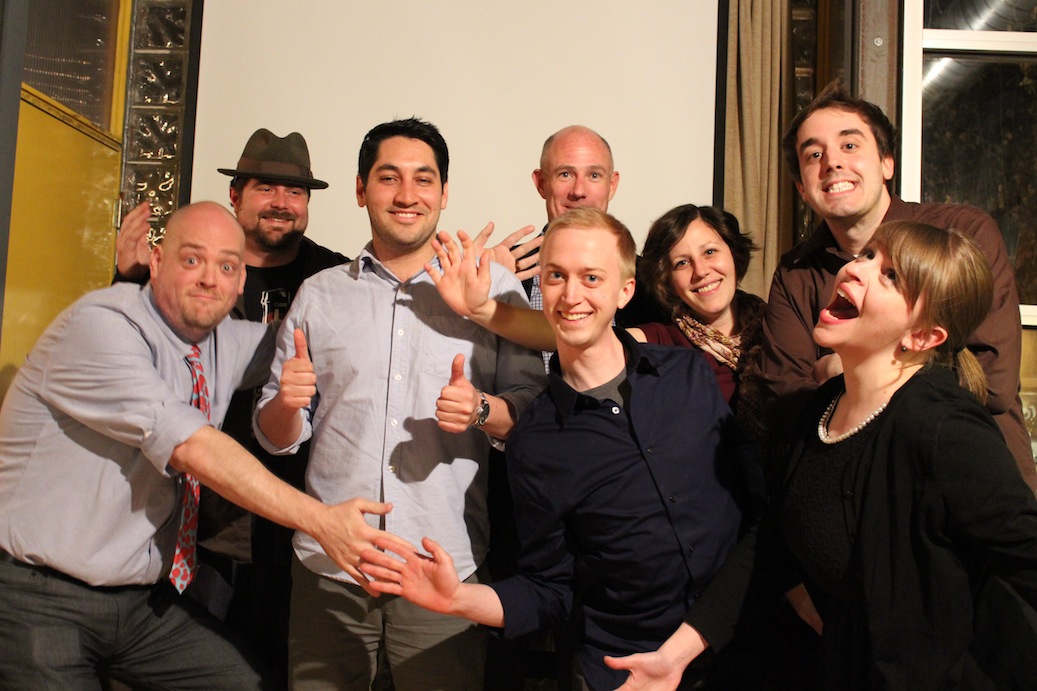 Potluck! 12.0: Tuesday, 4/1/14

Potluck! 11.0: Tuesday, 2/25/14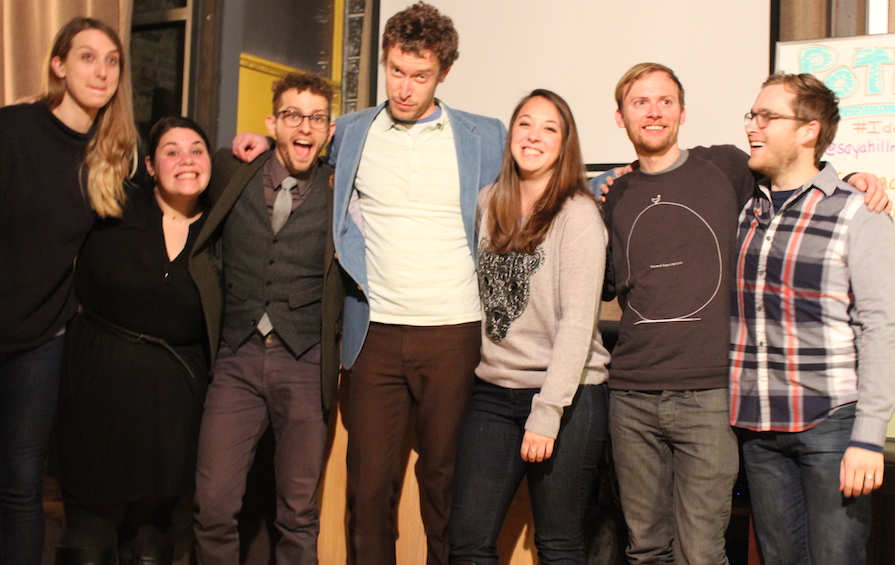 Potluck! 10.0: Tuesday, 1/28/14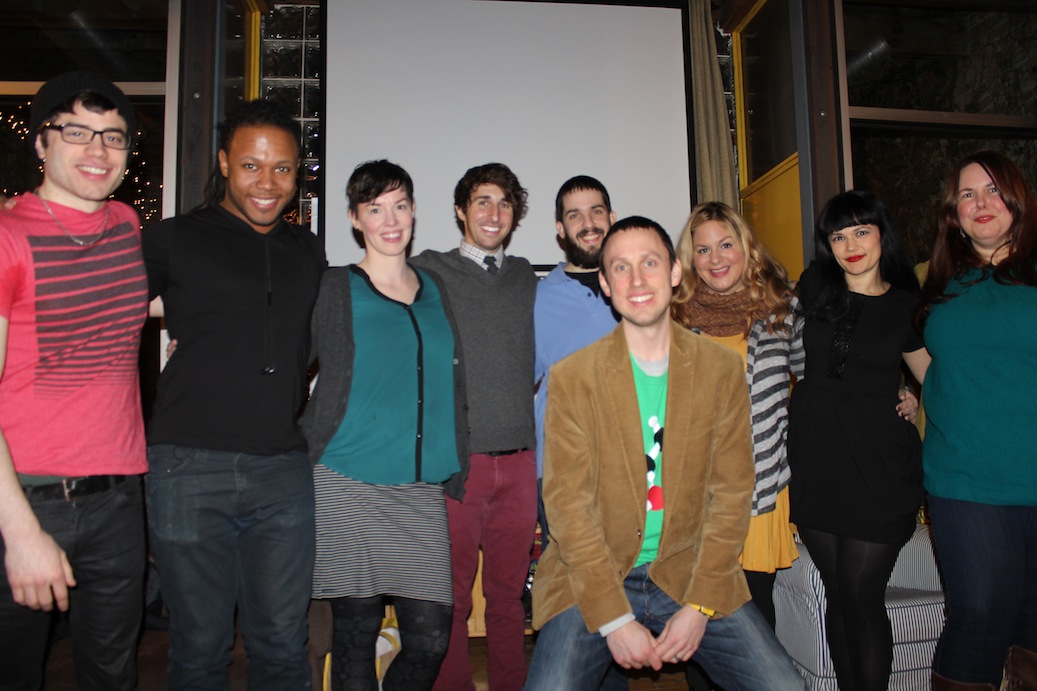 Sayjal Joshi, Chicago Comedian | @SayjalJoshi
Margot Harrington, Chief Creative Lady at Pitch Design Union | @pitchdesign
Tom Ruginis, Chicago's Happy Science Dude | @letubeu
Ben Swislow aka "Swizz," Beatboxer, ClusterFunk a cappella, joined by Special Guest Darian | @DarianDeRiemer
Kandy Christensen, Owner of Meandering Design | @meander_design
Ray Gordon, Comedian and Hopeless Romantic | @RayBabyTweets
Daniel Shar, Comedy Writer/Performer | @SharGF
Tara DeFrancisco, Performer/Gatherer/Friend | @TaraDeFrancisco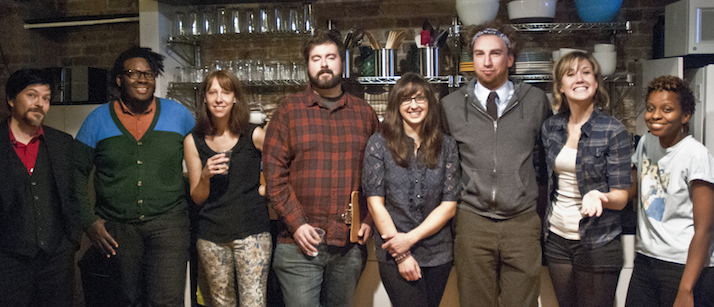 Christine Cikowski and Josh Kulp, Chefs & Owners, Honey Butter Fried Chicken | @honeybutterchi
Maria Woijeowski | @riawojo
Magister Freud, Magician and Owner, Ice Cream Team Party Entertainment | @magisterfreud
Jeff Hannan, Debate coach, Author-ish, Somewhat Tall Guy
Sonia Denis, Comedienne | @sonideni
James Green, Designer and New Media Artist | @onthefirefly
Janna Sobel, Performer, Writer & Director, Here's the Story
See all photos (Photographer: Matt Altstiel, MBA Photography, @MBAPhotography1)
Potluck! 8.0: Tuesday, 8/6/13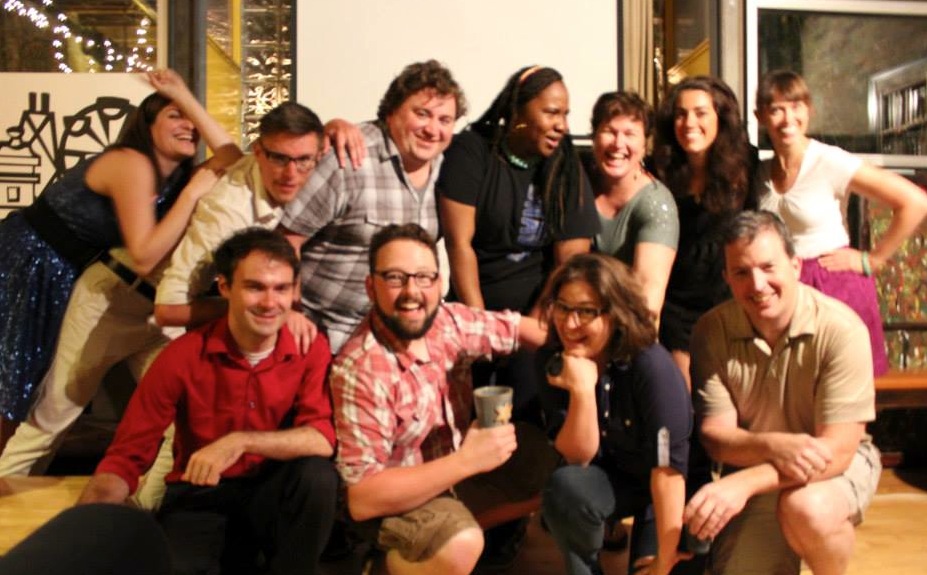 Complimentary libations courtesy of Twisted Hippo Brewing!
The Shock Ts | @shockts
Chad Allen (sweaty Chicago artist who may very well be crazy pants), Owner, Back Off Mustache | @backoffmustache
Melissa Harris, Chicago Tribune Business Columnist | @chiconfidential
Lauren Harper
Kerrie Blazek, Pleasure Catalyst + Life Strategist, In Her Element | @kerrieblazek
Allie LeFevere, Healthy Living Expert | @AllieLeFevere
Gary Gulley, Owner/Founder and CPO (Chief Panic Officer), Panic Brewing | @PanicBrewing
Becca George, Comedienne | @becca_oneal
Brett Meyers, Program Director, Next Door State Farm Cafe | @bmyers2o9
Potluck! 7.0: Thursday, 6/25/13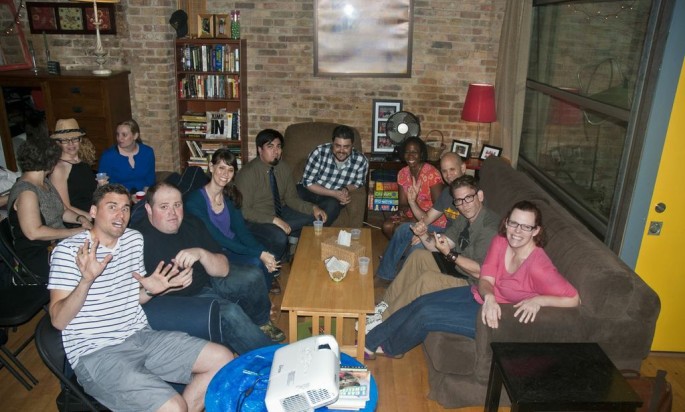 Justin Massa, Founder & CEO, Food Genius | @justinmassa
Don Hall, Events Coordinator for WBEZ | House Manager of NPR's "Wait Wait…Don't Tell Me!" | Host of The Moth | @dray4255
Nadine Warner, Principal Partner, The Bricolage Group | Busy mom and entrepreneur | @nadinecwarner
John Greenfield, Editor of Streetsblog Chicago | @streetsblogCHI
Amber Harnen | @AmberPaige74
Pat Kent, CEO, Nike* [*falsehood] | @hhpatrickkent
Martin McGovern, Co-Founder, Idea Lemon | @martinmcgovern
Emma Pope | @emmerpope
Ali Karbassi, Founder, Coderdojo | @karbassi, @coderdojochi
See all photos (Photographer: Matt Altstiel, MBA Photography, @MBAPhotography1)
Potluck! 6.0: Thursday, 8/23/12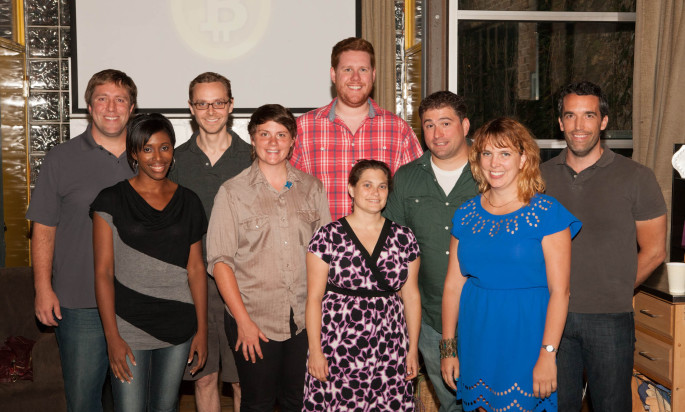 Becky Eldridge, co-writer of Band Geeks, a Halftime Musical, teacher at Second City Training Center, lover of Chicago
Julie Hochstadter, director, The Chainlink, @thechainlinkorg
Nick Stocking, principal of Design Cloud Chicago, @designcloudchi
Pete Aiello, TeamPete, @goteampete
Scott Whitehair, creator of Story Lab Chicago and producer of This Much Is True
Jewels, @JewelsEmpower
Homer Marrs, musician, actor and writer, @HomerMarrs
See all photos (Photographer: Adam Daniels)
Potluck! 5.0, Monday, 7/16/12
Andrew Huff, Editor and Publisher of Gapers Block, @me3dia, @gapersblock
Chloe Ditzel, Comic Receptionist, @chloeditzel
Lennie Rose, CEO at Big Ooga, @bigooga
Shannon Cason, Winner of The Moth Grand Slam, @shannoncason
Steve Reed, Professor at Northwestern University School of Law, @reedingisfun
Drew Michael, @drewmcomedy
Leah Marshall, Director of Development for Chicago Ideas Week // Leaper, @EdEquity4All
Nik White, Co Founder of Chicago Beer Geeks, @nkosio
Amy Sumpter, @amy_sumpter
Robbie Abed, Founder of rawdesignr and CTO of Technori, @robbieab
See all photos (Photographer: Jen Swanson)
Potluck! 4.0, Monday, 5/21/12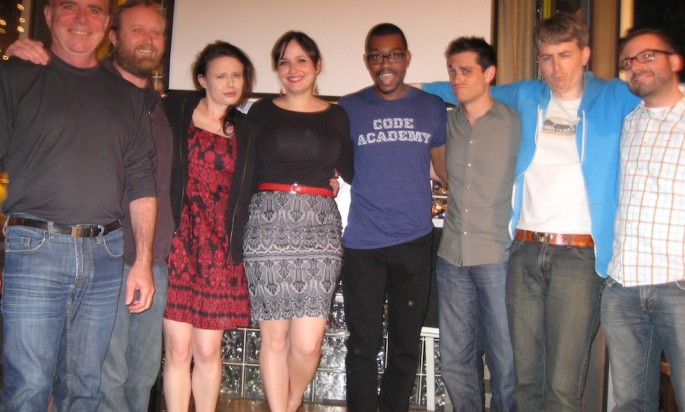 Mike McGee, co-founder, Code Academy, @michaelmcgee/@codeacademy
Dan Buchner, co-founder, The Poet's Way, @dcbuchner
Colleen Doyle, performer and teacher at iO Chicago and staff writer at The Paper Machete, @AnyangHello
Matt Wexler, coach/consultant/dad, @mjwex
James Fritz, comedian, @jamesfritzcomic
Stella Fayman, co-founder, Entrepreneurs Unplugged, @startupstella
Jason Schwartz, board member, Chicago Design Museum, @chidm/@jaycrimes
Joe Avella, @joeavella
Potluck! 3.0, Tuesday, 3/13/12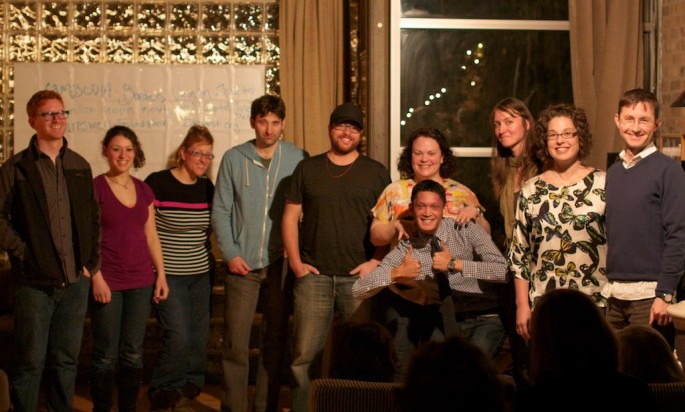 Natasha Tsoutsouris, Writer and Performer
Mig Reyes, Designer, 37signals, @migreyes
Mark Bazer, Host of The Interview Show, @markbazer
Jason Pritzker
Andy Crestodina, Strategic Director of Orbit Media, @crestodina // Google+
Jill Peters, Chicago's Social Guinea Pig
Lindsay Muscato, @lmuscato
Jarrad Apperson, Uncommon Ground bartender, @jarradapperson
Carly Mandell
Jessica Murphy, Beer Blogger, @grlslikebeertoo
See all photos (Photographer: Christopher Murphy)
Potluck! 2.0, Wednesday, 11/30/11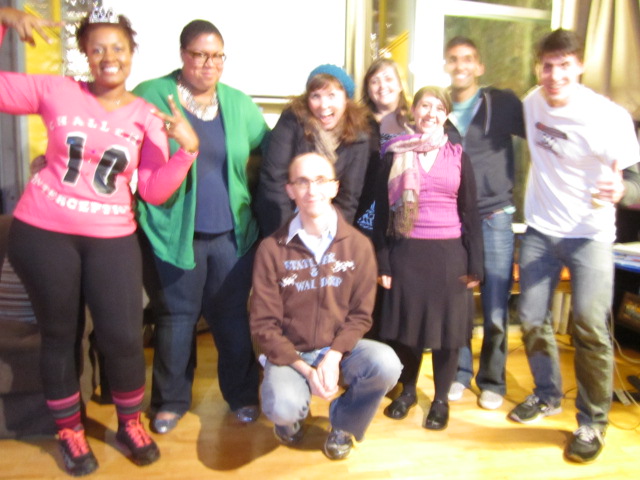 Chris Piatt, Executive producer and Editor-in-chief, The Paper Machete, @thepapermachete
Samantha Irby, Blogger, Bitches Gotta Eat, @wordscience
Rick Desai, Builder of Companies, Lover of Pizza, @rickdesai
Kelsie Huff, Comedian and Founder of the Kates, @kelsiehuff
Sondra Morin, Writer. Poet. Bicyclist. New Englander By Trade, @sondramorin
Dawgelene Sangster, Think Royally, @dawgelene
Heidi Massey, I.C. Stars, @heidiekmassey
Bill Stern, sftwr dev, abrvtn spclst
Potluck! 1.0, Wednesday, 8/24/11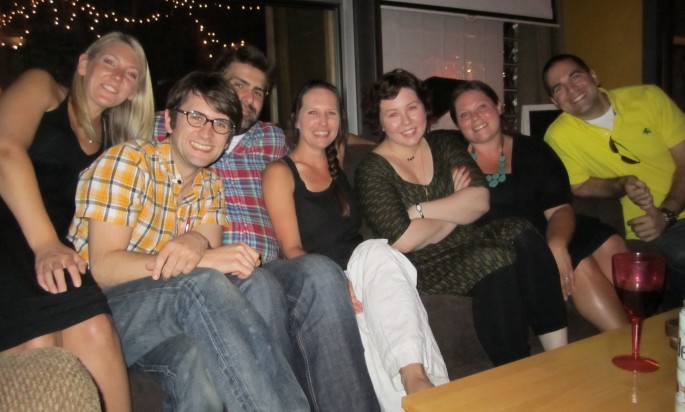 Sarah Jindra, Reporter, WBEZ Traffic and Founder, INSPIREme Chicago
Griffin Caprio, Uber-Mench
Heather Van Benthuysen, Teacher
Arnie Niekamp, Head Writer, 'You Don't Know Jack' game
Drex Drexler, Litigation paralegal
Megan Redfearn, Academic and leadership development, Northwestern University
Marcy Capron, Founder/CEO, Polymathic
How can I speak at Potluck?
There is no application to be a Potluck Dish.
We have a long list of potential Dishes whom we've witnessed being awesome in real life. So if we've seen you out and about, doing your thing, sit tight; you might hear from us.
If we haven't seen you being awesome, well, insert yourself in our world! Not by asking to be a Dish, but at the very least, coming to a Potluck to see the structure, the vibe, the awesomeness; intro yourself to us if you do! There are tons of other ways to be in our world besides Potluck as well, via other Mac & Cheese and TeamPete offerings. Come on out!
Please don't ask us to be a Dish though. "Don't call us, we'll call you…"