Who wins the perk game? 9 to 5ers or self-employeds?
I love being self-employed.
I love hearing all the "Are you kidding me?!" perks of my 9 to 5 friends. Love in an "envious, why am I riding the self-employed rollercoaster, maybe should I go back to 9 to 5" way.
Context: I come from four years in the nonprofit world followed by fourteen years of self-employment. So one free sandwich in the conference room left over from a board meeting that we'd moth to a flame to as soon as everyone cleared out is the bar here. A daily, catered lunch? That is for you as opposed to being you can have it if you can get it before all the other vultures? My brain has trouble computing that amazingness.
Due to my curiosity and list-proclivity, I entered into a very scientific research endeavor — asking on Facebook — to learn other perk goodness of my office peers and compile their lucky-duck responses in bullet point format.
9 to 5 Perks
Transportation
Late night cab service

Free parking

Transit reimbursement

Discount on bike share membership

Discounts on car loans

Company car
Food
Doughnut Wednesday

Breakfast and Coffee Friday

Daily catered meals

Office bar — rotating beers on tap, kombucha on tap, cold brew coffee on tap
Housing
Mortgage assistance — $50,000

Discounts on mortgages
Health & Wellness
Wellness budget — budget for yoga and smoothies, $100 wellness check up visa gift card, gym membership

Chiropractic care – 2x a month

No cost health, dental, and vision insurance

Friday massages
Out of Office
Paid vacation/sick days/personal time off — PTO: 30 days (roll over allowed and paid out if you leave)

Paid paid vacation — $5000/year
Summer hours
Volunteering — paid time off to do community service

Sabbatical — every five years, three months off

Telecommuting/flex scheduling/work from home days

Closed office Christmas to New Year's
Winter break and summers off with pay
Money
Employee owned stock plan

Pension

Rate discounts on credit cards

IRA matching

Fixed salary

Regular paycheck

Annual performance bonus

Free access to financial advisers/planners
Professional Development
Tuition reimbursement — extends to spouses and dependents

Professional development funds including organization memberships and conference fees — $500/year, $2000/year
Book stipend
Staff retreats
Material Items
Standing desk — electronic, remembers different positions

Reimbursement for noise canceling headphones — open office

Uniforms — washed and pressed daily

Beautifully designed offices
Top of the line office furniture and equipment
Travel
Travel opportunities — conferences, staff getaways

Priority boarding
Lounge access
Seating upgrades
Comp'ed hotel stays
Social Gatherings
Holiday party

Quarterly outings
Self-Employed Perks
I did not do a scientific study for this one. These are Saya-Generated.
Weekday errands — post office, grocery store, Target
Weekday gym — especially come January, aka"Everyone's at the Gym" season, I can't tell you how much I appreciate the quiet of 10am Tuesday. Waiting to use a cardio machine or fighting for a spot in Pump It Up! is the worst.
Weekday hooky — matinées, museums,
Commute — bedroom to home office
Not having to leave my home if:

it's raining
it's cold
it's hot
it's snowing
I kinda hate people that day and don't want to interact with anyone

Not having to get dressed most days; it being ok if I wear today what I wore yesterday and the day before that
Discounts —

I have an off-hours gym membership meaning I can't go 6am-9am and 4pm-8pm but also meaning I pay less than regular membership
lunch specials at restaurants

Working with people I want to work with and not working with people who give me hives
I can mostly avoid things I don't like, e.g. talking on the phone, meetings
Waking up slowly; never using an alarm
Not having to do the "both of us getting ready to leave at the same time" dance with Best Friend
No "How was your weekend?" "How are ya?" chit-chat, especially early in the morning or when I'm just trying to use the bathroom
Bathroom privacy
"Dry cleaning" not being a part of my vocabulary
Multi-tasking — running the dishwasher while creating event curriculum
Being home to accept deliveries
Not having to listen to other people's phone calls
Playing music/listening to the radio sans headphones or having to care if others don't want to hear Seasons of Love on repeat
When I want to make more money, I can easily and immediately make more money — raising rates, adding an offering, saying yes to more clients
Never watching the clock; 5pm doesn't mean anything to me anymore, except don't do errands anymore today cause everyone else is doing errands
I take vacation when I want, for however long I want
Not having to check in with anyone before making a decision
If I'm not feeling work, I don't work

Meandering walks while listening to podcasts
Watching a noon episode of Law & Order: SVU
Naps
Accomplishing home improvement projects
Cleaning house

No Sunday night "I have to go to work tomorrow" dread; related, no cases of The Mondays
No "vacation is almost over, I have to go back to work" dread
Potential spontaneity and actual spontaneity
Not having to think about lunch or bring lunch to work
No disgusting work fridge/kitchen where people don't clean up after themselves

No passive-aggressive"Please clean up after yourself" "Please refrain from eating food that's not yours" notes
No direct "Who the F spilled tomato soup all over the microwave and didn't wipe it up?!" "Who ate my cupcake?!" notes
So basically, quality of life and autonomy.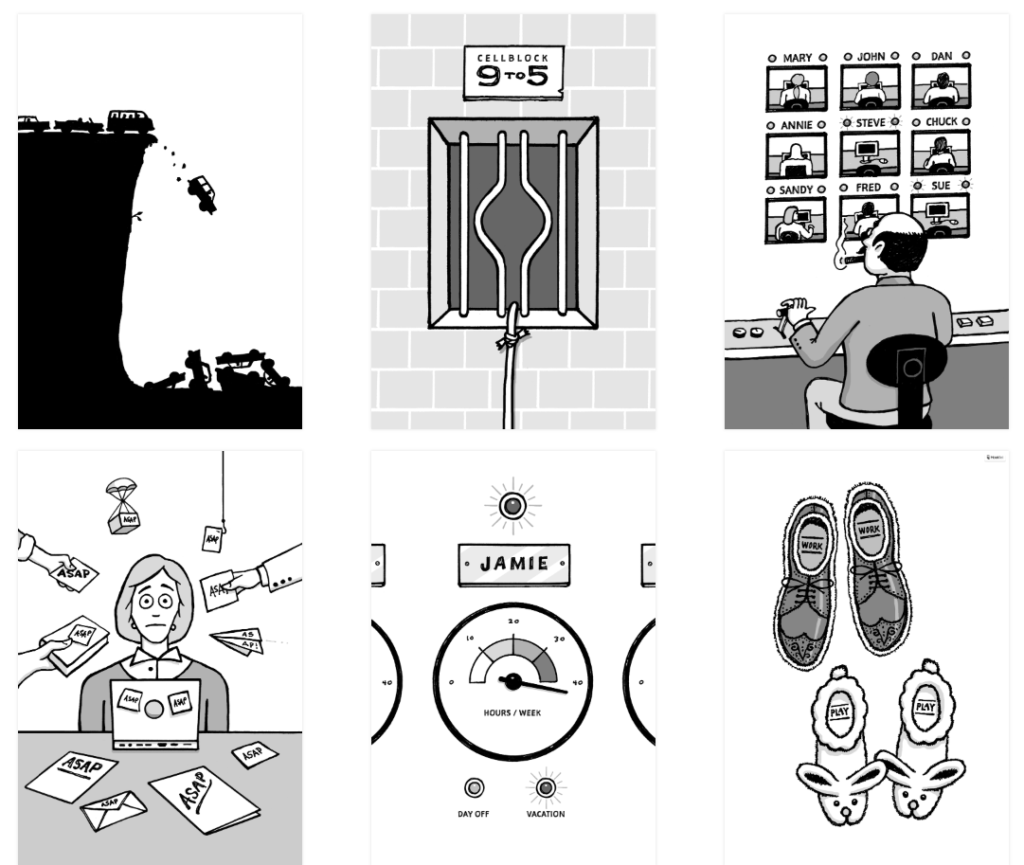 Illustrations by Mike Rohde
After looking over my list and the 9 to 5 list, there is an obvious answer to "Who wins the perk game?"
You do.
If you're overall happy in your job, your career, your "what do you do?", then you win.
Yes, a million times over, I would love the perks my job-job peers enjoy. But there's a reason I'm fourteen years into the self-employed game and for all my threats and oy veys, have not once seriously considered going back to working for someone else. I would absolutely love the perks my job-job peers enjoy but absolutely not if that means having to give up my perks. "10AM Tuesday Trader Joe's" will always win over "performance bonus".
It's interesting to reflect on the fact that what some view as perks, others view as icks. While I adore not having a separation of work and home, professional and personal, others hate that. While I adore not taking a shower or getting dressed till 1pm some days, others can't fathom that. While you adore having clothing allowance, I adore not having to think about panty hose, blazers, and professional-looking flats.
What self-employment gifts me aligns with what I value and prioritize. What I choose over other choices. What works for me.
I must say though that all these companies that allow employees to work from home/anywhere they want, in yoga pants, at any hour, while offering little things like a regular paycheck are making it much less cut and dry, personally.
Case in point. This design studio is the bees knees on so many levels —
Their website (it's like they're professional designers)
What they do (do good and make money?!)
What they offer beyond what they do (physical space available to others. Fireside chats)
Whom they serve
Whom they are (hello, diverse staff)
That they do something that can require some explanation and thought — they're not a "dentist", "mechanic", or "teacher" — and they elevator pitch themselves so concisely and "Ohhhh yeah, I get it."
That they include what they're pissed off about and what they're optimistic about in their staff bios
Related to this post, what I love about them:
"Greater Good Studio is a Results-Only Work Environment ("ROWE"). With ROWE, employees (while based in Chicago) enjoy a high amount of flexibility, working whenever and wherever they want as long their work is completed. Employees are expected to communicate the on-going status of deliverables, and to deliver on core project and work expectations."
Is ROWE a thing?! I've never heard of it. Did they make it up? Does everyone know about ROWE but me? I love it.
A quick google enlightened me to the fact that yes, it is a thing, and no, Greater Good didn't make it up. Maybe this is one of those instances that wouldn't have occurred had I actually gone to business school. I'm sure you learn this Day Seventeen. That's ok; always be learning. Even at "turning 40 next week" age.
"The ROWE concept was developed by Cali Ressler and Jody Thompson, founders of the consulting firm CultureRx. They published the approach in their 2008 book, "Why Work Sucks and How to Fix it."
In a ROWE, you measure team members by their performance, results or output, not by their presence in the office or the hours that they work. You give them complete autonomy over their projects, and you allow them the freedom to choose when and how they will meet their goals.
Working in one is not the same as having "flexible hours." The time your team members spend on a task is irrelevant; only their results matter. (This is similar to the relationship many managers have with "freelancers " who are paid solely for the work that they deliver.)"
And there are a bazillion other companies who seemingly offer the best of both worlds, 9 to 5 and self-employed. If you want to go down the rabbit hole that is this topic, check out Basecamp: Their site. Their articles. Their book (includes chapters like Why Face-To-Face Meetings Are Overrated; Working From Home Boosts The Quality Of The Work; The Two Biggest Drags On Productivity: Meetings And Managers).
Stay where you are vs. make a change
Are you envious of others in a way that's detrimental? That keeps you from joy? That makes you feel bad? That consumes you?
Are you envious of others in a way that's superficial, superfluous, in the grand scheme of things, doesn't matter? That is just a fun peek into a world that's not your world? That elicits interesting discussion? That makes you appreciate what you have?
Do you wish for other in a "something has to give; I'm stuck, sad, letting life pass me by" way or in an "always be striving for more, for different" way?
The comparison game can be dangerous and a waste of resources — time, money, brainspace. It can also be enlightening, engaging, and fun. You choose.
Lesson here being, per usual, Life of Yes℠. You do you. There is no right or wrong. And that you always have choice. Even when it feels like you don't. You do.
Now, does anyone have a company Subaru they can give me or does anyone have an upcoming staff retreat that I could join, preferably somewhere warm in January? I can bring my bag of non-horrible icebreakers.
Enjoy any perks that aren't listed here? Got examples of "best of both worlds" companies? Do share.