100% word of mouth and having spent $0 on advertising since its 2004 birth, Mac & Cheese Productions℠ is you-supported — thank you for allowing its aliveness! When you buy through links on the site, Mac & Cheese may earn an affiliate commission or receive another type of perk, and you may benefit as well. If you find below useful and want to encourage Pete & Saya to keep sharing: tell others about 'em, hire them for consulting, speaking and facilitation, come to their offerings, let 'em know if you use their recommendations, and/or buy Saya a coffee. These posts take hourssssss and we love keeping them free and accessible.

Look for 💡 in posts for tips from us. Bad experiences will be noted; otherwise, assume favorable reviews and a 🧀👍🏾.
General Travel 💡 Tips
Don't plan anything else on days you do tours; they often go over time and you're exhausted afterwards. Don't add stress to your life by having to be back for something.
It's ok to not love something everyone else loves, e.g. pastel de nata, the famous Portuguese pastry, which I found eh.
It's ok to have slow days and not always be go go go. We often return to the hotel to nap and watch HGTV in the afternoon.

Many credit cards will give you a credit if you pay for TSA Pre-Check or Global Entry with said card, like the one we just got. Whatever route you go, don't get Pre-Check if you're going to get Global Entry; the latter gives you the former. If you travel internationally, Global Entry is 110% worth it.

Before you email or DM or message or shake of fist comment there's no link, remember our favorite phrase — "Google it"; you have an amazing self-sufficient tool at your fingertips 365/24/7. Questions like "Where's that restaurant?" "How do you make a customized MyMaps map?" and "What's Priority Pass?" ➡ Gooooooooogle.

If you've been in our world for a bit and know our ins and outs, skip Best Friend & Best Friend Context and head to Destination: Portugal. If you're new to Mac & Cheese or it's been awhile since you've consumed our travelness…
Best Friend & Best Friend Context
Prioritizing travel over most everything else and a main reason we're petless and kidless, we've traveled together since 2010.
Taste-wise, I'm Four Seasons, he's Motel 6; budget-wise, we're somewhere in the middle. We hate to check bags and love to score free hotel nights, hotel perks, lounge access (see the Lounge highlight in
my Instagram profile
if you want tips), flights, and flight upgrades — light, frugal, and hacked travel is our jam. We tend to not do touristy stuff, shopping-shopping, fashion, museums, and fancy restaurants and to lean self-walking tours, breweries, street-food, coffeehouses, window shopping, and oogling rich people neighborhoods. A new development, Best Friend's picked up golf so we've been adjusting trips to incorporate at least a day of golf which makes both of us happy; if I join him, I get to business and relax in an opulent country clue'esque space and if I don't join, I enjoy Sayatime in a coffeehouse or at the hotel.
He's vegan, I'm not.
All of our trips are to/from Chicago.
We often choose where we're going by flight deals. This has been a fun (and frugal!) way to travel as it's taken us to places we may have never gone (hello Japan and Portugal and Puerto Rico and and and). The amount of "Hey, there's a deal to _______, wanna go?!?!, we need to book right now!" shouts I get from the other room is very high.
Hotels are usually chosen by where we can use our free nights or points; if you see us staying in an Oprah'esque spot, it's usually for Jerry Springer prices. 😂 This is why you'll see us hopping from hotel to hotel within the same area. Airbnbs are often booked with credit cause I am shameless about asking you to use
my referral link
(UPDATE: Airbnb no longer has a referral program as of October 2020; leaving my link in case it's a lie but it's on their site so 😭😭😭). When we go on a longer trip, we like our arrival and departure lodging to be a hotel, since we're often tired and don't want to have to worry about arriving late or dealing with key issues or a weird shower or no toiletries.
If we're traveling internationally, we try to make our trips at least ten days. We love to return with a buffer day before having to return to life, e.g. instead of coming home on a Sunday, we'll come home on a Saturday so that we have Sunday to do errands, catch up on sleep, and slide back into it before work and obligations.
Travel Resources Beyond The Blog
To see all my travel posts, head to the main blog page and filter by travel
Post Roadmap
As with all travel, but especially during COVID times, things change constantly, from what documents you need to what's open and what's closed — make sure you do your own uptodate research.
---
Destination: Portugal
Itinerary & Logistics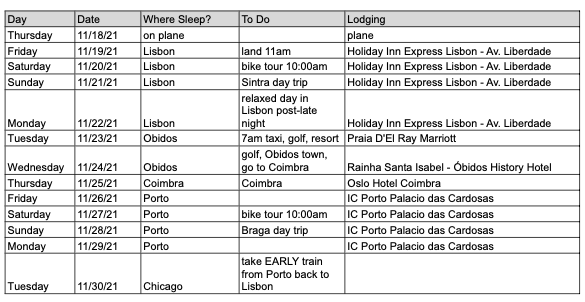 We flew United and Air Canada. United Chicago-Toronto, Air Canada Toronto-Portugal.
💡Tip: Global Entry again for the win; a woman ahead of us at one point arrived at our gate fifty minutes after we did cause she didn't have Global Entry. When we returned home, we bypassed hundreds of people in the regular security line and were in a Lyft twelve minutes after we deplaned (and home about thirty-three minutes after we deplaned). This is one of my greatest accomplishments.

Transportation in Portugal was train (both short and long distances), ferry, Greyhound type bus, taxi, and most often, our feet. 😄
Our Lisbon, Obidos #2, and Coimbra hotels were all in great, central locations and all included breakfast. Nothing to write home about but clean, safe, and got the job done. On the OMG 5 star end were our Obidos #1 and Porto hotels. We only went to Praia D'el Ray for the golf, I wouldn't go for any other reason as it's in the middle of nowhere. Gorgeous because it's right on the ocean but not worth the expense if you're not golfing. On the other hand, the Porto Intercontinental is both fancy and a wonderful location, so if you can swing it, highly recommend.
On below map, click square top left corner to expand/collapse list of what you can toggle on and off the map.

Activities
Reminder to see Pete's Happy Cow profile for the vegan spots we went to, including 2020's Best Vegan Doughnuts
Lisbon
Time Out Market (the original! Now also in NYC, Chicago+…)
LX Factory: "A creative island occupied by companies and industry professionals has also been the scene of a diverse range of events in the fields of fashion, advertising, communication, multimedia, art, architecture, music, etc. generating a dynamic that has attracted countless visitors to re-discover this area of Alcântara." Cute shops and eateries.
We didn't make it but the world's oldest bookstore is Livraria Bertrand
Alfama neighborhood:

one of the oldest and now most popular neighborhoods in Lisbon. Our bike guide said he wouldn't have gone there 15 years ago, it was so unsafe.

Don't pay or wait in line to take the famous Santa Justa elevator or visit the famous Sao Jorge castle (take the free elevator noted below and save your castle money for Sintra or Braga also below)
Quimera Brewpub — for all my Chicago folk, owned by an Evanstonian
Pingo Doce: the main grocery store, which we went to almost every day for snacks

We took the ferry across the river where we decided to not hop on the 101 bus to the Jesus statue (replica of Brazil's statue) as most do and instead wandered up and down tiny streets without any clue where we were going and ended up at the scariest elevator where I might've been terrified simply walking out to due to its height and formidable creepy tower vibe. Great view of fake Golden Gate. We took the elevator down and stumbled upon a famous restaurant, Ponte Final, where if you move your chair two inches the wrong way, you fall in the water. 💡Tip: for a direct walk from ferry to the restaurant, head along the water.

Sintra and Cascais Small Group Tour from Lisbon

Twelve? of us split into two groups/vans and spent the day visiting these two small towns
Very friendly and knowledgeable guide
Enjoyed the whole group and solo time
Visited the Western most point of Europe

Sintra is a fairy-tale town where Portuguese royals used to spend their summers and a UNESCO World Heritage site
Obidos
A day trip or just a night is enough time for this quaint medieval town that's a UNESCO Creative City Of Literature. Though Obidos has just over 3,000 residents, it has more than half a million books. It's up on a hill, surrounded by castle walls, which you can walk on top of. Meander the cobblestone and ridiculously narrow streets filled with adorable stores. You can actually stay in the castle as its been converted to an upscale hostel. Obidos hosts a number of marvelous festivals and markets so you may want to plan a trip around those (either to stay away cause of people! or to go cause of fun!). The popular Ginja drink — cherry liqueur drank out of a chocolate cup — originated here so if you're going to try it, do it in Obidos.
Side Story
Contrary to many, story of my life, I enjoy both being plugged in and working while traveling. On my terms. I'm perfectly happy to not get back to people or to ignore expense updates until I return home. It brings me oodles of joy to be able to do what I do from a Belize beach or in this case, a Lisbon hotel. Look at my I'm so tired!!!! eyes below. 😂 Cross It Off Club was scheduled before we booked the trip. I considered rescheduling but instead decided to live what I preach which is take advantage of the world we live in and the deliciousness of technology and location independence, which is how I wound up hosting an offering of mine from 1am-3am. Not an occurrence I want on the regular but I survived and it's a fun memory.
Working while traveling is another reason I adore Oprah-esque accommodations. I sat for hours in the below space, with endless Portuguese nuts, a view of the ocean, and the white noise hum of a hotel lobby.
Coimbra
"Coimbra, a riverfront city in central Portugal and the country's first capital, is home to a preserved medieval old town and the historic University of Coimbra. Built on the grounds of a former palace, the university is famed for its baroque library, the Biblioteca Joanina, and its 18th-century bell tower. It's one of the oldest universities in Europe and one of the 14 UNESCO World Heritage Sites in Portugal."
The most famous park in the city is the Botanical Garden of the University of Coimbra, the fifth oldest in the world.
We meandered the University and shopping center and then stumbled on a picturesque restaurant for dinner that didn't have any inside tables available and laughed when we said we'd sit outside which is how we found ourselves eating traditional Portuguese sandwiches in a very non traditional Portuguese setting (the "cold"), alone on a balcony, outside a bustling restaurant.
"Francesinha (meaning little Frenchie) is a Portuguese sandwich originally from Porto, made with bread, wet-cured ham, linguiça, fresh sausage like chipolata, steak or roast meat, and covered with melted cheese and a hot and thick spiced tomato and beer sauce. It is typically served with french fries. "
Porto
My favorite Portugal city.
"Porto is a coastal city in northwest Portugal known for its stately bridges and port wine production. Porto is Portugal's second largest city and is the commercial and industrial centre for the zone north of the Mondego River. The historic centre of Porto was designated a UNESCO World Heritage site in 1996.Porto is one of the least expensive cities in western Europe, and when compared to other city break destinations, Porto provides exceptional value for money."
We stayed in a converted monastery. It was fancyyyy. Service at nice hotels is to die for. I always feel like a princess.
Hard to believe the Metro was only built in 2002 and that tourism here only started in 2013. Cool and weird to see palm trees in November.
Best Friend hasn't had McDonald's fries in 4 years since they're not vegan in the US (they're cooked in beef fat or something). In Portugal, they're vegan. That alone made us go. The fact that we stayed across the street from "the most beautiful McDonald's in the world," bonus! Opened in 1995, the restaurant is located in a space previously occupied by Cafe Imperial, a famous coffee shop opened in the 1930s. Pics in the Photo Collage at end.

Had my favorite Portuguese food, a bifana — "Bifanas are traditional Portuguese sandwiches made with thin slices of pork that are marinated and simmered in a sauce of white wine, garlic, and paprika and served on soft rolls with plenty of mustard and piri-piri sauce."

Livaria Lello Bookstore (JK Rowling lived in Porto and its said this bookstore inspired Harry Potter. 💡 Tip: the line can get ridiculous; buy a skip the line ticket and get a free book)
College tour continued at the University of Porto. Not a very large campus or much of a campus feel. Wouldn't make a special trip to see it.

Most days at noon, there's a free organ concert in the Igreja dos Clerigos church

Best of Braga and Guimaraes Day Trip

Friends used this same company for their Duomo Valley tour which they said was wonderful; vinyards for days

Braga: religious stuff. Much of it on a huge mountain with probably the best view we experienced. Fascinated by the amount of bikers, walkers, and runners up the mountain. Walked some of the Camino de Santiago (see the seeshell pic in Photo Collage).

Guimarães: the birthplace of Portugal and a World Heritage Site. Where the first King of Portugal, D. Afonso Henriques, was born. The history of Guimarães is related to the foundation of the national identity and the Portuguese language. Climbed a castle.


E-Bike Porto Downtown and Sightseeing bike tour

It was just us and the guide
Felt very safe, learned a lot, and saw much of the city

Others Recommendations & Insight
The website Travel Awaits is chock full of Portugal tips (it's geared towards those 50+ but 😂 when you live like you're 50 👋🏾…) and Food Travelist is run by someone I know who moved from Wisconsin to Cascais.
I love to crowdsource; here are some of your responses when I put out the Portugal call; you'll see much of what we did reflected here, we love your ideas! —


Financials
Fees and taxes make me weep —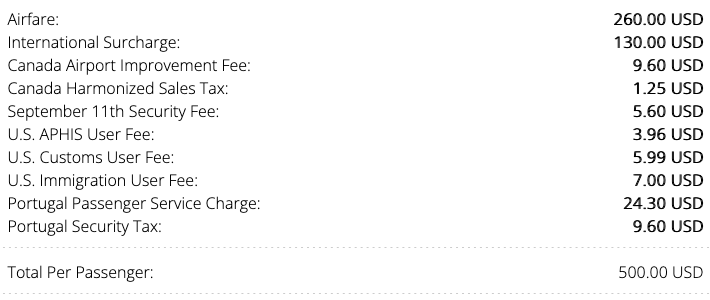 But look at these savings! 👀 That's total, not per person (unlike the flight) —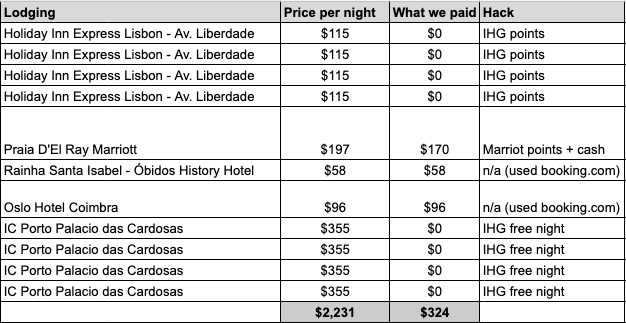 $500 flight +
$162 lodging +
$900 everything else (food, activities, ground transport, etc.)
= $1562 total for me for this thirteen day Portugal trip
Wrap Up
The pandemic has made me appreciate traveling even more than I did and our October San Miguel de Allende trip and then this trip has me travel thankful and thirsty for more. World, you are such a wondrous place and my life is infinitely richer because of visiting your random corners!
When it comes to Portugal —
I've stuck out my entire life, being biracial, 6′, with an unusual name, and on and on. Portugal's melting pot was an absolute delight. Age! Race! Skin color! Size! Religion! It was the most diverse place I've ever been and the only reason I stuck out was because I was in a sundress and sandals while everyone else was in jackets and scarves — this is called Chicagoan in 60 degrees in November. A toothless 80 year old woman driving by made fun of me for being sleeveless. I threw my arms towards the sky and gestured how beautiful it is. She mimicked me and we both laughed. Then I tried sardine pate. Ya know, living your best life in Portugal. (I hated the pate but I tried the pate.)
I adored —
the colorful tile laden buildings
the everywhere water, from rivers to the ocean
the popularity of eating and simply hanging outside
watching surfers; I had no idea how popular Portugal surfing is. According to Travel Awaits, "The official record, set forth in Guinness World Records for the largest wave ever surfed, is an 80-foot whopper at Praia do Norte in Nazaré, mastered by Brazilian wave master Rodrigo Koxa in 2017."
the overall friendliness
the delicious and uber affordable wine
transportation options, both local and long distance (💡Tip: if you're taking the Metro, you need your ticket to get in AND out of the station 😂). I so adore train trips in new places, especially when a country knows how to do trains (all of Asia and all of Europe it seems). We took a three hour train from Porto back to Lisbon to fly home and it was so relaxing and enjoyable to see the country blur by. Not to mention, Best Friend surprised me with first class seats. #lovelanguage

school kids wear adorable uniforms with blue knee socks that have different colored tassels. Not sure if the tassels are school specific, grade specific, or? I liked that the girls were in shorts with tons of pockets rather than skirts.

Affogatos! Vanilla gelato in a mug of coffee. You can get them at coffeehouses and some breweries. (I think this is an Italy baby but I first learned of them here so…)

the plentiful vegan options for Best Friend
(America take note) learning about the country's drug history and transformation: "(In the 90s), Portugal was in the grip of heroin addiction. An estimated 1% of the population—bankers, students, socialites—were hooked on heroin and Portugal had the highest rate of HIV infection in the entire European Union… Half the people in prison were there for drug-related reasons… In 2001, Portugal took a radical step. It became the first country in the world to decriminalize the consumption of all drugs… by eliminating the threat of criminal penalties—and along with it, a great deal of stigma—it has become easier for people to seek treatment. Between 1998 and 2011, the number of people in drug treatment increased by over 60%… Portugal has showed that, without spending significant sums, governments can give drug users the tools to put their lives back on track. But to do so, it will have to stop treating them like criminals." (Time article)
The hills are no joke, like, "Do I really want that croissant?" on top of that mountain. I'm also out of shape so that obviously impacts the huffing and puffing. But if you have any physical issues, the up and down'ness and the oldness (narrow, uneven, inaccessible) of the country is definitely something to consider. A very in shape peer bemoaned how much her shins hurt at the end of every day. I felt it the most in Lisbon.
As with most international places we've gone, I was disappointed in and scrunched-nose at all the smoking. One of the few things I think we do better.
My old soul self had trouble adjusting to their eating schedule where many places close around 3pm, don't (re)open till 7pm, and people dinner at 8, 9, 10pm. I like to be in the for the night at 7. 😂 Reservations, even for non-fancy places, are recommended and often required. Many eateries are so tiny, they fill quickly. 💡 Tip: if you're ok with sitting outside in "cold" weather (40s and 50s), you can often get in, er out, without a reservation. And you'll probably be the only ones and get some looks, but hey, you're eating.
The language is hard. And that's not just me, person who severely lacks other language skills. Best Friend and one of our guides made numerous comments on Portuguese's difficulty. Kind of Spanish but very much not Spanish.
Some of our most used phrases —
Olá — Hello

Oi — Hi

Tchau (pronounced like Ciao) — Bye

Adeus — Goodbye

Como vai? — How's it going?

Por favor — Please

Obrigado/Obrigada (dependent on if you're a man or a woman which is different than many languages where you have masculine and feminine forms regardless of gender; so because I'm a woman, I'd say obrigada) — Thank you

De nada — You're welcome

Vegano/vegana – vegan
Desculpa/Desculpe — I'm sorry, excuse me


Perdão — Forgive me/pardon me

Não compreendo — I don't understand

Como se diz… em Português? — How do you say … in Portuguese?

yes – sim

no – não

Where is? – onde é

How much? – quanto custa

Toilet – casa de banho
💡Eating Out Tip: see the bread and tray of delicious snacks below that were brought to us immediately upon sitting down? They're not free. I repeat, they're not free. Don't the learn the hard way aka the way we did aka when you get the check.
I see why Portugal is such a popular place for Americans to call home. From the weather to the food to the history to the proximity to fabulous other destinations to the relatively easy move there requirements to the diversity to the stereotypical slower way of life…
If you're considering moving to Portugal, highly recommend checking out the plethora of articles and blogs on the topic like my peer's Moving to Portugal (Sue went went Chicago ➡ Wisconsin ➡ Portugal after living in Chicago her whole life) and joining appropriate Facebook Groups like POC in Portugal and Americans & FriendsPT, cited by Money Magazine, Time, the Wall Street Journal and others as 'the go-to resource for third country nationals moving to Portugal'. Not only invaluable info RE visas, housing, and other every day life stuff, but also filled with very friendly and wanting to connect people. When I dropped in during our trip, I had numerous invites within hours to meet up along our different routes. There are tons of people doing exploratory "Could I live here?" trips as well as those who made the leap, with everyone chiming in with recommendations, questions, and get togethers. The reflections on how much less racism is encountered and how much more they're active, outside, and with a true sense of belonging is 👀.
Plus being able to say you've been to the Western most point of Europe is nerdy-fun —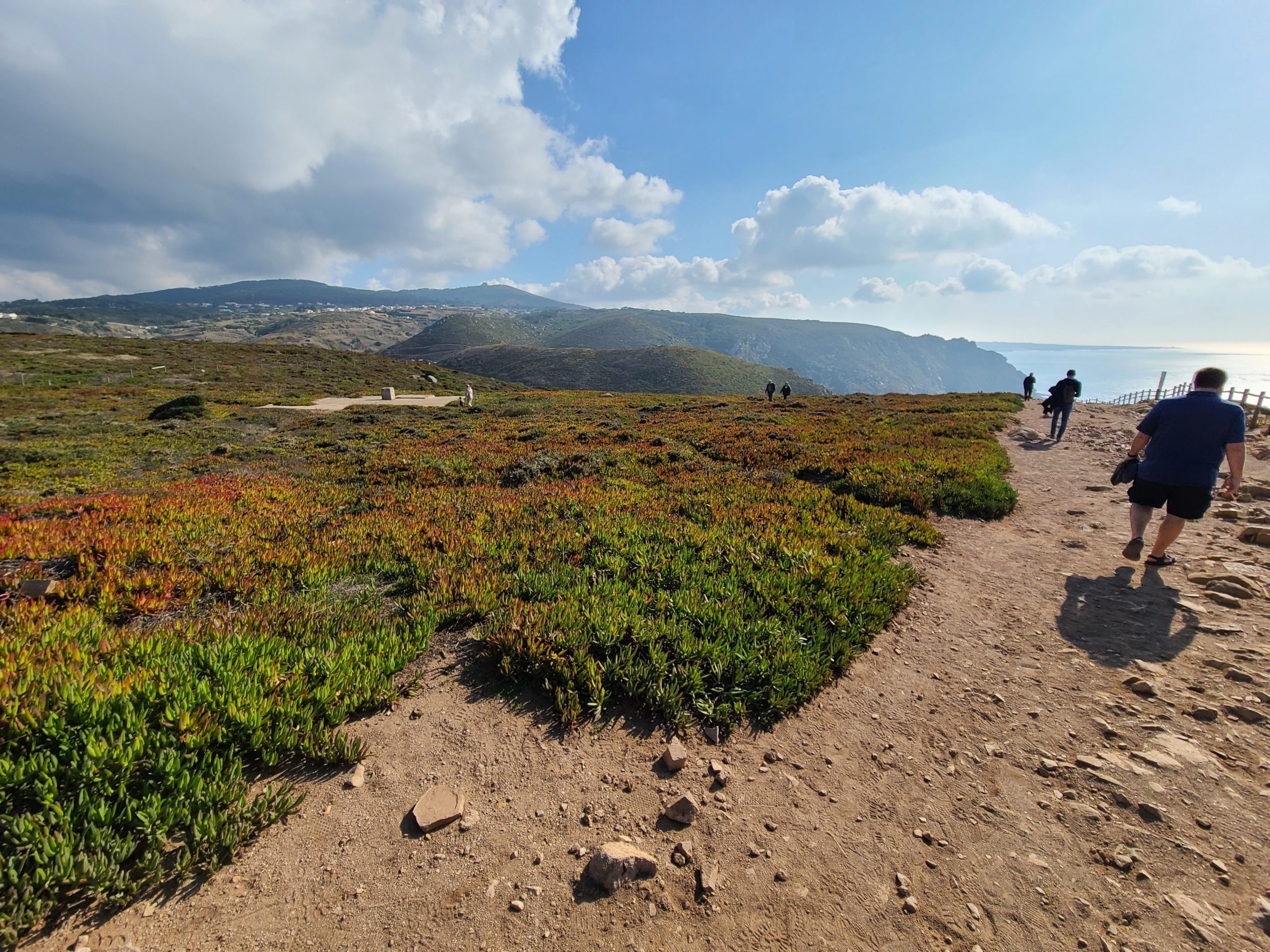 So to sum up Portugal: go go go!

If you've been and want to share your experience and recommendations, drop them in the comments. Feel free to self-promote — your blog, article, Airbnb, bike tour… Our best trips have been those cobbled together from y'all + the internet, and lots of folks come hunting for these write-ups, days, weeks, years later. And you know how I feel about self-promotion (did I ask you to hire us, coffee us, or share us yet?!).
If you go anywhere we recommend and/or find this detail helpful, let us know! A tag on social, an email… Motivates us to keep on sharing as we do.
Happy wing-spreading! Obrigadaaaaa for being here! — Best Friend & Best Friend
Photo Collage
---
Places We've Gone Together
I haven't blogged all these destinations. Head to the main blog page and filter by "travel" to see what I've written up.
International
Argentina (Mendoza)
Bahamas (Nassau)
Belgium (Bruges)
Belize (Ambergris Caye, Caye Caulker, San Ignacio)
Canada (Montreal, Toronto, Vancouver)
Caribbean Cruise (Belize, Honduras, Mexico, Miami)
Chile (Santiago)
France (Paris)
Ireland (Dublin, Galway, Killarney)
Italy (Rome, Milan, Lake Como, Venice, Bologna, Cinque Terre, Pisa, San Gimignano, Sienna, Florence, Civita de Bagnoregio)
Japan (Kyoto, Nara, Osaka, Miyajima, Hiroshima, Hakone, Tokyo)
Mexico (Mexico City, San Miguel de Allende)
Netherlands (Amsterdam)
Norway (Bergen, Oslo, Stavanger)
Portugal (Lisbon, Porto, Obidos, Coimbra, Sintra, Braga, Guimaes)
Sweden (Stockholm, Bergen, Gotland, Gothenberg)
United States
Arizona (Grand Canyon, Sedona, Phoenix)
Alabama (Dothan, Birmingham)
California (Santa Clara, San Diego, San Francisco, Yosemite, Palm Springs, Borrego Springs)
Colorado (Boulder, Denver)
DC
Hawaii (Maui, Oahu)
Florida (Clearwater, Gainesville, Jacksonville, Orlando, St. Pete's, Miami)
Georgia (Valdosta, Atlanta, Savannah)
Indiana
Kentucky (Louisville)
Louisiana (Monroe, New Orleans)
Maine (Acadia, Portland)
Massachusetts (Boston)
Missouri (Kansas City)
Michigan (Grand Rapids, South Haven, Allegan)
Nebraska (Omaha)
North Carolina (Asheville, Charlotte)
NYC
Ohio (Cincinnati)
Pennsylvania (Philadelphia, Pittsburgh)
Puerto Rico (main island/San Juan/Aguadilla/El Yunque; Vieques)
Rhode Island (Providence)
South Carolina (Charleston)
Tennessee (Nashville, Chattanooga, Memphis)
Texas (Austin)
Utah (Salt Lake City, Bryce Canyon, Arches National Park, Zion National Park)
Vermont
Washington (Seattle)
Wisconsin (Madison, Milwaukee, Racine, Lake Geneva, Fond du Lac)