Travel: how to meet others and enjoy yourself on the road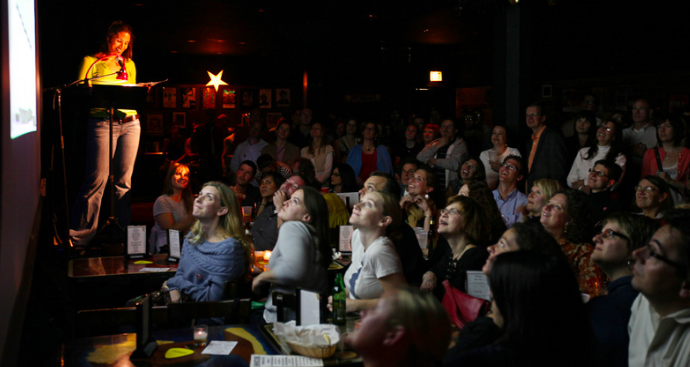 Photo of me doing a Pecha Kucha via Visualized Concepts
I get oft-asked "I'm traveling to ______, can you recommend ways to meet people, fun activities to do that are off the tourist-path? You know, Mac & Cheese, Life of Yes things…"
The Eiffel Tower, Michigan Avenue, and Golden Gate Bridge are great but sometimes you want to do something that isn't packed with tourists, that's in a nieghborhoody neighborhood, and where you'll have a chance to interact with locals.
So here's a list of activities and groups that have a national and some international presence that fit that criteria.
Next time you're traveling solo, see if any of these exist where you're headed and don't feel wonky going alone. People are generally friendly and will not bite. Using the honest line, "I came by myself, so am introducing myself to people. Hi, I'm ______" works for me.
These are also good ideas if you're with others.
Oh and use this service, and you can find places to go from wherever you are based on price, just type in 'everywhere' in the "to" field.
Enjoy!
Specific Recommendations
Midnight Brunch
Pecha Kucha
Mortified
SoFar Sounds
Tea With Strangers
Dabble
The Moth
Creative Mornings
Mealsharing
One Million Cups
Couchsurfing
Warmshowers
HappyCow — find vegan and vegetarian food
Free Walking Tours
Meetup — I've found these to be hit or miss; if you try one and it's not great, try a few others before giving up
HelpX — an online listing of host organic farms, non-organic farms, farmstays, homestays, ranches, lodges, B&Bs, backpackers hostels and even sailing boats who invite volunteer helpers to stay with them short-term in exchange for food and accommodation
WWOOF — World Wide Opportunities on Organic Farms: Linking volunteers with organic farms and growers
General Recommendations
underground supper clubs
house concerts
improv shows
live lit
storytelling
live salons
pub quizzes or trivia
literary pub crawls
hostels
co-working spaces

Copass: Access the largest network of coworking spaces with one Pass
ShareDesk: A global coworking space finder
Impact Hub: 81 coworking locations around the world focused on social impact
Got any to add? Post in the comments!