Warrior Journey: Broccoli & Stuff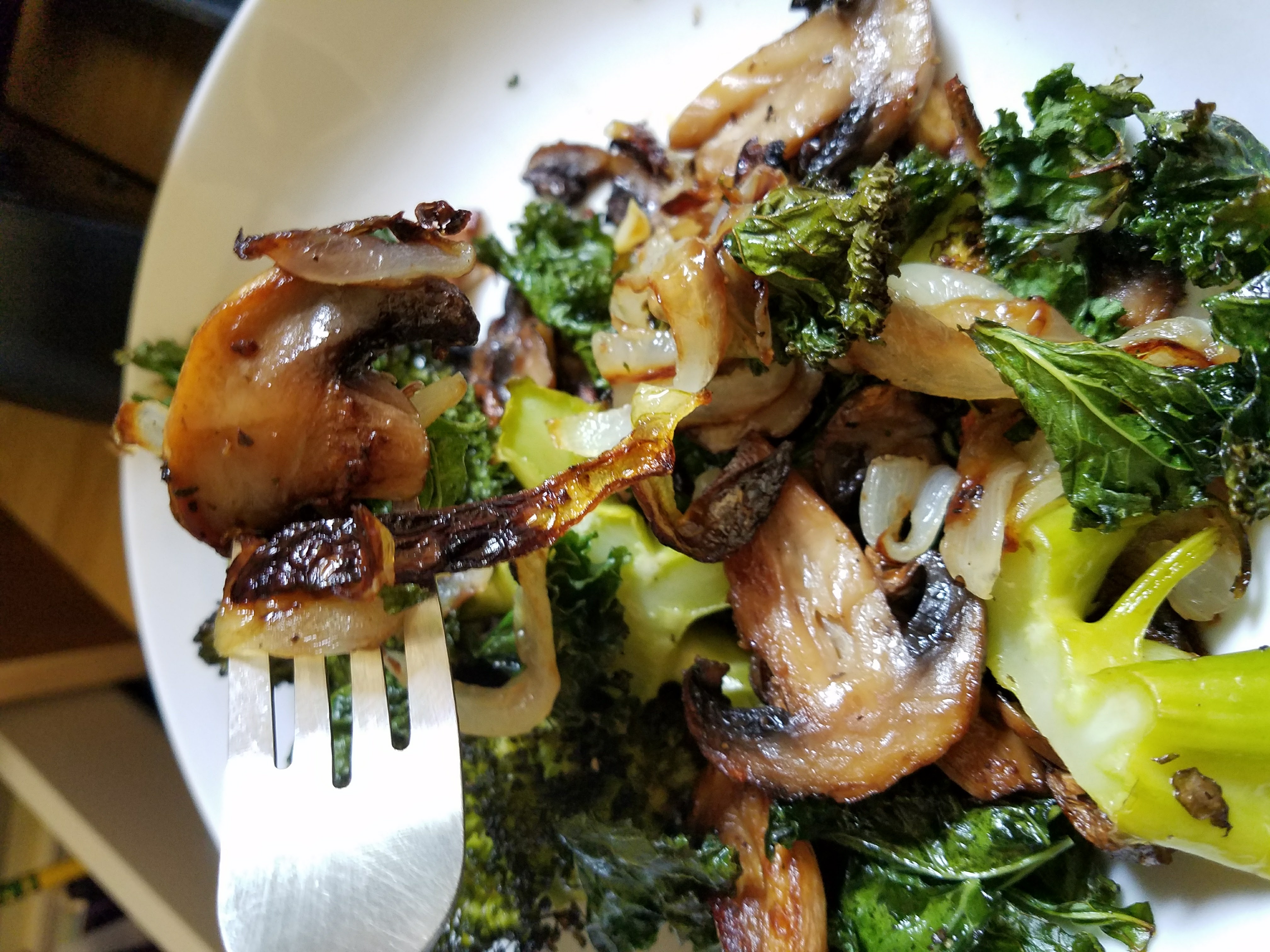 An entry in my attempt to get healthier and win $1000
Halfway, y'all! Woo.
I had my halfway weigh-in this AM. And I admit — I was nervous. That my scale has been lying to me. That the scale that counts, the gym one, the one that read my Day 1 weight, today's weight, and will read the all important Day 44 weight, would shatter my Woo! and in fact show this has all been a farce and I'm still as jiggly as I was on April 24th and that looser clothes and a smaller reflection were figments of my hopeful imagination.
Guess what? No alternative facts here!
Fact: Day 24/44: down 25 pounds and 2% body fat
Even with a few brownie indulgences and eating outs and skipping workout days. Even with days I worked out but decided to take it easy. Even though I still have belly overhang and I can't for the life of me get it on the other side of the waistband (I crowdsourced some suggestions — thank you all! You've been Evernote'd* — and found this helpful post so hopefully I'll stick with 'em — but is it just me or is 5 minutes of abs actually 45 minutes?!).
I also got a pedicure and a haircut. My nails were rough and my hair shoulder length, so that's gotta amount to a bit o'weight —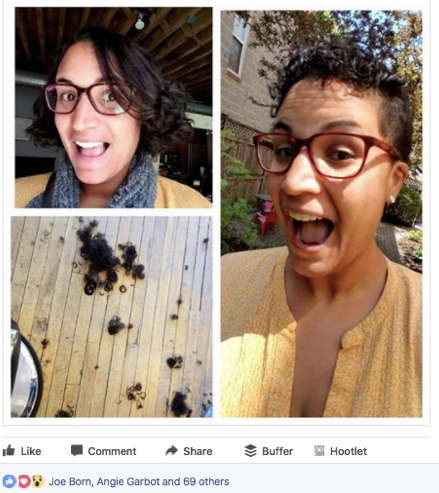 However I got here, I'm here!
Thought I'd share another go to recipe of mine that I've had more days than I can remember and am still not sick of it. In fact, I just ate it for lunch.
Broccoli & Stuff
Best Friend found this recipe — the most popular post in ten years on this guy's blog — and we've adapted it over the past few weeks, subtracting, adding, perfecting to our liking. Again, I need food to be easy, frugal, filling, and tasty. Check, check, check, and check. Best Friend has never met broccoli he likes. He like-likes this one.
"The Barefoot Contessa loves roasting.
Specifically, she loves roasting vegetables at a high temperature until they caramelize. That's the basic premise of most of her vegetable recipes in most of her cookbooks and that's precisely what makes her broccoli recipe the best you've ever had."
Our Adaptations
Instead of just broccoli and garlic, we use broccoli, mushrooms, onions, garlic, and kale
I wash the broccoli (hey, I'm a professional house cleaner; clean home, clean food, clean soul)
Tossing on a cookie sheet seems moronic to me; I toss in a bowl and then transfer to the sheet
But first! I put down a Silpat (I say as if everyone knows what a Silpat is; as if I didn't just learn about one about a year ago from one of our Campers at adult sleepaway camp — thanks Caroline!)

A greener, easier, and cheaper option to use a Silpat over tinfoil

Use 3 tablespoons of oil in Round One instead of 5
Roast for 18 minutes instead of 20-25
Round Two: add in kale that you've oiled, salted, and peppered
Roast for 10 more minutes
This is the end for us whereas the author adds lemon, more oil, pine nuts, and cheese
Tips
Depending on how crispy and burnt you like veggies, play around with the timing; we did a few different variations before landing on ours

We use our top oven which cooks faster than the bottom
If ya don't have a top oven, you may need to cook for longer

Also play around with amount of oil, salt, and pepper
If you hate prep and cleanup like I do, chop enough of everything to last you a week'ish; this is why the produce saver bins are such a godsend
We've found that reheated dishes aren't as good so we only make what we're going to eat right away
Just like with my coleslaw, for variety and protein, you may want to throw on chicken sausage or bacon bits — it's funny, I consider doing that a treat now, whereas a treat pre-journey were three Stanley's donuts; oh perspective, how you've changed!
It'll garlic up your house so ventilate/don't cook it on a day you've got guests coming over
Saya Approved Purchases
Again, not an advocate of buying stuff to be healthy where you can help it. We spend too much money on clothes, gadgets, services, & unnatural food products that we think are going to make us magically lose weight. That said, I do thumbs up these —
So onto the second half of the journey
Thank you so much to all of you who've been cheerleading with comments, texts, invites to classes, invites to try out programs, invites to bike rides, all that goodness. Not to mention you sharing your own stories of shame, struggle, and feeling down about yourself which have been so heartwarming to hear. Much appreciation, y'all!
Wish me luck and please do continue the Go Team Go's.
---
Want to learn more ways to use Evernote, both personally and professionally? I'm leading an Evernote webinar next week, "Evernote: You WANT to Use It, You're Just Not Sure How", join us!
Want to read all my Warrior Journey posts thus far?
Want to get my blog posts in your inbox? Subscribe here.