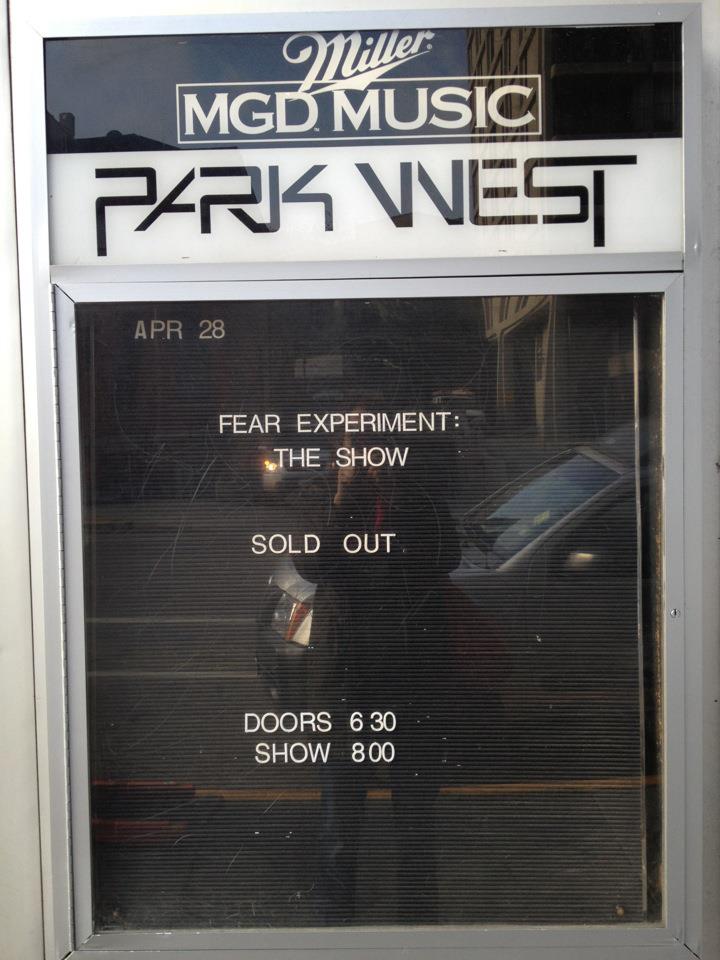 Note that this is from a previous show thus the date and times are incorrect
"I didn't know what to expect from this show. I was excited to go, but did not expect to be blown away. I have a penchant for live shows, mostly of the musical nature. I try to take in as many as possible and Fear Experiment, by far, exceeded a lot professional acts I have seen in regards to OVERALL entertainment."
As a way to meet others, challenge themselves, learn a skill, and be a rockstar, strangers sign up solo to spend two and a half months rehearsing an art-form that perhaps they're not the best at — Broadway, storytelling, or improv this go round — with a group of other solo and fearful people, and then perform in front of hundreds.
Fear Experiment℠ is the best parts of summer camp and a talent show smooshed together — an adult recital if you will. Celebrate adults facing fears in their debut and encore performance during an inspiring evening of saying YES to vulnerability and imperfection on a stage that's held Whitney Houston, Bob Dylan, Aretha Franklin, and Tom Petty.
Fear Experiment Thirteen
It's the tenth anniversary and final Fear Experiment℠! And bonus: this show is a longggg time coming as it was supposed to happen March 2020. 😂 So the performers are extra excited to perform and can't wait to celebrate live performance and being with others with you!
Park West, 322 W Armitage Ave, Chicago
Saturday, March 21st , 2020 Saturday, September 18th, 2021
Doors 5:30pm; show 7pm sharp
Shows are usually 2 to 2.5 hours
All seats are General Admission
Want to tell a friend about the show? Share this page or invite them via the Facebook Event.
☆ IMPORTANT ☆
To ensure everyone's safety, masks are required in addition to proof of full vaccination OR a negative COVID-19 test (performed within 72 hours of show), and social distancing is encouraged and achievable in this large space. Hard copies, photocopies, or digital photos of the vaccination or test results are acceptable.
Ticket-holders for the cancelled show and ticket purchasers, check out the FAQs below; some logistics have changed.
Tickets are offered through the Park West; if you have ticket inquiries beyond what's below, contact the venue at 773-929-1322 or find more info here.
FAQs
Where can I find out more about Fear Experiment℠?
What are my ticket options?
If you have tickets for the postponed show, purchased via Eventbrite, you don't need to transfer them or get new ones; Eventbrite tickets will be honored. Just bring your Eventbrite ticket.
If you're purchasing tickets, tickets are either —

Mobile ID tickets via the AXS app
Will Call tickets (ID required)
Is there another way to pay for tickets other than online?
Tickets can only be bought online until day of show. Day of show, you may also buy in person at the Box Office.
Can I avoid ticket fees?
How do I get and use my tickets?
If you choose "Mobile ID": you'll get a Mobile ID via email immediately upon purchase. To use your tickets, 1) Download the AXS Mobile App (iOS or Android); 2) Open the app and sign in to view your tickets, and 3) At the door, show your ticket in the app to scan and enter. No fee for this option.
If you choose "Will Call": for pickup day of show at the box office. You'll need a valid photo ID and the credit card used for purchase. A fee is incurred for this option.
Do you have discounted tickets for children? Can children come without tickets and sit on laps?
Every attendee must have a General Admission ticket
How can I advertise in the show slideshow?
If you'd like to purchase an ad to cheer on someone in the show or to promote something (business, cause, etc.), find more detail and fill out the form here
You can buy a slideshow ad for $75 OR a ticket + ad for $88 ($10 ticket discount); for the latter, head here and choose "VIP Ticket/Ad Bundle"
Within a week of your purchase, you'll get an email from "Saya | Mac & Cheese Productions" with instructions on how to create and place your slideshow ad
If you don't get this email within that time frame, check spam
Still not there? Contact Saya
Where are my seats?
Seating is General Admission

Are there bad seats? No. BUT fifty of the tickets are standing room, and it's first come first serve for seats. So the last fifty to enter the theater will probably be the ones sans seats if we sell out.
Do you sell out?
When do the doors open and the show start?
Doors open at 5:30pm

Show starts at 7pm (sharp)
What time do I need to arrive?
Some people come at 5:30pm — do you need to come that early? Nope.

You can show up at 6, 6:34, 7pm…

Early-birds are usually ones who want booths, want to hang with friends pre-show, and/or want a big section of seats together
Are there ID requirements or an age limit to enter the event?
Anyone 21+ who wishes to drink must have an ID

All attempts are made to make the show family-friendly but be aware that sometimes 'adult' topics may come up (especially in improv and storytelling) from the audience or participants

The show is all-ages but you're encouraged to not bring children younger than ten due to the length of the show and aforementioned topics
What's the venue's COVID-19 safety protocol?
If necessary, this will be communicated to ticket-holders closer to the show
Can I bring a baby?
Your baby is super adorable but please don't
Can I leave and come back?
Re-entry is permitted but you'll need to go through security again

Is my ticket transferable?
Yes!

For ticket-holders for the postponed show (Eventbrite):

Give your Eventbrite ticket (e-ticket; PDF; physical ticket) to the person attending the show; you can do this by logging into your Eventbrite account or if you still have the email confirmation, forwarding that
In this case, it's ok if the name on the ticket does not match the person's ID

For new ticket purchasers (AXS):

Transfer via your account and the AXS app
What is the refund policy?
There are no refunds unless the show is postponed or cancelled by the venue or organizer

Can I buy tickets at the door?
What if I'm buying tickets for a group? How does everyone get in?
For ticket-holders for the postponed show (Eventbrite):

Everyone must enter together

For new ticket purchasers (AXS):

Everyone can either enter together or ticket purchaser can transfer tickets to individuals via the app ahead of time
Is the show handicapped accessible?
Yes! Call the Park West at 773-929-5959 if you require handicap seating

You can also find any security staff member the night of the show for assistance
Is food sold at the theater?
No but there are tons of eateries nearby (see below)
What can't I bring to the event?
Outside beverages, including water; security will make you throw it out

Outside food

Bags bigger than 12 inches by 12 inches (allowed bags are subject to search)
Laptops or tablets
Is there an intermission?
There is a brief intermission
How long does the show run?
Shows are usually two and half hours to three hours
After the show, can I hang out with the Rockstar I came to support?
Absolutely! The theater and bar will remain open for a bit post-show and anyone is welcome to stay and hang out

Post-show celebrations will also probably continue at a nearby bar which you're welcome to join; look for info at the show
Is there a coat check?
There's a paid coat-check available
Are photos and video allowed?
Absolutely! And encouraged! If you share on social, you're encouraged to use #FearExperiment so that everyone can enjoy your images
What are other good things to know?
There is a minimum credit card charge for drinks so you may want to bring cash

There's a bathroom attendant so you may want cash for a tip (though tipping is NOT required!)

There's an ATM in the venue
What are my transportation options?
Public transportation, bikes, and cabs are highly-recommended as PARKING IS DIFFICULT

There is a

Divvy

station down the street from the theater (Clark & Armitage)

The brown-line Armitage stop is about a mile west

Lincoln, Armitage and Clark St buses stop very near the theater

There is a mix of un-metered street parking and metered parking

Instead of a cab, try
Are there places to eat nearby?
Many! A few options —

Subway (352 W Armitage Ave)