"I had the opportunity to place a slideshow ad during Fear Experiment.  It was great to see my glass studio's information flash up on the screen in front of a crowd of 750 people and all of the performers!  I had no idea what would come from it but it turned out that I got interest from several people who saw the ad and wanted to take a glass class at Chicago Glass Collective. We scheduled the class with the interested folks, had a wonderful time and now I have a new group of return customers!  It was well worth the nominal fee that Saya charges for the advertising. I will be placing an ad again for the next FE!"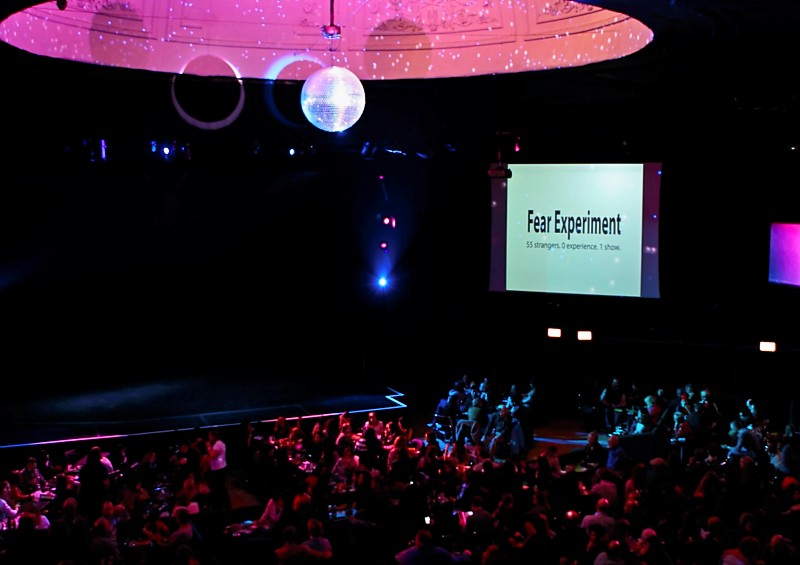 A slideshow loops pre and post-show, on two huge screens next to the stage, as well as on multiple TVs throughout the theater. If you'd like to share with hundreds of captive audience members — perhaps you own a business or you want to give a shout-out to someone in the show — this is a fun, easy, and effective way to do it!
$75 per ad

$10 discount if you buy a ticket and an ad at the same time! Head here to do that.

Ad Specifications/Suggestions

1024 X 768

Native 3:4

Format: JPEG

Don't make it text heavy and what text you do have, make it LARGE

Use an eye-catching graphic

See below for examples of past ads

People will be encouraged to tweet at the show, so if you have a twitter handle, include it! Maybe even have a contest, e.g. "First five people who tweet us that they're at the show win _______!"

You can also offer up a discount if people mention "Fear Experiment"

Instructions on how to submit your ad/payment will be sent to you
To place an ad, fill out this short form and Saya will be in touch!
Sample of ads that have run in past shows —