Why the loneliness is fading and he can hang holiday lights again
This is a Guest Post from Skip Kuhnen. I've known Skip for a couple of years now. He first entered my world when he came to support friends in a Fear Experiment (FE) show. He then applied for FE but unfortunately, I didn't have a spot for him. He didn't let that stop him from coming to the next FE show, where again he was front and center cheering on his friends. Then he applied to FE7 and yay, he just performed in front of hundreds of people at the Park West in the a capella crew!
Though I've been blessed to hear from numerous individuals over the years on how FE impacted their lives — the courage to move to Amsterdam, the significant other, the courage to quit a job, a new group of friends who are supportive instead of destructive — it always feels like the first time when a participant shares his/her story with me. I am always taken a back at how this silly dream I had five years ago to dance on stage, though I suck at dancing, has manifested itself into so many iterations of goodness. And thus it was with Skip.
With a week to let it all sink in, a week since he and his crew wowed the audience with their beautiful routines, Skip sent me a very heartfelt reflection, which he gave me permission to share. It reminded me of all the things I needed to be reminded of. The things I take for granted.
As we enjoy our day of friends and family, of a cozy home, of good eats and laughs, let's remember that the holidays are hard for many. Not in a stop enjoying yourself kind of way, but in an appreciate what you have and do what you can to help others kind of way.
Skip is searching for a job. His dream job is one where he can help others, whether that be with homelessness, social phobia/anxiety, or other societal challenges. He is also experienced and interested in retail, having worked in shipping and receiving to purchasing and management. If you know of any openings or want to offer any resources or support, you can get in touch with him at gkuhnen3ATgmailDOTcom.
If you want to see Skip in his Park West debut, check out video from the show.
Happy Thanksgiving, Cheese-Its.
---
Last Friday and Today
I had to perform in the show last Friday.
It is a good distraction from the sadness I get this time of the year.
I am still feeling the adrenaline high from the show that night and don't want to let it go. It is a feeling of joy, of happiness, of confidence. As soon as the show started, my fear went away; I was there to enjoy something I had never done before and oh so want to do again. To break away from the beyond shyness that controlled me most of my life, the shyness I have been learning to control over the last 15 years, to say goodbye to it. I need to keep this feeling of happiness going all through the rest of this year.
I need this year to bring back the joy of the holidays.
Today is one of the saddest days of my life.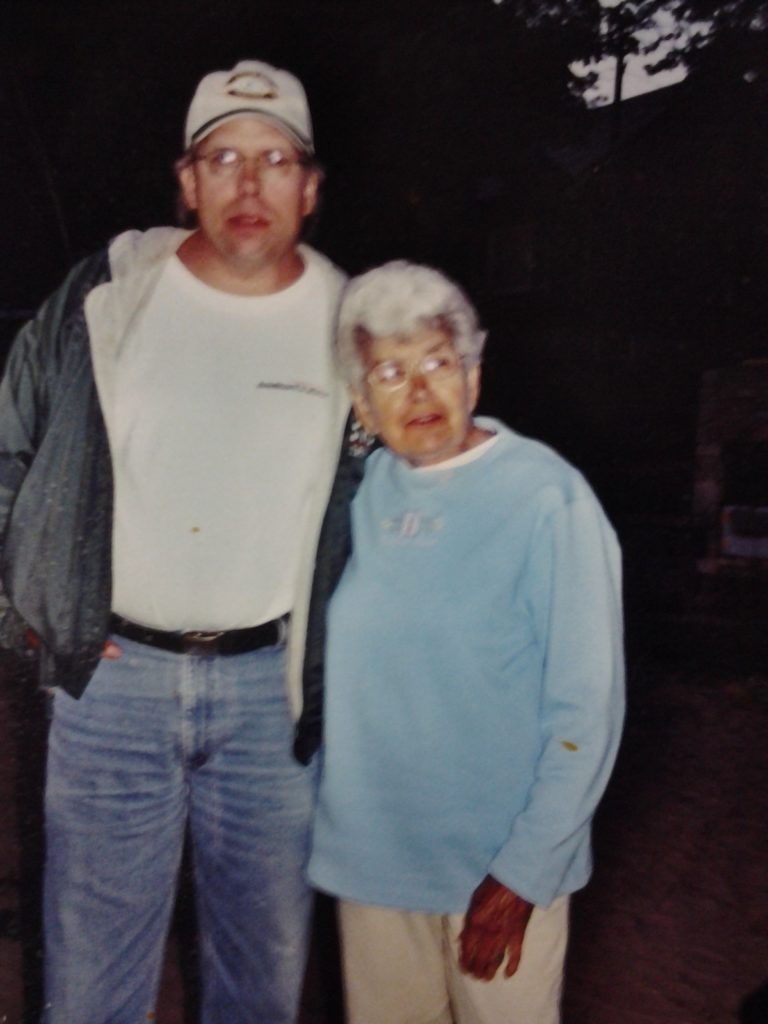 It has been since 2005. The day after Thanksgiving that year, the year my Mother passed away. Four months of battling lung cancer. After coming home from a vacation with lifetime friends in the U.P. of Michigan, my Mom wasn't feeling well. I think now that for months she knew something was wrong. She also had extreme social anxiety, it runs in our family. She was putting off seeing a doctor. She knew. She had come down with emphysema and had been on oxygen for a few months and doing other kinds of breathing exercises with different machines.
As we drove home, she was feeling worse. I took her to the doctor the next day. She was diagnosed with lung cancer.
She had her first Chemotherapy the day of her birthday, September 1st. After a month of Chemo, she asked my sisters and I to let her go. Chemo was making her more sick. She said it was time for her to see my Father, her Husband again. We said yes. We decided to let her final days be at home. We didn't want her to pass away in a strange place.
We set up a hospital bed in the living room. It had the most windows. There was a red Cardinal that came by every day to sing to her. There had been a pair that had nested nearby a year before. We had a hospice nurse come by on weekends to help out. At the first of November her doctors increased the dosage of one of the way too many medications. Soon after she lost her ability to speak, then to write, to communicate. Having to give her stronger dosages of morphine to kill the pain was hard for me. Myself having been in a hospital years before and on morphine after surgery, I knew the hallucinations it caused. The hospice nurse told us the end was soon. My oldest Sister who always came home on Thanksgiving didn't make it that year. I feel, yet I do not know for sure, my Mom fought and hung on to see her oldest daughter, to say goodbye. But she did not come. My Mother passed away the day after Thanksgiving.
Today is the anniversary of my Mother's passing.
I woke up at 5:30 am and knew I would not be able to get back to sleep. That is when I wrote everything above. The words just flowed.
It's time to Let Go!
Why I Joined Fear Experiment Seven (FE7)
I heard from (past participant) Wilfred about auditions for FE7 and that the show would be happening in late November. This was the time of year that would be fantastic for me to do something totally out of my norm, get me totally out of my comfort zone, to help me to get control of two of my major fears I had yet to get control over, to live one of my dreams, and most important, to keep me away from the sadness that has gripped me every year at this time since 2005.
When I went to the FE info session, I did not know auditions for a capella were that day. When Saya asked me if I wanted to go first, the only song I could think of was "Behind Blue Eyes" by the Who. Even though I knew no one could see me shaking, I could swear Saya and (a capella coach) Mara could see me shaking. I sang the best I could.
When I got the e-mail saying I was accepted, I cried, not tears of fear but tears of joy. I now knew this year would be different.
When my Mother passed away the day after Thanksgiving, my family fell apart. Each year falling farther away from each other. Holidays turned into just another day. The magic was gone. Thanksgiving was no more. The spirit and lights of Christmas dimmed away.
Thank you Saya for letting me into this community.
With the help of music, thirteen totally awesome singers, Mara teaching and correcting us at each rehearsal, meeting and performing on the same stage with twenty awesome steppers and storytellers to cheers and applause and having all these new friends —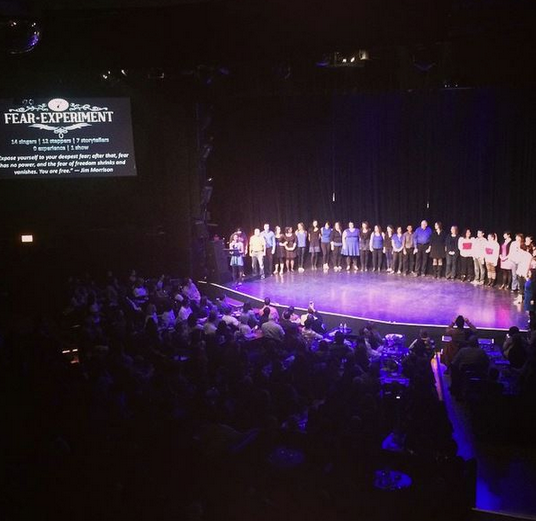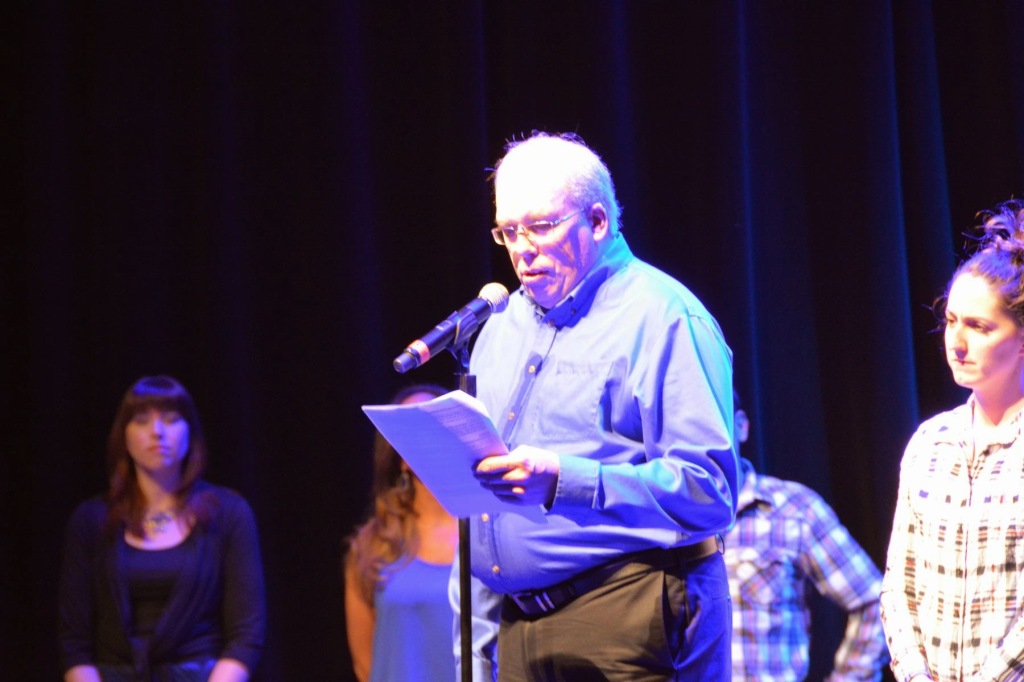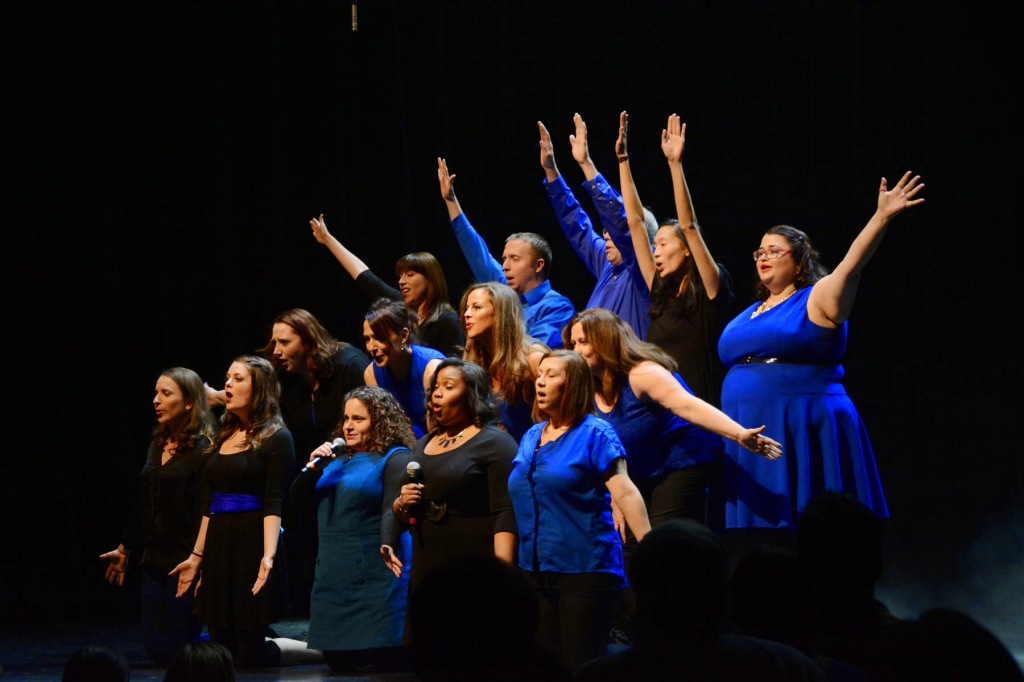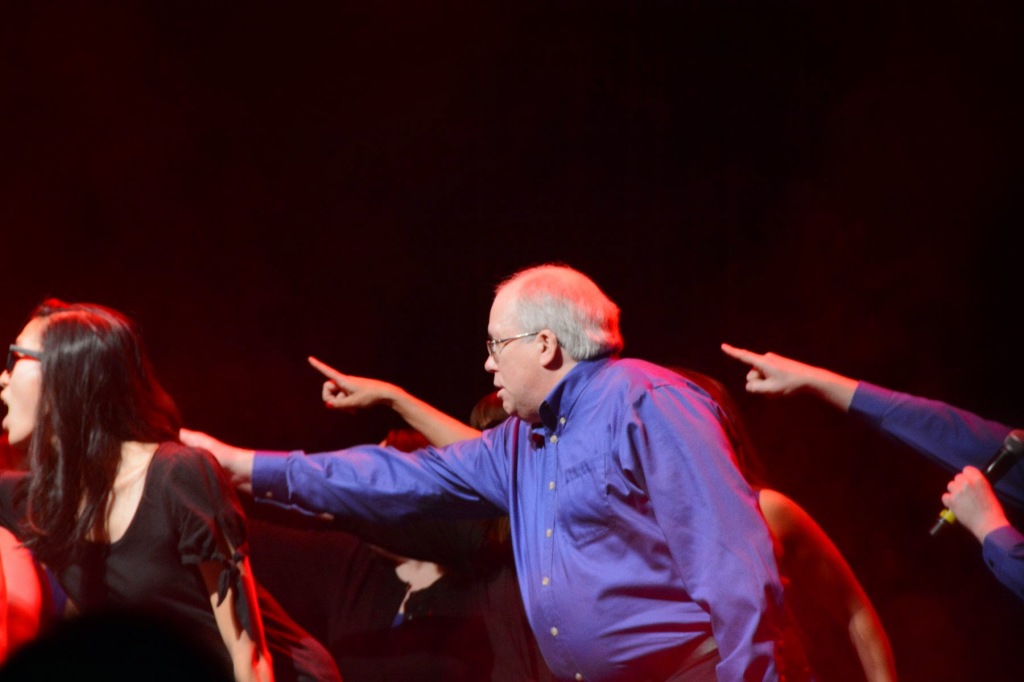 The spirit of the holidays are now starting to shine again. The loneliness is fading. I am going to enjoy Thanksgiving again. (Fellow singer) Lauren invited me to spend Thanksgiving with her family.
The Christmas lights will be back in my windows once again!!