Travel: Life of Yes℠ Japan
One of the most anticipated trips personally. Because Japan is the farthest I've ever traveled and the most "different" — language, alphabet, food, customs. Because we booked it a year in advance. Because we flew First Class, direct, in $24,000 seats. I have never been so close to being Oprah.

Best Friend and I have lists. You know that. Japan was not on either of our "want to visit" lists. No shade to Japan, just so many other places we were feeling. Funny how stumbling upon a way to fly First Class direct on Japan's dreamy ANA airline for $250 adds Japan to your list. That's literally how we decided to go. And how we decide where to go most places. What amazing travel hack can we pull off or simply where is there a good deal? Usually this is transportation-based as that's really where you can get raked across the financial coals and then once we decide where we're going, we travel-hack specifically for that destination, e.g. realizing there's a high number of IHG hotels in an area so figuring out how to get as many free IHG nights as we can.
The lover of all things luxury when it comes to lodging and transportation (I could care less about fashion, dining, high-brow activities), first class seats on such a long flight — Best Friend and I are 6′ and lets just say not Size 2 — sounded a level of squeeee! that I couldn't even begin to fathom. So I helped myself fathom; the day we booked, and perhaps a few days over the next year, I scrolled ANA's site, staring at the pictures, reading up on the perks, drooling onto my keyboard, and perhaps talked about it a few times over the next year. (Someone commented on my "We're off to Japan!" post "I thought you went last year? You must really love it!" I guess my pre-trip excitement drooled itself on social.)
As we always get asked for referrals and recommendations post-trip, we thought we'd share a wrap-up of Best Friend & Best Friend Do Japan, Spring 2019. So that if it's on your list and you want a jumping off point, you like how we travel (bikes! breweries! window shopping! street food!), you're a lover of crowdsourcing, voilà. And if Japan isn't on your list, put it on your list, put it on your list! Even removing the First Class experience, it was one of our favoritest adventures. And we've gone Argentina to Belize to Norway to the Bahamas to Italy to Vancouver to Belgium to Kansas City.
A huge thank you to all the folks who gave us their recommendations. This trip would not have been anywhere near the fantasticness without your encouragement to try and trust 7-11 egg salad sandwiches or tip to start our Japan Rail Pass a few days after arrival to better fit our itinerary, and all your insight in between. Not to mention y'all made us feel warm and fuzzy with all your cheers during our flight and your response to our travels — "God, I wish I was dating one of you two when planning for travel" has to be one of my all time favorite comments to us.
Also, a huge thank you to Best Friend for doing most of the spreadsheeting, reservation-making, and financial geniusness. And for hacking for things you could care less about — luxury transportation and lodging — cause you knows I love 'em so. From the look on your face drinking that free-flowing 17 year old whiskey and wearing your airline-issued organic pajamas on the plane, I think you had a smidgen of YASSSSSS QUEEN. You make my life infinitely the best and I'm so grateful for you.
Okay what is this, Oprah? Vow renewals? Let's get on with it. Japan!
To see other trips of ours, head to the blog homepage and choose "Travel" on the left side of the screen. We're running our travel webinar "Life of Yes℠ Travel: Minimize Expense, Maximize Experience" in September if you'd like to join; included is our step by step breakdown of how we pulled off the first class hack.
Blog Post Roadmap
Best Friend & Best Friend Random Observations
Best Friend & Best Friend Itinerary
Best Friend & Best Friend Financials
Other People's Recommendations & Insight
Best Friend & Best Friend Images
Best Friend & Best Friend Random Observations
For being such a large city — 9.273 million vs Manhattan's 1.665 million — it was eerily quiet. No car honks. Though everyone is on their phone, looking at it, no one is on their phone. This was on of my favoritest things that I wasn't expecting and didn't think bothered me that much at home. Additionally, the noises that are often jarring here were melodic there like the chimes announcing approaching trains.
That said, the constant tech/video game sounds in some areas was the opposite of relaxing and quiet. And before knowing what it was, so was the incessant beeping in train stations. Which we learned were signals for blind people to know where the escalators were. So, um, yeah those beeps, no longer annoying and "Why don't we do that?!"
Every time we travel, I'm so appreciative that smoking is no longer a thing at home and so surprised it is a thing elsewhere. While it was fairly easy to avoid, one of the non-US brand hotels did reek and the aged-coffee bar was full up on nicotine. One bar we walked into and walked right back out. There were smoking areas everywhere; at least people respected them and used them.
Standing in line in Japan is a fascinating piece of art. Everybody does it. Quietly. Without pushing or rushing. Single file. I can't do it justice. You'll just have to oogle yourself.
So many Australians. Very little police presence. So many bikes and our favorite type of biking, lifestyle biking — everyday outfits, transporting kids, carrying groceries, no helmets, no spandex.
Very little trash and few trash cans. We heard this repeatedly before we arrived; y'all were not lying. There were a few times we carried trash for a very long time. Signs in dog parks told owners to take their poop home. Can you imagine that here?! Ha.
As someone who doesn't chopstick, I was very nervous about the utensil situation. While I have a long way to go and "graceful" is never a word that'll be used to describe me and them, I did it, I did it! And I credit the Japanese eating attitude. Slurping loudly and noodles hanging from your mouth for what feels like a super-awkward long time is expected and the norm. It was fascinating to watch businesspeople in restaurant provided bibs and with their hair pulled back by restaurant provided ponytail holders. I quickly got over my embarrassment and chopsticked-fingered whatever was in front of me. It helped that Japan has a solo culture where many restaurants are filled with party of one stools that face the wall; no one could stare at me even if they wanted to. As someone who is fascinated by what people will and won't do alone, Japan's embracing of doing things alone was mesmerizing to me.
We were nervous about language issues. While we had a few oopsies — I ordered cheese on a hamburger and got a cheeseburger on a hamburger 😂 — and shaking of heads, for the most part, we managed. Best Friend told me to learn how to say "Sumimasen" and just start every thing with that; turns out "excuse me" in native tongue is the magic phrase that'll make people be forgiving for your butchering of their language. Japanese are also the best at signs — informative, pervasive, and often humorous — many of which are in English, which saved us numerous times.
Best Friend & Best Friend Itinerary
We keep such detailed notes both for planning and also for reminiscing, weeks, months, years later.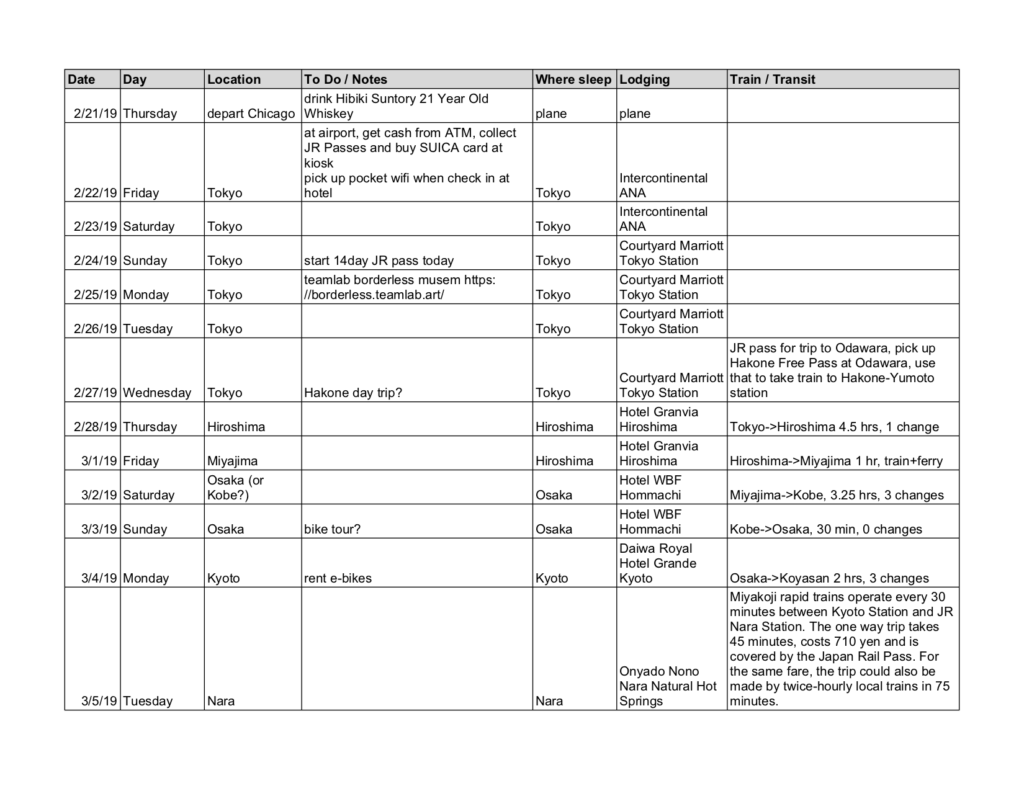 Thursday 2/21/19 – flight
First-class ANA flight:

separate 'living room' and 'bedroom'
6-sample sake flight
Suntory Hibiki 17 year old whisky
watched 4 movies
listened to Enya's greatest hits
wore airline pajamas on plane
only 3 first-class passengers (and 5 flight attendants 😄)
Friday 2/22/19 – Tokyo
Land at Narita

get cash from ATM
exchange JR pass
purchase SUICA card
take Narita Express/subway (Ginza Line) to Akasaka neighborhood and ANA Intercontinental Tokyo hotel

Walked to dinner at Kyushu Jangara Ramen (Best Friend rating 5/5)
Walked through shops in Akasaka
Saturday 2/23/19 – Tokyo
Walked Cat Street (not a street with actual cats)
Shibuya crossing
Saw Hachiko dog statue
Afuri Ramen in Shibuya station (Best Friend rating 3/5)
Took train west to Hanegi Park (in Setagaya ward, Tokyo's largest residential area) for plum blossom festival
Met friends for dinner at an Indian restaurant near the hotel
Sunday 2/24/19 – Tokyo
Changed hotel to the Courtyard Marriott Tokyo Station
Spent the day with friends

Kappabashi — fake food stores, kitchen/restaurant gear, two knife stores
Senso-ji Temple
Cafe de l'ambre for aged coffee
Shopped at Tokyu Hands department store in Ginza
Monday 2/25/19 – Tokyo
Spent the day with friends

TeamLab Borderless digital art museum in Odaiba
Shopped at a Daiso 100-yen shop in Odaiba (a dollar store)
Ramen dinner at Sora no Iro at Ramen Street in Tokyo Station (Best Friend rating 3/5)
Got after-dinner beers at Hitachino Nest bar in Tokyo Station
Tuesday 2/26/19 – Tokyo
Walked through Akibahara — saw Pachinko parlor lineups, claw machines, video game parlors, Best Friend played a drum game, went to Super Potato even though it wasn't open yet
Ate lunch at Nagi Shokudo, an all-vegan restaurant near-ish Shibuya Station (Best Friend rating 5/5)
Friend time

Met friends in Yoyogi park (people were taking photos of their dogs with cherry/plum blossoms)
Walked to Meiji Shrine – Best Friend really liked that there were 2 trees that symbolized marriage
did Shibuya Crossing
Dinner at a different location of Kyushu Jangara Ramen, this one in Harajuku
Wednesday 2/27/19 – Hakone
Day trip to Hakone, took an early train
Walked to Hakone Shrine
Walked Cedar Path (cedar trees planted 500 years ago to shield travelers from weather)
Took ferry up to ropeway/cable car
Saw gas viewing area where mountain/volcano just lets off gas constantly
Dinner at T's Tan Tan Ramen shop in Tokyo station when we returned
Thursday 2/28/19 – Hiroshima
Took early train to Hiroshima
Explored Hiroshima Peace Memorial Park–A-Bomb Dome, Peace Bell, Children's Memorial, Memorial Mound, Memorial Cenotaph, Peace Flame, Monument for Korean Victims
Hiroshima Peace Memorial Museum
Ate at Nagataya for vegan okonomiyaki (delicious!!!)
Friday 3/1/19 – Miyajima Island
Miyajima Island (near Hiroshima)
Floating tori gate
Wild deer roaming freely
Hiked up Mt. Misen (took us 4 hours total [we were slow])
Beer flight at Miyajima Brewery (refreshing after the hike, but not great beer)
Pre-dinner vegetable bento box from store in Hiroshima station
Dinner at Dish Parade
Saturday 3/2/19 – Osaka
Early train to Osaka
Met up with friends one final time

Fluffy pancakes for brunch
Walked through Dotonbori neighborhood
Victor bought some Tiger Onitsuka shoes
Walked to Osaka Castle

Had lunch at CoCo Ichinbanya, a cheap Japanese curry chain
Checked into Hotel WBF Hommachi
Dinner at Paprika Shokudo vegan restaurant (Best Friend rating 5/5)
Sunday 3/3/19 – Osaka / Himeji
Saya worked at coffee shop
Pete took train out to Himeji Castle
Dinner at Daikisuisan in Dotonbori, a conveyor belt sushi restaurant
Monday 3/4/19 – Kyoto
Took early train to Kyoto
Rented electric bikes — rode north up the river trail, to Shimogamo-jinja shrine (the outside), Kyoto Imperial Palace grounds, Nijo Castle (the outside), it rained pretty consistently, so we returned bikes
Lunch at Minari, a Korean bibimbap restaurant in Kyoto Station (Best Friend rating 5/5)
Dinner at Chabuton Ramen — ordered from machine, had vegan ramen, and two orders of vegan gyoza (Best Friend rating 5/5, ramen was very good, but definitely got a boost from the gyoza)
Walked to Kyoto Beer Lab for a beer flight — Saya actually liked a beer: Sucker Punch, a citrusy American Wild Ale
Tuesday 3/5/19 – Nara
Took train/ferry to Nara
Lunch at China Dining Hiten (Best Friend rating 4/5)
Walked through Nara Park; bought deer biscuits, fed lots of deer
Walked to Kasuga-taisha shrine; Todaiji temple; got interviewed by Japanese middle schoolers
Onyado Nono Nara Natural Hot Springs hotel/onsen–we went to the onsen right when it opened at 3pm, it was practically empty; it was awesome. It fills up later on so if you'd rather nakedness and/or figuring out what you're doing/customs without tons of people around, get there right at opening time. Pete went: indoor hot pool->indoor cold pool->indoor hot pool->indoor cold pool->outdoor hot pool->indoor cold pool->indoor hot pool.
Dinner at Seed Cafe, serving American-style burgers; Saya had a huge cheeseburger*, Pete had fries and pickled vegetables (*Saya insertion: Saya ordered a hamburger with cheese; they brought her a hamburger with a cheeseburger on top)
Wednesday 3/6/19 – Kyoto
Took early train back from Nara; stopped at Inari Station (before Kyoto Station); visited Fushimi Inari shrine; thousands of orange tori gates, hiked up a mountain to the summit of the shrine
Lunch at Gelato Pique Cafe in Kyoto Station (Best Friend rating 3/5)
Shopped at Nishiki Market
Met up with a friend who's doing Remote Year and randomly happened to be in Kyoto at the same time; Boogaloo Cafe (Saya rating 5/5 for coffeehouses); had a great chat for a few hours
Dinner at Ain Soph Journey Kyoto, an all-vegan restaurant (Best Friend rating 5/5)
Thursday 3/7/19 – Kyoto
Went to Arashiyama neighborhood; walked through bamboo forest, walked up mountain to Arashiyama monkey park
Came back to hotel for naps/Saya and Pete work
Dinner from 7/11
Friday 3/8/19 – Kyoto
Morning: Saya worked at hotel
Pete took morning tour at Katsura Imperial Villa
Pete walked 4.2 miles to Ryoan-ji Temple–rock garden (amazing!), moss garden, temple
Evening walk through Higashiyama for Hanatoro festival of lights/lanterns–starting at Shorein-in Temple and moving south to Kiyomizu-dera Temple (we didn't make it that far); we saw a lantern ceremony where people with lanterns, bells, and sticks, led a rickshaw with a spirit/demon with a pig/fox face. Very cool.
Saturday 3/9/19 – flight home
Early train to Tokyo/Narita
First-class ANA lounge at airport
Best Friend & Best Friend Tips
Get tickets to TeamLab Borderless museum ahead of time and show up early. The line gets very long.
Get a Wifi Buddy so that you always have Wifi. You can't return it at the airport so make sure you mail it beforehand; we mailed it from our last hotel via provided packaging.
If you're going to be hopping from place to place, which we recommend cause the trains are so fantastic, though it's expensive, a Japan Rail Pass is sooo worth it. Think strategically about length and when you want it to start; we were in Tokyo for a few days before our jaunts, so we had it start a few days after we arrived.
Eat at 7-11 all the time. Don't be afraid of the egg sandwiches; they're delicious.
If you want to do the Moss Temple, don't wait to get tickets. We failed here and got rejected.
If you go to the Fushimi Inari shrine, get there early. It gets very crowded and is much more fun with less people (also, better chance you'll be able to get that "perfect" photo without randos in it).
Best Friend & Best Friend Financials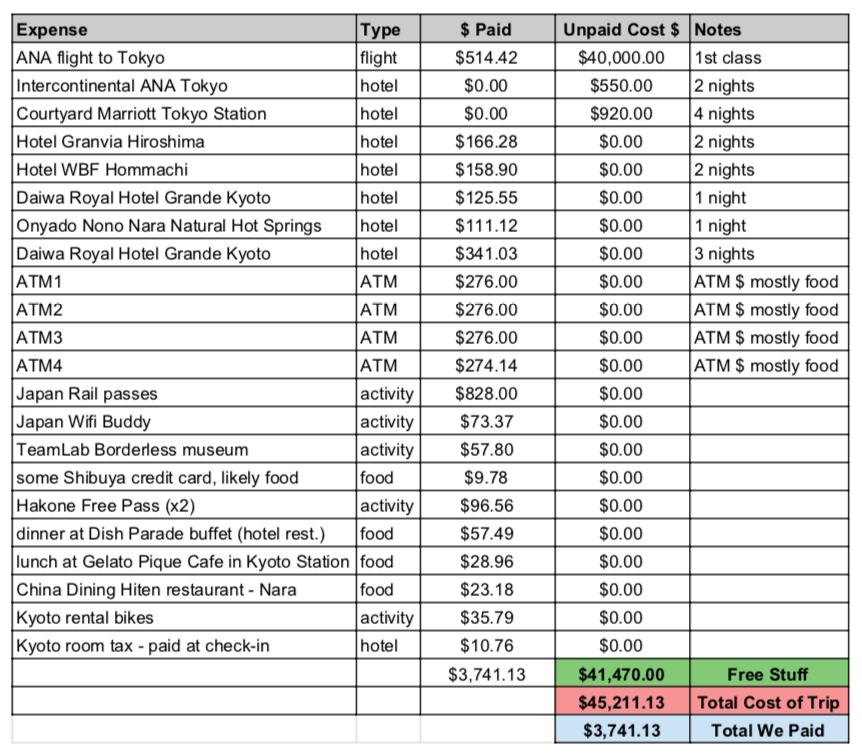 Other People's Recommendations & Insight

Details, details, details from the fabulous, helpful people in our world.
How to Eat Ramen in Japan & How Not to Be a Jerk in Japan
Best Friend & Best Friend Images
We're going to Japan! In FIRST CLASS!

But first, the Lounge. And the + lounge at that.

All the free food

If "> Idris Elba" and "> Puppies" were included, this would be my Utopia List

The friend I made in the Lounge Valet showed me her secret stash of toiletries

A nap room. I repeat, a nap room.

Gifts from my Lounge Valet Friend. COWSHED. I LOVE COWSHED.

It takes awhile for Best Friend to settle into luxury. Never-ending pop speeds it up.

Staying classy by dropping pineapple on my boobs

Turns out that letting Squeeee! beam from your face pays off and you might hear a "Pssst!" and the Lounge Valet may beckon you over to the back room to stuff your bag with free goodies.

And thus how our collecting of free slippers began.

WE'RE FIRST, WE'RE FIRST! It doesn't matter, we're all going the same place at the same speed. BUT WE'RE FIRST.

One other First Class passenger thus far. We wonder how many more…

Immediately upon boarding, we're offered slippers and asked if we want to change. Into what? We don't know what that means so we say no. But when asked if we want OJ, water, or champagne, we say "Yes. All."

We see the other guy go to the bathroom and change into these. Ohhhhh. We decide to still wait. I mean, I'm in yoga pants and a tshirt; I'm pretty comfy.

"ACT NATURAL!"

They come over with a basket of more freebies. I don't know what anything is. Especially these. I take two.

How can I ever go back to Coach?!

When there are only 3 First Class fliers — Left, my living room. Right, my bedroom.

So extra! Spying on the poor saps in Coach and Business Class.

My office

Every time we got up to go to the bathroom/chat with one another, they'd make our bed/seat

I emulsified no less than seven times on the flight over

Where you hang your suit after you change into your pajamas. Or your 2004 Obama for senate tshirt.

"I'M RECLINING! I'M RECLINING!"

And thus begins the never-ending parade of food. And the game Alinea or Airplane?

Serving the OTHER guy

Alinea or Airplane?

Alinea or Airplane?

"Would you like some sake?" "Yes, but I'm not sure which one." "Would you like a flight?" …. A FIIGHT ON A FLIGHT

Best Friend is NOT enjoying himself

Alinea or Airplane?

He tops off his sake flight with 17 year old whisky. He was disappointed it was the 20 year old whisky advertised on the website. EXTRA.

Alinea or Airplane?

When I came back, my bed was made

I bideted. On an airplane.

"A dressing platform" — so that you don't have to step on the bathroom floor when changing. OPRAH, YOUR LIFE IS MAGICAL.

First Class Sexy Selfie

I turn on and off all the lights. TV lights.

First dinner in Japan, ramen, obvs. I'm nervous cause I don't do chopsticks. Luckily we're facing the wall and no one is watching.

Our first 7-11 trip. We would be back MANY times. I just got candy. I wasn't yet sold on the prepared food.

Best Friend jumped right in, with highly recommended cheap rice balls.

I bideted again at the hotel. Look at all those options. Japanese toilets are fabulous.
"Who knows how to get there?"

I was SO excited for these cheese balls. Turns out, octopus balls.

He was SO excited for these salty fries. Turns out, sweet plantains.

Chopsticks for dayssssss

Cook your own lunch lunch

Fake food after fake food store

Office supply and arts & craft stores were amazing

Coffeehouse with 10 year old coffee
TeamBorderless Digital Art Museum

Saya's new favorite game — is it chocolate or is it curry?

These yellow paths for blind people were ALL over the city

The Marriage Tree

Orea Sandwich, check

My favorite! Sandwich sampler. I had so many of these.

Heading to Hakone
HOT drink from the vending machine

Pocket Wifi saved us many times

Loved our hotels

Tokyo Banana

I'm not a face washer. In Japan, face washer. Their products are so lovely.

He ordered extra noodles 😂

Hiroshima Memorial

Sadako & the 1000 paper cranes

Sadako

The best cabbage salad we've ever had

They love stairs and escalators here. Even tiny escalators.
More vending machine hot drink


Miyajima Island

"Are we almost there? How big is this mountain? Whose idea was this?"

Lucky to have this guy always making me laugh even when I'm dying

Osaka

World's prettiest Starbucks?

Look where their gas pumps are

Worked in this Starbucks for a day

Conveyor belt sushi
Imperial Palace, Kyoto

"Night time" ramen

The only beer I've ever liked

Nara deer park; he bought deer biscuits to feed them

Shoeless onsen where we did the hot baths

I ordered a cheeseburger; they brought me a hamburger with a cheeseburger on top

Interview #1 of the day

Interview #2 of the day
Got caught up in a parade/march/walk being led by a pig-rat masked person (turns out, it was a fox; looked like a pig-rat)

All of our luggage for 17 days

Met this Londonite on train to airport; he had just done the Tokyo marathon and the following week, heading to Cyprus for his 100th marathon

So much lounge open bar

Didn't need a shower; took a shower, cause I could

We were enamored with the tiny soy sauce.

Anddddd back to First Class

And our pajamas

$24,000 Coke

And home. With my slippers.

And my chair socks.
Got any of your own'ness to add? Share 'em in the comments. And of course if you visit any of our recs, selfie and tag us!
Reminder: To see other trips of ours, head to the blog homepage and choose "Travel" on the left side of the screen.We're running our travel webinar "Life of Yes℠ Travel: Minimize Expense, Maximize Experience" in September if you'd like to join; included is our step by step breakdown of how we pulled off the first class hack.