Life of Yes℠: Design Your Dream Life (Via Tiny Steps, Using What You Have)

Important Note — If you've taken a Life of Yes℠ workshop before, perhaps under a different yet similar name, e.g. "Life of Yes℠: How To Create a Fulfilled Life", the same core information is shared here. Some people like re-taking it to be re-inspired and re-motivated, perhaps because they're in a different place now and want to re-hear the message and redo the work; it's totally a-ok if you're a re-doer. It's always being updated so there will *probably* be newness. But if you feel any amount of "Why would I take something I've taken before?!", this is not for you.
Ready to live the life you want to live? Now?
Learn realistic, simple, actionable steps to create a fulfilled, productive, and engaging life for yourself, framed through Saya's relatable personal experiences and philosophies. She uses charisma, humor, vulnerability, and a dash of TMI to be a breath of fresh air on universal, age-old topics with which we all grapple. Career! Love! Friends! Community! Finances! Adulthood! So much to get right! Everyone else is perfect!
Through her shares about being a success and a failure she lessens overwhelm and creates a-ha moments, inspiration to try the scary, and a proactive perspective that life can be easy and joyful, even with the inevitable periods of blerg, if you design it so.
In this workshop, at each step, you'll take time to reflect and apply what you learn to your own life.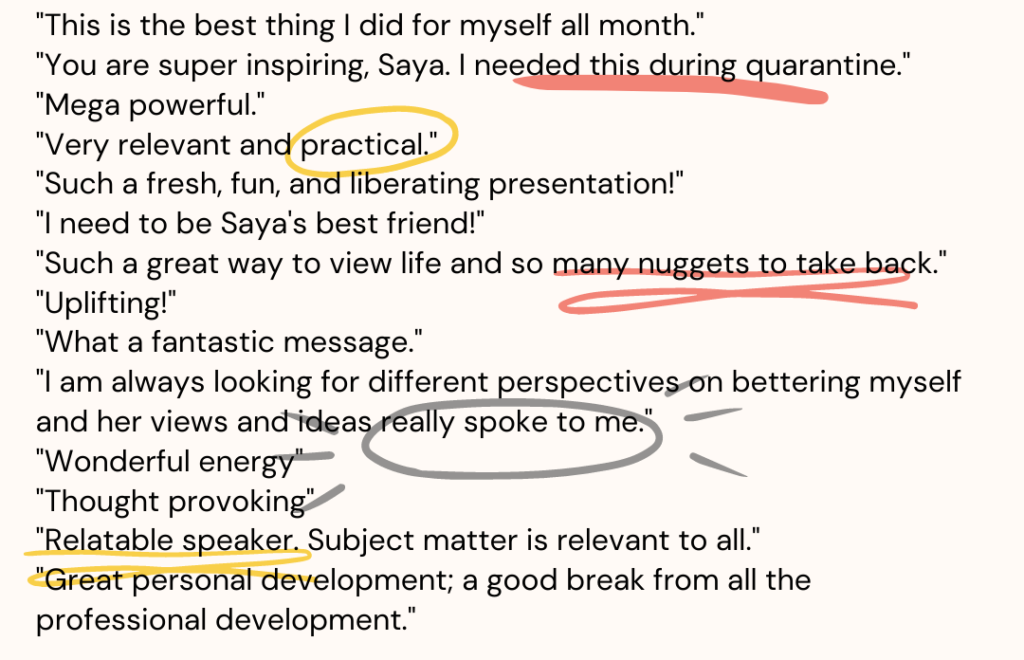 To Bring
A device with Zoom downloaded on it and the ability to connect to the internet
Note taking materials
Food/drink for yourself if you'd like; eating during class a-ok!
Register
Mac & Cheese Productions℠ is an inclusive, no judgment (of self or others) space, and welcomes all human beings. This is a virtual offering. Times are CDT; convert for your location.
You are encouraged to turn on your video to make conversation more conversation'y but being on camera is not required. You should be able to attend live; this is not a replay offering. No refunds so make sure you can join before you register. Facebook Event.
"Saya set a wonderful energy for the class by breaking the ice and helping everyone get comfortable and acquainted. The steps she shared were inspiring. I left feeling uplifted with a renewed vigor and enthusiasm for taking my next steps. A very worthwhile class, recommended for anyone seeking an infusion of wild inspiration."
"I enjoyed this class immensely! I was greatly inspired and moved multiple times from beginning to end. I was buzzing with so much excitement that I couldn't fall asleep once I got home! Ideas and energy were just flowing through me."
"This class goes above and beyond any expectations you think it will or can be. I was pleasantly surprised by how much I got out of this class. Saya's unique approach on life is refreshing and her personal story is an inspiration."
"Impressive to meet so many interesting people from all over the globe all interested in bringing more goodness into their lives. The class was extremely well thought out and full of laughter and useful information."
"Saya was very friendly and welcoming from the moment I walked in. She shared stories that made her "human" rather than a polished presenter. Her steps for leading a life of yes were really helpful and inspiring and I've already started taking action on many of them! Highly recommend."
"Awesome, awesome, awesome! Accessible, relevant, and motivating content! And there was reflection time built in, to allow each student a bit of time to think about how each piece of the content applied to our lives/situation. Not just fluff... we left with an intentional action step! Highly recommend!"
"This class was awesome! I have been singing its praises everyday since last Wednesday. It was a spur of the moment decision and the best $ I've spent in a long time. I had so many "aha" moments throughout the class that it was uncanny...I met so many cool people as well...I came solo but didn't feel alone at all but surrounded by so many like minded people....YES for Living the life of YES!"