January 2020 Western Caribbean Cruise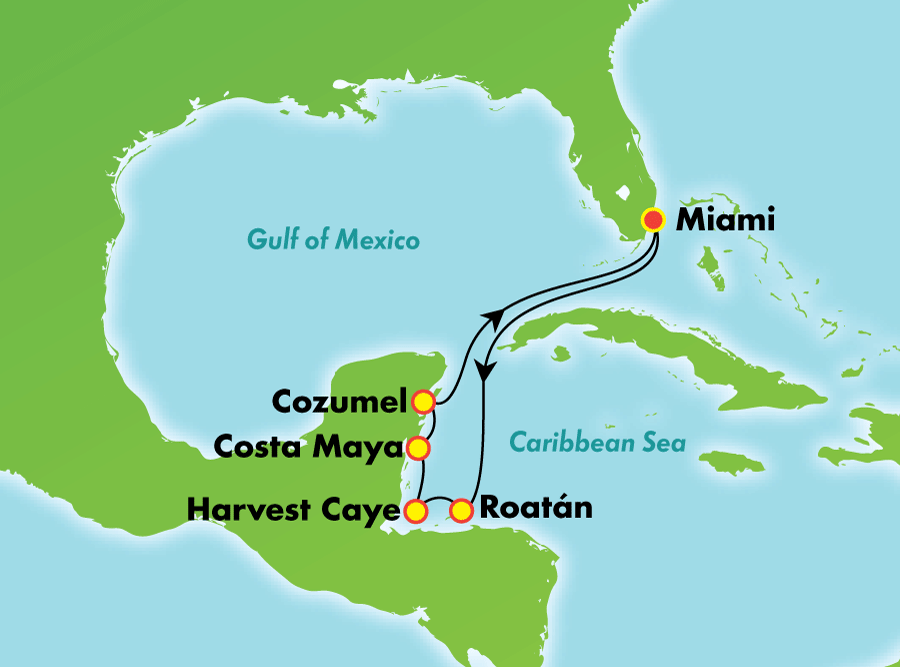 January 18 – January 25, 2020
7 day Western Caribbean cruise via Norwegian Cruise Line's (NCL) Norwegian Escape
Miami, Florida / Roatan, Bay Islands, Honduras / Harvest Caye, Belize / Costa Maya, Mexico / Cozumel, Mexico / Miami, Florida
All Early Bird and Deposit rates have ended.
Standard Rate $2985
Reserves your room and amenities, and locks in your rate (if cruise fares increase, your fare will not). See below for what is/isn't included. Cancellations until 12/31/18: 100% refundable. Cancellations January – April 2019: 75% refundable. Cancellations May – July 2019: 50% refundable. Cancellations August 2019 on: no refunds.
Registration has closed. To see if any spots remain, contact Saya and let her know your interest, number in your party, and where you'd be coming from (so she can see if airfare is included for you).
Early Bird Pricing with options to pay in full, pay via a payment plan, or pay just a deposit ranges from $2685-$2885. Rates increase January 1, 2019 to $2985. The Life of Yes℠ staterooms are double-occupancy, meaning you'll have a roommate. If you're not feeling a roommate, see FAQs below for options.
Many of the "not included" expenses below you can ignore based on personal preference — not into getting your nails done or personal training? That won't be an expense for you. These are shared here so you can think about total cost of trip and budget appropriately.
There are a limited number of Life of Yes℠ rooms so you roll the availability die if you wait. Additionally, it's common that cruise ship fares have early bird price breaks and increase fares as the sail date gets closer. Your deposit guarantees your room and your fare.
Facebook Event if you'd like to invite others, share, add to your calendar there.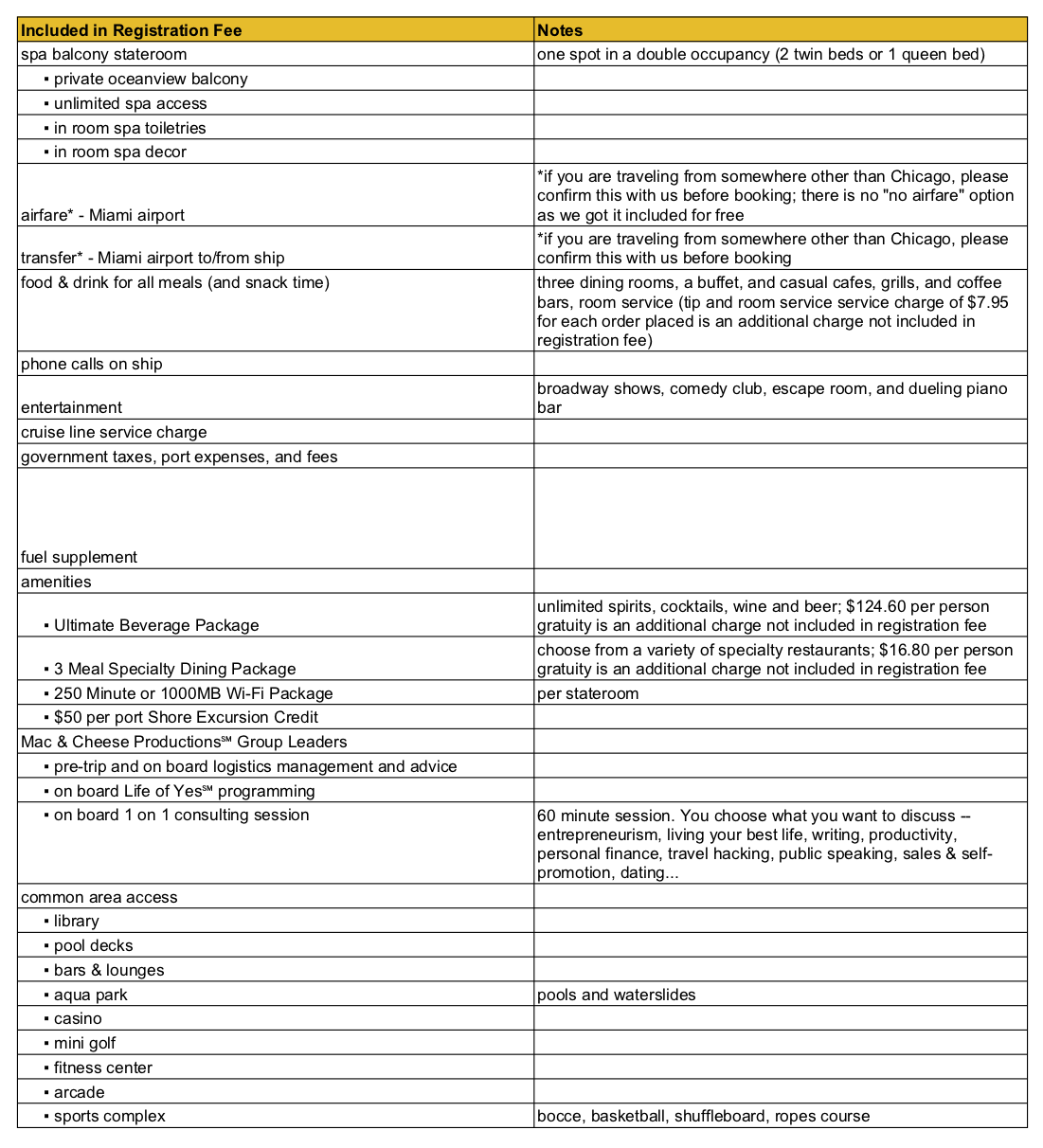 Important Dates
12/31/18 – early bird pricing ends
7/16/20 – anything beyond the room is no longer guaranteed to be available (e.g. the perks like airfare and beverage package)
8/1/19 – payment in full due
1/18/20 – arrival in Miami for those traveling from Chicago; 1st day of cruise
1/20/20 – MLK Day; maybe you get it off for work?!
1/25/20 – last day of cruise; return to Chicago (if applicable)
Cancellation Fee Schedule
If you cancel during these time frames, this is the amount of total payments you'll be refunded
August – December 2018: 100%

January – April 2019: 75%

May – July 2019: 50%

August 2019 on: no refunds

Itinerary
For those of you flying from Chicago, we will catch a 5:30AM flight from O'Hare on 1/18/19 and a 1:40PM flight from Miami that arrives in Chicago at 5:01PM. If you'll be flying from elsewhere, we will send you your flight information after registration. Please confirm with us before booking that airfare is included by contacting us and lettings us know what airport you'd be traveling from/to.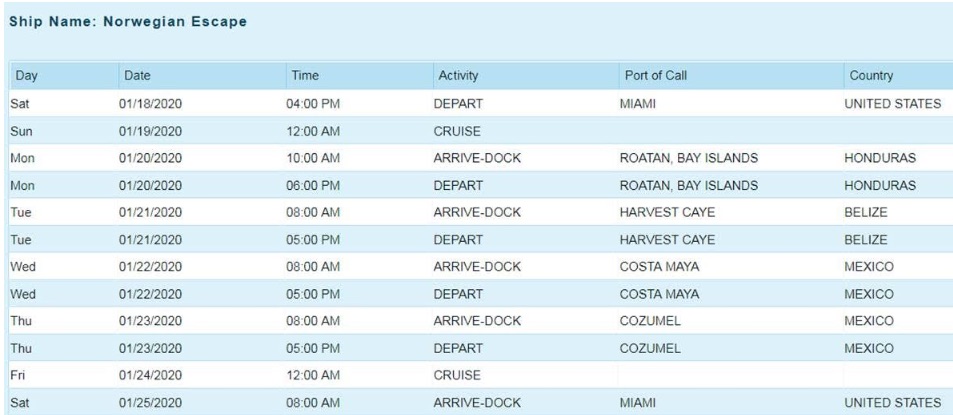 Miami
What more is there to say than this?
Roatan, Bay Islands, Honduras
Beautiful and unspoiled, Roatan is a peaceful, eco-tourist's dream, just 30 miles off the coast of Honduras. Teeming with marine life and home to some of the best pillar coral in the Caribbean, the pristine Honduran Reef is a diver's paradise.
The Bay Islands of Honduras are a hidden treasure that hasn't been overwhelmed with tourism, providing a more natural and authentic experience than some of the other destinations. Go diving off the coast to see sea turtles swimming happily under the waves, whale sharks prowling for a meal, and coral reefs swaying in the current. You can also experience the jungle atmosphere inland on a Norwegian excursion.
Your Western Caribbean cruise with Norwegian will take you to the port stop of Roatan, the largest city in the Bay Islands area of Honduras. It's the real place to go if you want to try diving or snorkeling for the first time, as coral reefs wrap around the entire coastline. Drop-offs of over 100 feet provide breathtaking underwater vistas that encapsulate much of the beauty the ocean has to offer. If you'd rather enjoy some time outside of the water, Tabyana Beach and Turquoise Bay Beach are your two best options.
Harvest Caye, Belize
Belize is ideal for eco-tourism. With diverse ecology consisting of jungles, rainforests, swamps, coral reefs and so on, you will find solace and adventure in Harvest Caye's stunning landscape.
Harvest Caye was voted Best New Cruise Port in 2017 by Porthole Magazine. Immerse yourself in natural beauty and culture on a 75-acre oasis featuring an expansive pool with a swim-up bar, salt-water lagoon for water sports, exclusive 7-acre beach and exciting shore excursions ranging from zip lining across the island to snorkeling the world's second largest barrier reef.
Costa Maya, Mexico
This coastal paradise in the Yucatan features stunning beaches with soft sand and blue skies. Travel to see ancient Mayan ruins in this region rich with archaeological sites.
Cozumel, Mexico
The island of Cozumel off the tip of the Yucatan Peninsula continues to be known for its fantastic fishing, snorkeling and diving opportunities. And despite the growth of tourism in recent years, the island and its only town, San Miguel, retain much of their original warmth and charm.
Trek inland to visit several ancient Mayan ruin sites. If ruins aren't your style, try exploring one of the island's four beaches: Paradise Beach, Playa Corona, Passion Island Beach, or Playa Uvas.
Of course, the real attractions on Cozumel are snorkeling and diving. The island is surrounded by coral reefs, providing a vast abode for numerous sea creatures and plant life. The best area for underwater sights is Cozumel Reefs National Marine Park, where you can dive 25 to 130 feet under the water to catch a glimpse of otherworldly beauty. You can also enjoy snorkeling at Punta Sur Eco Park or Chankanaab Park, two areas that do their best to protect and nurture the aquatic wildlife you're seeking.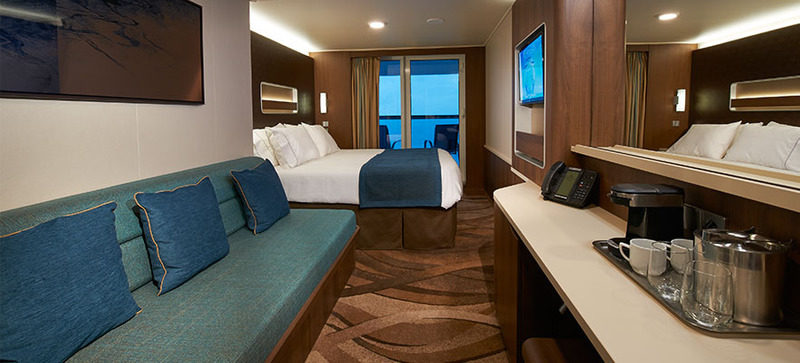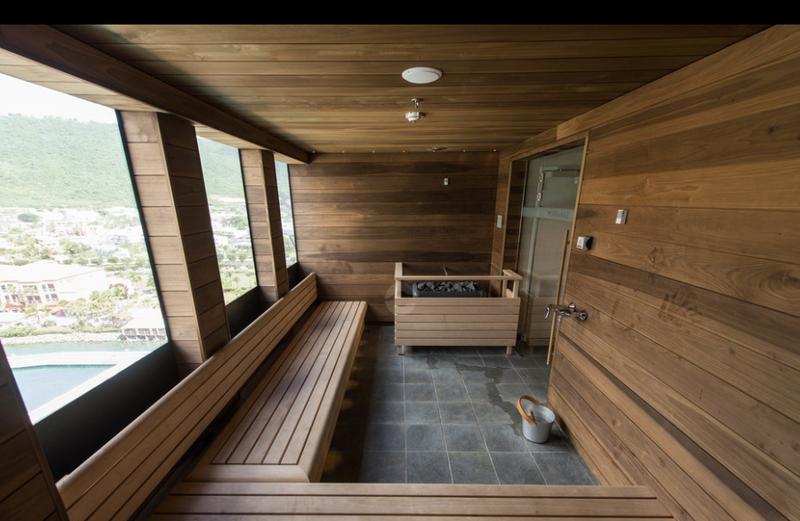 Ship
Escape is ideal for people looking for a wide range of stellar entertainment. After Midnight — Winner of the 2014 Tony®, Drama Desk, Outer Critics Circle, and Astaire Awards for Best Choreography— is the smash-hit musical that combines the big-band songs of Duke Ellington, a stageful of megawatt performers, a roof-raising onstage jazz band, and the best dancing from Broadway. Relive the glorious 1980's at For the Record: The Brat Pack, where classic soundtracks bring the movies to life in a theatrical rock 'n roll concert experience. Escape the Big Top is a fast-paced, full of excitement and intrigue escape room. Bring your favorite song requests for an unforgettable musical journey at Howl At the Moon, the world's greatest rock 'n' roll dueling piano show.
When it comes to variety of activities, Escape is a winner. With 28 bars and restaurants onboard, most people will have to sail twice to try out everything. Everyone will be able to find something that appeals. Latin food? Check. An incredible brew pub that feels so genuine you'll forget you're on a ship? It's got that, too. An indoor-outdoor dining concept, called the Waterfront, that allows passengers to dine seaside? It's there. A first-at-sea Margaritaville? Yep.
Spa
The Mandara Spa, with its panoramic ocean views, spans two decks.
On the lower deck, it has 24 treatment rooms, which include two fancy couples' treatment rooms (one with a bath in the room). The spa offers more than 50 services, including facials, which start at $107 and go up to $325 for the 24-karat gold option; numerous massages, which start with a standard Swedish massage at $107 for 50 minutes; and couples' treatments, which start at $249 for 50 minutes.
Spa prices are subject to an 18 percent service charge, so it's worth factoring that in to your budget calculations. There are always daily specials and offers, especially on port days. The salon offers haircuts and styling, nail treatments and waxing, along with acupuncture, teeth whitening and cosmetic medical treatments, such as Botox and fillers. There is also a barber shop for men, with a beard trim starting at $15.
The thermal suite affords stunning views from floor-to-ceiling windows. It's a gorgeous space, and it's exceptionally relaxing, with 17 heated loungers and a large number of regular loungers. Facilities include a large hydrotherapy pool with a hot tub beside it, a steam room, a dry sauna, a samarium (a combination sauna and steam room that's not so hot) and a salt room. The Thermal Suite also has a Snow Room that is kept between 21 to 32 degrees Fahrenheit (i.e. very chilly); flurries are sent out throughout the day.
Kids not allowed.
Read more about spa services here.
Dress Code
The Escape's carefree attitude carries over to its dress code, which basically allows for anything. During the day, it's all casual, with swimsuits, shorts and T-shirts poolside and in ports. At night, there's generally no formal dress code, though there's a no-shorts rule at some of the more upscale restaurants. Otherwise, khakis and Polo shirts are the norm for men in the evening, while women wear sundresses or blouses with capris, slacks or skirts.
Pack a set of all-white or neon clothes so you can enjoy the ship's "glow party." Other themed party options might include an '80s or '70s party, and people do dress for them.
Dining
Norwegian worked with staff at sister line Oceania Cruises (a cruise line that has some of the best cuisine around) to create the menus onboard Escape, and it shows, especially in the included dining restaurants, where menus generally are innovative and food quality is high. Service is attentive and quick, and waiters are willing to make informed recommendations. The variety of restaurants and menus means passengers who don't want to spend extra on meals onboard have plenty of choices. Escape doesn't have a main dining room in the traditional sense, where everyone eats at set times in a large venue. Instead, it has a larger restaurant, called the Manhattan Room, and two smaller venues, Taste and Savor, which offer the same menus. Meals are "freestyle," meaning passengers can show up when it's convenient for them, rather than at set times. One night, you might enjoy a private dinner at a table for two, while the next you might join other passengers at a table for six, depending on your request. You can make reservations for the free dining venues online before your cruise, on your in-cabin TV, or by using the touchscreen monitors located throughout the ship.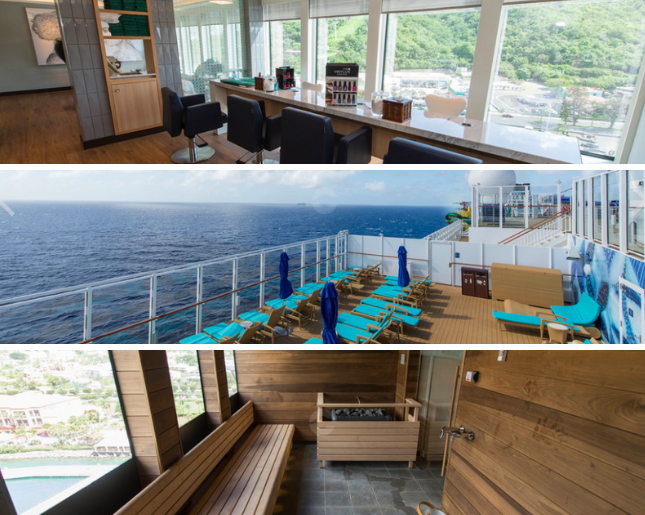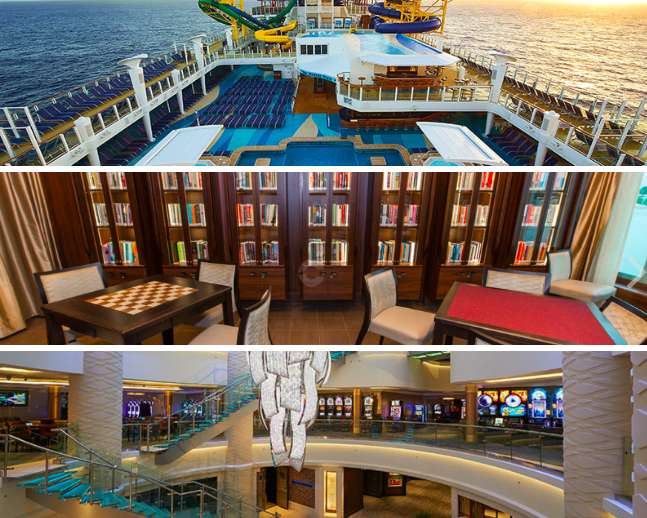 FAQs
What is freestyle cruising?
Freestyle Cruising challenges the conventional model of cruising, a la mandatory formalwear and meal reservations. Freestyle Cruising offers guests the freedom and flexibility to create their ideal vacation experience, with no fixed dining times, relaxed attire, several distinct dining options, relaxed disembarkation and more lounges, bars, theatres and other entertainment and activity options.
Where will everyone be staying on the ship?
There is a block of Life of Yes℠ (LOY) staterooms all together, to make meeting up easy peasey. We're in an ideal location, in close proximity to the spa, pool, gym, decks, and restaurants so we don't have to walk forever or wait for elevators but tucked away from noise, sandwiched between other staterooms.
What does my LOY stateroom include?
All LOY staterooms feature two twin beds/1 queen bed (you choose upon registration), bathroom, private balcony, TV, safe, hair dryer and spa bath products as well as a pay upon consumption mini-bar, in 208 square feet of room space. Price is based on double occupancy.
Will I have a roommate?
If you choose a Life of Yes℠ stateroom, yes.
Can I choose my roommate?
As long as there's a stateroom left with two spots, yes. You'll note your roommate choice on the registration form. (Make sure you discuss with them and that they want to be your roomie! )
Can I reserve a no-roommate stateroom (aka a Studio)?
Subject to availability. It's the same price as an LOY stateroom but —
you won't be with the LOY group anymore, perhaps a good distance from us (probably on a different deck)
you'll be farther from the 'action' and thus may have to wait on busy elevators/walk further
you won't have a balcony or outside window
spa decor, toiletries, and access are not included
it's half the size of an LOY stateroom
What does a single stateroom include?
Full-size bed, bathroom, one-way window to the corridor, in 100 square feet of room space.
Can I come with someone(s)?
As long as there's space, yes.
Can I bring my child?
To travel with the LOY group, you must be 21+.
Can I come solo?
Yes.
Will I feel weird if I come solo?
Absolutely not. We're pros at making party of ones feel at ease.
Will I be the oldest, youngest, only XYZ (divorcee, Republican, extrovert, vegan, non-Chicagoan)?
Maybe. It won't matter. Mac & Cheese is known for its diversity and its ability to make labels not matter. We LOVE bringing people together who normally wouldn't cross paths and who 'on paper' don't belong side by side and watching the magic that happens when people are themselves around other people being themselves, without judgment of self or others. And Best Friend is a vegan so you know there'll be at least one other of you.
Can I extend my trip?
Sure! Come early, stay later — take advantage of being in a different part of the world! All logistics and reservations will be in your hands. And you will be responsible for additional airfare.
What should/shouldn't I pack?
M&C will send you a comprehensive list. Each guest is allowed two pieces of checked luggage with a 50-pound maximum each, same as airlines. Luggage should be clearly labeled with your name, address and contact number.
What travel documentation do I need?
See NCL's requirements here.
Can my dietary restrictions be accommodated?
Gluten-Free, Vegetarian, and Kosher requests can be accommodated if made ahead of time. M&C will ask for your information and submit it for you, if applicable.
Is there wifi onboard?
Yes, accessible via Internet Cafes and your laptop, phone, or tablet. For pricing, instructions, and how to prepare, head here. Or unplug for the week!
Do I need travel insurance?
Totally up to you. Some people never get it, some people never travel without it. If you'd like to purchase insurance through Norwegian, it's about $135 per person. Contact M&C if you'd like to go through NCL and we can help. This is a good site to do some research and comparison.
How much money should I bring?
This will be included in the packing list that will be sent to you.
Do I tip?
Again, totally up to you. The majority of tips are covered in your registration so you don't need to tip beyond that. But if someone warrants a $5 thrown their way, have at it.
Will there be an agenda or any structured time?
The majority of your time will be your time. Whether you choose to spend it reading on the deck, high-rolling in the casino, or heading on-shore for a tour, up to you! We'll have a few LOY group get togethers and of course, you're always welcome to make informal plans to head to meals, go to shows, or hangout with one another otherwise, but again, you time is the name of the game.
You can also sign up for a complimentary 1 on 1 consulting session with Mac & Cheese to discuss whatever you'd like to discuss — entrepreneurism, travel hacking, personal finance, productivity, public speaking, living a fulfilled life.
What kind of shore excursions are available?
Specific details TBA including location, activity, and cost but expect activities like snorkeling, island tours, Mayan ruins, ziplining, parasailing, river tubing, nature preserves, animal sanctuaries, dolphin encounters, cooking class and wine tasting, and kayaking. Prices usually range $50-$150. Shore excursions are optional. Many people like to remain on ship while the masses depart. You get a $50 credit per port as part of our package.
What type of physical shape do I need to be in?
This trip is not of the strenuous variety. Some of the shore excursions may require a certain level of fitness but those of course are optional. Can you handle lifting a mojito to your lips under the hot sun? Then you're in perfect shape for this trip.
What other health-related'ness should I be thinking about?
It's advised that you speak to your doctor to find out if vaccinations are required/suggested. If you are taking medication or suffer from any form of illness, ensure you have an adequate supply of medication before departing for your vacation.