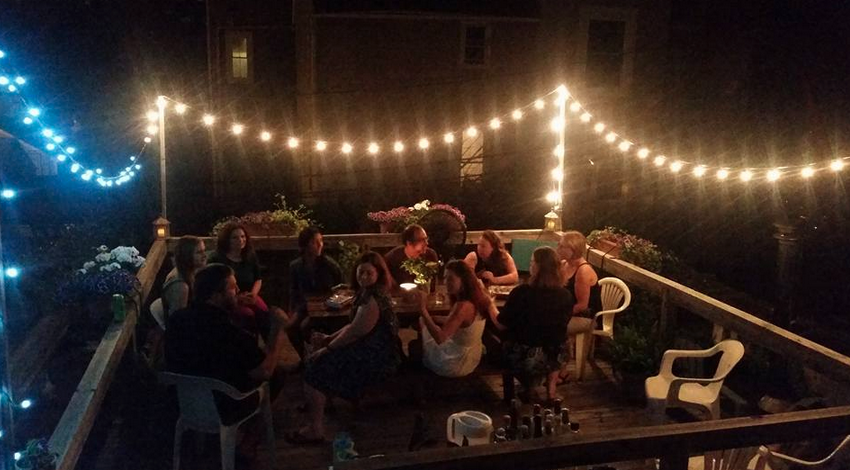 Who
Anyone who has been an LOY Camper.
Where
Somewhere Magical, of course… but a Somewhere Magical you've never been.
About 90 minutes from Chicago.
We'll depart from and arrive back at Mac & Cheese.
What
Unplugged weekend to dig into a specific area you want to dig — career, relationships (family, romantic, friends, coworkers), travel, housing, finances, spirituality, parenthood, non-parenthood, ??? … — and to recharge amongst positive beings and nature
One on Two'ness with Counselors Saya & Pete
Small Group'ness with a substantial amount of time for your group to support you through listening ears, brainstorms, and action plans
Large Group'ness to further grow your LOY community
Free Time to head into the woods, read, play board games, lay in the sun…
When
1:45pm Friday, July 22nd – late afternoon Sunday, July 24th 2016
Cost
$515 — includes all lodging, food, transportation from Chicago, activities, and materials
Register
To reserve a spot, you can either pay in full now or a $250 deposit
If you choose the deposit, the balance of $265 will be due February 1st
After you register, you'll get a confirmation from us
–> Please note Refund Policy in FAQs <–
Once we're full, we'll put a waitlist option here.
Two registration options —
Chase QuickPay (click here)

preferred method as there are no fees for anyone
you do not have to be a Chase customer to use QuickPay
linked to your bank account
another perk: advance payment scheduling! If you're doing the deposit, you can schedule the balance now as well so you don't have to remember to come back and pay come February!

Paypal

use Saya's Paypal Page (click here)
to avoid fees, DON'T check "good or service" box (you'll still have to pay 'em though if you pay via credit card)
on the second screen, you can choose which payment method you'd like by clicking on the arrow to the right in the "YOU'RE SENDING WITH" section

if you pay via Paypal Account or Bank Account, there is no fee
if you pay via credit card, there'll be about a $16 fee — PLEASE DO NOT PASS THIS FEE ONTO US (we'll refund you and ask you to pay again)
FAQs
How will I get to camp?
Like LOY Camp, we'll all drive together van-style.
What can you tell me about where we're going?
This Somewhere Magical is located on 100 acres of prairies, savannas, woodlands, wetlands, and ponds. We'll all stay together in one building. You'll be in a bedroom by yourself with all necessary linens included. Shared bathroom facilities. Meals will be home-cooked, family-style, prepared by the venue.
How is this different from LOY Sleepaway Camp?
The Bachelor's Degree edition focused on defining what a Life of Yes℠ is; you know that already. For this Ph.D. edition, we'll focus on the implementation of LOY principles into whatever area you choose; less big picture discussion, more focused digging.
You'll be asked to do a bit of pre-camp work.
There will be more individual spotlight time, in the large group, in your small group, and with your counselors.
How will you choose campers?
First come, first served. Once we hit our max, a wait-list will start and we'll take folks off of it in the order that they sign up.
Will I know anyone at camp?
Besides Pete and Saya, maybe! As it's open to all alum, it's possible there'll be someone(s) from your camp; also possible there'll be no one from your camp.
What should I pack?
Comfy clothes — clothes that you can sit on the floor in and move around in
Walking shoes
Warm clothes suitable for sitting outside at night/being outside in cold weather
Toiletries
Optional: books, e-reader like a Kindle, music player (not your phone!), watch (since you won't have your phone to tell time)
What shouldn't I pack?
Laptops & tablets (We collect phones when your arrive and return them upon return to Chicago)
Food/drink
Bedding, towels
Wad of cash
If I have to cancel, can I get a refund?
There are no refunds*, so please make sure you can attend before registering. *The one exception is if someone on the wait-list is able to take your spot; then you'll get a full refund.
Other experiences like this cost a lot more money, often thousands of dollars more; how and why do you keep the camper fee so low?
We obviously need to cover our costs (transportation, supplies, venue, food, etc.) and pay our everyday life bills, but we are not out to be millionaires or take people for all they have. We want everything we do to be accessible to all. We love the diversity of our campers, including the size of their bank accounts. So we charge a fee that allows us to run a business AND that allows most people to attend.
What's the selection process?
You register. You're in!
If a wait-list has started and you add yourself to it, you'll get a notification if a spot opens up and you're next, and then will have a timeframe with which to take the spot.