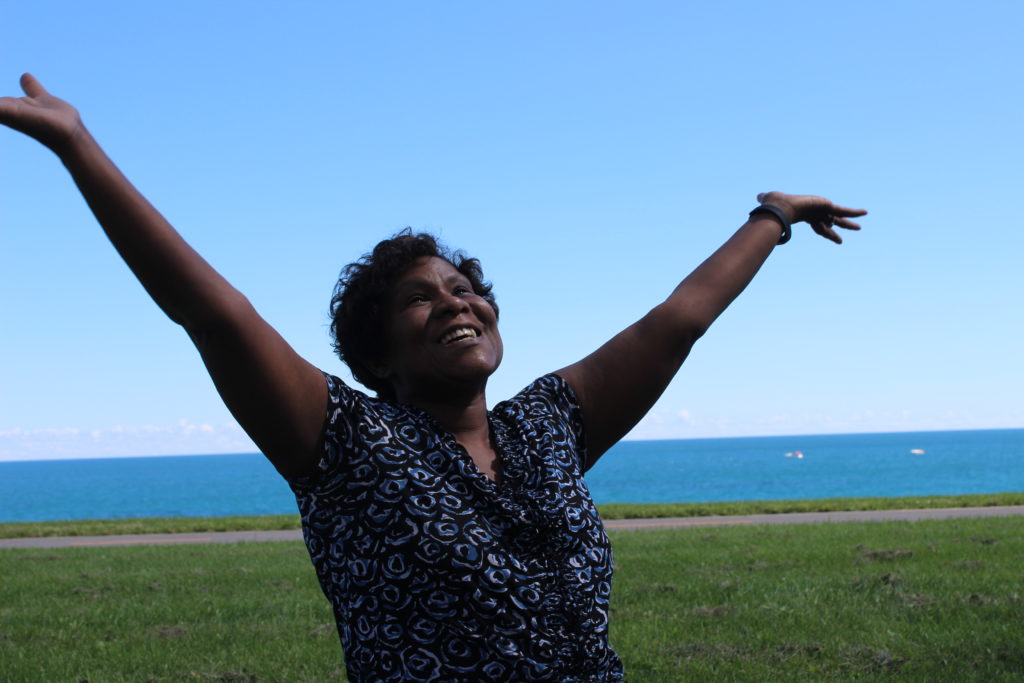 This is a Guest Post by Cheryl Bennett, whom I met a bit over a month ago when she came in from Baltimore to attend Camp. (Three years in, I still pinch myself the people come from all over the country for our baby…)
Knowing that Cheryl wanted to work on 'getting out there' more and that one of the ways she planned to do that was by blogging, I offered her a Guest Post spot.
I didn't expect her response to be warm and fuzzy musings on me. But in order to practice what I preach, I'll not now throw in the deflections or the put me downs that we often do when someone gives us a compliment and just say, "Thank You!"
I encourage you to try this — it's hard! Next time someone says something nice to you, simply reply, "Thank You!" Not "Ugh, I feel so fat in it." Not "I said way too many "ums" and was sweating like a pig." Not "It's not as good as your recipe." Just "Thank You!"
Thank you, Cheryl.
---
I have always loved soul food. When I as 9 or 10 years old, I learned to cook it: fried chicken, rice and pan gravy, string beans. When I wanted to be a little fancy, I'd make macaroni and cheese. Initially, it came from a box that included a little packet of 'cheese' powder that you mixed with milk and butter and added to the boiled macaroni, and 'poof' mac-and-cheese!
As I got older, I learned from my eventual mother-in-law, how to make 'real' mac-and-cheese; starting with a roux of butter, flour, and milk; adding globs of cheddar, jack, and whatever other cheeses you had available; adding the macaroni, a few spices and seasonings, an egg; and baking until the cheese was bubbly and golden brown on top ….yum!
Mac-and-cheese… the perfect food! It has carbs from the macaroni; protein from the milk, cheese, and egg; and fat (but let's not go on about that). Its ooey-gooey-goodness is comforting, filling, satisfying.
Why am I writing about the comforting goodness of mac-and-cheese on a post about 'who inspires me'? Because, although I only met her about 6 weeks ago, and only got to know her during a two and a half day retreat; when I starting thinking about who inspires me, the answer was easy: Saya Hillman, the creator and owner of Mac & Cheese Productions℠.
In August this year, I came across an article in Self Magazine recommending "Life of Yes Sleepaway Camp" by Mac & Cheese Productions℠, and decided to look into it. The LOY Camp was advertised as a chance to get away 'to an unknown destination, with a group of strangers, in an unmarked van, to do unknown activities'. The outcome promised included a greater appreciation for the life you want to live; a game plan on how to say 'YES' to that life; and a group of supportive new friends to encourage you along the journey to your "Life of Yes".
After Googling more on Saya and her programs, and telling all of my family and friends to force me into psychiatric care if I came back from this LOY camp brainwashed — drained my bank account, quit my job, turned away from my family. With my safety nets in place, I signed up for the mysterious LOY retreat. On this particular LOY retreat, there were 4 campers in addition to Saya and her husband, Pete. I could write pages and pages about the wonderful campers I met; the relationships and bonds we made in 2 short days; the activities, games, and reflections that caused us to really look inside ourselves and recognize our own greatness, dreams, and aspirations. LOY Camp delivered on all of its promises.
I left the camp fired up about the potential to really live the life I wanted, and not just the life I felt I 'had' to live. I left the camp with a game plan on first steps to start making my dream of inspiring, mentoring, teaching others a reality. I left the camp with supportive friends who it seemed like I'd known all my life. Is it possible to be best friends with someone you've known for just 48 hours?
Saya is my inspiration, not only because she has inspired me to be dis-satisfied with the status quo, to recognize my abilities, to move past my inabilities, and to start saying 'yes' instead of 'maybe' or 'some day'; she is my inspiration because she is living the life she promotes. That's what I want to do; inspire others to greatness through authenticity, sincerity, and a genuine desire to help them succeed. Take a look at Saya's "Life of Yes" TEDs Talk on YouTube, and be ready to be inspired too!
This post is in reply to Day 8 of the Get It Write 14 Day Blogging Challenge
NOTE: my favorite post epilogue? Cheryl is coming back to Chicago in a few weeks to stay with and cheer on one of our other campers who'll be performing in Fear Experiment℠. They've known each other for six weeks! They've been in each others physical presence for 48 hours! Heart warmed.