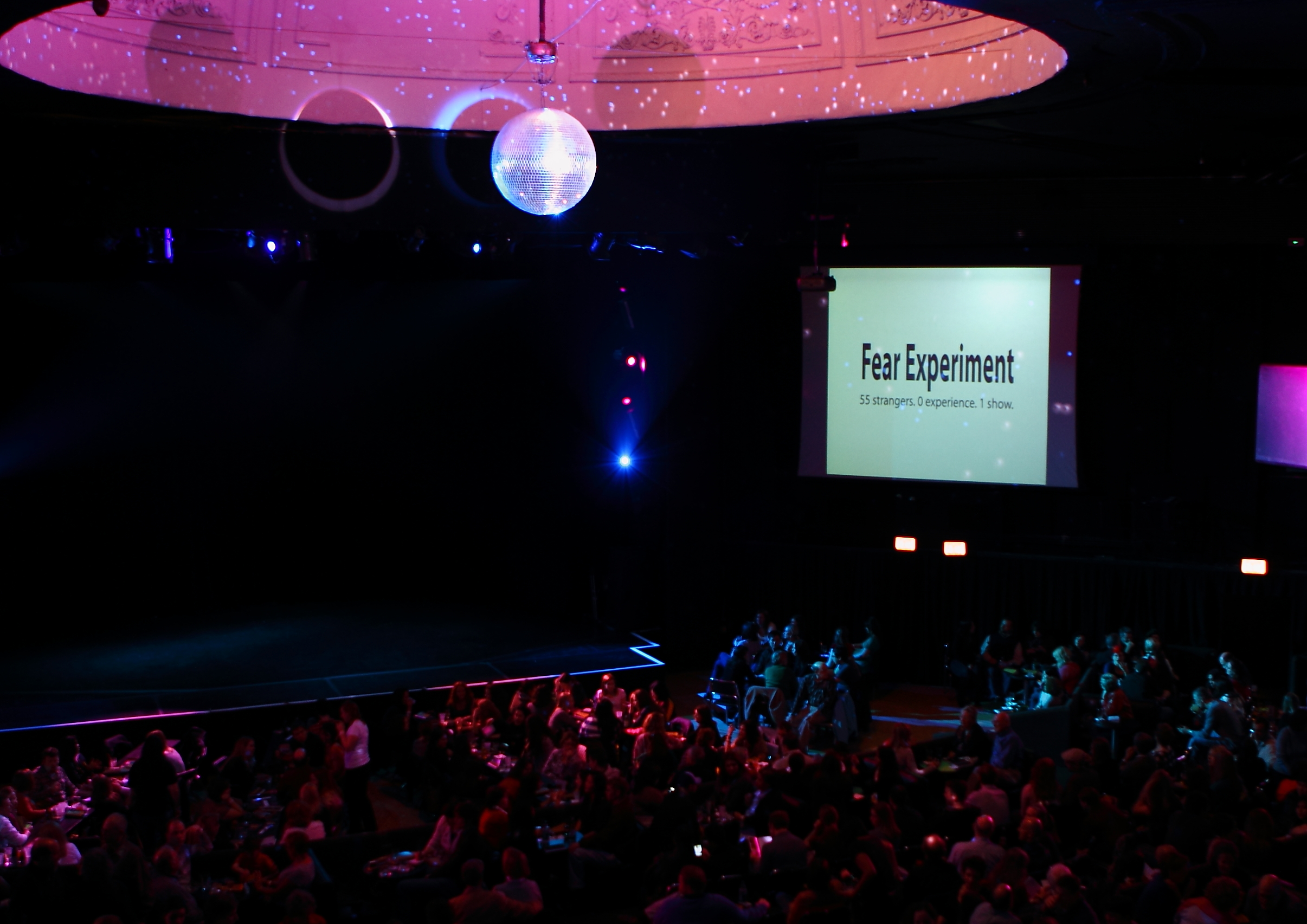 Fear Experiment℠ — "It Takes a Village"
The current class of Fear Experiment℠ is looking for some help in making their experience truly one of a lifetime.
Fear Experiment (FE) is a group of strangers challenging themselves by signing up solo to learn an art-form that's not their forte – dance, stepping, improv, storytelling, Broadway, or a capella – and rehearsing for two and a half months with an instructor in preparation for a performance at the famed Park West Theater. We average 500 audience members per show, and have sold out at 700 various times.
Fear Experiment Thirteen, Broadway, storytelling, and improv, is September 18th, 2021.
We're an 'It takes a village' community, and we're looking for villagers to —
photograph the show and a few rehearsals
spotlight Fear Experiment in the press (TV, radio, blogs, magazines, newspaper, podcasts, etc.)
videotape and edit the show

provide dinner for participants and volunteers day of show (45)

design a logo, poster, and/or tshirt
print tshirts (35)
print posters (40)
write a press release
provide us comp'ed tickets to see shows that'll further our art-form practice and encourage team-bonding, e.g. an improv, Broadway, or storytelling show (35)
rehearsal space August – September 2021
More details for each of above can be shared with interested parties, e.g. timeframe. Fill out the form at the bottom of the page and we'll iron out details.
Why Support Fear Experiment℠
"I'd probably rank my experience in FE as one of the top five best experiences of my life. It's very rare to meet so many amazing, adventurous, open-minded, and accepting people when you're an adult." – Fear Experiment participant
"Fear Experiment was such an incredible show that I was moved to tears at certain parts. I think part of why it's such a cool thing is because every single person in that room has been or is afraid of something, and we could instantly relate to everyone on stage and then were also instantly inspired by them because there they were, facing their fears, in front of a giant audience. It was such a well put-on show that I can't wait to see (or maybe sign up for) the next one." – Fear Experiment audience member
"I had the opportunity to place a slideshow Ad during the last Fear Experiment event. It was great to see my glass studio's information flash up on the screen in front of a crowd of 750 people and all of the performers! I had no idea what would come from it but it turned out that I got interest from several people who saw the ad and wanted to take a glass class at Chicago Glass Collective. We scheduled the class with the interested folks, had a wonderful time and now I have a new group of return customers!" – Mac & Cheese Productions Partner
Why Partner with Mac & Cheese Productions℠
"The Mac & Cheese network is awesome! For over a year I was trying to sell a credit I had with a local trolley company. I posted it a few times on Craigslist and tried to network through my friends. Even with a substantial discount, I had no takers. Knowing she had an extensive network, I reached out to Saya. Within 24 hours of posting it, I had two leads and within a week I was able to cut a deal with Tracy, who's getting married and will be using the trolley for her wedding—a true win/win! I will definitely use the M&C network again and I highly recommend it as a marketing tool." – advertiser in Mac & Cheese Productions' e-newsletter
"The first word that comes to mind when I think of Mac & Cheese is 'Life-Changing'. Saya provides a space for people to explore their dreams and connect them to the people who can make those dreams happen. It's kind of amazing." – a Cheese-It (aka a Mac & Cheese Productions participant)
More partner success stories can be found here.
What We Can Offer Villagers
Name and Logo in looping pre and post-show slideshow that plays on two huge screens next to the stage and on TVs throughout the theater
8 complimentary tickets to the show
Testimonial by Mac & Cheese Productions for Partner to use in marketing/promotion
4 Social Media blasts; 1 blast = 1 tweet + 1 Facebook post + 1 LinkedIn post (if platform appropriate) + 1 Instagram post
1 Mac & Cheese newsletter spotlight
Volunteer To Be a Villager
If you would like to join the FE-Family via becoming a Villager, let us know by filling out this short form. If you have any questions, add 'em to the form and we'll answer you straight away.