Cheese-It Giveaway! Seat at a dinner party.
Perk of living a Life of Yes℠, I get to continually give away goodness to Cheese-Its. From Samsung phones to LUNA bars to CUSP Conference passes, it's pretty sweet to be a part of this tribe. And today, on this beautiful Fall Monday, I get to gift a seat at Autumn Living: An Educational Dinner Party ($75 value). If the learning and yummy food weren't reasons enough to be stoked about this event, your host is the lovely Zach Zube, an all around nice and welcoming guy whom you'll love, plus the event takes place at one of my favoritest Chicago coffeehouses, up in Lincoln Square.
Check out the logistical details below, as well as a bit more about the class.
To be considered for the VIP ticket, all you have to do is comment below, by Tuesday 5pm, with an example of how you're living a Life of Yes℠ — a life where you default yes instead of no, where you practice self-care, where you utilize your superpowers (things that come easily and naturally to you) for the benefit of others and of yourself, where you dress yourself in "Why not?" pants, where you chose to move instead of to sit on the sidelines, where you insert yourself in uncomfortable situations knowing that embracing fear can lead to goodness.
I'll choose one winner and you'll be off to meeting new people, getting knowledge drops, and having a full belly.
Note: The dinner is vegetarian. Allergy-modifications cannot be made for this event. The winner will be notified via email from Saya and need to confirm within the timeframe given. Please make sure to check the email you have connected to your comment account this week to see if you won!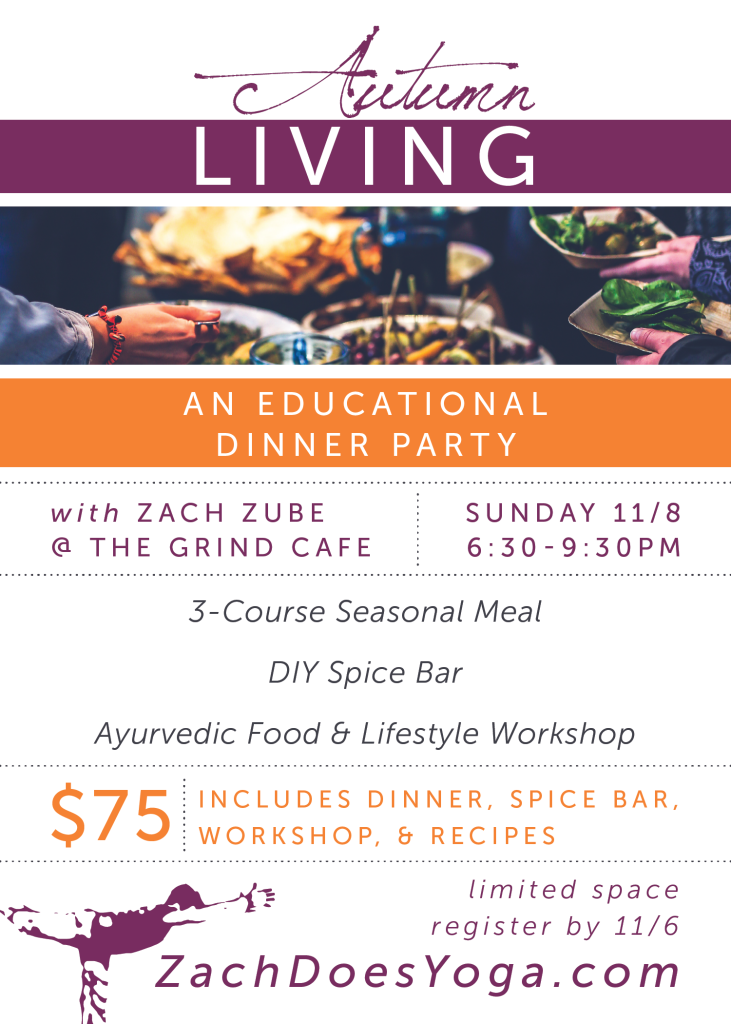 Do you notice the shifts of the seasons? Do you know what it means to live in harmony with these changes? Join Zach Zube (Ayurvedic Yoga Specialist) to learn to see the world around you in a new and beautiful way!
Have the pleasure of sharing a meal with like-minded individuals while learning about the therapeutic benefits of the food and spices you are enjoying. Let Zach and the fabulous staff at the Grind Cafe provide you with delicious, fun, and educational evening you will soon not forget!
You will also take home the Autumn Living Booklet filled with recipes and tips for autumn living as well as your jar of spices from the Spice Bar!
Registration closes end of day Friday, November 6. Register here. (Enter the contest and see if you can win a spot! If not, get a ticket and go!)