15 Things That Bring Joy to My "Type-A, Frugal, Glass Half-Full" Life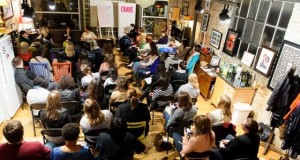 Photo by Angela Garbot Photography
Due to childcare and illness issues, earlier this week, three! of my five speakers on a panel I curated cancelled last minute. That and bad weather are an Event Planner's worst nightmare. All of the planning, the promotion, the webpage creation, the logistical emails…oy. Ironically, I had created the event four months in advance so as to save any scrambling (patted myself on the back a few times for being such a long-term visionary) and it was a panel on balancing life as an entrepreneur, delving into time-management, efficiency, and organization. So much for any of those!
The continual stream of inquiries I get from strangers and friends alike, asking me some version of the questions "How do you stay so organized? How do you juggle everything? Can I pick your brain about _____?" combined with the speaker cancellations resulted in me jumping on my own panel at the eleventh hour; luckily, it was still a fab evening. I wasn't stoned by the masses who had come to see not-me, folks enjoyed drink and food by Chocolate Shop Wine and The Cooking Chicks, and discussion, both informal during the un-networking and formal during the panel, was thought-provoking and collaborative.
Steered by Miki Johnson, Tricia Meyer of Meyer Law, Bryn McCoy of Citizen Made, and I of Mac 'n Cheese Productions shared personal stories about being proverbial wearer of many hats female small business owners, and tips and tricks that've made our lives easier. Since there were so many ohhh's and ahhh's when I mentioned some of the simple 'n free tools I use, thought I'd share them with you, dear blog-reader, in hopes that you may find some calm in any chaos you may have in your life. Even if the chaos is just an inbox with an overwhelming number of unread emails.
Some of the list inclusions have nothing to do with time-management or the like, but are entities that've enriched my life via personal development or saving a buck or two. If you have your own life-savers, do share!
Fifteen Life of Yes! Loves