This couple created such goodness for me, considering naming my first born after them
As you may know, we're trying to be as green, economical, win-win, low-stress, local, and comfortable as possible for our September 1st wedding, going the barter route. It's going swimmingly (check out the updates!).
The first people to jump on our bartership-wagon were Architects turned Paper-Goodness Gods husband and wife team Amanda and Tony of Spilled Ink Press.
Amanda turned my ramblings of what we wanted in the invite –
rustic

not formal
natural
simple yet classy
casual
us (a couple allergic to lace, dress shoes, cursive, and champagne flutes)
and links to this invitation that I liked and to my pinterest wedding board into the most gorgeous wedding invitation ever created —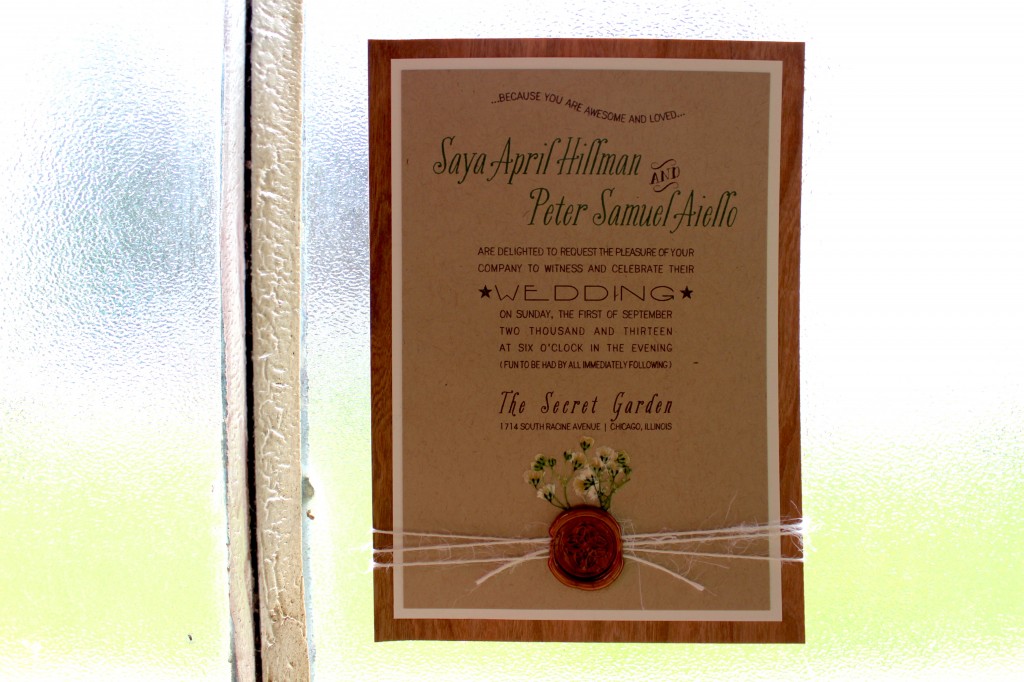 Real baby's breath? Stationary that looks and feels like wood? Seriously? Could the invites be any more perfect for our outside, BBQ nuptials?
I had hoped people would open them and enjoy their beauty, uniqueness, and us'ness, but I did not expect all of the emails, texts, and Facebook posts exclaiming LOVE LOVE LOVE, like this one, from a designer, which gave her comment even more of a bang: "HOLY EFFING BEAUTIFUL! These are tops. Tremendously stunning. Kinda makes me want to get remarried."
Even Fiancé, who like many grooms could care less about fonts, color schemes, and wax seals, professed surprise-love for them.
And the fact that Amanda and Tony addressed all the envelopes, a HUGE time-sucker, made me want to name my first-born Amandony. Oh did I mention Amanda hand-delivered them to our door? And that the couple is incredibly organized, professional, reasonably priced*, dependable, friendly, and FUN to work with?
If you need anything wedding-related – Save the Dates, programs, escort cards, invitations, thank you cards – or have any other paper-goods needs – birthdays, reunions, business stationary, graduations – we can't recommend Amandony more highly. Based in Chicago, they work with clients across the country. There's something wonderful about working with small business owners, passionate about what they do and about making sure their clients are unequivocally happy.
So, THANK YOU Spilled Ink Press. You turned what can be a source of unbelieveable stress into unbelieveable awesomeness that we will remember forever.
*Due to our bartership, we did not pay for our paper-goodness, but I did a lot of research into custom-made invitations vs. online and DIY ones, and found Spilled Ink prices to be VERY reasonable and comparable.