CHEESE-IT GIVEAWAY! Movie passes…
Earlier this week, I got to give away hundreds of LUNA bars to people all over the country. Tis the week of spreading goodness, Cheese-Its! Another freebie for you, in appreciation for your awesome support of Mac & Cheese and just for being YOU —
Passes for you and a guest to attend a special advance screening of Words and Pictures! At my favoritest movie theater! In reserved VIP seats!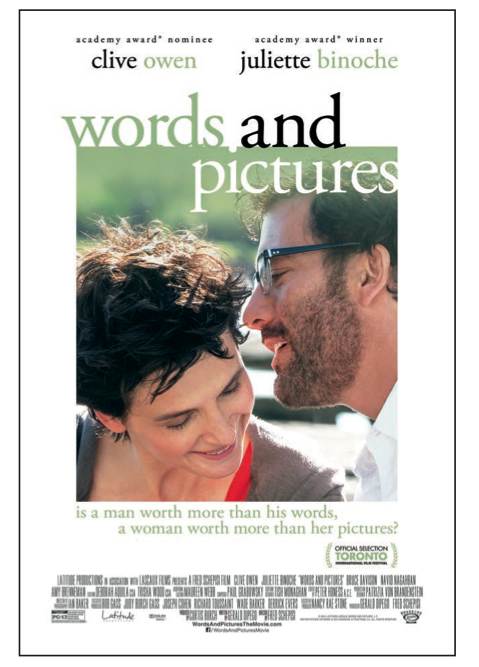 Synopsis
English teacher Jack Marcus laments his students' obsession with social media and good grades rather than engaging with the power of the written word. A one-time literary star, Jack has not published in years filling his time with drink versus the art of language. He meets his match in Dina Delsanto – a painter and new teacher on campus, who was once celebrated for her art. The two flirt and provoke each other with equal relish. Jack hatches a plan for galvanizing student interest in their studies: he declares a war between Words and Pictures, confident that the former can convey greater meaning than the latter. Dina and her art students accept the challenge between Jack and his English students, and the battle lines are drawn.
The first ten Cheese-Its who sign up at the below form will get a free pass for two to a screening. Please read the details and make sure you can attend before signing up — we want people who will actually use these passes to get them!
Screening Details
Monday, June 2nd at 7pm

Showplace Icon, 150 W. Roosevelt Road, Chicago

Your pass will be emailed to you; all you need to do is bring it, your ID, and your guest, and check in under your name

Your VIP seats are reserved, so don't worry about getting there early
Get your goodness here. UPDATE: They're all taken, thanks for your interest!
Oh and hey!, if you're so inclined to share your night out, tweet, Instagram, and/or Facebook me and use #LifeOfYes; I LOVE to see goodness being spread.
Enjoy, Cheese-Its —
#payitforward